Your hair holds the capability to alter your overall physical appearance and even self-perception. Natural, healthy, dark hair represents youthfulness, whereas gray hair is often associated with old age.
You may experience hair graying in your early 20s, known as premature hair graying. This can occur due to a number of factors. While it is often not possible to reverse hair graying, you can take measures to help control and even prevent premature graying of hair.
Traditional Home Remedies for Gray Hair
Your hair can start turning gray at a young age due to genetics, some medical conditions, nutritional deficiencies, stress, and various other reasons.
Hair graying associated with serious medical problems or genes requires proper medical treatment. However, you can treat milder causes with home remedies.
Note: The following home remedies are based on anecdotal evidence. Therefore, due to a lack of scientific research, the effectiveness of these home remedies cannot be determined.
1. Oil your hair regularly
Premature graying of hair is often a result of oxidative stress. In such a case, oiling your hair may be beneficial as oils contain various vitamins and antioxidant molecules. (1)
You can use almond oil rich in vitamin E (2) or black sesame seed oil along with almond or coconut oil. Alternatively, you may consume black sesame seeds daily. (3)
Coconut oil is also beneficial due to its antioxidant phenol content. It also contains copper and iron, which are vital for melanin production; a deficiency of these minerals can often cause premature graying. (4)(5) Additionally, you can try using bhringraj oil used in Ayurveda for hair growth and delaying graying of hair. (6)
2. Use Indian gooseberry
Indian gooseberry, or amla, also contains various antioxidant molecules, including vitamins A and C. (1) The application of amla is a popular Ayurvedic remedy, and it can be found in various hair products that claim to help improve hair growth, pigmentation, and overall hair health. (7)
How to use:
Mix amla juice in almond oil and apply it to your scalp. You can also boil dried amla with coconut oil until it gets charred, and use it to massage your head. Alternatively, you may consume amla water.
3. Apply curry leaves
The leaves of Murraya koenigii trees are rich in vitamin B, a deficiency of which can cause premature graying of hair. (8) Moreover, curry leaves contain antioxidants that can help curb oxidative stress. You may use them orally or topically.
How to use:
Make a paste of curry leaves, mix it with yogurt, and apply it to your scalp. Alternatively, boil a few leaves in coconut oil until they turn black, and massage your head with it.
4. Consume blackstrap molasses
Blackstrap molasses are potential sources of vitamin B6, selenium, copper, magnesium, and iron, all of which are required for melanin synthesis.
How to use:
Consume 1 tablespoon of blackstrap molasses either directly or by mixing it in tea or breakfast meals.
Natural Hair Colors
Since the above-mentioned home remedies are anecdotal and do not guarantee a positive result, you can try dying your hair to hide gray hair. It is recommended to try the following natural dyes since the synthetic colors available on the market may be loaded with harsh chemicals:
Henna: You can buy henna powder and mix it with water, black tea, or coffee to form a paste. Apply the paste to your hair and wash after several minutes. You may also add any oil to the mix or boil henna leaves in coconut oil until charred, and use it as a hair dye. (9)
Jatamansi: The powdered form of this herb can be mixed with oil or water and applied to the hair. (9)
Black tea/espresso coffee: Rinse your hair with these drinks twice a week for best results. (9)
Rosemary and sage: Boil half a cup of sage and dried rosemary in water. Strain the liquid and use it to rinse your hair.
Beetroot juice: Boil beetroot with water, strain the liquid, and rinse your hair using this juice.
Hibiscus/gudhal: Boil a few petals of the flower in water, strain the liquid, and use it to rinse your hair. (9)
In general, the following tips can help enhance the effects of natural hair dyes:
Avoid washing your hair with hot water.
Use a shower cap to prevent ions such as chlorine from reacting with your hair dye.
Avoid heat-styling tools such as curling irons.
Tips to Prevent Gray Hair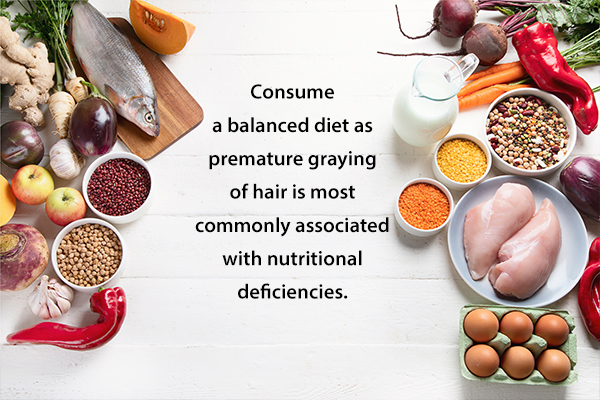 With no treatment promising the reversal of gray hair, it is best to take steps toward preventing the condition. If you are not genetically predisposed to premature graying of hair, the following tips may help:
Make sure to consume a balanced diet as premature graying of hair is most commonly associated with nutritional deficiencies, including that of vitamins, iron, copper, calcium, protein, biotin, folic acid, catalase, and zinc, among many others. (8)(10)(11)(12) It is recommended to include onions, avocados, eggs, lean meat, and vegetables in your diet. You can also consume supplements upon consulting your doctor.
Increase your intake of antioxidant-rich foods such as citrus fruits, berries, carrots, pumpkins, garlic, apricots, and capsicum.
Ensure proper iodine intake.
Prevent exposure to sunlight as it can cause photoaging and oxidative stress, which can lead to premature graying of hair. (8)
Cover your hair when going outside to prevent pollution damage. (8)
Quit smoking. (13)
Avoid the use of chemical-based products on your hair, especially those containing hydrogen peroxide as it can cause hair loss and depigmentation. Instead, use ammonia-free or natural products. (14)
Manage your stress levels by doing meditation and other relaxation techniques. (15)
Maintain a healthy weight.
Avoid plucking gray hair.
Most-Asked Questions About Gray Hair
Can fo-ti supplements help treat premature graying of hair?
Fo-ti supplements are derived from a Chinese herb called Polygonum multiforum. They have been used traditionally to prevent graying of hair. Recent preliminary studies show its use in stimulating melanin synthesis. (16) However, fo-ti supplements may not be safe for use and can cause serious side effects, such as liver failure and even death.
Can onion juice help reverse graying of hair?
The use of onion juice is a popular remedy for stimulating hair growth and maintaining scalp health. However, no evidence suggests its effectiveness in preventing gray hair. While its catalase content may help, studies regarding its efficiency are needed.
Does egg oil help with gray hair?
Egg oil derived from egg yolks is rich in zeaxanthin and lutein antioxidants. (17) These compounds can help protect the hair from harmful UV radiation and the associated oxidative stress. (18) However, the use of egg oil for premature graying of hair is not studied. In fact, egg oil can inhibit melanin production. (19)
Final Word
Hair graying occurs naturally as a part of aging but it is known as premature graying of hair if the hair starts turning gray before the age of 30. This is generally due to genetics, medical problems, or nutritional deficiencies.
Making changes in your diet and using natural dyes are some methods you can try to help manage gray hair. It is best to protect your hair from sunlight and environmental pollution, as reversal of gray hair is almost impossible.

Continue ReadingPremature Graying of Hair: Possible Causes and Treatments
Was this article helpful?