Healthy hair represents general well-being, influences your physical appearance, and is often considered a symbol of youthfulness. But with age, your hair starts turning gray, medically known as canities or achromotrichia.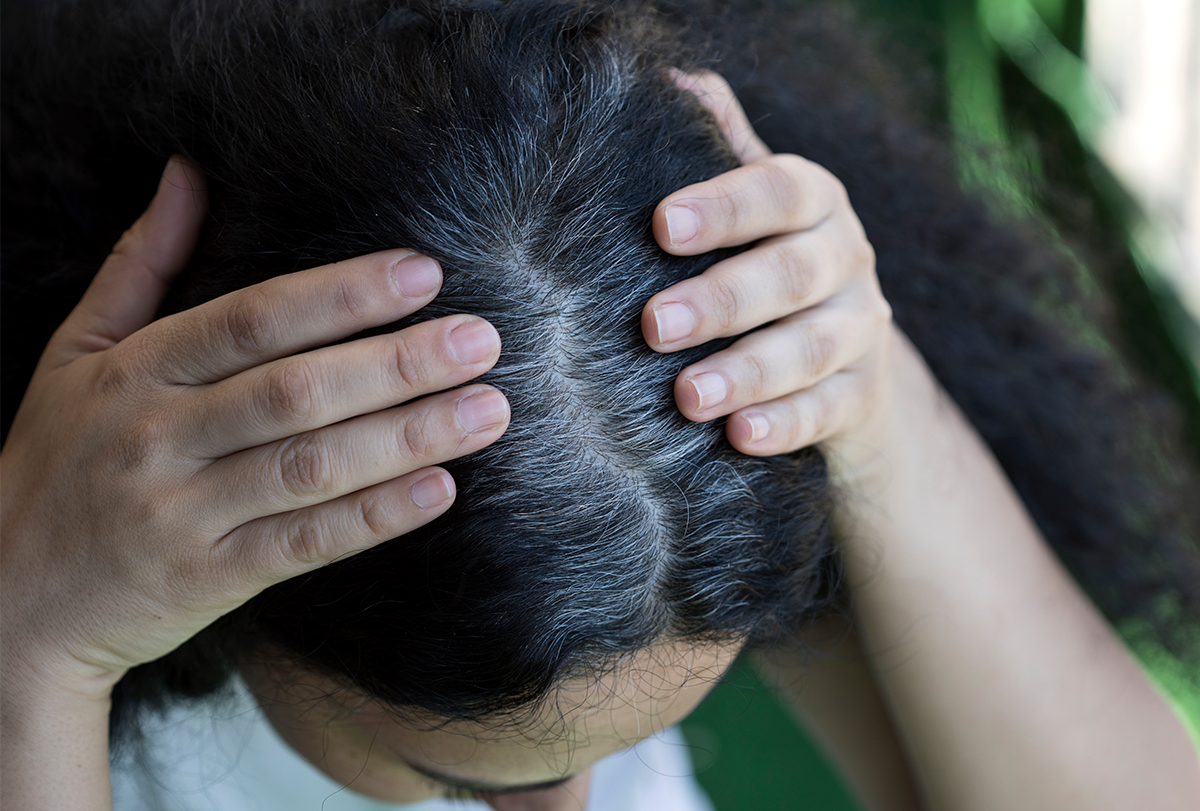 Graying of hair occurs at varying ages in different races. For some people, their hair may start turning gray at an early age, known as premature graying of hair. For Caucasians, graying of hair before their 20s is considered to be premature graying, while for African-Americans, before 30 years.
Premature graying of hair can occur due to aging disorders, autoimmune diseases, atopy, and various other reasons. (1)
The Process of Graying Hair
The color of human hair is determined by the production of melanin pigment in the melanocyte cells.
During the active growth phase of the hair (anagen), there is increased production of melanin in the hair follicles, leading to deep pigmentation. During the other stages of the cell cycle (catagen and telogen), melanogenesis decreases or is turned off.
Your hair may turn gray when the number of melanocytes in the hair follicles reduces during anagen. (2)
Possible Causes of Premature Graying of Hair
The cause and development of premature graying of hair are not completely understood. It is thought to occur due to various reasons, including:
Increased oxidative stress, (3) which can occur due to excessive sun exposure, environmental pollution, inflammatory diseases, and emotional factors such as stress
Progeroid syndromes, wherein aging is accelerated due to the defective repair of DNA, increasing susceptibility to oxidative stress (4)
Vitamin B12 deficiency (1)
Thyroid hormone deficiency (5)
Medications such as chemotherapy drugs and antimalarials (6)
Lack of protein due to malnutrition or diseases (5)
Low levels of vitamin D3, calcium, ferritin, or HDL cholesterol
Autoimmune disorders, such as Addison's disease, premature hypogonadism, vitiligo, Grave's disease, and Werner's syndrome
Neurofibromatosis
Tuberous sclerosis
Medical Treatment for Premature Graying of Hair
The treatment for premature graying of hair depends on the underlying cause. While no treatment guarantees complete reversal of hair pigmentation, the following treatments can help improve the condition and prevent further graying.
1. Nutritional supplements
Premature graying caused by nutritional deficiencies can be corrected with supplements. These include vitamin B12, calcium pantothenate, iron, (9) biotin, and zinc supplements. (1) Make sure to consult your doctor before taking any supplements.
2. Treating the underlying medical condition
Causes such as thyroid problems should be managed using appropriate treatment methods to help control premature graying of hair.
3. Other therapies
Some therapies that are being studied for treating premature graying of hair include topical prostaglandins, anti-inflammatory medication such as psoralen and cyclosporine, (10) and human growth hormone-based therapy. (11)
Diagnosing the Cause of Premature Graying of Hair
Premature graying of hair may be mild to severe, based on the number and percentage of hair involved. To help determine the cause of premature graying, the following parameters and tests are considered:
Family history
Serum vitamin B12 level
Serum folic acid level
Thyroid panel
Hemoglobin level
Metabolic syndrome test
Vitiligo test
Waardenburg syndrome test
Woolf syndrome test
Risk Factors for Premature Graying of Hair
The following factors can increase the risk of premature graying of hair:
Complications Associated With Premature Graying of Hair
The following are some important complications of premature graying of hair:
The Copenhagen City Heart study found an increased risk of a heart attack in men with gray hair than those without gray hair (1)
Cardiovascular diseases, especially among smokers
Hearing impairment
Alopecia
Hindered social life (14)
When to See a Doctor
It is normal to develop gray hair with age, generally above 40 years. However, this age may lower according to your ethnicity.
While gray hair is usually not a sign of any health problem, it may cause a lack of self-confidence in social situations. You must consult a doctor if your hair is graying at a rapid pace, especially when accompanied by hair loss, or is causing you social anxiety.
Final Word
Healthy hair is important to a person's appearance and confidence. While it is normal for hair to turn gray with age, some people may experience premature graying of hair. This can occur due to genes, autoimmune disorders, smoking, and deficiencies.
Premature graying of hair, while cannot be reversed, can be controlled and prevented using various treatments. Consult your doctor for the recommended treatment modalities and lifestyle changes that can help prevent further graying of hair.

Continue ReadingHome Remedies for Premature Graying of Hair
Was this article helpful?