Hair dyeing practices have been employed for a long time to cover up graying of hair. However, nowadays, hair dyeing is not just done by the aging group but is also used by younger people as a fashion expression.
Hair dyeing can, therefore, be classified as a cosmetic procedure that color your hair, be it to restore the original hair color or give it a different appearance.
The procedure is usually professionally done at salons, but hair dyeing kits are also available for use at home. In fact, 66%–74% of women use hair-coloring products. (1)
Unfortunately, both salon and at-home dyeing procedures use chemical-based dyes that can be harmful to your hair health in the long run. (2)(3) The good thing is you can switch to natural hair dyes that are safe on your hair and more cost-effective.
Natural Hair Dyes
The following are some natural hair dyes that you can use to color your hair and even improve your hair health:
1. Henna
Henna is an age-old dye traditionally used for temporary body art. It has also been long used to dye and condition the hair at the same time. (4)
There are different varieties of henna powders, which vary in quality and color, ranging from dark burgundy to orange. The resulting color from a henna dye generally lasts longer than that of other natural dyes.
Besides coloring the hair, henna helps condition and strengthen your hair, improving its vitality and helping prevent breakage. In addition, the use of henna can help control oil production, thus helping avoid an oily scalp.
It is best to use organic henna, preferably one that contains other herbs such as amla, brahmi, bhringraj, or shikakai.
How to use:
Mix henna powder in coconut oil and lemon juice or apple cider vinegar (ACV). You may also make a paste of henna powder using only water.
Add 1–3 tsp of ginger, clove, or cinnamon powder to the henna paste to mask its smell.
Cover the mixture and allow it to sit overnight or for a few hours.
Cleanse your hair and detangle it.
Part your hair in the middle and apply henna to your hair section by section. Make sure to wear gloves to avoid staining your hands and nails.
Spread the paste evenly in your hair, and wrap it with a shower cap or plastic wrap.
Leave the hair dye on for 5–6 hours or overnight.
Use cool water to rinse your hair. Avoid shampooing for up to 32 hours.
Your hair color will change in the next 2–3 days, ultimately giving a deep color. Regular use of henna can improve the health, color, and strength of your hair.
2. Jatamansi powder
Jatamansi herb, commonly available in powder form, can dye your hair black or make it appear darker. (4)
The rhizomes of the herb are also useful in improving hair growth. They are used in treating male-pattern baldness by improving hair follicle size, making the hair grow thicker and stronger.
How to use:
Make a paste of jatamansi powder with water or argan oil or olive oil.
Cleanse your hair with shampoo and pat it dry.
Apply the paste to your damp hair.
Rinse off the dye after an hour and condition your hair as usual.
3. Coffee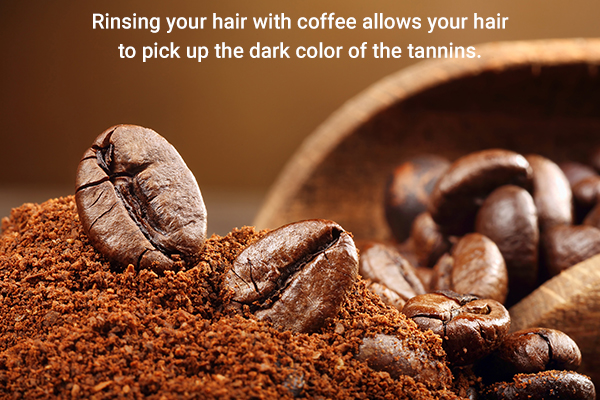 Coffee is rich in black-colored compounds known as tannins. Rinsing your hair with coffee allows your hair to pick up the dark color of the tannins. Therefore, using coffee as a dye can help cover your gray hair.
Moreover, the caffeine content of coffee can help treat alopecia-related hair loss. (5)
How to use:
Steep a strong cup of coffee for about 10 minutes.
Once the coffee is cold, add in 2–3 tsp of leave-in conditioner. Optionally, add some coconut oil, especially if you have dry hair.
Wrap a towel around your shoulders or use an old t-shirt to avoid staining your clothes. 
Soak your hair using the coffee mixture by pouring the solution in a tub or container and bending your hair down into it.
Cover your coffee-soaked hair with a shower cap and leave it on for 60–80 minutes.
Rinse your hair with plain water and condition it. Avoid using shampoo.
4. Black walnut powder
Black walnut appears dark due to its juglone, tannin, and plumbagin content. Using black walnut can impart a deep brownish color to your hair.
How to use:
Boil 2 cups of water and add 6–10 tbsp of black walnut hull powder to it.
Steep the solution for about an hour.
Let the solution cool, and use it to rinse your hair.
Allow your hair to air-dry or rinse out the solution with water after 15–20 minutes.
5. Sage
Sage is a potent herbal treatment widely used for gray hair. It works by darkening the hair color, restoring the color of grey hair, and also preventing further graying of hair.
How to use:
Boil ½–1 cup of dry sage in water and allow it to steep for half an hour. The longer you allow the solution to steep, the darker the color becomes.
Filter the solution once cool.
Shampoo your hair and rinse the damp hair with the sage water.
Wrap your hair with a shower cap or a plastic bag.
After 40 minutes, rinse and condition your hair.
ALSO READ: 5 Benefits of Sage for Hair and Ways to Use It
6. Black tea
Black tea can also dye your hair into a dark color. It can also add shine to your hair, thus revitalizing dull, lifeless hair.
How to use:
Steep a cup of black tea and allow it to cool.
Apply the cooled tea to your hair.
Rinse your hair with cold water after about an hour.
Avoid shampooing your hair for up to 24 hours.
7. Hibiscus
Hibiscus flowers can be used as a natural hair dye by redheads. The flowers dye your hair crimson and also add shine to it. Hibiscus can also help treat dandruff and boost hair growth.
Moreover, being a natural dye, hibiscus flowers prevent hair brittleness and drying that are often associated with synthetic dyes. (4)
How to use:
Boil a couple of cups of water and add hibiscus petals to it.
Steep the solution for a few minutes, noticing that the color of the water changes into a deep hue.
Allow the water to cool for 10–15 minutes.
Strain out the petals from the water.
Once at room temperature, transfer the liquid to a spray bottle.
Spray the solution on damp hair, and comb the hair to evenly spread the solution.
After an hour or more, rinse and condition your hair.
8. Carrot juice
Rinsing your hair with carrot juice can give a reddish or orange tint to it.
How to use:
Mix coconut oil or extra virgin olive oil in a cup of concentrated carrot juice.
Apply the mixture to your hair.
Cover your hair with a plastic bag or shower cap, and allow it to sit for 1–1.5 hours.
Rinse and condition your hair.
Repeat the procedure if you want a deeper color.
9. Beetroot juice
Similar to carrot juice, beetroot juice can stain your hair with a reddish tint. However, beetroot gives a deeper color than carrot juice.
How to use:
Pour a cup of concentrated beetroot juice into a bowl.
Add extra virgin olive oil, argan oil, or coconut oil to the beetroot juice and mix them well.
Spread the mixture evenly on your hair strands.
Cover your hair with a shower cap or plastic bag and leave it on for 60–80 minutes.
Rinse and condition your hair.
Repeat the procedure for a deeper color.
10. Cinnamon dye
You can use cinnamon as a hair dye to help impart a reddish hue to your hair. This natural hair dye is, therefore, suitable for staining gray hair.
How to use:
Mix ½ cup each of conditioner and cinnamon powder.
Shampoo your hair and towel it dry.
Apply the cinnamon conditioner to your damp hair liberally.
Rinse your hair thoroughly after 1 hour.
11. Chamomile tea
Chamomile tea, unlike the natural dyes mentioned above, lightens your hair color as it is a natural bleaching agent. Therefore, chamomile tea is recommended for those with blonde hair, substituting the use of hair-damaging bleaches.
Moreover, chamomile helps nourish your hair; it is a common ingredient of many hair care products.
How to use:
Boil 2 cups of water and pour it out into a bowl.
Dip 6–10 chamomile tea bags in the water and allow to steep for 10 minutes.
Add 2–3 tbsp of lemon juice and coconut oil to the chamomile tea. 
Wash your hair and rinse it with the chamomile tea solution, repeating the rinse 10 times.
Massage your hair gently with the solution.
Sit under the sun to dry your hair for not more than 10–15 minutes.
12. Lemon juice
Similar to chamomile tea, lemon juice in concentrated form can bleach your hair, making your hair color lighter. Therefore, lemon juice can be used to achieve blonde highlights.
Note that the bleaching effects of concentrated lemon juice are long lasting; therefore, use lemon juice with caution.
How to use:
Mix lemon juice with a small amount of water and pour the solution into a spray bottle.
Spray the solution into your hair and spread it evenly. Make sure to use gloves.
Sit under the sun for a few minutes to enhance the bleaching effect of lemon juice.
Rinse and condition your hair.
Repeat the procedure a couple of times for desired results.
Tips to Make Your Natural Hair Dye Last Longer
Natural dyes, while effective, may stay on your hair for a shorter time than chemical dyes. To increase the duration of the effect of the natural dyes and bleaches on your hair, follow these measures:
Avoid the use of hairstyling tools such as straighteners, blow-dryers, and curling irons after dyeing your hair. If you have to use these tools, make sure to use the lowest heat setting and apply a thermal protectant.
Refrain from washing your hair with water high in minerals such as chlorides and fluorides. You can install a water filter in your shower to remove these color-draining ions.
Avoid washing your hair frequently or with hot water.
Final Word
Hair dyeing is a common procedure that not only helps you hide your gray hair but also allows you to experiment with different hair colors.
It is common to visit a professional to get your hair colored, but note that salon hair dyes are often laden with chemicals and can be expensive. A better, hair-friendly, and cheaper alternative to these synthetic dyes is the use of natural dyes.
Using natural hair dyes, which are readily available, not only helps you achieve your desired hair color but also leaves your hair healthier. They are also safe to use as they lack chemicals.
Was this article helpful?