Graying of hair is a part of the natural aging process. It is common and inevitable, but people often employ various methods to hide their gray hair. Most commonly, synthetic hair dyes are used to hide graying of hair.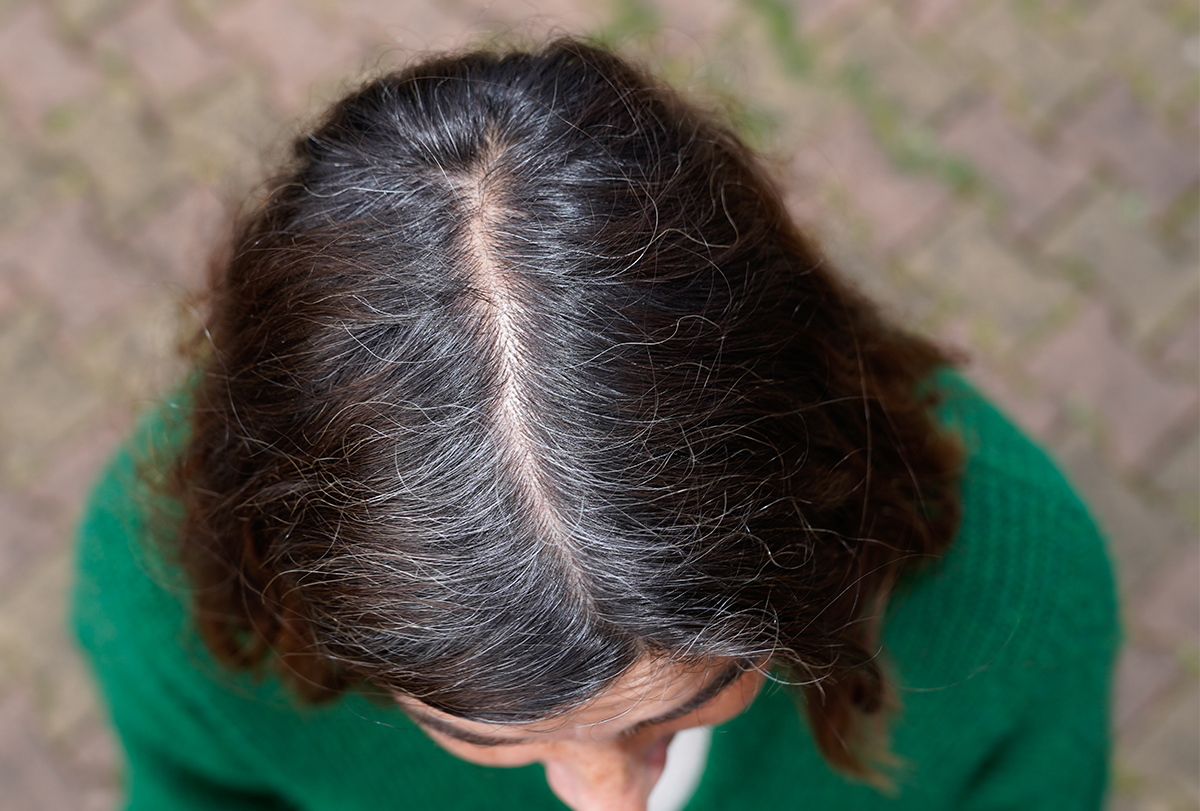 While hair dyeing is not limited to gray hair and is popular among people of all ages, (1) using it for hiding gray hair means that you get the treatment done very often. The purpose of covering graying is certainly met using synthetic hair dyes, but these products are chemical based, which can damage your hair severely.
The chemicals present in synthetic dyes used in salons or at home can not only cause hair breakage and loss in the long run, but they can also increase the risk of medical problems such as cancer. (2)(3)
To eliminate the risk of harming your hair, it is best to accept your natural hair and even flaunt your graying hair with style. However, if you are not yet ready for this, you can try different temporary, nondamaging ways to fix your gray roots.
How to Conceal Gray Hair Without Dyes
Here are cost-friendly, safe, temporary methods and tools that can help hide your gray hair without the use of synthetic dyes.
1. Use temporary powders
You can purchase different temporary powders manufactured specifically to hide gray roots. Using temporary powders gives you a quick, non-messy solution to gray roots. They come in a variety of colors, so you can easily find the shade closest to your hair.
These powders are water resistant and sweat proof and can generally last until you shampoo your hair. You can carry these powders with you in your purse or the car, and touch up whenever required.
How to use:
Style your hair.
Apply the powder to your scalp while holding the hair taut from the roots. Start at the center, dabbing the powder on visible roots, and work your way outward. You can also spray some hairspray of a similar color over your bald patches, and apply the powder over that to help it stick on to your scalp for longer.
Repeat if necessary, until the roots disappear.
Brush your hair after a minute of application.
Remove the excess product by either blow-drying your hair lightly or by using the wide end of the applicator brush.
2. Spray a root concealer
Aside from temporary powders, you can use root concealer sprays. These are also known as touch-up sprays and can be found easily in drugstores and beauty stores.
Root concealer sprays come in a variety of shades; select the one similar to your hair tone. These sprays can hide your gray hair until your next hair wash and shampoo.
How to use:
Follow the instructions given on the product. In general, shake the bottle well and spray the product on your hair from a distance of 6–12 inches. Avoid using too much product as it can make the hair look damp and thus odd.
3. Try the airbrush approach
Airbrush is a popular technique used for painting, makeup, and even root touch-ups. Using this advanced technique, you can achieve a smooth, flawless look with minimal product, something that other products might not deliver.
Airbrushing involves loading an air gun with a liquid product and spraying it on the desired area. It is suggested to use water-based airbrushes for your hair, as silicone-based brushes can damage the hair.
How to use:
This procedure requires some amount of precision. Go through the instructions carefully and seek the expertise of a professional or a friend if required.
Choose an airbrush hair product in a shade similar to your hair.
Hold the airbrush 2 inches from your scalp and spray the product on your roots. Do this on dry hair.
Perform airbrushing in light, even strokes, and maintain continuous movement to cover the whole scalp with a single layer of product.
4. Change your hairstyle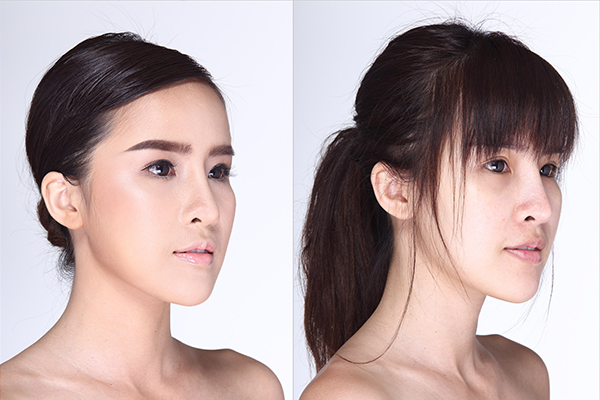 It may seem that you need to color or cover your hair to hide gray roots, but you can easily do so by altering your hairstyle. This not only eliminates the need for hair products, therefore being harmless, but also adds to your overall look.
You can try these hairstyles:
Tie your hair in a topknot or a high ponytail to shift the focus to the high point of your hair, letting your gray roots go unnoticed.
Braid your hair to cover gray strands.
Change your hair part position. For example, if you part your hair in the middle, and it reveals gray roots, you can try a side part.
Use hair accessories such as bobby pins, headbands, or tiara to hide gray hair.
You can also go for a voluminous hairstyle such as a perm.
5. Use makeup to cover the roots
If you are a makeup lover or have a lot of eye makeup tools, you may not need to purchase other products to temporarily hide your graying hair.
You can simply use an eye shadow, eye powder, liquid liner, or mascara that matches your hair shade to cover gray roots. It is best to use a high-quality product that won't stick to your hair but will only come out when you wash it.
You can also use magnetic powders that contain zinc stearate and tin oxide, which help bind the powder to each strand of the hair, ensuring long wear time. However, make sure to buy powders devoid of added fragrances or gluten.
Waterproof touch-up pens or wands that hide gray hair roots are also great investments.
How to use:
Take a bit of eye shadow on a small makeup brush and apply it to your roots. You can go over the same area multiple times until the roots are completely concealed.
When using a magnetic powder, take the product on a sponge applicator and apply it to the center of the scalp, working your way outward. Keep in mind that too much or frequent application of makeup on the scalp can cause dryness of hair.
When using root touch-up color wands to draw on gray hair, start from the exposed roots at your hair part and then go through the whole scalp. Note that root touch-up sprays usually contain harsher dyes (check brands and chemicals), and if sprayed too close, they can cause cold burns on the scalp.
6. Use herbs on your hair
The most common way to hide gray hair is to dye them. However, synthetic dyes are laden with chemicals that can be harmful to your hair in the long run.
There are various natural dyes that you can instead use to cover your gray hair. While these dyes may not be as effective as their synthetic counterparts, they do provide a harmless temporary solution.
Moreover, natural hair dyes made from herbs can improve your hair health, boost hair growth, and even stimulate hair repigmentation in the long run.
The herbs that you can use on your hair include:
a. Jatamansi
Jatamansi is a highly potent herb used for darkening or blackening of hair. (4) If you have dark hair that has started to turn gray, you can use jatamansi powder.
Simply mix the powder with water, olive oil, or Moroccan argan oil to form a paste.
Apply the paste to shampooed damp hair.
Rinse it off and condition your hair after an hour.
b. Henna
Henna is a highly popular natural dye, (4) which not only colors hair but also conditions and strengthens it, preventing frizziness, dullness, and hair breakage.
Mix organic henna powder with water or coconut oil and 1–2 tbsp of apple cider vinegar or lemon juice to form a paste. You can also mix henna powder with other herbs such as amla, brahmi, shikakai, and bhringraj for added benefits.
Cover the mixture and let it sit for a few hours, preferably overnight.
Apply the paste on washed, detangled hair and wrap your hair in a plastic or shower cap. Use gloves when applying the dye to prevent staining your nails or fingers.
Rinse the hair with plain water after 5–6 hours. Avoid shampooing the hair for up to 32 hours.
c. Hibiscus flowers
If you have red or crimson hair, you can use hibiscus flowers to dye your hair. These flowers also add shine to your hair. (4)
Add the petals of hibiscus flowers in boiling water.
After the water turns into a deep color, take it off the heat, and allow the mixture to steep for 10–15 minutes.
Strain the liquid after it cools and transfer it into a spray bottle.
Shampoo your hair and spray the solution on slightly damp hair. Comb your hair to ensure even spreading.
Rinse your hair and condition after about 1 hour.
ALSO READ: DIY Hibiscus Hair Mask for Beautiful and Silky Hair
d. Sage
Sage can be used by brunettes to color graying hair.
Add about 1 cup of dried sage in 1 L of boiling water, and allow the mixture to steep for half an hour. If you want a deeper color, you can boil it for more time.
Wash your hair and rinse it with the cooled sage water. Cover your hair with a shower cap or plastic bag.
After 40 minutes, rinse and condition your hair.
ALSO READ: 5 Benefits of Sage for Hair and Ways to Use It
e. Black tea
Dark hair can also be treated with black tea. However, this may not be as effective as other herbs. Nevertheless, using black tea can make your hair shine and revitalized.
Steep 1 cup of black tea and allow it to cool.
Apply the tea to your hair.
Rinse your hair with water after 1 hour.
f. Beetroot juice
You can use beetroot juice to add a reddish tint to your hair.
Mix concentrated beetroot juice and argan oil, coconut oil, or olive oil.
Apply the mixture to your strands and cover your hair with a shower cap.
Rinse and condition your hair after 1½ hours.
Final Word
Graying of hair, while unavoidable, is often unwanted. To hide graying roots, people often visit salons or color their hair at home, which not only takes time but also increases expenditure.
Moreover, coloring a full head of hair to just cover up some roots may not sound feasible. In addition, the long-term damage caused by frequent use of hair dyes is not unknown. You can opt for simple, temporary, at-home methods to cover your gray hair, including make-up, herbal rinses, and temporary powders.
These hacks not only help increase the gap between your salon sessions but are also generally not damaging to your hair. It is also important to embrace the natural process of aging and gain the confidence to wear your graying hair.
Was this article helpful?