Thousands of hair follicles are present in the scalp and contain oil-releasing glands known as sebaceous glands. The naturally secreted oil is responsible for the shiny and healthy appearance of your hair.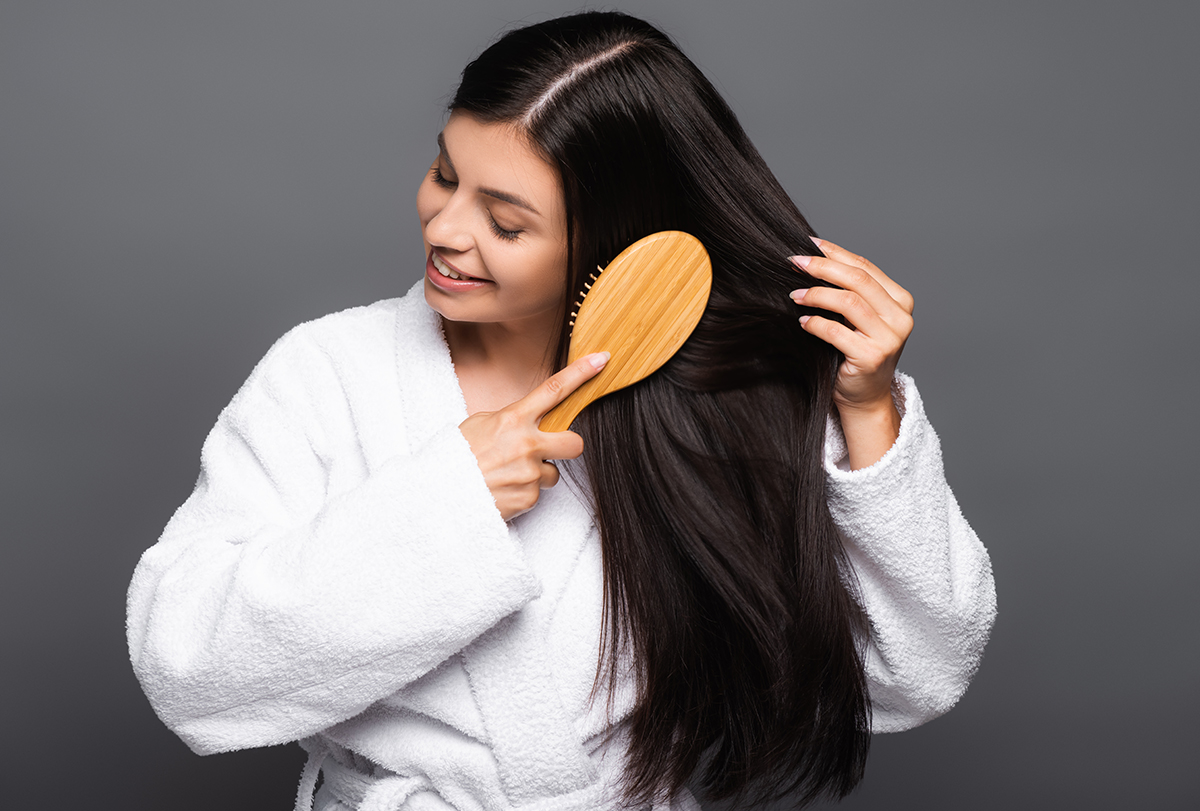 Sebum also helps lubricate and hydrate the hair. It reflects harmful solar radiations, which can cause photooxidation, leading to protein and color loss.
Several lifestyle factors can cause hair dullness, and in most cases, you can simply observe self-care measures and follow some home remedies to bring back the shine in your hair.
Home Remedies to Have Shiny and Smooth Hair
The following home remedies can be useful in making your hair healthy, lustrous, and shiny.
Caution: Only try these remedies if you are not allergic to the ingredients. Discontinue use if you experience any adverse reactions.
1. Apply an egg mask
Egg masks are among the most used home remedies, and their use to achieve shiny, smooth hair is supported by scientific studies.
Egg yolks contain hair growth peptides and help improve the overall health of hair. (1) Moreover, the fatty acid content of eggs helps nourish and moisturize hair, making it shiny.
How to use:
Mix 2 tbsp of coconut, olive, or vitamin E oil with 2 eggs and ½ cup of yogurt or honey. You can also use egg-based mayonnaise if you are out of eggs.
Wet your hair and massage this mixture on the scalp and hair.
Rinse after 30 minutes with cold water and shampoo your hair as usual.  
2. Oil your hair
Oiling regularly is highly useful in bringing back shine and health in your hair. (2)(3)
Several oils may be useful, including coconut, (4) Moroccan argan, (3) olive, jojoba, sunflower, almond, and avocado oils. These oils have a high fatty acid content that can help moisturize dry hair.
How to use:
Slightly warm any of the oils and massage into your hair and scalp. Leave it overnight or shampoo your hair after 30 minutes.
Mix any of the oils in your conditioner and use.
3. Rinse your hair with coffee
The use of coffee can boost hair health and growth. (5) The polyphenols and bioflavonoids in coffee are thought to help make your hair smooth, shiny, and soft. Moreover, coffee can help moisturize the hair and improve blood circulation to the hair follicles.
How to use:
Massage damp hair with cooled, brewed coffee and allow it to sit for 15 minutes before rinsing.
Mix brewed coffee with your leave-in conditioner and use.
4. Use avocado
Substantial anecdotal evidence supports the efficacy of avocado in improving hair health, although scientific evidence is lacking. The vitamin and fatty acid present in avocado are believed to impart shine to hair and make it look healthy.
How to use:
Mash one avocado and mix in 2 tbsp of olive or almond oil. You can also add a ripe, mashed banana to this.
Apply the mixture on slightly damp hair from roots to ends.
Wash your hair after 30 minutes.
5. Wash with apple cider vinegar or beer
Washing the hair with beer or apple cider vinegar (ACV) to improve its smoothness and shine is based on anecdotal evidence rather than scientific studies. The protein hop in beers is suggested to promote hair growth. (6) Both beer and ACV help condition the hair and make it shiny.
How to use:
Mix ACV or beer with cold water.
Apply the mixture to shampooed hair and scalp.
Rinse after a few minutes.
6. Apply yogurt
Yogurt is a popular anecdotal remedy that helps condition the hair, making it smooth and soft.
How to use:
Massage yogurt into your hair.
Rinse it off with water after 15–20 minutes.
Shampoo and condition your hair as usual.
7. Put aloe vera gel
Aloe vera gel is an efficient moisturizing agent due to its polysaccharide content that can help make hair smooth and shiny.
How to use:
Mix 4 tbsp of aloe vera gel with 3 tbsp of yogurt and 2 tbsp of coconut oil.
Apply the paste to damp hair.
Rinse your hair after 30 minutes.
8. Use honey
Honey is a natural humectant that can help hydrate and lock in moisture in the hair. Well-hydrated hair appears soft and shiny.
How to use:
Mix 1–2 tsp of almond or olive oil with organic honey.
Apply the mixture to your hair.
Rinse your hair after 15 minutes.
Self-Care Measures
It is essential to take proper care of your hair to bring back the shine and improve its health. The following self-care measures can help prevent your hair from turning dull and dry.
1. Improve your diet
A well-balanced diet is essential in maintaining overall health, including that of your hair. (7) It is recommended to include the following in your diet:
Omega-3 fatty acid sources such as flax seeds and freshwater fish
Beans containing vitamin B12, folate, iron, and biotin
Dark green vegetables for their vitamin A and C content to help improve sebum production
Selenium-containing nuts
Nuts with alpha-linoleic and zinc to condition the hair and preventing hair loss
2. Make some lifestyle changes
Besides healthy eating, you should also develop the following hair-healthy habits:
Quit smoking. (8)
Exercise regularly to help improve blood and nutrient supply to the scalp.
Use a humidifier in hot, dry weather to prevent dryness.
Do not overuse indoor heating.
Use soft, silky bedsheets to avoid friction while sleeping.
Protect the hair from sun rays to prevent photooxidation. (9) Use a wide-brimmed hat or scarf to protect your hair when going outside. You can also use leave-in conditioners containing zinc as they act as sunscreen.
3. Keep your hair clean
It is necessary to maintain hair hygiene to support proper hair growth and health.
Shampoo your hair every 2–3 days or whenever it feels dirty or excessively oily. Avoid shampooing every day or using hot water to prevent dryness.
Cleanse your scalp and allow the shampoo to flow through the hair length rather than rubbing the shampoo into your hair strands.
Choose hair products that contain betaines, sultaines, sarcosines, glucosides, glycinate, sodium lauryl sulfoacetate, and glycerin or those that contain plant-based ingredients such as olive, burdock root, plant oils, green tea extracts, essential oils, and chamomile extracts.
Always use a conditioner. You can use leave-in conditioners that can be applied daily to prevent damage. Alternatively, you can use conditioners that are applied after shampooing and washed off immediately or deep conditioners that should be rinsed off after 10 minutes of application. However, the most effective treatment for dry, damaged hair is protein conditioners that are to be used monthly or bimonthly.
Get your hair trimmed to get rid of split ends.
Apply leave-in hair serums to damp hair, avoiding the roots, preferably those containing Marula oil, vitamin E, aloe vera, hemp extract, seaberry oil, jojoba oil, or argan oil.
4. Dry your hair gently
Using excessive heat on the hair for drying, or even styling, can cause great damage.
Allow your hair to air dry or wrap them in a soft towel. Avoid rubbing the hair with towels.
Limit the use of hair dryers and only use them in the lowest heat setting, 6 inches away from the hair whenever using. Do not point the hair dryer to one section of hair for more than 30 seconds at once. (10)
Moreover, avoid the use of hair styling tools such as curling irons and straighteners. (10) Instead, use infrared radiation-based hair tools.
5. Do not use harmful products
Hair products often contain harmful chemicals that need to be avoided.
Avoid washing the hair with high-mineral solutions.
Do not use shampoos containing sulfates, parabens, isopropyl, propyl alcohol, propanol, and silicone.
Avoid excessive use of dyes, bleaches, gel, and mousse in your hair.
Do not combine different hair services such as relaxer, perm, and coloring at one time. Allow a 2-week gap between each treatment.
You can also use hair shine sprays for a quick fix. However, avoid excessive use.
6. Avoid straining your hair
Do not tug or pull at your hair as it causes unnecessary strain and weakens the hair strands.
Detangle your hair gently with a wide-toothed comb and use a moisturizing conditioner if required.
Use boar hair brushes rather than those with metal bristles.
People with curly or textured hair should comb while the hair is damp.
Do not pull back your hair, and tie it loosely.
7. Take proper care of weaves and extensions
If you wear weaves and extensions, keep the following points in mind:
Use light weaves and extensions to avoid pulling.
Do not use professional extensions or weaves for more than 3 months.
Take care of your scalp when using such products.
Try to increase the gap between touch-ups in winter or dry weather.
8. Avoid chlorinated swimming pools
It is suggested to avoid swimming in chlorinated water.
Always wear a swimming cap and rinse your hair after swimming.
Use swimmers shampoo and apply a leave-in conditioner.
Keratin or Cysteine Treatments for Hair
Keratin or cysteine treatments are generally used to help improve damaged hair and may help make hair healthy and shiny. However, keratin treatments involve the use of chemicals such as formaldehyde that can damage the hair and can even cause cancer in the long run.
While cysteine treatments are formaldehyde-free and therefore safer than keratin treatment, they have a short-term effect and, thus, are not cost-effective.
Final Word
Many environmental and lifestyle factors can leave your hair dull and dry. These include sun exposure, use of hair dyes, lack of nutrition, and excessive use of styling products.
The above-mentioned home remedies and self-care measures can help improve the health and appearance of your hair. However, if the problem continues, consult a doctor as your dull hair may be resulting from an underlying medical problem.

Continue ReadingDull Hair: Causes, Treatment, and Complications
Was this article helpful?