South Korea is well known for its skin care and beauty secrets. The Korean beauty industry has mastered the art of healthy nourishment and cleansing to achieve beautiful skin and hair.
Korean hair care products are free of harsh or drying chemicals. They are gentle on the skin and hair and are sought after all over the world. (1)
Korean Hair Care Regimens
Most Korean people usually have thick hair, and they tend to focus on scalp care because for them it is very important for proper hair growth. (2)(3)
Here are a few popular hair care treatments in Korea:
1. Scalp scalers
Scalp scaling refers to the process of scalp exfoliation through steaming, scrubbing, and rinsing the scalp. A specialized "scalp scaler" is used to exfoliate and cleanse the scalp.
Scalp scaling can stimulate new healthy hair growth and clean the scalp.
How is scalp scaling done?
Scalp scaling is performed for around 1–2 hours and involves a series of steps:
The scalp is studied to select a scaling gel suited to your needs.
The hair is steamed to unclog the pores and get rid of excess sebum.
The scaling gel is applied to the scalp to cleanse it thoroughly.
The scalp is massaged and washed to complete the process.
The entire process costs from 30,000 KRW to 90,000 KRW (24 and 70 USD).
Why is scalp scaling done in Korea?
Scalp scaling gets rid of sebum, sweat, and dirt accumulation on the scalp. This helps the hair follicles breathe freely and unclogs pores. Scalp scaling also helps prevent dandruff and scalp infections.
2. Shampoo (pH balanced)
Korean-made shampoos are usually very gentle on the hair and do not cause frizz or dryness. Most Korean shampoos have a lower pH (between 3.0 and 5.0) to match the natural pH of the hair and help keep them strong and healthy. (4)
Koreans also avoid the use of two-in-one shampoos and conditioners as these products tend to do more harm than good. They do not cleanse your hair properly and leave them greasy.
3. Scalp massager
Scalp massagers are very common in Korean homes. They are an effective and relaxing way to improve scalp conditioning, which stimulates proper hair growth.
Moreover, massaging the scalp helps increase blood flow to the hair follicles and nourish them from within, thus increasing the strength of your hair.
You can get a small scalp massager for cheap in most stores and use it for 5–10 minutes every day. Remember to be gentle while massaging to prevent hair breakage and tangles.
4. Conditioners
While the use of hair conditioners after hair washes is common all over the world, Korean hair care specialists recommend drying your hair thoroughly before applying conditioners. (5) Doing so helps your hair absorb the conditioner better and makes your hair soft and manageable.
5. Hair masks
The Korean beauty industry is a pioneer in hair and face masks. They have recently come up with the latest trend in hair care – steam hair masks.
Steam hair masks come in a small sachet and should be applied to your hair just after a shower. Cover your head with the "steam cap" provided for a few minutes and you are good to go.
The steam mask helps seal in moisture and heat in your hair along with its conditioning ingredients such as argan oil and aloe vera, giving you smooth and silky hair in one use.
6. Hydrating hair caps
Hydrating hair caps are very similar to steam hair masks – they both aim to seal in the moisture from wet hair along with conditioning ingredients such as coconut oil or olive oil to hydrate the hair.
7. Hair and scalp toners
You may have heard of skin toners, but Korean markets also offer a variety of scalp toners. Scalp toners fight dandruff and pollutants that may settle on the surface and help balance the pH of the scalp.
After washing and drying your hair thoroughly, spray the toner on your scalp and massage for a few minutes.
8. Scalp serums and hair serums
Although they may sound similar, scalp serums are different from hair serums. Hair serums protect your hair strands from damage and dryness, whereas scalp serums nourish your hair follicles and promote hair growth.
9. Hair essences
Hair essences are widely used in Korea as they offer similar benefits to hair serums without making your hair greasy or weighed down. They serve as diluted versions of hair serums and nourish or hydrate the hair.
10. Healthy diets that include Quinoa and Kimchi
Hair serums and essences can go a long way in promoting healthy hair, but the best nourishment is through your diet. Eating a balanced diet full of essential nutrients such as protein, sulfur, and vitamin E can improve hair strength and texture while increasing hair growth.
Korean food is rich in antioxidants. For example, Kimchi is a popular fermented food that contains fish sauce, cabbage, and other vegetables. Kimchi helps promote hair growth due to its rich nutrient density. (6) Some studies claim that it may even help reverse baldness.
Quinoa is another staple food in Korean cuisine that can promote hair growth due to its high protein density. (7)
11. Overnight treatments
Overnight serums and hair masks help rejuvenate the hair follicles and promote healthy hair growth. Applying these products before going to bed helps the ingredients to be absorbed deep into the scalp and gives them enough time to nourish your hair.
12. Moroccan oil
Moroccan oil is a mix of olive oil, argan oil, and other ingredients that have a deep-conditioning effect on the hair. It is a widely popular hair care remedy in South Korea. (8)
13. Scalp scrubs
Scalp scrubs are another great way to exfoliate the scalp and get rid of excess sebum and dirt. Using carbonated water helps scrub your scalp and cleanse it while being gentle.
Koreans Believe That a Healthy Scalp Produces More Hair
A healthy scalp leads to healthy hair. This is abundantly clear when you realize that the scalp is home to the roots of your hair. It is important to care for your scalp as much as you care for your hair. Thus, the Korean hair care industry is focused on hair products meant for the scalp more than the hair.
Scalp scalers, scrubs, toners, and cleansers all help get rid of excess oil and pollutants on the scalp to give your hair follicles more space to breathe and absorb nutrients.
Home Remedies to Get Korean Hair Care Naturally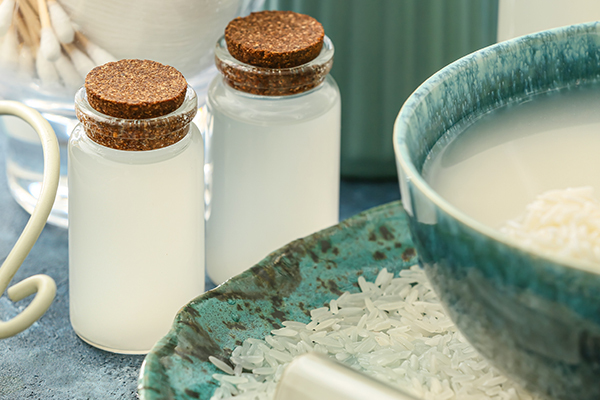 Care for your hair the Korean way by following these methods:
Make sure to consume lots of nutrient-rich and organic food. Kimchi is a staple in Korean cuisine and can help solve your hair loss problem. You can buy some ready-made kimchi from your local Korean store or restaurant or make your own at home.
Use Moroccan oil regularly on your hair and scalp as it nourishes and conditions your hair.
Soak a cup of washed rice in 2 cups of water overnight. Strain the rice and store this water in a spray bottle. Spray this rice water over your scalp and hair before a hair wash and massage it in to get smooth hair strands. You can add 1 tbsp of castor oil to this water for better hair growth.
Korean Hair Care Tips
Here are some beneficial tips for your hair:
Have a hair consultation with a dermatologist or hair care specialist to determine your hair type. This helps you choose products suited for your hair.
Avoid the use of heating products such as hair straighteners and curling irons. If you must use them, make sure to apply a heat protectant beforehand.
Most-Asked Questions
How do Koreans deal with dandruff?
Dandruff is an annoying hair problem that can be notoriously difficult to get rid of. Regular scalp scaling (once in two weeks) can help prevent and treat dandruff buildup.
A scalp scaler is a cleansing shampoo that helps get rid of dirt, dead skin cells, and debris on the scalp.
How do Koreans deal with hair loss?
Hair loss is a major hair problem in the world. Here are a few ways Koreans avoid or treat hair loss:
Consume food rich in nutrients and antioxidants such as kimchi.  
Exfoliate your scalp regularly via scalp scaling or scalp scrubbing.
Use natural hair serums and hair oils to promote healthy hair growth.
What type of brush is used by Koreans?
Boar-bristle brushes are hugely popular in South Korea. They are wide-toothed brushes that are neither too soft nor rough on the scalp. Boar-bristle brushes help get rid of dirt and dead skin cells and increase blood flow to the scalp.
Final Word
Korean beauty secrets are revered all over the world as Koreans have mastered the art of balancing natural remedies with modern techniques.
However, it is important to remember that beauty comes from within and what you put inside your body matters more than any product you use externally. Thus, make sure to eat a balanced diet rich in nutrients and antioxidants to promote healthy hair.
Moreover, follow the hair care tips given above to improve the condition of your hair.
Was this article helpful?