Itching refers to the discomfort that creates an urge to scratch the affected area and may lead to restlessness, skin sores, and infection.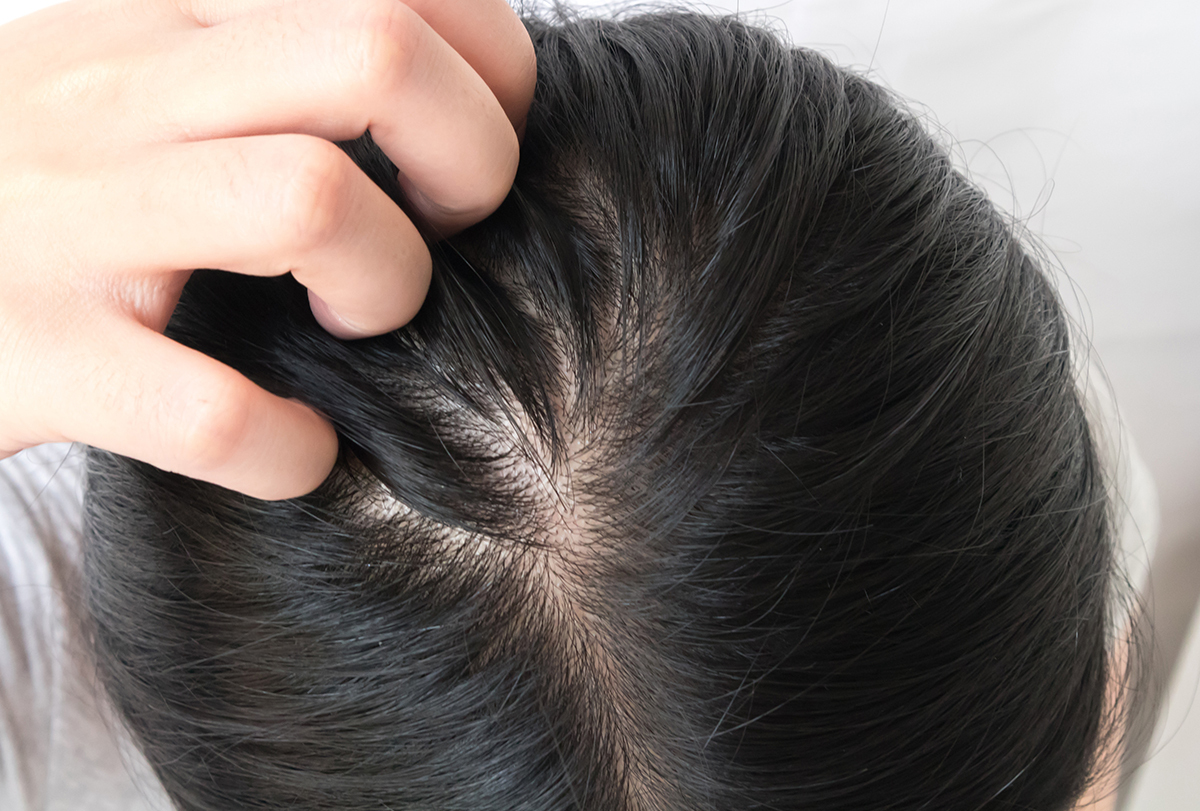 Scalp itching is a common problem, generally presenting as dandruff or peeling scalp. Although it is not a severe medical problem, hair and scalp issues can cause discomfort and embarrassment at times.
How Common Is Itchy Scalp?
Itchy scalp, medically known as scalp pruritus, has a prevalence of 13%–45%. (1) Approximately 50 million people have dandruff caused itchy scalp, raising the cost of treatment with the use of anti-dandruff products to $300 million in a year. (2)
Head lice infestation is another common cause of itchy scalp. This condition is highly prevalent among children between the ages of 3 to 11 years. (3)
Causes of Itchy Scalp
Itchy scalp can result from various conditions and factors, but dandruff and seborrheic dermatitis are the most common ones:
1. Dandruff
This can occur due to dryness, excessive oil production, and other skin conditions.
2. Seborrheic dermatitis
This inflammatory skin condition generally results from seasonal changes, stress, hormonal imbalance, or overgrowth of yeast. It affects around 16% of the adult population. (4)
3. Other causes
Other causes of itchy scalp include:
Fungal infections such as ringworm and tinea capitis.
Scabies, a mite infection that affects 300 million people worldwide, irrespective of age, or social class. (5)
Sunburn caused by prolonged exposure to sun or ultraviolet light, rendering the skin red.
Dry scalp, which may occur due to a lack of moisturization, skin diseases, or skin aging.
Dirt and sweat from pollution, climate, or not shampooing enough.
Allergies to products such as hair dyes.
Eczema or atopic dermatitis, which refers to the redness, irritation, itching, and dryness of the skin as a result of immune disorders or allergies.
Head lice, which causes skin irritation when their saliva is injected during feeding.
Psoriasis, a skin condition characterized by the appearance of scaly, red, shiny skin spots.
Alopecia areata, an autoimmune skin problem that results in hair loss from the head.
Lichen planopilaris, an inflammatory skin condition that causes hair loss in patches and itching.
Lymphoma, a type of cancer that often causes itching and redness on the neck or scalp.
Anxiety or stress, which can trigger itching and flaking of the scalp, especially if you have dandruff.
Herpes zoster, also known as shingles, a viral disease that causes blisters and skin rash on the head, especially in older people.
Scarring alopecia or inflammation that causes damage to the hair follicle, resulting in hair loss.
Folliculitis, an infection of the hair shaft.
Cradle cap, or the formation of a yellowing, oily crust on the scalp.
Signs and Symptoms of Itchy Scalp
Itching in the scalp, which may cause a tingling or painful sensation and is often accompanied by discomfort, is the key sign of an itchy scalp.
Other symptoms that may accompany an itchy scalp include:
Dry skin
Bald patches
Irritated skin
Sores, scales, or patches on the scalp
Mild fever
Redness
Swelling
Pus-filled sores
Medical Treatment for Itchy Scalp
The first line of treatment for itchy scalp involves the use of topical medications, which include:
Corticosteroids (grouped into four levels of strength: mild, moderate, high, and very high)
Vitamin D
Tacrolimus
Salicylic acid
Dithranol
Tar-based preparations
These preparations may be difficult to apply to the scalp because of the hair, but they are generally effective and safe for use.
Diagnosing Itchy Scalp
It is essential to identify the cause behind your itchy scalp for appropriate treatment. This may involve a detailed medical history and a physical exam.
If the doctor suspects a medical condition for the itchy scalp, you may need to undergo tests such as:
Swab test
Blood test
Skin biopsy
Seborrheic dermatitis is a common cause for an itchy scalp, and the doctor may look for scaly, red patches on the skin. Since these symptoms are common with psoriasis and atopic dermatitis, the doctor may order other tests to rule out these conditions.
When to See a Doctor
You might need to consult a doctor in the following cases:
Itching is aggravated, especially if it interferes with your daily activities or sleep.
The condition lasts for more than 7 days.
Anti-dandruff treatments do not work.
Redness or swelling occurs on the scalp.
Flaky, red skin develops in other parts of the body.
Final Word
Itchy scalp is a common problem, and while scratching the scalp may provide momentary relief, it can aggravate the condition or cause pain. Often, a break in the skin develops, from which bacteria can enter and cause infection.
It is vital to moisturize your skin to prevent itching. Additionally, avoid daily stress to help manage the condition.

Continue ReadingItchy Scalp Relief With Home Remedies and Self-Care
Was this article helpful?