A lot of people are big fans of winter because of all the celebrations, the beautiful snow, the cup of sizzling hot coffee, and the hot bath to relieve all the stress at the end of the day.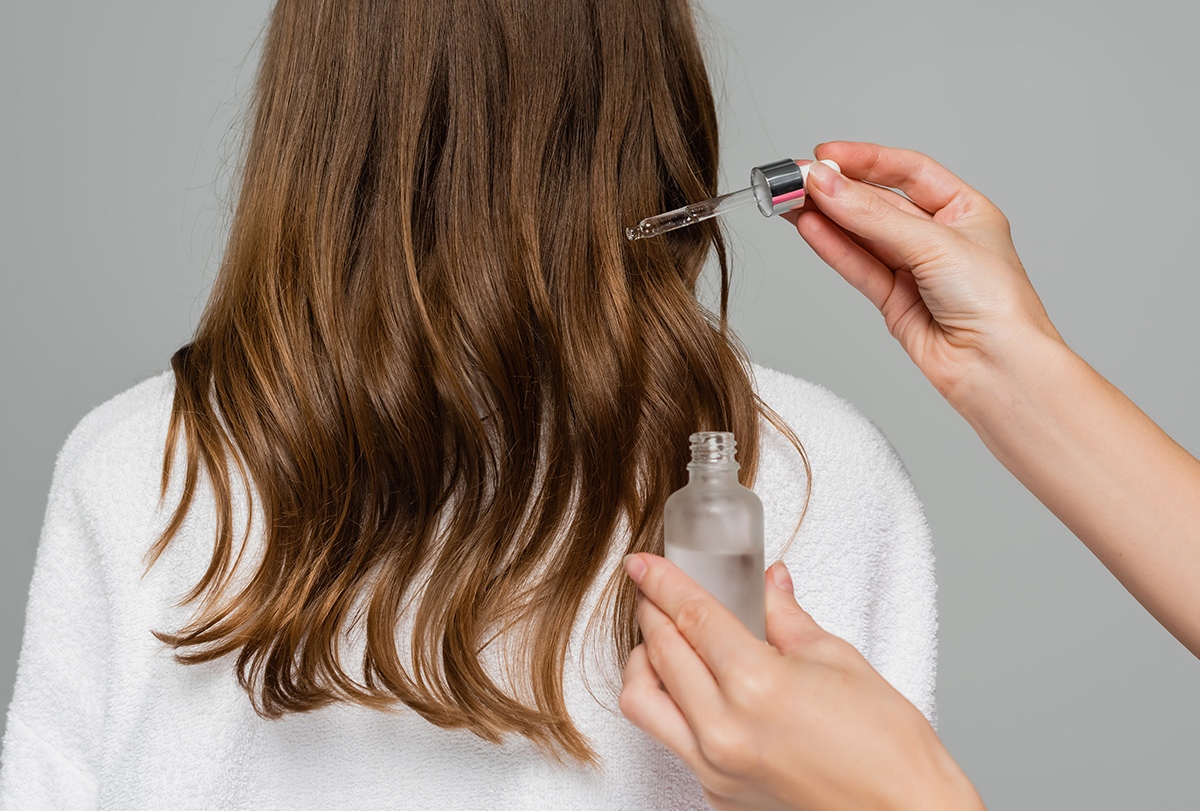 However, as much as most people like winter, it can also be a challenging time to take care of hair health. The chilly weather can be quite damaging for your hair.
Thankfully, a ton of products are available nowadays that you can put in your hair to protect it and maintain its health.
Hair Care Products for Winter
Here are your must-haves when it comes to looking after your hair during the cold months.
1. Hair oils
To make sure your hair remains strong, silky, and shiny throughout the winter, you have to conquer some common hair problems associated with the chilly weather such as:
Hair fall
Itchiness
Dandruff
The good news is that the solution to these issues is simple. All you have to do is include oil in your hair care regimen to moisturize your hair.
Massage your scalp with the oil of your choice and leave it on for a few hours. Then, wash it off with a mild cleansing shampoo. (1)
The best oils for your hair in winter include:
Olive oil
Almond oil
Coconut oil
Mustard oil
a. Olive oil
Olive oil comes from Olea europaea and is rich in vitamin E plus fatty acids, which are necessary nutrients to make your hair soft and moisturized. (2)
b. Almond oil
Almond oil comes from Prunus amygdalus and is abundant in fatty acids. With its emollient properties, it is great for softening and moisturizing your hair. (1)(3)
c. Coconut oil
Coconut oil comes from Cocos nucifera andis replete with fatty acids, which make it good for your hair health. It is also an antioxidant and has beneficial effects on the scalp and hair.
Coconut oil is also antibacterial and antifungal in nature. (1)(4)
d. Mustard oil
Mustard oil comes from the seeds of Brassica nigra and is teeming with fatty acids, which condition the hair and prevent dryness. (1)
Note: If you have dry hair, opt for coconut oil because it forms a coating on your hair, sealing the moisture inside. (5)
2. Hair conditioner
Conditioning your hair after shampooing is a very essential step, especially during winter, and not something you should skip. This is because conditioner is formulated in a manner that prevents frizzy hair.
Applying a sufficient amount of conditioner improves the appearance of dull and damaged hair. It is also great for use in winter because it: (4)(6)(7)
Decreases static
Improves hair strength
Note: Use conditioner only on the tips of your hair and not on the scalp.
Conditioners are very viscous and are designed to restore hair health by repairing the hair and adding shine. Conditioning will prevent your hair from looking rough.
Moreover, conditioners detangle your hair, making it easy to manage it. They prevent dryness in the winter by restoring the hair's moisture content. (8)
Use a conditioner after applying shampoo, and make sure to let it stay for a few minutes before rinsing them off. Conditioners can be of different types:
Gel-based conditioners: Conditioners that are gel-based are great for dry hair as they provide moisturization without stripping the hair of its natural oils.
Creamy conditioners: These are good for frizzy hair.
Other varieties of conditioners are also available for curly or straight hair.
3. Hair serums
Hair serums are applied to hair as a protective shield. They smoothen out your hair and fight frizziness and dryness. They also give a little shine to your strands and improve their appearance.
In addition, there are serums that are also heat protectants; that prevent damage to hair by heat or chemical styling. (9)
Serums make your hair strong, voluminous, and glossy. The best part is that they are lightweight and easily absorbed into the scalp. They also do not cause greasiness after application, so you can wear them any part of the day.
Studies show that the usage of serum causes a significant improvement in hair growth rate and hair density while reducing hair fall and thinning.
ALSO READ: Hair Oil, Serum, Shampoo, or Conditioner – What to Apply First?
4. DIY hair masks
Oils by themselves or in mixtures are extensively used in remedies to fight hair issues. Although they can be applied directly onto the scalp, they can be also used as a vehicle for hair masks. This is because of their emollient activity and rich nutritional value.
a. Olive oil mask
Oils exhibit synergistic effects with ingredients such as eggs and honey. Olive oil mixed with egg and honey can be used as a hair mask.
Eggs contain high amounts of lecithin and nourishing activities. Studies have shown eggs to have protein content good for stimulating VEGF production, which is beneficial for hair growth.
Honey, on the other hand, has antibacterial, antifungal, and antioxidant activities. Research has shown that honey can help relieve itching, scaling, hair loss, dandruff, and lesions associated with dermatitis.
This olive oil–egg–honey mixture can be used for the treatment of various hair and scalp disorders. (2)(10)(11)(12)
b. Aloe vera + oil mask
Aloe vera can be applied to hair alone, but it also works well with olive oil. Studies have shown aloe vera to work great in resolving hair issues such as mild to moderate hair loss and dandruff.
In a research trial, those who massaged their scalp with aloe vera for 30 minutes before rinsing it off twice a day for 7 weeks noticed an improvement in hair health. The benefits included relief from scalp dryness, irritation, and itching. (2)(10)(13)
You can also use other oils with aloe vera including:
Avocado oil
Almond oil
Castor oil
Additional Tips to Deal With Hair Dryness in Winter
To avoid hair dryness and other issues in winter, follow these tips:
Dermatologists advise limiting how frequently you heat style your hair, especially in winter.
Hair becomes drier than usual in winter, so brush your hair gently and use a wide-tooth comb.
Use lukewarm water to wash your hair and not water that is too hot or cold.
Dermatologists encourage including iron, vitamin D, vitamin C, and, sometimes, vitamin A in the diet for healthy hair.
Wear a beanie or cap to protect your hair from the chilly wind and dry air.
Is a Hot Water Bath in Winter Bad for My Hair?
A hot water bath is a winter staple, but it strips moisture from your hair. So, it's better to bathe with lukewarm water.
Final Word
In winter, find time to focus on your hair health because the chilly and dry air causes hair to become dry, frizzy, and damaged. Incorporating the right hair care products is important during this cold season.
Was this article helpful?