Dry scalp is a common problem that usually can be treated using natural ingredients.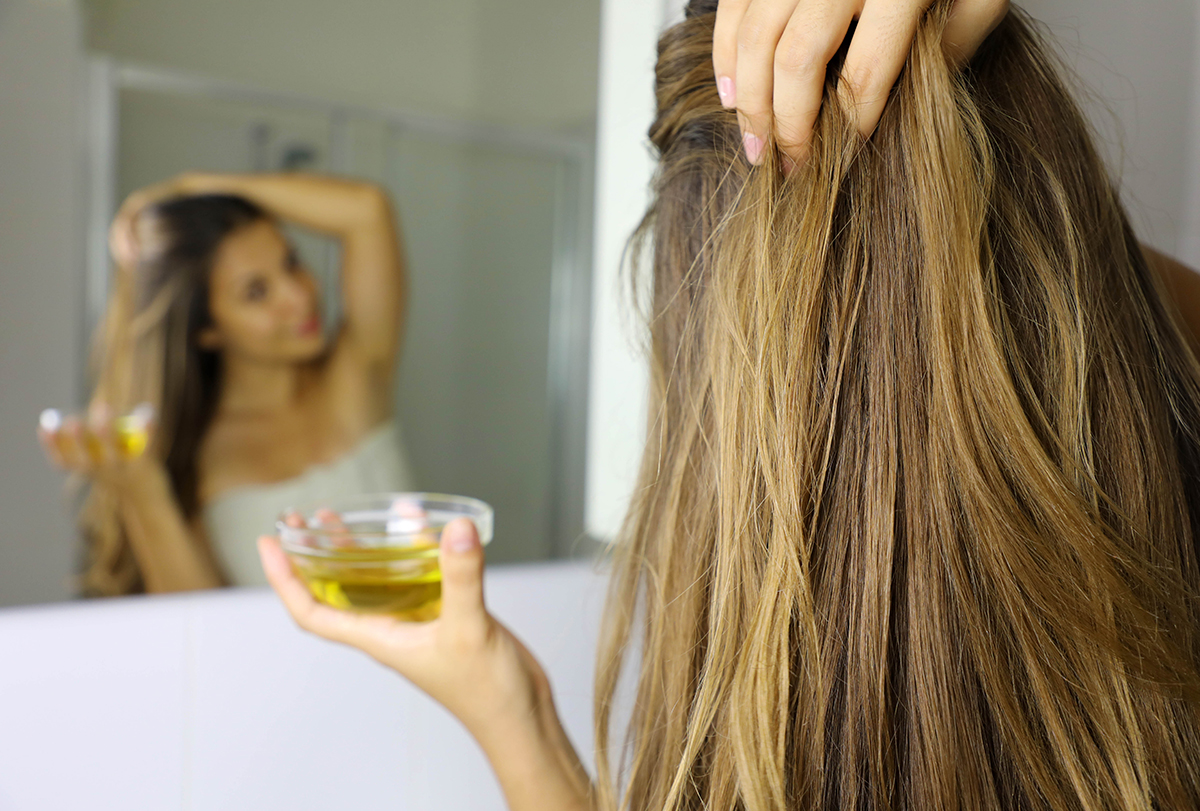 Home remedies for dry scalp are generally safe, although the remedy suitable to others may differ from what will work for your specific condition. Therefore, you can try various remedies and see what suits you the most.
It is important to note that these home remedies are best used for cosmetic causes of dry scalp. If the issue stems from conditions such as psoriasis, it is advised to seek medical treatment to avoid complications.
Home Remedies for Dry Scalp
Various home remedies are seen to help improve the symptoms associated with dry scalp. However, most of these remedies are based on anecdotal evidence and have little to no scientific support.
1. Use tea tree oil
Tea tree oil is a popular ingredient in commercially available shampoos. It is generally used for treating dry scalp and dandruff, owing to its antiseptic and antifungal properties. (1)(2)
How to use:
Mix a few drops of tea tree oil in jojoba, coconut, or olive oil.
Massage the oil blend on your scalp.
Rinse after 10 minutes.
2. Apply aloe vera gel
Aloe vera gel can be highly effective in moisturizing and hydrating your scalp, thus relieving scalp itchiness and dryness. This gel contains a wide variety of nutrients and also possesses antimicrobial properties, which are beneficial to the scalp. (3)
How to use:
Extract fresh aloe vera gel from a leaf or use store-bought aloe vera gel.
Blend the gel and massage it on your scalp.
Rinse after 20 minutes.
3. Massage with coconut oil and lemon
Lemon and coconut oil when used together can help manage dry scalp. Lemon contains citric acid that can help treat dandruff, and coconut oil helps moisturize and nourish the scalp. (4)
How to use:
Mix in 4–5 drops of lemon juice in 2 tbsp of coconut oil.
Massage the mixture on your scalp.
Wash your hair after 30 minutes using any herbal shampoo.
4. Make a mashed banana mask
Bananas contain various minerals that help moisturize the scalp and manage dryness. They also exhibit antimicrobial properties.
How to use:
Mash a ripe banana and add olive oil or coconut oil to it.
Apply the mask to your hair.
Wash your hair with a mild shampoo after 20 minutes.
5. Apply egg and yogurt
Yogurt is a common ingredient in many homemade hair masks since it helps promote hair growth and health with its protein content. Eggs help clean the scalp, fight dandruff, and strengthen the hair. (5)
How to use:
Mix 1 cup of yogurt and one egg in a bowl. You can add a few drops of any essential oil to neutralize the smell of the egg.
Apply the paste to your scalp.
Rinse after 30 minutes.
6. Use apple cider vinegar
Apple cider vinegar (ACV) possesses antimicrobial properties (6) and helps balance the pH of the skin, which helps regulate the release of oil to manage scalp dryness.
How to use:
Mix 2 tbsp of ACV in one mug of water. You can also add honey to the mixture.
Soak a cotton ball with this mixture, and apply it to the scalp.
Rinse your hair with cold water after 10 minutes.
Dos and Don'ts for Dry Scalp
Follow these self-care measures to help manage and prevent scalp dryness:
1. Maintain proper hydration
Make sure to consume 6–8 glasses of water every day to keep your scalp and skin hydrated.
2. Massage your scalp
Massaging oils on your scalp is highly effective in treating dry scalp. The pressure from the fingertips helps boost circulation to the scalp, while the oil provides hydration and nutrition.
You can use almond oil, coconut oil, castor oil, and olive oil. (7)(8) You can add a few drops of essential oil such as lavender oil, tea tree oil, rosemary oil, thyme oil, and peppermint oil to the carrier oil before massaging.
3. Use moisturizing shampoos
Opt for shampoos that contain hydrating agents such as hyaluronic acid, (9) rosemary oil, moringa oil, and almond oil. Avoid the use of chemical-containing shampoos. It is also important to avoid excessive shampooing.
4. Use a moisturizing conditioner
Along with using moisturizing shampoos, you should also use moisturizing conditioners that help relieve itching and prevent scalp dryness. You can use deep-conditioning treatments or leave-on conditioners as well.
5. Exfoliate the scalp
Mix Epsom salts or sugar in jojoba, coconut, or olive oil to create a scalp scrub. Gently rub the paste onto wet scalp and rinse. This helps remove dead skin cell buildup.
6. Improve your diet
Your hair reflects your inner health, and a nutrition-rich diet is essential for the same.
Include rich sources of omega-3 fatty acids in your diet, such as eggs, nuts, and fish. (10) Also, consume berries, sweet potatoes, dairy, and avocados. Avoid the consumption of sugars as it can promote yeast or fungal growth. (11)
7. Increase intake of vitamins B and D
Dry scalp can be a symptom of nutritional deficiencies, including those of vitamins B6 and B12. It is suggested to consume vegetables, fruits, whole-grain breads, cereals, and flaxseed oil. You can also take supplements upon consulting your doctor.
8. Do not wash with hot water
Avoid washing your hair with hot water as it can irritate the scalp and remove the natural oils from the scalp.
9. Manage stress
Stress conditions can have a negative impact on scalp and hair health. Try practicing yoga and meditation to help manage your stress. 
10. Use a humidifier
Dry weather is a common cause of scalp dryness. While you cannot control environmental conditions, you can use a humidifier indoors to prevent your scalp from drying.
11. Avoid heat styling
Excessive use of heat styling tools such as blow-dryers, curlers, and flat irons can damage your hair roots, leaving the scalp dry. If it is necessary to use these styling products, apply a heat protectant serum.
Most-Asked Questions About Scalp Dryness
How is scalp dryness different from dandruff?
Dry scalp refers to a lack of moisture and natural oils on the scalp. Dandruff, on the other hand, refers to skin flakes that are visible on the scalp. Dandruff may occur due to irritation, infection, or other skin conditions.
Can scalp dryness lead to hair loss?
Prolonged scalp dryness, if left untreated, can limit hair growth. Moreover, the hair follicles may grow weaker, often leading to hair loss.
Final Word
Scalp dryness is a common problem that causes irritation and discomfort. It is generally caused by cosmetic issues that can be managed with self-care measures and home remedies. These include changing hair products, moisturizing the hair, and avoiding excessive washing.
If the problem persists despite self-care or is associated with other symptoms such as scales on the skin or swollen joints, it is essential to consult a doctor.

Continue ReadingDry Scalp: Causes, Symptoms, and Medical Treatment
Was this article helpful?