Rosemary is a medicinal and culinary herb grown in many parts of the world. (1) You may be familiar with its use in the kitchen, but this herb has also been used traditionally for much more than seasoning soups.
Rosemary contains several antioxidant properties and potent plant chemicals that have a healing and rejuvenating effect on the body. It treats hair loss, boosts blood circulation, and soothes muscle aches.
Rosemary hair rinses are a quick, easy, and effective way to improve hair growth without being too hard on your schedule or your pockets. (2)
Rosemary Hair Rinse: Two Ways
Rinsing your hair with rosemary water can increase blood flow to the scalp, nourish the hair follicles, and promote hair growth.
There are two popular ways to prepare rosemary water:
1. Rosemary-infused rinse
Take a couple of fresh rosemary sprigs.
Place them in an airtight mason jar and fill it with water.
Let it sit overnight or for a couple of hours, and then strain the solution. Your rosemary-infused water is ready to use.
Wash your hair with a mild shampoo, and apply the rosemary water to your hair and scalp.
Massage for one or two minutes and let it soak for 10 minutes.
Wash it off with cool water.
2. Boiled rosemary water
Take a couple of fresh or dried rosemary sprigs.
Pour 2 cups of water into a saucepan and add the rosemary.
Heat the solution. Once it boils, reduce the heat and cover the pan with the lid.
Let it simmer on low heat for 5 minutes, and then remove from the heat.
Strain this water and store it in a bottle.
Use it to rinse your hair after shampooing and conditioning.
Massage the rosemary water into your scalp and let it sit for at least 10–15 minutes before washing it off.
Benefits of Rosemary for the Hair
Rosemary contains antioxidant, anti-inflammatory, antimicrobial, and antifungal properties, (3) which help in rejuvenating the scalp when rosemary is applied topically.
Rosemary also contains phytochemicals, including carnosic acid and rosmarinic acid, that can help repair and protect your tissues. Using rosemary on the hair offers the following benefits:
Improves blood flow to the scalp
Helps fight dandruff due to its antifungal properties (6)
Softens the hair and can help reverse hair damage due to its antioxidant properties
Does Rosemary Water Help Hair Grow?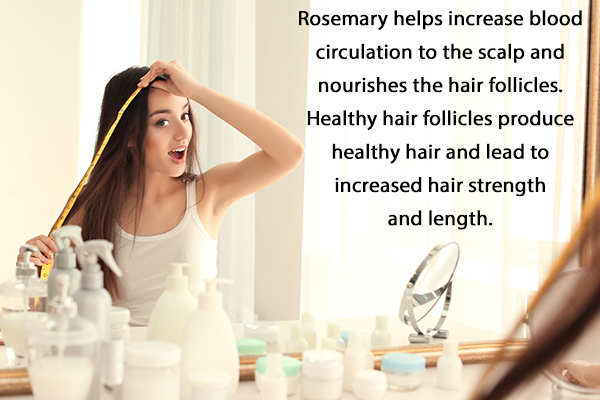 Rosemary is a rich source of antioxidants. Antioxidants prevent free radical damage to your hair and hair follicles. (3) This effect helps repair the damaged hair and get rid of frizz, making your hair soft and shiny. (7)
Rosemary also helps increase blood circulation to the scalp and nourishes the hair follicles. Healthy hair follicles produce healthy hair and lead to increased hair strength and length. (8)(9)
Scientific Evidence Supporting Rosemary Use on Hair
The literature is sparse on the effects of rosemary in preventing hair loss. However, a study conducted in 2015 demonstrated the positive effects of rosemary in patients suffering from hair loss.
According to this study, the increased hair growth from rosemary use was similar to the effects of minoxidil 2% (a popular drug used to treat hair loss) when used regularly. Rosemary oil was also gentler on the scalp and caused much less scalp irritation and itching as compared to minoxidil 2%. (10)
The scientists involved in this research concluded that rosemary oil can be used as a safer alternative to minoxidil in some patients. However, more research is needed to support this claim. (4)(11)
Rosemary also contains B complex vitamins, antioxidants, and manganese, among others. These nutrients help nourish the scalp and increase hair growth.
Possible Side Effects
Rosemary is a natural herb and usually does not cause any side effects. However, some people may experience:
Mild allergic reactions
Itching
Note: Rosemary oil is not meant for ingestion and can be toxic if taken orally.
Most-Asked Questions
Can you leave rosemary in your hair?
Yes, you can. Rosemary contains anti-inflammatory and antifungal properties that can help prevent dandruff and soothe the scalp.
What will my hair smell like?
Rosemary water may give your hair a mild rosemary scent. If you do not like the smell, you can rinse your hair with cool water to get rid of it.
Is this hair rinse safe for color-treated hair?
Rosemary is a mild herb and is generally safe to use. In fact, it can help reverse hair damage caused by coloring or bleaching the hair.
Final Word
Rosemary water, when used regularly, can be an excellent all-natural solution for your hair woes. It helps increase hair growth, softens your hair, and nourishes the scalp. Always remember to perform a patch test before applying anything directly to your scalp.
Was this article helpful?