Limp, greasy hair can be a frustrating and embarrassing problem. It dulls your entire appearance and may make your face appear oily at times.
Oily or greasy hair occurs due to an overproduction of sebum in the scalp. (1) Sebum is the oily substance produced by the body's oil glands to protect the skin and moisturize it.
However, an excess of sebum in the scalp can lead to a buildup of grease on the scalp, oily hair, and dandruff. (1)(2)
Here is a brief overview of what sebum is and how it can affect your skin and scalp.
What Is Sebum?
Sebum is the medical term that refers to the waxy, oily substance secreted by the skin's oil glands (sebaceous glands). It is produced all over the body and scalp.
Sebum is a mixture of cholesterol, cell debris, lipids, some protein, and other substances. (3) Its composition varies among individuals. It has a waxy texture and helps coat the skin with a moisture-retaining layer.
Types and Location of Sebum
Sebaceous glands are located almost all over the body. They are mostly found next to the hair follicles and release sebum through the hair shaft. Some sebaceous glands are also found in hairless areas of skin such as the genitals and eyelids.
There are no sebaceous glands on the soles of your feet or the palms of your hands. (3)(4)
What Role Does Sebum Play?
Sebum forms a protective layer over the skin and hair. It helps lock in moisture and prevents it from evaporating. Sebum may also help keep the skin soft.
Ways to Clear Excess Sebum From the Scalp
Here are a few simple tips to help you get rid of sebum deposits in the scalp:
1. Wash your hair at least thrice a week
If you have oily hair, wash your hair with a mild shampoo every alternate day to remove any oil residue that collected the previous day. People with dry hair can wash their hair twice a week only. (5)(6)
2. Use the right shampoo to wash your hair
It is important to choose the right shampoo for your hair type. Shampoos cleanse the hair and scalp and prevent the accumulation of dirt, oil, and debris.
People with oily hair should use shampoos specifically meant for clearing excess oil and grease. (7)
3. Choose your conditioner wisely
Conditioners help keep your hair hydrated and prevent moisture loss. (8) If you have oily hair, your hair is already moisture locked and does not necessarily need conditioning. (9)
However, if you still chose to use a hair conditioner, go with dry leave-in conditioners for best results. (10)
4. Use a scalp exfoliation/scalp scrub
Skin exfoliation is essential to maintain your skin health. However, many people are not aware that the same goes for your scalp.
Scalp exfoliation is a common Korean skin care technique that helps prevent dandruff and removes dead cells or sebum residue. (11)
Note: Scalp exfoliation can be done before shampooing to cleanse your hair.
5. Maintain the pH of your scalp
Hair has a natural pH between 3 and 5. It is acidic, which helps keep the cuticles closed to lock in moisture. Try to maintain the pH of your hair within the desirable range by avoiding alkaline hair products. Always chose shampoos and conditioners with a pH of 5 or lower.
6. Avoid the use of heat styling products and dyes
Heat styling products such as blow-dryers and hair straighteners dry out your hair strands. This prompts the oil glands to increase sebum production, leading to oily hair. (11)
7. Use lukewarm water/cold water to wash your hair
Hot water showers are also a significant reason behind excess sebum production. Multiple studies have shown that washing your hair with hot water can lead to oily hair. (12)
8. Clean your comb regularly
Your comb may trap all the cell debris, conditioner residue, and grease from your scalp while combing. Over time, these elements can build up between the teeth of your comb and turn your hair greasy while combing. (13)
9. Improve your diet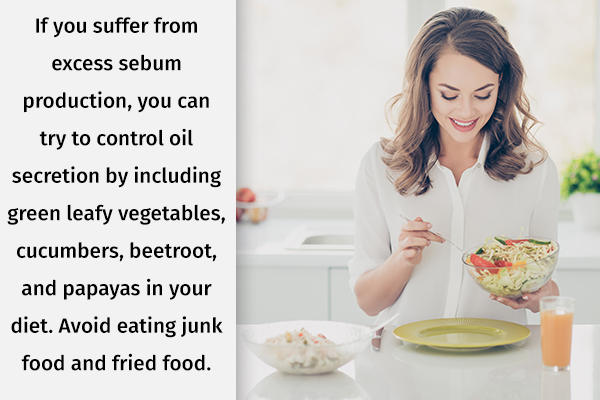 A healthy diet is necessary for every aspect of your health – even your skin and hair. If you suffer from excess sebum production, you can try to control oil secretion by including green leafy vegetables, cucumbers, beetroot, and papayas in your diet. Avoid eating junk food and fried food. (14)
10. Avoid stress
When you are stressed, the body produces stress hormones that may increase oil production. (15)
11. Keep track of your hormonal issues and hormonal medication
At times, hormonal issues can be the cause of oily skin. Keep track of any hormone pills you take such as your birth control.
12. Seek medical treatments that can help in clearing excess sebum
Birth control pills, oral retinoids, topical retinoids, and anti-testosterone drugs for hair loss are some common examples. (16) Talk to your doctor about your options.
13. Use tea tree oil and aloe vera gel
Tea tree oil and aloe vera gel make an excellent combination for skin care. (10) Both have potent antioxidant, anti-inflammatory, and antimicrobial properties that can help reduce sebum deposition on the scalp surface. They can help get rid of itchy scalp, dandruff, and greasy scalp and hair. (17)
How to use:
Mix a few drops of tea tree oil with 1 tablespoon of aloe vera gel in a bowl.
Take a cotton ball and dip it into this paste.
Apply this to areas of your scalp with dandruff or irritation.
Let it dry for 20 minutes before rinsing it off.
Cause of Excess Sebum Production
The average rate of sebum production in a normal adult is 1 mg/10 cm2 every 3 hours. Sebum levels lower than 0.5 mg/10 cm2 can lead to skin dryness. Any level higher than the average rate is considered to be an overproduction of sebum. (16)
Many factors can contribute to excess sebum production, including:
Effects of Sebum Overproduction
Sebum is a natural and necessary thing required for your skin. However, excess sebum production by the oil glands can have the following side effects:
1. Acne
Acne is common in people with oily skin. Excess oil deposition on the face clogs the facial pores and triggers inflammation and pimples. (4)(5)
2. Seborrhea
Seborrhea, the medical term for oily skin, can make your skin appear greasy and dull. It mainly affects areas that have more oil glands such as the scalp and T-zone of your face.
Too much sebum production can also cause seborrheic dermatitis in some people. (4)
3. Other scalp infections
The overproduction of sebum can make your skin and scalp susceptible to a number of yeast and bacterial infections. (20)(1)(21)(5)
Sebum deposits clog the pores and cause a buildup of dandruff, dead cells, fatty acids, etc., that can irritate the scalp and become a prime feeding ground for microbes. Common infections that can occur due to the overproduction of oil include folliculitis, psoriasis, atopic dermatitis, and yeast infections. (21)
4. Hyperplasia and sebaceous adenoma
Most cases of excess sebum production are minor and do not require medical treatment. However, in rare cases, hyperactive oil glands can be a symptom of abnormal cell growth in the glands, which can lead to skin cancer. (22)
Underproduction of Sebum: Can Also Be a Problem
While the overproduction of sebum has negatives side effects, the underproduction of sebum is also bad for you and is worth mentioning.
Low sebum production can turn the skin dull and dry. It also compromises your skin's immunity and makes it susceptible to infections. The oil balance on your skin and scalp has to be maintained well to avoid skin issues.
Final Word
A greasy scalp and hair are common issues faced by many people around the world. Although hygiene can play a role in improving the condition, most cases are due to the overproduction of sebum by the oil glands.
It is important to regulate this issue with proper diet, skin care, and hair care. If the problem persists, visit a dermatologist for a proper diagnosis and treatment.
Was this article helpful?