Baking soda can help to remove hair dye but it can make your hair quite dry because a permanent hair dye is a product with strong chemicals that changes the color of your hair. The dye will last until your hair grows out or is cut off.
Permanent dyes can be damaging to your hair, so it is important to use good-quality products including shampoos and conditioners to keep your hair healthy. (1)(2)
Baking soda, or sodium bicarbonate, acts as bleach, and hence, it may help to remove the color from your strands. (3)
How Does Baking Soda Remove Permanent Hair Dyes?
Baking soda is often promoted as a natural hair dye remover, but does it really work?
Baking soda is a type of alkali, meaning it has a high pH value. This high pH level helps to break down the bonds that hold hair dye molecules together. So, does this mean that baking soda will remove all dyes from your hair? Unfortunately, no.
While baking soda is a bleaching agent that may help in removing most hair dyes, it is most effective at removing semipermanent and temporary dyes. (3)(4) These types of dyes are not as tightly bonded to your hair as permanent dyes and are deposited only on the surface of the hair shaft, so they are more easily removed with an alkali such as baking soda. (4)(5)(6)
If you're hoping to remove a permanent hair dye with baking soda, you may have some success, but it's more likely that you'll end up with lightened or patchy results.
If you're looking to lighten your hair color without fully removing your dye, baking soda can be a good option due to its bleaching properties. (7)
How to Use Baking Soda on Hair?
To lighten or remove your hair dye using baking soda, simply follow these steps:
Mix baking soda with water in a 1:3 ratio.
Apply the mixture to your hair, avoiding the scalp. Leave the mixture on for 15–20 minutes.
Rinse it off.
Repeat as needed until you are satisfied with the results.
Baking soda is a fantastic natural alternative to bleach because it is gentler on your hair and scalp. When used as a hair dye remover, baking soda acts as a bleach to remove the color from your strands.
Alternatives to Baking Soda for Removing Hair Dyes
When it comes to hair dye removal, a few different methods can be used. Baking soda is one option, but there are other alternatives you can try.
One alternative to baking soda is using a clarifying shampoo. This kind of shampoo may assist in removing hair color as well as buildup from your hair. Make sure to apply a moisturizing conditioner after using a clarifying shampoo because it can be drying. (8)
Another alternative is using vitamin C tablets. You can crush up the tablets and mix them with water to create a paste. Apply the paste to your hair and let it sit for about 30 minutes before rinsing it off.
Vitamin C can help to fade hair dye and make it easier to remove due to its action as an antioxidant, which also reduces the chances of developing contact dermatitis (allergic reactions of the skin to new products). (9)
Finally, you can use products specifically designed for removing hair dyes, which are available at most beauty stores and pharmacies. Follow the directions on the package carefully, as some of these products can be quite strong.
ALSO READ: How to Treat Side Effects of Hair Dye
Does Baking Soda Damage Hair?
A typical home item, baking soda has a variety of uses, including cleaning and baking. It is frequently used as a natural hair care item as well.
You may remove permanent hair color from your hair using baking soda. It has a high pH of around 9, which is higher than that of the scalp and hence can damage hair. It can strip the hair of natural oils and make them dry, frizzy, and brittle, especially if too much is used. (4)
When using baking soda to remove hair dyes, it is important to follow the instructions given above carefully and to only use a small amount of baking soda.
Most-Asked Questions
How long do I leave the baking soda in my hair? Can I mix it with anything else?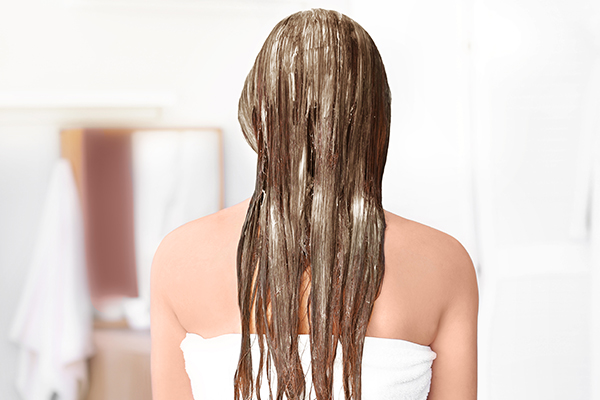 It is important to leave the baking soda in for at least 30 minutes, and you can mix it with water or conditioner to make it easier to apply.
Does this work on all hair types?
Yes. This method works on all hair types.
Are there any other alternatives to permanent hair dyes?
You could use herbal powders and colors such as henna for a semipermanent color. Before using these products, check for dangerous additives that can damage your hair.
Final Word
Overall, it appears that permanent hair color may be removed using baking soda. However, remember that the use of this technique does come with certain hazards.
First, baking soda is an abrasive substance and can potentially damage your hair if used too often. Second, while baking soda will remove the color from your hair, it will not strip away the chemicals used in permanent dyes, which means your hair may still be exposed to these harmful substances. Finally, regular use of baking soda on hair might result in dryness and breakage.
If you decide to use this method to remove permanent hair dyes, be sure to do so sparingly and follow up with a good conditioner or mask to keep your locks healthy and strong.
Was this article helpful?