Hair is an important aspect of beauty that needs proper care and maintenance. Given that your head is one of the most exposed parts of the body, your hair and scalp collect a lot of dust, pollutants, and other environmental toxins daily that combine with the dead cells, sebum, and sweat produced by your scalp.
The grimy buildup not only makes your hair look and smell bad but also can trickle down your hair follicles, clogging them and inviting microbial overgrowth, leading to scalp infections. This points to the importance of regular hair hygiene. Shampooing is essential for removing impurities from your hair and scalp, but what's more important is doing it right. (1)
Hair washing may seem like a no-brainer to you, but there is a process to it with certain dos and don'ts. Doing it the wrong way can end up damaging your hair further, so it's best to get acquainted with the correct technique. This article will help show you the way.
1. Prewashing Ritual
Before you get to shampooing and washing your hair, there are certain things you need to do to prep them to minimize breakage and maximize cleanliness. This prewashing ritual is as important as the rest of the steps, so skipping it is a big no.
Also, it is usually during this prewashing stage that you decide whether your hair requires a wash or not. If it feels dry and coarse and is not even slightly shiny, then you must wash them.
Method
Gently comb your hair with a soft-bristled brush before getting into the shower to get rid of any knots and hair product residue. If your hair is too dry to be detangled with a brush, you can use a little bit of vegetable oil or almond oil to separate the strands.
Wet your hair with warm or room-temperature water. This helps get rid of all the dirt and buildup while shampooing the hair.
Your scalp, just like the skin of your arms and legs, undergoes periodic replacement via the desquamation process. This process is characterized by the shedding of dead skin cells. However, despite being a natural process, desquamation may not always happen perfectly. Every so often, dead cells clump up together and get stuck on your scalp. This cellular debris accumulation invites microbial overgrowth and consequently infections. Therefore, you should exfoliate your scalp once a week. You can use scalp brushes or micellar technology-based exfoliating solutions for this.
Ayurveda recommends the use of natural hair masks to address various hair and scalp problems, which may not necessarily be medical. For instance, there are hair masks specifically made for fixing hair dullness, dryness, and fizziness. These masks use an array of healing ingredients such as aloe vera, eggs, banana, yogurt, sandalwood or lavender powder, coconut/olive/Moroccan argan oil, and/or henna to repair, nourish, hydrate, and strengthen damaged hair. If you do decide to give these hair masks a try, include them in your prewashing regimen. Preparing the mask is amazingly easy. Simply decide on the ingredients you want to use (such as yogurt or honey for dandruff-ridden scalp (2) or aloe vera gel (3) or banana for dry hair), and mix them well into a paste. Then, apply the paste to your hair and let it sit for about 20–30 minutes before rinsing it off with lukewarm water. Follow this Ayurvedic treatment before shampooing.
Sometimes medicated lotions, prescribed by dermatologists, can be used on the scalp before head washing to control dandruff and itchy scalp. These lotions contain degreasing and antifungal agents to reduce the symptoms of flaky scalp.
2. Washing Your Hair With Shampoo
Shampoos get their lathering and cleansing effect from compounds called surfactants. Surfactants are amphiphilic, which means that they attach themselves to both organic material and water.
The "oil-loving" part binds to organic dirt such as excess sebum and scalp buildup, whereas the "water-loving" part mixes with water and is washed away with it. This is how shampoos remove the dirt from your scalp and hair strands. (4)
There are many different types of shampoos, but not all of them may suit you. Do your research, go through the ingredients list, consult a specialist if you want, and then choose according to your hair type, condition, and texture.
Here are some common varieties that you are likely to come across:
Normal or basic hair shampoo
Dry hair shampoo for ultra-oily hair
Shampoo for damaged hair
Shampoo for oily hair
Everyday shampoo
Baby shampoo
Two-in-one shampoo
Antidandruff shampoo
Sulfate-free shampoo
Shampoo for chemically-treated hair
Shampoo for colored hair
Medicated shampoo
Deep-cleansing shampoo
Solid shampoo with natural ingredients such as green clay, argan oil, or bentonite clay
Herbal shampoo
Method
Thoroughly dampen your hair with tepid or room-temperature water. Make sure you do not use hot or hard water (with lots of inorganic ions such as chloride). Hot water dries out and may scald your scalp.
Squeeze out the shampoo in your hand and mix in a few drops of water to lather it up. If you have medium-length hair, a dollop of shampoo (the size of a quarter) should suffice to clean your hair and scalp. Increase the amount if you have long hair.
Apply the product to your hair – start from the scalp and then work your way down the strands.
Massage the shampoo into your scalp with the gentle circular motions of your fingers. Start from the nape of the neck, go up and across the back of your head to reach the crown, and then extend to your temples.
Try not to pull your hair up while applying the shampoo as it will clump together on the top of your head and your fingers won't be able to reach the scalp properly. This can be problematic as the focus of shampooing is to cleanse the scalp, which collects the most impurities.
At this point, you can take a little more shampoo if needed and then massage it from the top of your head back to the nape again.
Massage the shampoo from the top and to the bottom of the scalp for approximately a minute, and then move along the hairline, temples, and over the top of your ears all the way down and behind them.
Key points
Here are a few tips to keep in mind while shampooing your hair:
People often focus on shampooing their hair and ignore the scalp, which is a major mistake. The scalp collects the most gunk and needs to be the primary focus of shampooing. 
Different hair types have different needs, and you should choose your hair products accordingly. For instance, if you color your hair, use a protectant shampoo designed for color-treated hair. If you suffer from scalp conditions such as seborrheic dermatitis, go for shampoos with antifungal ingredients such as salicylic acid, ketoconazole, or other imidazoles. You can also go for herbal shampoos that include soapnut (reetha), soap pod (shikakai), neem, fenugreek extracts, Indian gooseberry extracts, Hibiscus extracts, and/or aloe vera as the primary ingredients.
You should add a clarifying shampoo to your hair care regimen and use it once or twice a month to get rid of any product residue from your scalp, especially if you have oily hair and scalp. This becomes especially important if you wash your head with hard water, which contains inorganic ions, such as calcium, that collect on the scalp over time.
3. Rinsing Your Hair
Before applying conditioner, make sure that you rinse and squeeze out the excess water because the product will simply slide off if the hair is too wet.
Method
Run normal water through your hair. Make sure to lower your head and move it from side to side so that all of your hair is rinsed thoroughly.
Keep separating your hair while rinsing so that the water runs through each section, reaching every strand.
Gently scrub the back of your ears.
Pull up your hair to soak the hairline at the nape of your neck.
Once you are done rinsing, gently squeeze your hair using your hands to remove the excess water.
Key points
Keep the following points in mind when rinsing your hair after the shampoo treatment:
Gently scrub your scalp while rinsing.
Do not treat your hair strands with force such as pulling or tugging at them while rinsing the shampoo off as this may result in hair damage.
Do not twist your hair aggressively while wringing out the excess water.
4. Conditioning Your Hair
Shampoos contain strong cleansing agents that remove impurities from your hair and scalp but often strip the natural lipids as well. This is why it is especially important to use a conditioner after shampooing to restore the lost moisture to your tresses.
Regular hair conditioning can help make your hair soft, manageable, shiny, bouncy, and strong. It also reduces friction or static electricity between strands. Nowadays, you can get yourself a "2-in-1" shampoo, which both cleanses and conditions your hair.
Method
Take a dollop of conditioner in your hand, mix in a little water, and rub your palms together to make lather.
Coat the tips of your hair strands with this mixture of conditioner and water. If you have long hair, you may flip them in front for easy application. Start with the tips and move up to the mid-length of your hair.
Leave the conditioner on for 2–4 minutes or according to the product instructions.
Key points
Consider the following points when using a conditioner:
Never apply the conditioner to your scalp and roots as it forms a thick layer of residue that adds to the scalp buildup and trickles down into the hair follicles, clogging them.
Make sure all the conditioner is washed out of the hair, or else your hair will look oily and limp. Lightly squeeze your hair to properly remove the product rather than using vigorous scrubbing motions that can break or damage your hair.
Use cool water for the rinse as it helps seal the moisture in your hair to make it soft and smooth. Warm or hot water can strip the natural lipids from your hair and scalp.
5. Drying Your Hair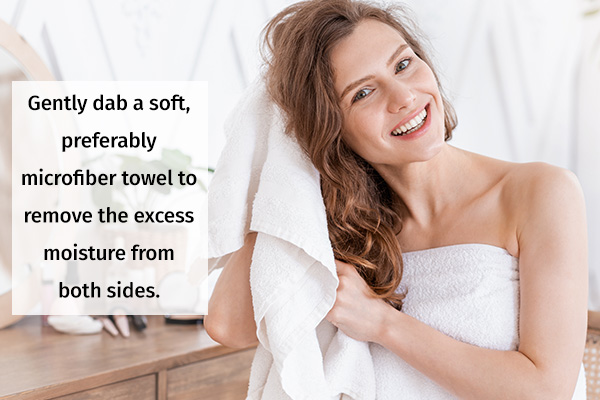 The final step of the entire process of cleansing your hair is drying it, and like all the other steps already mentioned, it is important to understand how to dry your hair properly without risking any breakage or hair damage.
Method
Drying your wet hair by rubbing them with a towel is common practice, but it does more harm than good. The friction damages the hair cuticles while the forceful rubbing weakens the hair roots and causes hair breakage and shedding. The correct way is to put your head upside down and gather all your hair in front. Then, gently dab a soft, preferably microfiber towel to remove the excess moisture from both sides. You can even flick your hair with the towel a few times to remove the excess water. Alternatively, you can wrap your wet hair in a cotton cloth for 10 minutes to soak in the excess moisture. If you can manage it, allowing your hair to dry naturally in the air is also a good option.
Apply leave-in serums as they provide some much-needed moisture and nourishment to your hair and improve its shine, texture, and overall appearance. Some beneficial ingredients that you should look for in your hair oil and serums include jojoba extracts, argan oil, rosehip seed oil, sunflower seed extracts, rosemary essential oil, silk keratin protein, soy microproteins, veronica, macadamia oil, vitamin B12, red raspberry leaf extract, and vitamin E.
Key points
Here are some points you should bear in mind when drying your hair:
Avoid using a blow-dryer as it exposes your hair to high degrees of heat that can leave it dehydrated, frazzled, and even burnt. This kind of hair damage will take a lot of effort and time to repair.
When you do use a blow-dryer, always set it on low to medium heat or cool air setting, and keep it at least 6 inches away from your hair. Don't use the dryer for more than 5 minutes such that your hair should still be a little damp by the end of it.
Your hair is at its weakest when wet, so do not comb it right after a wash to avoid breakage or hair fall. Wait for it to become semi-dry or fully dry, and then use a wide-toothed comb to gently detangle and groom your tresses. You may use neem wood combs to keep microbes off your scalp.
Hairbrushes tend to cause a lot of breakage, so it's always better to use a wide-toothed comb or a special detangler brush instead.  
Wash your comb weekly to maintain scalp hygiene.
Final Word
Washing your hair may seem to be a very straightforward routine as all you have to do is dab some shampoo and then some conditioner and you're done. However, contrary to such beliefs, there is a method of washing your hair if you want to minimize hair damage and maintain its health.
As discussed in this article, the steps are simple, but some important points must be kept in mind, especially when using hair products. If you are not very pleased with such cosmeceuticals, you can also give Ayurvedic or herbal techniques a try.
Was this article helpful?