Weak veins or veins that have experienced some damage can cause a condition called spider veins, also known as reticular veins or telangiectasia. In this condition, when small blood vessels in the skin become wider and can be seen on the skin as a web-like structure, very thin lines, or a branched tree.    
They can be red or blue and even purple in some cases. They are sometimes called thread waves because of their thin thread-like appearance. The good news is that they don't hurt or cause any pain to a person. (1)
If they are not harmful and pose no health challenge, why do people wish to get rid of them? Well, the answer is simple, they don't look very good. People wish to treat spider veins for aesthetic and cosmetic purposes.
There are some remedies that can help get rid of spider veins. Even if these remedies do not treat them entirely, they may help reduce them at least.
How to Get Rid of Spider Veins
Spider veins can anytime cause some discomfort. They are not harmful, but still, people would try to get rid of them to maintain a good appearance.
If you have spider veins, you can try the following interventions to treat them.
Home remedies to try
The following home remedies can be given a try to help reduce spider veins.
1. Wear compression stockings/socks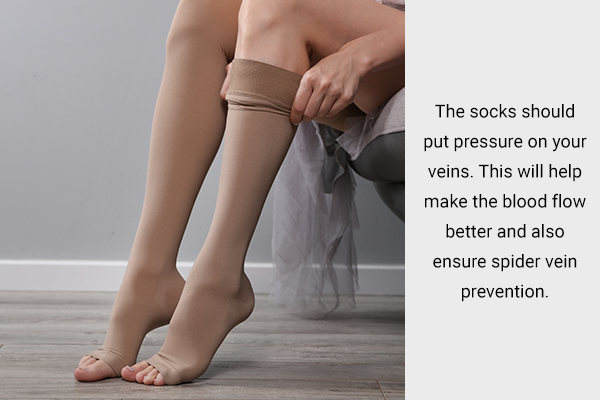 Wear stockings or socks that provide some level of compression. In other words, the socks should put pressure on your veins. This will help make the blood flow better and also prevent the formation of spider veins. (2)
Additionally, compression stockings or socks reduce swelling in the legs and decrease clotting. Various compression socks in different sizes are available, including prescription ones and those that come without foot socks.
Some compression socks are only supportive and only apply very little pressure on your legs. Medium pressure, which is lower than in prescription socks but higher than in supportive ones, is also available at medical stores. (2)
2. Elevate the leg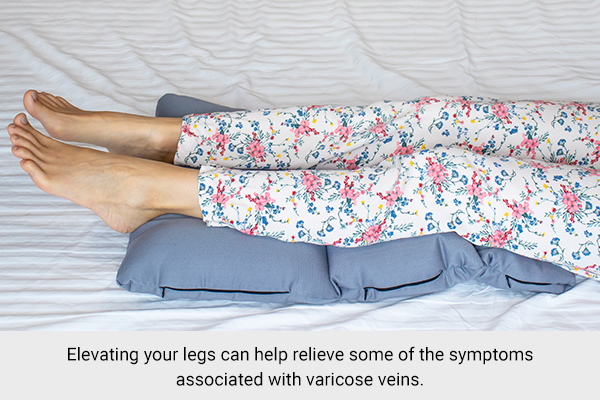 Elevating your legs can help relieve some of the symptoms associated with varicose veins. When you elevate your legs, blood flow improves, reducing the swelling in the affected veins.
Additionally, it can help to alleviate discomfort and pain in the legs caused by varicose veins.
However, it's important to note that elevation alone may not be enough to treat the underlying condition, and professional medical advice should be sought. (3)
3. Use essential oils
Since blood vessels are often damaged in spider veins, increasing blood flow locally may help alleviate some symptoms of spider veins. This can be done using essential oils. (1)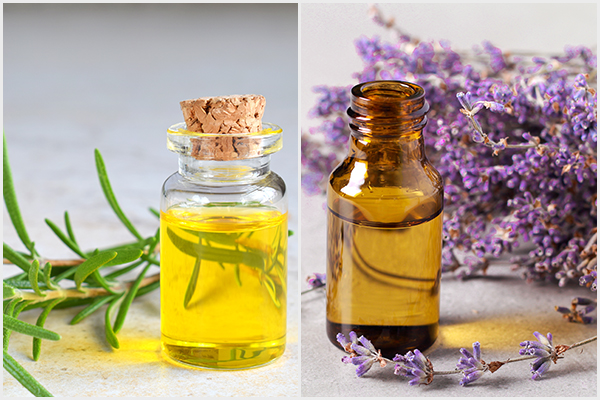 a. Rosemary oil
According to 2009 in vitro study, rosemary essential oil has a positive effect on blood circulation and pain relief. The study found that rosemary oil improved local blood circulation, which can be helpful in the treatment of spider veins.
However, it is important to note that this study was conducted in vitro, meaning that it was performed in a laboratory and not on humans or animals, so more research is needed to determine the effectiveness of rosemary essential oil in treating spider veins. (4)
How to use rosemary essential oil:
Mix a few drops of rosemary essential oil with a carrier oil, such as sweet almond oil or jojoba oil, to dilute it. (The recommended dilution is 2–3 drops of essential oil per 1 teaspoon of carrier oil.)
Gently massage the mixture onto the affected area of the skin. You can apply the mixture twice a day.
Elevate your legs for 15–20 minutes after applying the mixture to help improve blood flow.
b. Lavender oil
While lavender oil is not a scientifically proven treatment for spider veins, some people believe that it can help alleviate symptoms due to its chemical constituents.
Specifically, linalyl acetate and linalool, which are present in lavender essential oil, are thought to have sedative and local anesthetic effects. Linalool has also been shown to increase local blood circulation and reduce muscle tone, which can provide analgesic and sedative properties. (5)
How to use lavender essential oil:
Mix a few drops of lavender oil with a carrier oil such as coconut oil or jojoba oil.
Apply the mixture to the affected area.
Lifestyle modifications that may help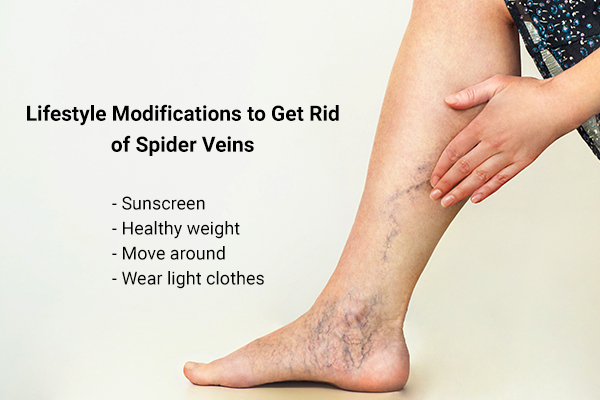 Making the following changes in your lifestyle can be a good way to manage and prevent spider veins.
What Are the Medical Options for Spider Veins?
Medical interventions for spider veins include the following.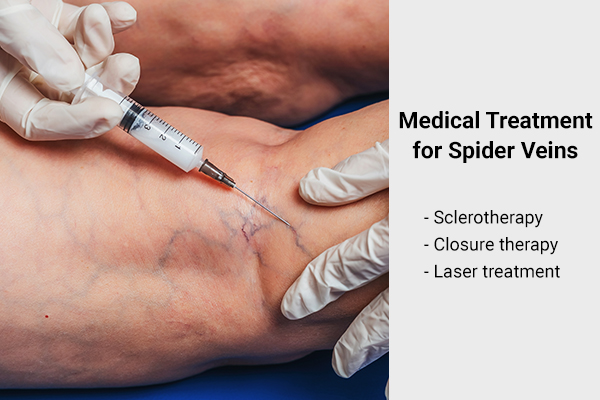 1. Sclerotherapy
In sclerotherapy, an irritant is injected into the spider vein that will cause the veins to stick to one another in a group and avoid blood flow through the affected vein.
This treatment can be used to treat abnormal veins, including spider veins and larger veins. However, it should only be done by an experienced sclerotherapist as the size of the vein and the amount of sclerosant used need to be carefully chosen and the results monitored. (9)(10)
Note: Sclerotherapy is not suitable for everyone, and it has contraindications, including allergic sensitivity to the sclerosant, pregnancy, infection, deep venous thrombosis, and severe arterial disease. (10)
2. Closure therapy
Closure treatment is also very similar to sclerotherapy.
In this procedure, a substance is also injected into the affected vein. This substance is not an irritant but a sticky one called cyanoacrylate glue, which closes the veins and thus restricts the blood flow.
A few rounds of the procedure will help get rid of spider veins. Closure therapy using cyanoacrylate glue has been shown to be a highly effective treatment for varicose veins, with studies reporting complete occlusion in over 90% of patients after 12 months. (11)
Caution and possible complications
Closure treatment is considered safe, with a low rate of complications reported in clinical studies.
These complications are usually mild and can be managed on an outpatient basis. They include pain, thrombophlebitis (inflammation of a vein with a blood clot), cellulitis (a bacterial infection of the skin and the tissues beneath it), skin hyperpigmentation, and deep vein thrombosis (a blood clot that forms in a deep vein).
Patients should be informed of this risk before undergoing treatment. (11)
3. Laser treatment
If a spider vein is very close to your skin, then laser treatment may be helpful. Laser therapy using a pulsed-dye laser with a long pulse duration has been shown to effectively treat spider veins in the lower extremities.
A very strong ray of light is focused on the spider veins for them to dry up after vein clotting. (12)
Note: Laser treatment is less invasive as nothing is getting injected into the affected vein, unlike closure treatment or sclerotherapy. (12)
What Causes Spider Veins?
Veins have valves, which are flaps of tissue that prevent the backflow of blood. They are thin collagen folds in a crescent shape, projecting from the innermost layer of the vein wall. When these valves stop working correctly, they can cause spider veins.
A person can have hereditary weak valves or weakness in valves due to damage, causing venous insufficiency. It can cause blood to pool in your legs.
After a while, a bulge in the vein develops, which may eventually branch out, resulting in spider veins. (1)
A condition called hereditary hemorrhagic telangiectasia (HHT) can also cause spider veins. It is a genetic condition that affects blood vessels and is inherited from a person's parents. The earliest clinical sign of HHT, often occurring by the second decade of life, is frequent bleeding from nose.
Telangiectasias, which are dilated blood vessels, are frequently present on the skin and buccal mucosa in the third decade of life. (13)
Note: It's important to be aware of HHT and its symptoms, as early diagnosis and treatment can improve outcomes for those affected.
What Are Some Risk Factors for Spider Veins?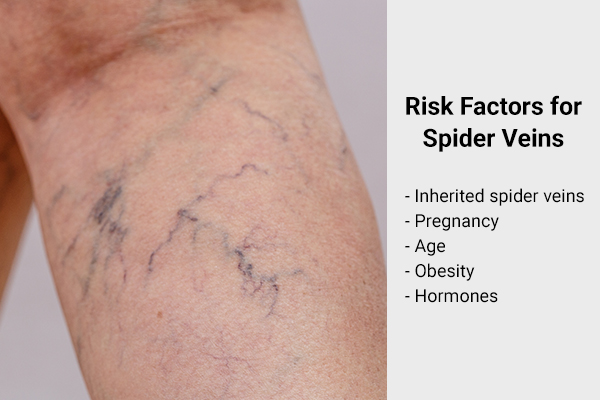 Here are some factors that make a person prone to spider veins: (1)
Heredity: The majority of people with spider veins have genetic tendencies to the condition. Although the specific genes involved are still under research, it is suggested that the condition can run in families.
Pregnancy: Spider veins are seen as a temporary side effect of pregnancy. The good news is that, in most cases, they shrink and blood volume goes back to normal after giving birth. It can take a few months for the spider veins to disappear. In some cases, they can be permanent.
Age: Aging can lead to wear and tear of the valves in the veins. Although anyone can get spider veins, including young women and men, they are more possible in the elderly. This is because valves in the veins get weaker with time.
Obesity: Obesity is a contributing factor to the development of vein issues. Excessive body weight adds more pressure on leg veins. It is important to note that losing weight won't cure spider veins, but it will prevent the formation of new venous insufficiencies.
Hormones: Progesterone and estrogen dilate the veins, causing blood to flow in the wrong direction. Hormonal changes such as taking birth control pills and hormonal treatments increase the risk of spider veins. This is because these hormones can weaken vein valves.
Most-Asked Questions About Spider Veins
Can spider veins occur in rosacea?
Spider veins are frequently of unknown cause, but they can also manifest in individuals with rosacea and systemic diseases, with systemic sclerosis being a particularly common one. (14)
How do spider veins differ from varicose veins?
Spider veins are generally small and appear as thin lines. They can be either flat or slightly raised. As discussed above, they are blue, red, or purple. They may lead to some mild discomfort but don't cause any significant harm or pain.
Varicose veins, on the other hand, are much bigger and run deeper than spider veins. They can cause pain and also have accompanying symptoms including itching, bleeding, and even swelling. They also put a person at risk of blood clots and other blood circulatory issues. (15)
Final Word
Spider veins are a product of damaged blood vessels. They are easy to spot and very noticeable on one's body but are usually painless. They also do not cause any complications or escalations to health issues. However, treating them to maintain the skin's appearance is widely practiced.
The best way is to ensure you don't get the condition by taking timely precautions, but if you already have them, various remedies and treatments are available.
Was this article helpful?