Tinea versicolor, also referred to as pityriasis versicolor, is a common fungal infection caused by the overgrowth of a yeast called Malassezia on the skin. (1) This fungus resides naturally on the skin of most adults without causing any harm, but the problem occurs when it starts to proliferate excessively and cause a skin infection.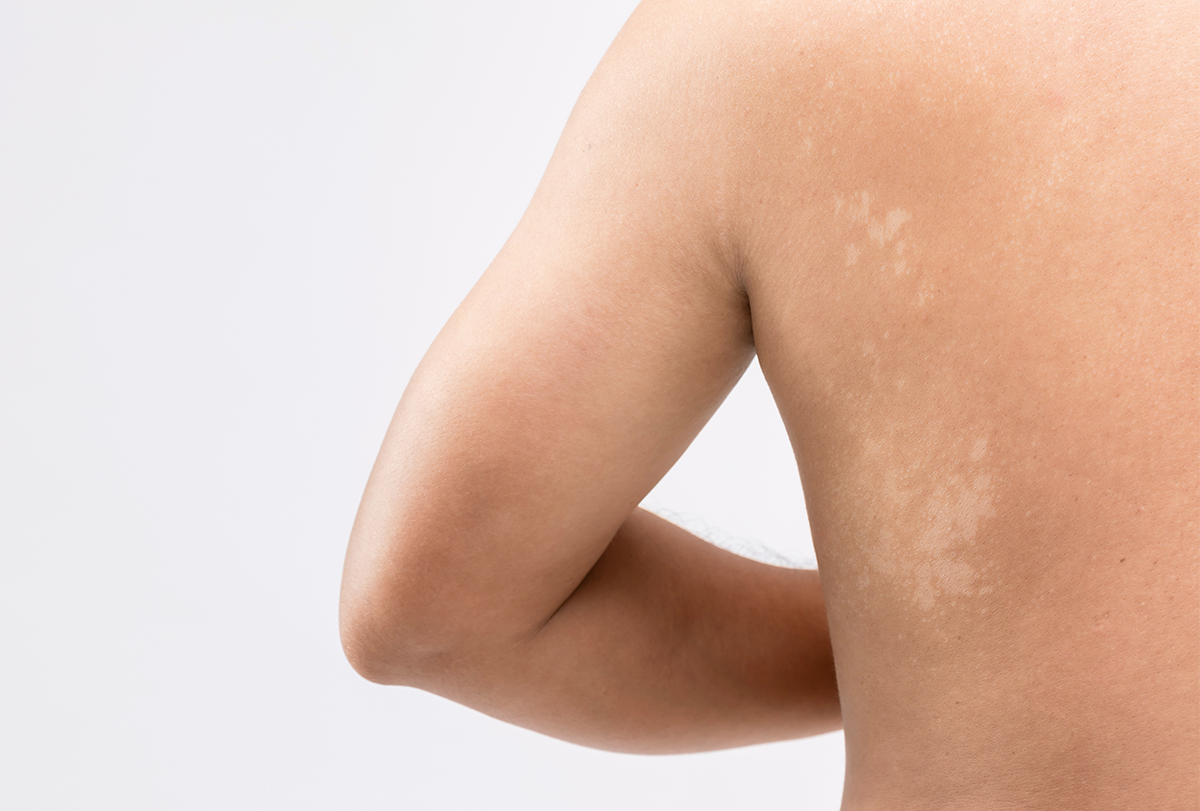 The main symptom of this infection is the appearance of off-colored patches (2) that can be darker or lighter than the surrounding skin.
Having your body covered with these patches can be startling or worrisome, but you can rest easy knowing that they are neither contagious nor cancerous and can be cured completely with proper treatment.
How Common Is It?
Tinea versicolor affects people from all over the world, but it is much more prevalent in tropical countries than the colder ones. (3) The difference is so stark that nearly 50% of all the cases are reported in tropical countries and only about 1.1% of the patients belong to colder terrains such as Sweden. (4)(5)
This is because a hot and humid climate is conducive to the growth of the fungus, whereas a frigid climate is quite inhospitable to it.
Tinea versicolor can affect people of all ages, but it is more common among teenagers and young adults. This increased prevalence can be attributed to the fact that these age groups tend to have overactive sebaceous glands that secrete excess lipids to keep their skin greasy.
Oily skin provides the perfect breeding ground for Malassezia. This yeast feeds off the lipids and then overpopulates the skin, resulting in an infection. (3)
Causes of Tinea Versicolor
As mentioned earlier, the Malassezia yeast is normally present on the human skin but can give rise to the tinea versicolor infection if it overgrows.
The exact reason for this yeast overgrowth is not clearly understood, but the following factors can certainly trigger it:
Hot, humid weather
Oily skin
Profuse sweating
Compromised immunity
Creams or dressings that clog the pores
Clothing that does not allow the skin to breathe
Symptoms of Tinea Versicolor
The most characteristic symptom of tinea versicolor is the occurrence of hyperpigmented or discolored spots/patches on the skin that have the following features:
The spots may be white, pink, salmon, red, tan, or yellow brown. (2)
The spots often have irregular, sharp boundaries.
The spots may be dry, scaly, and itchy.
There may be itching around the spots.
The spots usually appear on the face, neck, and trunk.
The hyperpigmentation may or may not become darker with sun exposure.
The skin discoloration may be accompanied by excessive sweating.
Medical Treatment for Tinea Versicolor
Tinea versicolor is usually treated with the following interventions:
1. Topical antifungal products
Topical antifungal products are the first-line treatment for stopping the yeast overgrowth on your skin. These antifungal lotions, creams, soaps, and shampoos must include certain chemical ingredients such as clotrimazole, ketoconazole, miconazole, zinc pyrithione, selenium sulfide, and terbinafine. (6)
These topical antifungals are often available over the counter, but the stronger ones may require a prescription. You must stick to the recommended dosage and instructions of use for the product to work without causing any undue side effects.
For instance, antifungal shampoos can kill the infection-causing fungus when applied to the affected areas of the skin. Simply mix them with some water and then apply the foamy lather on all the patches for 5–10 minutes.
Selenium sulfide is a common ingredient found in antifungal shampoos that can dry out and irritate your skin while leaving behind an unpleasant odor. So, it's best to dilute these shampoos with some water before applying to mitigate these unwanted effects.
Look for shampoos that contain 2% ketoconazole and use them once daily for three days straight.
2. Oral antifungal agents
Oral antifungal agents may be prescribed to you by your doctor if topical antifungal treatment fails to improve your condition. Some of the most commonly used antifungal pills for treating tinea versicolor are itraconazole and fluconazole. (7)
Bear in mind that even the best treatment will not deliver immediate results. The first sign that your treatment is working is that the rash will gradually become less scaly until it becomes flat as the surrounding skin. But it will still take at least 2–3 months for the discoloration to disappear completely and your skin color to even out.
Diagnosing Tinea Versicolor
Doctors can usually diagnose tinea versicolor by visually examining the rash, which has distinct features. However, the rash sometimes can resemble rashes from other skin conditions such as vitiligo, psoriasis, eczema, syphilis, pityriasis alba, and pityriasis rosea.
In such a case, you may need to undergo the following tests for your doctor to distinguish tinea versicolor from other skin disorders and to reach a conclusive diagnosis:
KOH test – A scraping of the affected skin is placed in a potassium hydroxide preparation, which dissolves the skin cells. The fungus is left behind and is then observed under a microscope. The Malassezia fungus responsible for tinea versicolor has a "spaghetti and meatballs" appearance. (8)
Wood's lamp test – The doctor will use a handheld lamp to shine a black light over the rash from a distance of 4–5 inches. If the skin is infected with the suspected fungus, it will appear yellowish green under this light. (8)
Fungal cultures – Rarely, cultures are ordered to confirm the diagnosis.
Skin biopsy – The doctor will cut a small sample of the affected skin and subject it to a special stain called PAS, which will highlight infection-causing yeast.
When to See a Doctor
Tinea versicolor is a benign skin infection that mostly resolves with antifungal medication. However, you should seek immediate medical help if:
The symptoms persist or worsen despite following the recommended treatment.
You develop a fever of 100.4°F (38°C) or higher.
The patches become bigger or spread to cover large areas of the body.
Final Word
Tinea versicolor is unlikely to cause any serious complications, but its discolored rashes can be quite discomforting and can make you self-conscious. Fortunately, most cases are easy to treat with simple topical antifungal products and antifungal pills if needed.
The scaly rash may go away soon after starting treatment, but the discoloration will take several months to subside. You will have to be patient and you need to complete the course of medication.
Stopping the treatment midway just because you don't see immediate results will only make the infection more resistant and harder to banish. Also, not treating tinea versicolor properly increases the chance of recurrence.

Continue ReadingHome Treatment for Tinea Versicolor and Self-Care Tips
Was this article helpful?