Fungi are commonplace organisms that can be found everywhere, even on human skin. Often, some of these fungi, such as candida and yeast, may cause infections, especially if the skin is warm or moist.
While fungal infections are very frequent, the good news is that simple self-care measures and home remedies can help manage and prevent these infections. It is important to consider these remedies as fungal infections that are left untreated can increase the risk of complications.
This article discusses various home remedies to help treat fungal infections and also mentions different self-care and preventive tips that may help ward off such infections.
Home Remedies to Treat Mild Fungal Infections
The following home remedies can help in managing mild fungal infections. However, it is must to consult a doctor if the fungal infection is severe or affects the internal body, such as the meninges, blood, or lungs.
Since the symptoms of fungal infections may be similar to those of skin problems such as psoriasis, it is best to get a proper diagnosis before trying any remedy.
All of these remedies can be used along with the prescribed treatment to aid faster recovery.
Disclaimer: Avoid using these remedies internally, such as douching to treat vaginal thrush. Conduct a patch test of the ingredients before full-scale application to rule out any adverse skin reactions or allergies. Discontinue use if side effects occur.
1. Apply coconut oil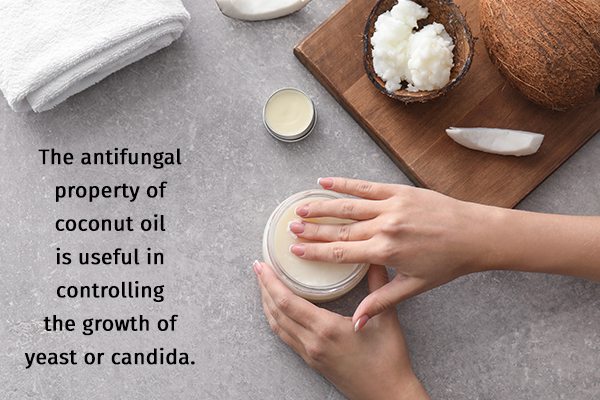 Coconut oil is primarily composed of medium-chain fatty acids that have antifungal activity. This property of coconut oil is useful in controlling the growth of yeast or candida. (1)
How to use:
Wash the affected area with neem soap and pat it dry.
Apply a few drops of extra virgin coconut oil over the area.
2. Use antifungal essential oils
Tea tree oil has potent antimicrobial properties that can help ward off fungal infections. This essential oil enjoys both anecdotal and scientific evidence on its use as an antifungal agent. (2)
Besides tea tree oil, oregano oil (3) and neem oil also have antifungal properties.
How to use:
All essential oils must be diluted before use. Therefore, mix a few drops of tea tree oil in a carrier oil such as olive oil or coconut oil. You can also mix tea tree oil with aloe vera gel in a 3:1 ratio.
Apply this mixture to the affected areas.
3. Make a garlic paste
Garlic is a common kitchen ingredient that has several medicinal properties, including antimicrobial effects. (4)(5) Garlic contains organosulfur compounds that exhibit antifungal activity.
One study showed that garlic is as efficient as clotrimazole creams for the treatment of fungal infections. (6)  
How to use:
Crush two cloves of garlic and mix them in olive oil to form a paste.
Apply this paste to the affected area.
Wash the area with lukewarm water after 30 minutes.
Repeat the remedy twice a day until you see results.
4. Use turmeric topically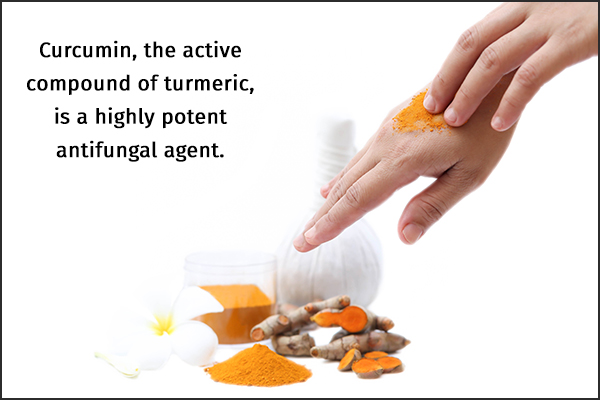 Curcumin, the active compound of turmeric, is a highly potent antifungal agent that has very few side effects (7) and can thus help treat fungal infections effectively.
How to use:
Mix 1 tsp of turmeric with coconut or olive oil to form a paste. Wash the affected area, pat it dry, and apply a thin layer of the paste over the infection site. Rinse with water after about 15 minutes.
Use commercially produced turmeric-based ointments.
5. Apply honey
Honey has antifungal properties against a wide range of fungi, including Candida albicans. (8)(9) It contains various compounds, including antioxidants, lysozymes, hydrogen peroxide, bee peptides, flavonoids, polyphenols, phenolic acid, and methylglyoxal, that make it a viable antimicrobial agent. (10)
How to use:
Apply raw, organic, or medical-grade honey to the affected area and wash after 15 minutes.
Mix honey with coconut oil, olive oil, or yogurt, and apply the paste to the infected site.
6. Make a sodium bicarbonate paste
Studies show that sodium bicarbonate is effective in killing common skin and nail fungal infection agents. However, further research is required to establish its mechanism. (11)
How to use:
Mix sodium bicarbonate with water to form a paste, and apply it to the affected areas.
Soak the infected site in a sodium bicarbonate solution for 15 minutes.
7. Dab some apple cider vinegar
Apple cider vinegar (ACV) can act as an antifungal agent, especially against Candida species, making it a great candidate for denture stomatitis treatment. (12)
Users also report the effectiveness of ACV for the treatment of scalp and ringworm infections. However, no scientific evidence supports this claim.
How to use:
Dilute one part ACV with 3 parts water.
Dab the mixture on the affected area.
Wash the area after 15–20 minutes with plain water.
8. Put some yogurt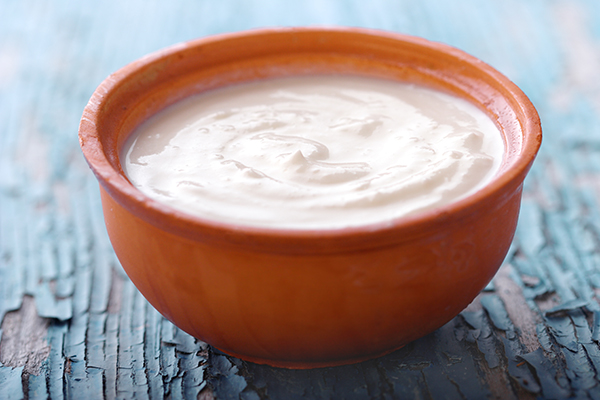 Yogurt has been anecdotally used for the treatment of fungal infections, although there is no scientific evidence to it. It is believed that the lactic acid content of the beneficial bacteria in yogurt inhibits fungal growth.
How to use:
Apply yogurt to the affected area using a clean cotton ball.
Rinse with warm water after 30 minutes.
Pat the area dry.
9. Try over-the-counter medications
Various OTC antifungal medications are available. Most of these topical agents need to be used twice a day, for up to 4 four weeks or 1 week after the rash has cleared.
You can try antifungal creams, ointments, sprays, shampoos, and foot powders as well. These generally contain ingredients such as miconazole, tolciclate, ketoconazole, ciclopirox, and selenium sulfide.
For nail infections, you can use antifungal nail lacquers, one to two times a week. Look for products that contain clotrimazole, eucalyptus oil, or undecylenic acid. Ringworm infections can be treated with terbinafine or clotrimazole ointments.
Self-Care Measures to Aid Treatment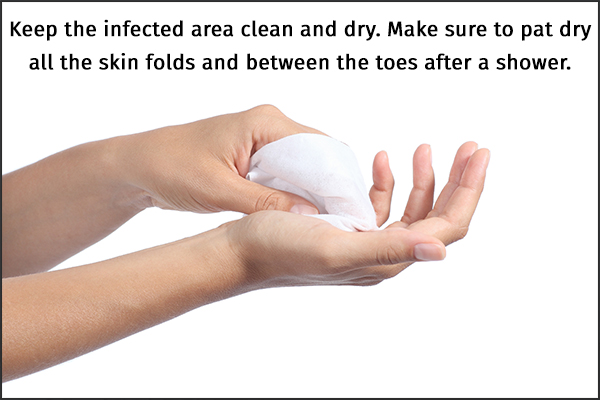 The following self-care measures can aid symptomatic treatment and can help prevent the spread of infection from one area to another:
Keep the infected area clean and dry.
Make sure to pat your skin dry, especially all the skin folds and between the toes, after a shower.
Avoid scratching at the infection site.
Refrain from sexual intercourse in the case of penile or vaginal infection.
Do not share personal hygiene items such as clothes, brushes, and towels. Use separate towels for affected and nonaffected areas.
Wash towels, socks, and bathmats with hot water of at least 60°C.
Use anti-dandruff shampoos to help treat scalp infections or seborrheic dermatitis.
Use antifungal powders every day, especially on your feet, to prevent the growth of spores.
Tips to Prevent Fungal Infections
Several measures can help prevent the occurrence and even the recurrence of fungal infections, such as:
1. Keep your skin dry
Always keep your skin clean and dry, especially the feet and other infection-prone areas such as the armpits and groin. Wash your skin with antiseptic soaps such as those containing neem. Pat your skin dry with a fresh towel and avoid rubbing.
2. Avoid sharing
Refrain from sharing sheets, towels, clothing, or even footwear with other people.
3. Use proper-sized clothing
It is essential to wear loose, breathable fabrics such as cotton, which can prevent the buildup of sweat on your skin. The use of occlusive clothing, such as nylon pantyhose, can increase the risk of fungal infections.
Moreover, avoid wearing tight shoes. Discard old footwear, including sneakers, slippers, boots, and shoes.
4. Avoid walking barefoot
Always wear shoes, sandals, or slippers when stepping outside. Use aqua socks or slippers near public pools or changing rooms.
5. Change into fresh clothes
Wear new clothes after you get back home or before bedtime. Always take a shower and use fresh clothing after exercising or spending time outdoors if you sweat a lot.
Moreover, change out of wet clothes immediately after swimming or other water sports. It is also important to change and wash your socks and undergarments every day. You can use antiseptic detergents to wash your clothes.
6. Maintain nail hygiene
It is advised to keep your toenails short to avoid trapping dirt or ingrown nails. Use a different set of nail clippers for infected nails. Moreover, avoid the use of artificial nails.
7. Wash your hands
Make it a habit to wash your hands thoroughly after interacting with a pet. Moreover, keep your pets and their houses clean.
8. Lose weight
Obese people or those with multiple skin folds are at an increased risk of developing fungal infections.
9. Keep your surroundings clean
It is vital to keep your house clean. Get any faulty pipes or faucets repaired at the earliest, as fungi can grow easily in moist, cold areas.
Change or clean the filter of your indoor humidifiers and air purifiers regularly. Get your house checked for mold growth, especially in the bathrooms, if required.
10. Modify your diet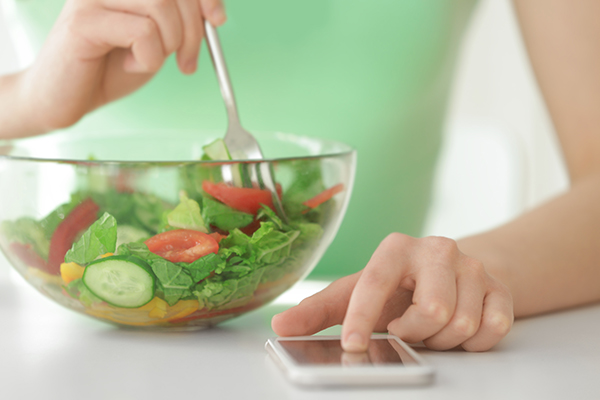 Since fungi can easily infect people with a weak immune system, it is suggested to consume a probiotic, antioxidant, and mineral-rich diet. Some examples of probiotic foods are yogurt, sauerkraut, and kimchi.
You must also eat sweet potato and carrot for their vitamin A content; almonds, hazelnuts, and sunflower seeds for vitamin E; and seafood, nuts, and dairy product as a zinc source.
Moreover, add immune-boosting foods such as vitamin B12, copper, selenium, folate, iron, and vitamin B6 to your diet. You can also consume cranberry juice as it contains antifungal properties. (13)
11. Limit alcohol and tobacco use
The use of alcohol and tobacco can stimulate the overgrowth of candida in the mouth. (14)
Most-Asked Questions About Fungal Infections
Can the topical use of grapefruit seed extract help in the treatment of fungal infections?
Research suggests that grapefruit seed solutions show antifungal properties against fungal films, such as those of candida, and may also help prevent the recurrence of infection. (15) However, this claim warrants further studies and research to establish the effects of grapefruit on fungi.
Can boric acid help in treating vaginal fungal infections?
Boric acid suppositories have been used in the treatment of vaginal fungal infections such as non-albicans candida infections. However, these should only be used after a proper diagnosis.
You must consult a doctor to suggest the appropriate dosage and use of boric acid for your condition.
Final Word
While fungal infections are widespread, they are usually mild and resolve within a week with proper care and treatment.
You can try the above-mentioned home remedies and self-care to aid the treatment and recovery. It is vital to keep track of the infection while trying home remedies and note its response to them. Consult a doctor for a medical diagnosis and treatment if you do not notice any improvement within 4–5 days.

Continue ReadingFungal Infections: Symptoms, Risk Factors, and Treatment
Was this article helpful?