Wrinkles and saggy skin are inevitable parts of aging. As you grow older, the collagen content and elasticity of your skin diminish.
Fortunately, there are several preventive measures you can take that may preserve your facial skin well into your older years. Face massages are one of them. Your face is made up of 42 different facial muscles. Face massages relax these muscles and improve blood flow to them. (1)
Benefits of Face and Eye Massage
Face massages act as a much-needed workout for your facial muscles. They have a number of benefits for your skin and general health, including:
Increased absorption of skin care products
Reduction of acne and pores
Skin repair
Improved skin complexion
Skin tightening
Pain relief (for example, due to sinus)
Lymphatic drainage (drains lymphatic fluids to push out toxins and waste)
Stress reduction (2)
Skin toning
Reduction of water retention and puffiness
Increased blood circulation
Types of Face Massage
There are several types of massage that you can do to your face. Here are some of them:
1. Lymphatic drainage face massage
The lymphatic system helps the body get rid of toxins and waste materials. Since the face and neck contain a lot of lymph nodes, lymphatic fluid can build up in your facial tissues.
Lymphatic drainage massage is a type of face massage that reduces this excess fluid. It involves the use of light pressure and certain motions to activate the lymphatic system.
This massage may help relieve puffiness, acne, and skin inflammation and may give your facial skin a refreshed glow.
2. Shiatsu or finger pressure
Shiatsu or the finger-pressure massage is a unique massage technique that employs acupressure to tone your facial muscles. It has been practiced in China for ages.
Shiatsu helps reduce wrinkles and boost blood flow to the face. (3) It is performed by applying finger pressure to specific points to your face.
3. Classic face massage
Who isn't familiar with a classic face massage? You have probably massaged your face, knowingly or unknowingly, several times.
A simple face massage involves lightly kneading or rubbing your facial skin in soothing patterns. It relaxes your facial muscles, improves blood flow, and boosts collagen production, thus reducing wrinkles and tightening the skin.
It's important to maintain the angle and direction of the massage to prevent skin sagging.
4. Kobido face massage
Kobido massage is a Japanese massage technique that translates to "the ancient way of beauty." It involves the stimulation of fibroblasts in your skin to boost collagen production and increase blood flow to the face.
Kobido massage is performed using a special method that includes a pattern of slow and fast movements. This massage has 47 techniques that relax 16–20 facial muscles.
5. Antiwrinkle face massage
The antiwrinkle face massage is a quick and convenient procedure that stimulates collagen production in your skin to reduce wrinkles and rejuvenates the muscles in your face.
How to Give Yourself a Face Massage
1. Wash your hands and prep your face
The first step is to cleanse your hands and face. Wash your hands with soap/hand wash and water to avoid passing on germs and dirt from your hands to your facial skin. Double cleanse the face with micellar water and face wash to remove makeup, dirt, and grime.
2. Warm the product in your hands
Choose the correct product for your skin type – you can ask your dermatologist to recommend one. Using a recommended facial oil or serum can help you massage your face better and enable the product to penetrate deeply into your skin.
Take a pea-sized amount of the oil of your choice on your palm and rub your hands together to spread it evenly on both palms.
3. Use gentle but firm pressure
Massage your face in a right upward direction with firm pressure and in circular motions without being too rough or aggressive.
Make sure to exert just enough pressure to move your facial muscles along with the skin. This will help tighten your skin and increase blood circulation.
4. Begin by massaging your lymph nodes
The face and neck have several lymph nodes, including two on either side of your face under the ears.
Massage your ears firmly with your fingertips, in guided circular motions, to drain toxins into these lymph nodes. Avoid being too harsh on your skin as the facial skin is sensitive and prone to damage.
Massage under your ears, under your chin to your throat area, and along your jawline for best results.
5. Massage the sides of your face
Always remember to massage your skin in an upward direction and never down, as this may lead to loose skin and sagging. Massage your jawline, the area around the nose, mouth, and along the cheekbones, from the center of the face outward.
6. Massage your forehead
Pinch the skin beneath your eyebrows lightly and pull it up gently in an upward direction. This helps get rid of forehead lines as you massage the skin in the opposite direction.
7. Massage the eye area
Massage the skin under your eyes in very gentle, circular motions to drain the excess fluid and brighten the area. You may use a little more oil or an eye serum to massage this area as it is extremely sensitive.
8. Finish with your neck and decolletage
Lightly massage the skin from your chest to your jaw in an upward direction. This helps get rid of any wrinkles and lines in your neck area.
Under-Eye Massage
The skin around your eyes may be one of the most delicate areas of your body. It is extremely sensitive and should be dealt with gently.
The under-eye area also darkens and swells easily. A variety of factors can cause these phenomena, including insufficient sleep, fluid buildup, increased blood pressure, and genetics.
An under-eye massage is a convenient and easy way to get rid of under-eye puffiness.
Steps:
Massage your temples lightly using your ring and middle fingers for a few seconds.
Slide your fingers from your temples to the under-eye area, then to your nose, and up toward your eyebrows again.
Repeat this technique at least 5 times in a row.
Additional tips
Make sure to use a massage oil or serum that suits your skin.
Cleanse your hands and face properly before massaging your face.
Avoid being harsh on your skin if you have sensitive skin or acne.
Before massaging your face, take a few moments to steam your facial skin to help soften and open the pores for better absorption of the oil or serum.
Practicing face yoga for a few minutes every day helps refresh and rejuvenate your facial muscles. (4)
Make sure to moisturize your skin regularly.
Tools Used for Face Massage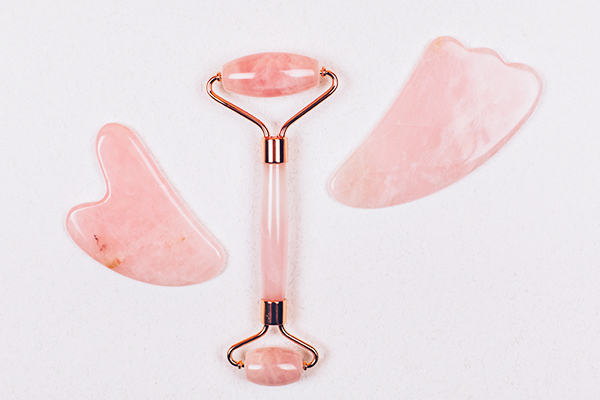 Several face massage tools are used in massaging the face and are widely available nowadays. Some of the most popular ones are:
Jade roller/crystal roller: A jade roller is a tool that has a polished jade stone at its head to massage your face with. Jade stone massages can help drain your lymphatic system to reduce any puffiness, dullness, or acne on your face. (5)
Gua-sha (sculpting tool): A gua-sha is a sculpting tool that had rose quartz or other stones at its end. These stones are used to massage the facial skin in an upward direction for lymphatic drainage.
Kansa wand: A kansa wand is another massage tool meant for draining lymphatic fluid buildup from your facial skin. It may also help get rid of skin sensitivity, puffiness, inflammation, and acne.
Massage Oils for Different Skin Types
Every person has a different skin type. When it comes to skin care, it is important to choose the right products and techniques for your skin. Here is a brief list of recommended massage oils or lubricants for different skin types:
Normal skin: Normal skin requires oils that are lighter and not too heavy on the skin. Argan oil, moringa oil, and coconut oil, among others, are good options.
Acne-prone skin: Skin that is prone to breakouts requires hydrating oils or oils that have anti-inflammatory and antimicrobial properties. These oils include aloe vera gel, retinol serum, lactic acid serum, tea tree oil, pomegranate oil, and vitamin E oil.
Sensitive skin: Sensitive skin needs massages with soothing and nourishing oils. Examples of these oils are aloe vera gel, chamomile oil, moringa oil, and vitamin E oil.
Oily skin: People with oily skin should use lightweight oils and serums that do not make the skin greasy. Great options are grapeseed oil, jojoba oil, tea tree oil, retinol serums, vitamin C serum, and lactic acid serum.
Dry skin: Dry skin requires moisturizing oils, such as olive oil, almond oil, argan oil, marula oil, coconut oil, (6) and hyaluronic acid serum.
General Queries
Can I do daily massage on my face?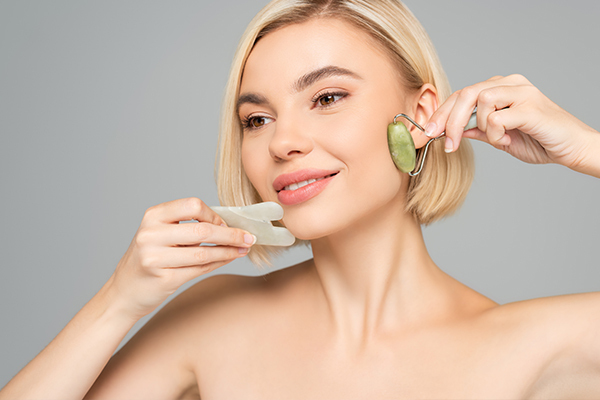 Yes, a simple face massage can help rejuvenate your facial skin and muscles to give it a youthful glow. However, do not be too hard on your skin, and massage lightly for only 5–10 minutes every day.
Can I do face yoga and face massage together?
Yes, there are several proven benefits of both face yoga and massage. Practicing both regularly can improve blood flow to the face, boost collagen production, and improve skin elasticity. All these factors help keep your skin looking young and fresh for a long time.
Will massaging the face prevent skin aging and wrinkles?
Yes, face massages help tighten your skin and stimulate collagen production to prevent wrinkles.
Final Word
A relaxing face massage can be a great way to refresh yourself after a long day. It helps tone your facial muscles and delay the onset of wrinkles on your face.
Was this article helpful?