Dry skin brushing is the new skin care technique that is the talk of the town. It is the process of physically exfoliating the skin's surface using a brush.
Read on to find out how to dry brush your body and whether it is beneficial for you.
What Is Dry Brushing?
Dry skin brushing is as easy and simple as it sounds. It involves the use of a soft-bristled brush to gently scrub the skin's surface.
Dry brushing your body every day can have a range of benefits, from skin exfoliation and cleansing to improved blood flow and muscle toning, among others.
Can You Detox Your Skin Through Dry Brushing?
Your skin is the first protective barrier of the body. It is subject to exposure to all kinds of toxins and pollutants throughout the day. Thus, it is important to detox the skin every now and then.
Dry brushing can help you achieve this by exfoliating the skin and also opening up the skin pores to drain toxins. (1)(2)
Benefits of Dry Brushing for Skin
Here are some benefits of dry skin brushing:
Fights cellulite: Some skin care experts claim that dry brushing can reduce cellulite on the body. A recent study showed that dry brushing helps drain some fat present under the skin via the lymphatic system. However, there are no other reports supporting it, although anecdotal evidence is plenty.
Tightens the skin: Dry brushing helps tighten the skin by improving blood flow. This provides the skin with adequate nutrients to increase collagen production and make the skin tighter.
Stimulates the nervous system: Stimulating the nerves under the skin can help you feel relaxed and rejuvenated.
Stimulates the hormone- and oil-producing glands: Skin brushing can improve blood flow to the oil glands and increase sebum production, which can keep your skin moisturized all day.
Tones the muscles and evenly distributes fat deposits: Dry brushing stimulates the nervous system, which helps tone the muscles and redistribute body fat to make you appear fitter.
Boosts circulation: This is the most well-documented effect of dry skin brushing. It helps increase blood circulation all over the body and boosts your skin health.
How to Dry Skin Brush
Here is the proper way to dry brush your skin:
Start from your feet and work your way up: Dry brushing is particularly effective on the limbs. It is effective to brush your feet and ankles first before working your way to the rest of the body.
Use long, upward strokes on your arms and legs: It is advisable to use upward strokes rather than downward strokes when brushing your limbs. For instance, brush upward from your ankles to your thighs.
Brush your torso in circular strokes: When brushing the middle of your body (chest, torso, back, etc.), try to maintain circular, clockwise strokes for best results.
Be gentle so you don't irritate your skin: Applying the right amount of pressure is the key to dry brushing. It is important to be gentle as brushing too hard can irritate the skin and do more harm than good.
Use lighter pressure in sensitive areas: It may be best to avoid brushing areas with inflammation, bruises, or wounds. Be soft and gentle on sensitive areas such as the inside of your thighs.
Stick to 2–3 strokes per area: Do not overbrush. Only brush once or twice over the same area.
Stick to dry brushing once a week if your skin is sensitive: If you have sensitive skin that gets irritated easily, it may be best to dry brush only once or twice a week rather than every day.
Showering washes away dead skin and replenishes moisture: Dry brush your skin before stepping into the shower. This way, you can wash away all the dead skin cells from the skin's surface. In fact, you can observe mild skin peeling in the first few days. Moisturize your skin well afterwards to avoid skin dryness or irritation. (3)
How to Choose the Right Brush
It is important to choose the right brush for your body. A soft-bristled brush may be your best bet, but people with very sensitive skin can also use a loofah.
It is advisable to choose a brush with a long handle to easily reach all the areas of your body efficiently.
Tips to Keep in Mind While Dry Brushing
Here are some tips to make the most out of your new health habit:
Dry brushing is best performed early in the morning before your shower.
Drink ample amounts of water throughout the day to increase toxin removal.
Consume a well-balanced diet to increase nutrients in the body.
Cleanse your brush thoroughly once a week with soap and water.
Do not share your skin brush with anyone.
Precautions to Consider
Skin brushing is generally harmless. However, some people may experience side effects.
When skin brushing, take the following precautions:
Do not dry brush your skin if you have skin conditions such as rosacea, psoriasis, vitiligo, lichen planus, or cutaneous amyloidosis.
Do not brush over any wounds or bruises.
Avoid dry brushing if you have a skin infection.
Most-Asked Questions About Dry Brushing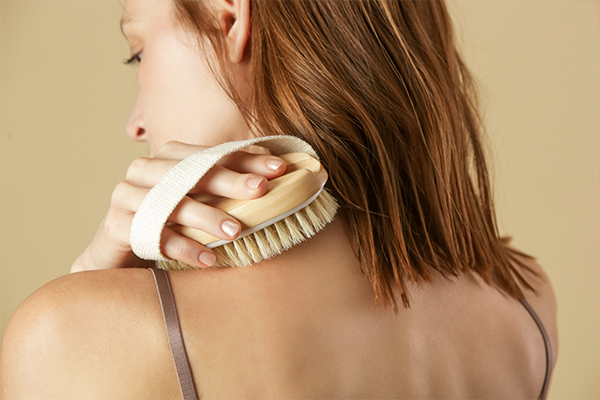 Can I dry brush my face?
Yes, you can. However, not with your body brush. You can purchase a softer brush for your facial skin.
Can dry brushing reduce wrinkles?
There is no significant evidence of skin brushing reducing wrinkles.
Do dermatologists recommend dry brushing?
Most dermatologists agree that there is no harm in dry skin brushing. However, dermatologists will most likely inform you it does not make a long-lasting or major difference to the skin.
Final Word
Dry skin brushing is just skin exfoliation at the end of the day. It helps remove dead skin cells and debris from the skin's surface and increases blood circulation, giving your skin a healthy glow. However, there is no major evidence to prove its role in detoxification and cellulite reduction.
Was this article helpful?