The skin is the largest and most exposed organ of the human body. It serves as the primary physiologic barrier against external irritants and pathogens and therefore suffers from a lot of wear and tear daily.
Fortunately, the skin keeps repairing and regenerating itself to overcome most of this damage. The dead cells shed from the surface of the skin and are replaced by new ones. Thus, the damaged upper layers of the skin slough off and reveal freshly formed skin from underneath.
However, there is a natural decline in this skin regeneration process with age, and so you must amp up your skin care routine accordingly. Several beauty products on the market claim to nourish the skin and assist in its repair, but they are often expensive and come with added chemicals.
Here are a few easy face masks that you can make at home using all-natural ingredients that are readily available in your kitchen.
Know Your Ingredients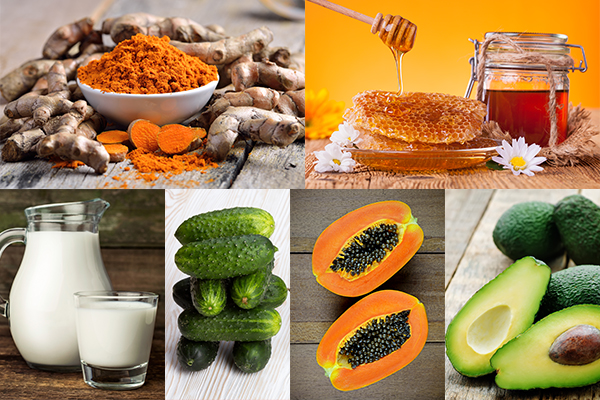 Each of the masks below can be prepared by combining only two ingredients. These are the commonly used ingredients and their respective skin benefits:
1. Turmeric
Curcumin is the main bioactive compound in turmeric and gives it the characteristic yellow color, along with a host of healing properties. (1)
This spice has been widely used in folk medicine for its anti-inflammatory, antimicrobial, antioxidant, and anticancer effects, which have been substantiated by scientific studies. (1)
2. Honey
Honey is made up of 17% water, which accounts for its hydrating effect. Topical honey not only hydrates the skin but also forms an impervious layer over it to lock in moisture.
Moreover, honey contains two types of sugars, namely, fructose and sucrose, both of which exhibit antimicrobial properties that can help kill germs on the skin and fight infections such as acne. (2)
3. Milk
Lactic acid is an essential alpha hydroxy acid found in milk and other dairy products that can help the skin in different ways. When used topically, the acidity of the milk lowers the pH of the skin to make it inhospitable for bacteria such as staphylococcus, which cause acne.
Human skin has a naturally acidic pH, and the application of milk helps maintain that. An alkaline pH, on the other hand, is conducive to the growth of microbial infections.
Moreover, the lactic acid in milk helps loosen the dead skin cells, which then slough off from the skin surface. The shed skin is replaced by newly formed layers, imparting a healthy, fresh glow to the face. Lactic acid also helps lighten the skin due to its mild bleaching properties. (3) Other sources of this acid are milk cream and yogurt.
4. Cucumber
Cucumber is composed almost entirely of water, making it deeply hydrating for your skin. Plus, its anti-inflammatory and cooling nature can help relieve skin irritation, swelling, and itching.
Cucumber is also known to reduce excessive sebum secretion, which makes your skin extremely greasy and acne prone. Thus, the topical use of cucumber or its extracts can prove beneficial for both dry, itchy skin and oily skin. (4)
5. Fruits
Nutrient-rich fruits such as papaya (5) and avocado (6) are often used in face masks as they help nourish, heal, and protect the skin.
Papaya and avocado are full of antioxidants that limit the skin damage caused by free radicals and UV radiation, which are both major culprits behind premature skin aging.
6. Rose water
Rose water is made up of rose water extracts, which exhibit significant anti-inflammatory and antioxidant properties. It can be extremely soothing and moisturizing for the skin.
Also, the antioxidants in rose water help counter the free radical-induced oxidative stress on skin cells, which if left unchecked can induce DNA damage and premature aging. (7)(8)
7. Sandalwood
Sandalwood helps calm irritated skin and is credited with mild bleaching properties. It also shows antimicrobial activity against staphylococcus bacteria, which are the source of acne and a host of skin blemishes. (9)
8. Oatmeal
Oatmeal has been widely used, both orally and topically, for addressing a variety of skin problems, such as pruritus, atopic dermatitis, acneiform eruptions, and viral infections. This is largely due to its inherent antioxidant and anti-inflammatory properties that can help alleviate these conditions.
Additionally, oatmeal is considered good for the overall health of the skin, which explains its common usage in a range of cosmetics and skin products. It moisturizes, soothes, and gently exfoliates the skin while also shielding it from UV-induced damage. (10)
9. Cocoa/chocolate
Cocoa or dark unsweetened chocolate is replete with certain antioxidant compounds called flavanols and polyphenols, which benefit the skin in various ways. They help improve skin hydration and elasticity, while protecting the skin from free radicals and sun damage.
These bioactive compounds also increase blood flow and promote faster skin healing and regeneration. (11)
10. Coconut oil
Coconut oil moisturizes the skin to strengthen its barrier function while also exerting a strong anti-inflammatory effect to diminish swelling, itching, and general skin irritation.
This ingredient can therefore be a useful addition to face masks, especially for people suffering from dry and flaky skin. (12)(13)
11. Lemon juice
Lemon has an abundant reserve of vitamin C, which is one of the best antioxidants there is. It protects your skin cells from the oxidative damage caused by free radicals or UV exposure.
Vitamin C also stimulates collagen production in the dermis to strengthen or thicken the skin structure. Collagen is essential for skin regeneration, which helps reduce or delay the formation of fine lines and wrinkles.
Also, vitamin C works as an anti-inflammatory agent to curb redness and inflammation in the skin. (14) The citric acid in lemon renders the skin pH slightly acidic, inhibiting microbial growth and consequent infections.
Lastly, lemon can lighten the skin to a certain degree. However, it can make your skin photosensitive as well. So, avoid going out in the sun soon after using this topical remedy.
Note: Excessive application of undiluted lemon can disrupt the skin pH and dry it out.
12. Charcoal
Activated charcoal works as an adsorbent, which attracts and binds various contaminants to its surface, facilitating their easy removal.
When used in a face mask, the dirt, dead cells, bacteria, and other impurities on the skin adhere to the charcoal molecules for a deep cleaning effect. This strong cleanser can even pull out debris embedded in the pores without being too harsh on the skin.
Activated charcoal is best used with other skin-rejuvenating ingredients such as clay, honey, and yogurt that help enhance its effectiveness.
13. Saffron
Saffron is another prized ingredient that is credited with anti-inflammatory properties that can help soothe irritation, rashes, and swelling. Saffron extracts are often used in skin creams to provide an extra dose of hydration.
14. Fenugreek seeds
Fenugreek is full of nutrients, including calcium, magnesium, and vitamins A and C, which help repair and reduce skin damage.
They curb the harmful activity of free radicals that destroy skin cells and induce skin aging. Moreover, the skin-healing effect of fenugreek helps calm dry, irritated, flaky skin.
15. Aloe vera
Aloe vera gel is good for the skin in more ways than one. It is deeply hydrating, which explains its wide use in skin moisturizers. It works as an anti-inflammatory, antimicrobial, and antiseptic agent, addressing a number of skin issues. Thus, it can help keep your skin calm, fresh, and infection-free.
Aloe vera is especially therapeutic for sensitive or irritated skin as it is far gentler than other commonly used skin ingredients. Regular application of aloe gel can help soothe and reduce skin lesions while improving the overall quality of the skin.
Face Mask Recipes
Try these simple two-ingredient recipes to make your very own skin rejuvenating face mask.
Caution: Before preparing any of these masks, patch test the ingredients on the underside of your arm to make sure you are not allergic to them.
1. Cucumber-sandalwood powder mask for irritated sensitive skin
Blend half of a peeled cucumber in a mixer, juicer, or food processor to make a smooth paste.
Pass the paste through a sieve or muslin cloth to obtain the watery cucumber juice.
Mix 1 tablespoon each of cucumber juice and sandalwood powder in a clean bowl to make a thick paste.
Note: If you're out of sandalwood powder or are sensitive to it, you can substitute it with fuller's earth.
2. Avocado-honey face mask for dry skin
Scoop out the pulp of half an avocado in a clean bowl.
Mash it with a fork to make a thick smooth paste.
Mix 1 tablespoon of raw honey into it.
3. Milk powder and coconut oil mask for dull skin
Take 1 teaspoon of milk powder in a bowl.
Add a few drops of coconut oil or coconut water to the powder.
Mix the ingredients well to make a smooth paste.
4. Coffee and rose water mask for smooth and bright skin
Put 1 tablespoon of coffee powder in a bowl.
Mix in a few drops of rose water to make a thick paste.
Note: If you don't have rose water, you can use green tea or chamomile tea instead.
5. Charcoal peel-off mask for acne-prone and oily skin
Take 1 tablespoon of activated charcoal powder in a clean bowl.
Microwave 1½ tablespoon of gelatin powder for 30 seconds, and then add it to the bowl. Gelatin, when heated, acquires a sticky consistency that will make your paste creamy.
Pour just enough water in the bowl to mix all the ingredients into a thick paste.
Caution: Be careful not to apply this mask on your eyebrows and hairline because the adhesiveness of the gelatin can strip the hair from these areas and cause a lot of pain.
6. Papaya and lemon juice mask for glowing skin
Blend ½ cup of papaya pulp in a mixer or food processer.
Pour the blended papaya into a clean bowl.
Squeeze 3–4 drops of lemon juice in it.
Mix the ingredients well to make a paste.
7. Oatmeal-honey mask for acne-prone skin
Cook one serving of oatmeal.
Mix 2 tablespoons of honey into the hot oatmeal.
Let the oatmeal cool down to room temperature before using it as a face mask.
Note: You can also use rice flour in place of oatmeal for similar effects.
ALSO READ: How to Make Oatmeal Face Masks for Different Skin Problems
8. Saffron-milk mask for skin lightening
Soak 3–4 strands of saffron in ¼ cup of milk for about 2 hours so that the goodness of saffron is infused into the milk.
Apply this liquid to your face as a mask.
9. Fenugreek seeds and aloe vera mask for acne-prone skin
Immerse 2 teaspoons of fenugreek seeds in 1 cup of warm water and let them soak overnight.
The next morning, add 2 teaspoons of fresh aloe vera gel to this mix.
Blend all the ingredients to make a smooth paste.
10. Cocoa-milk mask for antiaging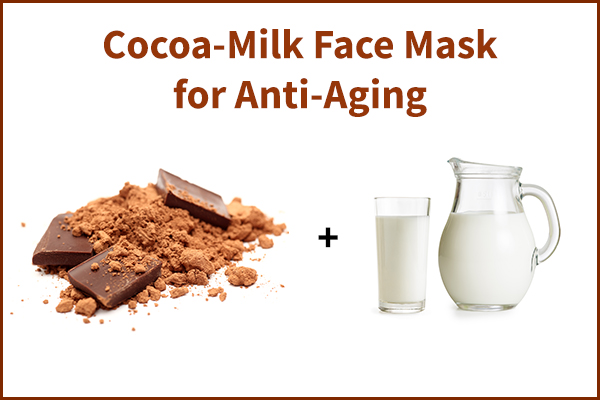 Take 1 tablespoon of unsweetened cocoa powder or some melted dark chocolate in a bowl.
Pour 1–2 tablespoons of milk into it. If you are out of milk, use milk cream or yogurt.
Stir the mixture well to make a smooth paste.
Note: The consistency of your mask should be dense enough for it to stick to your face without dripping. If the paste becomes too runny, you can add a little gram flour or ground oatmeal to it for a thicker consistency.
How to Apply the Face Masks
Wash your face and neck with a mild cleanser and plain water.
Let your skin air-dry to the extent that it is still damp but not wet.
Apply the paste all over your face and neck.
Let it sit for 15–20 minutes.
Dampen a soft paper towel or washcloth and use it to wipe off the mask.
Rinse your skin with lukewarm water to remove every trace of the paste, and then pat it dry.
Use this mask once or twice a week.
Final Word
These two-ingredient face masks are a true testament to the healing power of nature, but they are no magic bullets that can banish all your skin problems with a single application.
When it comes to skin care, consistency is key. You must use these masks regularly for several weeks as part of an overall wholesome skin care routine to see any visible and lasting improvement. This does not mean that you should overuse them. Your skin must get time to breathe for it to heal properly. Excessive application of skin care products and remedies can irritate it further.
If used properly, these face masks can help clear free radicals, germs, and other toxins from your skin. They moisturize, nourish, exfoliate, lighten, and repair the skin to a certain degree. But it is important to conduct a patch test before applying the mask to eliminate the possibility of skin sensitivity or an allergic reaction.
Was this article helpful?