Your skin is important not only for your outward appearance but also because it reflects your internal health. Some people are bestowed with naturally perfect skin, but even they develop occasional zits and can't circumvent the aging process.
For most people, achieving flawless skin is a tough struggle, which is made worse by the increasing pollution, poor eating habits, and unhealthy lifestyles that are the norm today.
Some of the most commonly reported skin complaints are acne, wrinkles, scars, and dark circles. Now, you can find a whole range of products for each problem, but most of them contain harsh chemicals that may further damage your skin over time. They may provide quick results, but they may fade out once you stop using the product.
Additionally, skin care products that are truly organic and effective tend to be exorbitantly priced than the conventional ones. Instead of wasting your time and money on these commercial products, you can prepare your own skin care product at home with all-natural, inexpensive ingredients.
You'll be surprised to know the amazing skin benefits that are concealed inside some of the most common kitchen ingredients, such as turmeric.
This article will show you how to make simple turmeric face masks that work against not one but several skin problems, most notably acne, wrinkles, scars, and dark circles.
DIY Turmeric Face Mask Recipes
Here are some popular recipes for homemade turmeric face masks that can help fight acne, minimize wrinkles, fade scars, and reduce dark circles.
Caution: Before trying a new topical remedy, you must patch test it on a small area of the skin to rule out any adverse reaction as your facial skin is extremely thin and sensitive. Apply the mask on the underside of your forearm or neck to make sure you are not allergic to any of its ingredients. If you notice any irritation, it's best not to use it at all.
Recipe 1
Take 1 tablespoon of yogurt in a clean bowl.
Pour 1 teaspoon of raw honey and 1 teaspoon of extra-virgin coconut oil in it.
Add 1–3 teaspoons of organic turmeric powder.
Mix all the ingredients to make a smooth paste. The consistency should be thick enough for the paste to stick to your face.
This variation of turmeric face mask is suitable for oily skin. It is mainly used for lightening acne blemishes and dark circles.
Recipe 2
Put 1–2 teaspoons of organic turmeric powder in a clean bowl.
Add 2 tablespoons of raw honey and 1 teaspoon of lemon juice.
Mix the ingredients well to get a lump-free paste that can be applied easily on the skin.
This variation of the turmeric face mask is best for fading acne scars.
Recipe 3
Take 1–2 tablespoons of organic turmeric powder in a clean bowl.
Add 1 tablespoon of aloe vera gel to the bowl and mix.
You can add milk, coconut oil, rose water, or simply some water to your mixture if it is too thick.
This variant of the turmeric face mask helps promotes skin healing and enhances elasticity to fight off wrinkles and reduce scarring. It can also make your dark circles less visible. This face mask can be used for any skin type.
Recipe 4
Drop 2 tablespoons of yogurt in a mixing bowl.
Pour 1–2 tablespoons of rose water in it.
Add 1–2 teaspoons of organic turmeric powder.
Mix the ingredients until you get a smooth paste that is thick enough to apply easily on the skin.
This variant of turmeric face mask brightens skin and reduces dark circles. It is quite effective for regular or oily skin types, but dry-skinned people should use milk or milk cream instead of yogurt for added hydration.
How to Use
Cleanse your face and neck so to get rid of any dust, makeup, or skin product.
Allow your skin to air-dry or gently pat it dry with a clean, soft towel.
Apply your homemade turmeric face mask all over your face and neck using your clean fingers, a spatula, or a brush.
Leave it on for about 15 minutes to let your skin absorb the goodness of the mask.
Rinse the mask off using lukewarm water.
Apply a moisturizer.
Use this face mask once a week to get flawless skin.
Know the Ingredients
You need the following skin-friendly ingredients to prepare the DIY turmeric face masks:
1. Turmeric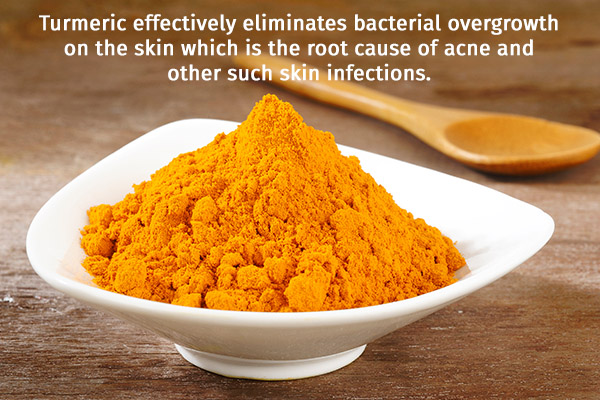 Turmeric is a wonder spice that has long been used in traditional and folk medicine to treat a spectrum of diseases, including skin problems.
The main active compound in turmeric is curcumin, which exhibits potent antimicrobial and anti-inflammatory properties. It effectively eliminates bacterial overgrowth on the skin, which is the root cause of acne and other skin infections.
Controlling acne flare-ups is the best way to prevent acne scarring, and turmeric can help you in that regard. This medicinal herb is also known to exhibit antiaging and bleaching properties, which can help keep your skin young and glowing. (1)
2. Honey
Honey is mainly composed of water and sugars, namely, fructose, glucose, and sucrose. It also contains substantial amounts of skin-friendly bioactive compounds, such as polyphenols, vitamins, and minerals.
When applied topically, the water in honey hydrates the skin and the sugars act as humectants that trap moisture from the environment and lock it in the skin for prolonged hydration. This deep moisturizing effect helps strengthen the skin barrier and improve skin elasticity.
Also, honey is full of antioxidants that fight free radicals or sun-induced UV damage. It also promotes tissue repair and inhibits tumor cell growth. Moreover, the antimicrobial activity of honey helps against skin infections such as acne. (2)
The mark of a good-quality honey is a dark color. The deeper the color of the honey, the more effective it will be. You can use medical-grade honey for this remedy, but your first choice should be raw, organic, locally produced honey.
3. Coconut oil
Coconut oil is richly endowed with fatty acids that make it a great skin moisturizer. These fatty acids bind moisture to the skin to provide long-lasting hydration and form a protective seal over the skin to enhance its barrier function.
Coconut oil is also credited with skin healing and anti-inflammatory properties. (3)
4. Yogurt
Yogurt is an excellent source of lactic acid, an alpha hydroxy acid with several beneficial properties. (4) Topical application of this acid helps dissolve the bond between dead skin cells so that they become easier to shed.
Thus, yogurt works as a natural exfoliating agent that gently removes the worn-out top layer of the skin, which is replaced by newly formed skin from underneath. The new skin is tighter, brighter, and more even.
This skin resurfacing process helps fade hyperpigmentation and scars and imparts a healthy glow to the face. Moreover, yogurt is known to possess bleaching properties that can lighten dark spots and scars to even out your complexion. (5)
Acne-causing bacteria and other microbes need an alkaline environment to thrive. Thus, it is very important to maintain your skin's naturally acidic pH to avoid skin infections. The acidic nature of yogurt helps in this regard. If you are out of yogurt, add milk or milk cream to the mask since they are full of lactic acid as well.
5. Rose water
Rose water helps soothe irritated skin due to its inherent anti-inflammatory properties. Its rich antioxidant reserve helps curb oxidative stress in the skin, which is usually the root of irritation and inflammation.
Antioxidants neutralize the activity of free radicals, which are unstable molecules that break down the DNA of healthy skin cells to induce inflammation, premature wrinkles or fine lines, dark spots, and other serious skin problems including cancer. The UV rays of the sun are a major source of free radicals and therefore contribute to a great deal of skin damage daily. Rose water can help minimize this sun damage.
Rose water also works as a natural astringent that can tighten your skin pores and restore healthy skin pH without causing the dryness or irritation associated with regular skin toners. It adds a glistening effect to your skin and can even help lighten it with repeated use. (6)(7)
6. Lemon juice
Lemon juice is replete with vitamin C or ascorbic acid, a potent antioxidant that is a miracle worker for the skin. Vitamin C protects your skin cells from free radicals or UV damage and also promoting collagen synthesis for new cell growth.
Collagen is the main skin protein needed to maintain the structural integrity and elasticity of your skin. Both these actions help thicken, regenerate, and repair your skin.
Vitamin C also acts as an anti-inflammatory agent that curbs redness, stinging, swelling, and even sunburn. (8) Lemon juice also contains citric acid, which loosens dead skin cells to facilitate easy exfoliation. Thus, applying lemon juice helps your skin shed its damaged superficial layer faster to reveal fresh new layers from underneath.
By promoting collagen production and accelerating skin regeneration, topical lemon juice can help keep your skin firm, supple, and wrinkle- or blemish-free. Moreover, lemon juice works as a natural bleach that can make brighten your skin complexion and fade pigmentation.
Note: Lemon juice is highly acidic and can disrupt your skin's pH if applied repeatedly or directly. So, it's important to dilute it with other skin-calming ingredients and use it sparingly. Moreover, excessive application of lemon juice can make your skin extremely sensitive to the sun (photosensitive). This means that your skin will burn or tan easily when you step out in the sun.
7. Aloe vera gel
Aloe vera gel is a much-celebrated skin healer that is often used in beauty remedies. It imparts a cooling effect that can reduce skin irritation.
Aloe vera also induces an anti-inflammatory response in the skin, which helps bring down redness, swelling, and angry pimples. It shields the skin from the damaging effects of the sun's UV rays, which lead to hyperpigmentation and premature skin aging.
Aloe gel also facilitates collagen production, which is needed to make new skin cells. This helps with faster skin renewal, wound healing, and diminishing scars. Aloe gel contains mucopolysaccharides, which are sugar molecules that suck moisture from the air and bind it to the skin for prolonged hydration.
Moreover, aloe gel contains sulfur compounds that have significant antimicrobial and antiseptic potential. Thus, topical aloe can help curb microbial overgrowth on the skin to prevent acne and other skin infections. (9)
It's best to use freshly extracted aloe vera gel in this mask to avoid the added chemicals. If you don't have an aloe vera plant at home, you can buy packaged gel, but only unadulterated and premium-quality brands.
Final Word
The skin forms a protective layer all over the body, which serves as the first line of defense against environmental irritants such as dust, chemical toxins, microbes, smoke, and sunlight. 
But in serving this function, the skin undergoes repeated damage at the hands of these environmental factors. It also suffers a lot of wear and tear due to trauma or injuries, given it's the outermost part of the body.
Internal factors such as hormones, nutrition, and physiological functions also have a significant bearing on the condition of the skin. All these factors have to be considered to improve dermatological health.
Proper skin care goes beyond beauty products and remedies and includes an active and stress-free lifestyle, a well-balanced nutritious diet, and restful sleep. Even the best skin care regimen will fail to deliver long-lasting results until healthy living is implemented.
The turmeric face masks presented in this article are not magic bullets that will banish all your skin problems with a single application. You have to use them regularly for a few months to see noticeable improvement.
Plus, everyone's skin is different and responds differently to different products or remedies. So don't be disheartened if the masks do not deliver the expected results. Even if the turmeric masks do not cure your skin complaint, rest assured that they won't worsen it either. So, there's no harm in trying.
Was this article helpful?