Aging is a natural phenomenon that primarily manifests as visible skin changes such as wrinkles, fine lines, dryness, thinning, and sagging of the skin. Various factors influence the process and rate of skin aging.
Aging caused by genetic factors is medically known as intrinsic aging. (1) Extrinsic aging factors, such as the environment and lifestyle choices, can cause premature aging of the skin. This process may be delayed with some preventive measures. (1)
A cucumber mask is great for aging skin due to its nourishing and moisturizing properties. It has astringent and soothing agents that provide relief from acne and sunburn.
Benefits of Cucumber for Skin
Cucumber, or Cucumis sativus, has high water content and is low in calories. It can benefit your skin in various ways:
It helps in detoxifying and cleansing the body by removing accumulated waste and chemical toxins.
Fresh juice made out of cucumber provides relief from irritation and inflammation, giving a soothing effect.
The vegetable may also be used to alleviate the symptoms of sunburn. (2)
Cucumbers are packed with phytonutrients, such as flavonoids, triterpenes, and lignans, that are beneficial for health.
They are rich in vitamin K, molybdenum, pantothenic acid, potassium, vitamins C and B1, copper, manganese, biotin, magnesium, and phosphorus. (3)
Cucumbers also help condition the skin by strengthening the connective tissues leading to improved elasticity and rejuvenating it. (4)
Studies reveal that cucumbers can improve the skin barrier and are safe for use. They have been employed in the manufacture of cosmetics for long. (5)(6)
The silica found in cucumbers plays a vital role in the strength and development of connective tissues, such as tendons, bones, muscles, cartilage, and ligaments.
The high water content of cucumbers makes them an excellent moisturizing agent. (7)
Other Components of the Antiaging Masks
Adding the following ingredients to the cucumber face mask may help enhance its benefits:
1. Aloe vera
It is known to prevent skin damage caused by radiation. Aloe vera also aids in improving skin elasticity and (8) preventing skin flaking, thus softening the skin. (8)
2. Banana
Both the peel and pulp of bananas are rich in phenolics, carotenoids, and amine compounds, making them good sources of natural antioxidants and pro-vitamin A. (9)
3. Tea tree oil
This oil is generally used for improving skin health and fighting skin infections such as onychomycosis, acne, and lice. (10)
4. Rose water
The Rosa plant exhibits anti-microbiological and antioxidant effects. Rose water helps freshen up the skin while giving out a soothing aroma. Adding rose water to the face mask gives it sufficient fluidity, making it easier to apply. (11)
DIY Cucumber Face Mask
This cucumber face mask made by adding aloe vera gel, tree tea oil, and rose water may have antiaging effects and should be given a try.
Ingredients:
Half a cucumber
2 tbsp fresh aloe vera gel
½ tsp pure rose water
½ tsp diluted tea tree oil
How to make:
Peel half of a cucumber and cut it into small pieces.
Put the chopped cucumber in a blender pot.
Add aloe vera gel, rose water, and tea tree oil to the pot.
Blend the ingredients for a couple of minutes.
How to use:
Wash and pat your face and neck dry.
Apply a layer of the mask to your face and neck.
Leave it on for about 20 minutes.
Rinse off the mask.
Splash cold water on your face.
Pat your skin dry and apply a moisturizer that suits your skin.
Use this mask once or twice a week.
Note: The astringency of this face mask may render it unsuitable for those with sensitive skin.
DIY Cucumber and Banana Face Mask
Cucumber is loaded with antiaging properties. Using it in combination with sweet almond oil and banana boosts the reversal of fine lines. This mask will not only prevent premature aging but will also help repair damaged skin.
Ingredients:
1 tbsp blended cucumber
1 tsp sweet almond oil
2–3 tsp mashed banana
How to make:
Peel and mash the banana into a fine pulp.
Combine 2–3 tsp of the pulp and the cucumber puree.
Add the almond oil and mix well.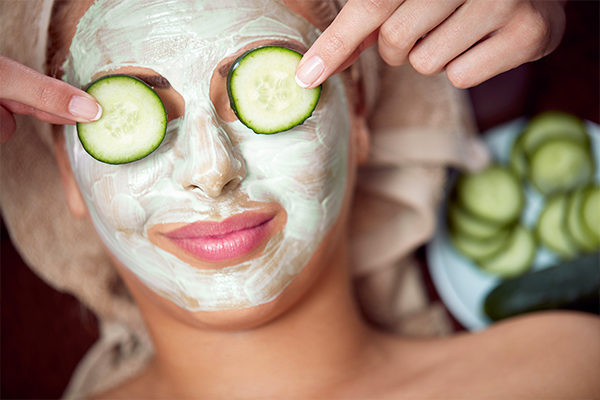 How to use:
Scrub and clean your face.
Apply a layer of the mask to your face.
Leave it on for 20–30 minutes.
Wash off the mask with tepid water.
Apply face cream on slightly wet skin.
Use this mask once a week.
Easy Cucumber Cold Compress
Using a cucumber cold compress is an efficient way to soothe your skin by relieving it of any inflammation and tiredness after a long day. This topical therapy is popularly used for relaxing the eye muscles.
How to use:
Cut out two slices from one end of a cucumber, around 0.25–0.5 inch in thickness.
Put them on a clean plate in the refrigerator for 15 minutes. Alternatively, you may place them in the freezer for 5 minutes.
Lie down on your back, and place the cucumber slices on your face for around 15 minutes.
Discard the slices after use.
You can use this cold compress daily to achieve smooth and youthful skin.
Note: If your skin does not improve or it worsens after 2–3 weeks, seek help from a dermatologist.
Possible Allergic or Irritant Reactions
Refrain from using the mask if you are allergic to any of its components. Look out for these possible reactions:
1. Cucumber
Generally, cucumbers are safe for use. However, you may experience a reaction if you are allergic to ragweed or, any gourd vegetable, or have other food allergies.
2. Banana
The topical application of banana can cause contact urticaria in people sensitive to it. (12)
3. Tea tree oil
While the topical application of tea tree oil is likely to be safe, it may cause swelling and irritation in some cases. Individuals with acne problems should use it with caution as it may lead to itching, burning, skin dryness, stinging, and redness.
Disclaimer: Since your facial skin is extremely thin and delicate, it can get easily irritated by any new topical ingredient. So to rule out any adverse skin reactions such as burns and rashes, first perform a patch test of masks on the underside of your arm. If irritation occurs, avoid its use.
Needless to say, people who are allergic to any of the ingredients in the remedy should not use it. People with sensitive skin are advised to take special precautions before trying out any topical remedy.
Final Word
Skin changes are the most notable signs of the aging process. Using a cucumber face mask can help clean, refresh, and rejuvenate your skin. It is also a way to relax the body and mind, provided you lie down after applying the mask and let it produce its results.
Was this article helpful?