A great and effective skin care regimen must include three basic steps: cleansing, toning, and moisturizing, to be performed in that order.
Cleansing is necessary to rid your skin of impurities that settle on it during the day, or else they'll clog the pores and give rise to skin infections. Your pores allow your skin to breathe.
Toning helps tighten your skin pores so that they don't collect a lot of gunk; it also balances your skin pH. Healthy skin should remain slightly acidic to deter microbial overgrowth and thereby prevent skin infections.
Moisturizing is very important for preserving and strengthening your skin's structural integrity. This kind of topical lubrication helps keep your skin soft, elastic, and supple.
Dry skin tends to be less flexible and ruptures easily when overstretched or subjected to pressure. This breakdown of skin fibers leads to the loss of elasticity, resulting in saggy skin. Loose skin tends to crease and fold, thus forming wrinkles and fine lines.
Plus, there's a progressive decline in collagen synthesis within the body as age increases. Collagen is the main structural protein that is needed to build new skin cells, and an inadequate supply of this protein makes it harder for your skin to repair itself.
So, long story short, you must not take skin dryness lightly as it can make you susceptible to serious and long-lasting forms of skin damage. (1)(2) Treating your skin with a topical moisturizer regularly makes your skin look and feel better while also strengthening its barrier function. Also, well-hydrated skin is less prone to acne. Most people associate acne with oily skin, but this condition affects dry skin as well.
The sebaceous glands in the skin produce lipids to keep it naturally hydrated. When your skin becomes dry, these glands start overproducing oil to make up for the lack of skin moisture. The excess oil or sebum gradually builds up inside the skin pores, leading to congestion.
Clogged pores become breeding grounds for acne-causing bacteria that feed on the sebum and skin debris, allowing them to proliferate rapidly and eventually cause breakouts.
There is a whole range of moisturizers available on the market that come in different forms (creams, lotions, and ointments) and consistencies (lightweight water based or thick oil based). Choose a moisturizer that suits your skin type and condition.
But here's a moisturizer that you can easily make at home using all-natural ingredients that suit almost all skin types.
Know the Ingredients
You can use various natural ingredients, commonly present in most homes, as skin-friendly moisturizers that also provide various other benefits to your skin.
1. Aloe vera
Aloe vera is beneficial for your skin in more ways than one. It is full of antioxidants, such as vitamin E that inhibits and repairs the skin damage caused by free radicals.
Free radicals are reactive molecules that attack healthy skin cells to induce collagen breakdown and inflammation. If left unchecked, free radical activity can destroy the DNA of your skin cells and pave the way for skin cancer.
Aloe vera gel penetrates deep into the skin to protect and nourish it at the cellular level. Plus, vitamin E helps with the production of new skin cells to heal wounds and scars and facilitate healthy skin regeneration.
Aloe vera gel works as a humectant – it draws moisture from the environment and locks it into the skin to provide lasting hydration. It also works as an anti-inflammatory agent to ease the redness, pain, swelling, and itching associated with common skin conditions such as acne and eczema. (3)
Moreover, aloe vera exerts a cooling effect, which helps calm irritated or sunburnt skin while also promoting healing.
2. Coconut oil
Coconut oil is typically used as a hair oil, but it makes for a great skin moisturizer as well. For starters, coconut oil is easily absorbed into the skin to moisturize it at a deeper level. This is not the case with most other oils that stay on the surface and make your skin ultra-greasy. The buildup of such oils on the skin can clog your pores, resulting in acne and other skin problems.
Moreover, this skin lubricant also forms a protective barrier over the skin to ward off external irritants and infection-causing microbes. Coconut oil also reduces transepidermal water loss and preserves ideal skin temperature against changing weather conditions.
Coconut oil is also known to possess antibacterial and antifungal properties (4) that can fight or prevent skin infections. (5) It facilitates skin detoxification by inactivating free radicals and other toxins that damage the skin cells to induce various skin problems, including premature aging.
Thus, coconut oil helps keep your skin soft, supple, and young by providing it with much-needed hydration, nourishment, and cell repair. Combining it with aloe vera gel will enhance the skin benefits of both ingredients.
3. Beeswax
Beeswax is a sticky, viscous liquid secreted by honeybees. It can moisturize, protect, rejuvenate, and heal the skin when used topically. A natural humectant, beeswax pulls water from the air and delivers it to your skin. It also seals in the skin's inherent moisture. The best thing about beeswax is that it deeply lubricates the skin without clogging your pores.
Beeswax is enriched with vitamins that help build new skin cells to repair, renew, and rejuvenate your skin. Healthy skin regeneration helps keep your skin tight and elastic, delaying the appearance of wrinkles, fine lines, and other signs of premature skin aging. Plus, these reparative effects help with faster wound healing, scar treatment, and fading blemishes for healthy, clear skin. 
Beeswax is also known to have a soothing effect on irritated skin. (6) It strengthens the skin barrier by forming a protective layer on top of the epidermis that blocks out environmental pollutants and other harsh toxins. This thick layer is hard to breach by infection-causing microorganisms, thus reducing the risk of skin infections.
Beeswax also traps the dirt, oil, and dead cells present on the surface of the skin due to its sticky nature and facilitates their easy removal. Thus, it can gently exfoliate and cleanse your skin without irritating it or stripping its natural oils.
4. Vitamin E oil
Vitamin E oil provides moisture and nourishment to your skin to keep it smooth, soft, and supple. It stimulates skin regeneration, which involves shedding of damaged skin from the surface to be replaced by new, healthy skin from underneath.
Skin regeneration is a gradual but continuous process that takes almost a month to complete, but regular application of vitamin E oil can speed it up a little. This kind of skin resurfacing helps diminish the appearance of dark spots, hyperpigmentation, and wrinkles.
Plus, vitamin E oil is credited with antioxidant and anti-inflammatory properties that minimize the damaging effects of free radicals, which generally contribute to skin aging along with other skin problems. (7)
ALSO READ: Benefits of Vitamin E for Hair and Skin
5. Essential oils
Essential oils basically carry the therapeutic properties of the medicinal plants they are extracted from and can be a great addition to your skin care regimen. There are so many different essential oils available on the market, but you have to choose those that best suit your skin type and address your particular skin complaint. 
Natural essential oils are also antimicrobial and antibacterial to boot; some are even antifungal. Lavender essential oil is a good fit for all skin types, which explains its wide usage in beauty remedies and skin care products. (8) You can safely treat your skin with this healing potion without worrying about adverse reactions.
Frankincense essential oil is best known for its antiaging benefits. There is natural decline in collagen synthesis as you grow older, due to which your skin loses its elasticity and begins to sag and crease. Collagen loss also slows down the formation of new skin cells.
Plus, mature skin fails to retain moisture properly, leading to dryness. Dry skin tends to tear easily when stretched, further contributing to the formation of wrinkles and fine lines.
Frankincense oil helps stimulate cell renewal and thus repairs this kind of skin damage and inhibits premature aging. It also evens out and brightens your complexion by aiding the formation of new healthy skin to replace the damaged outer layers. (9)
The cooling and refreshing nature of peppermint oil helps soothe angry acne and other forms of skin irritation or inflammation. Peppermint oil is also a natural antiseptic that eliminates bacteria and other microbes from the skin to prevent infections.
How to Prepare the Moisturizer
Put ¼ cup of coconut oil and the same amount of beeswax into a double boiler and turn on the stove.
Keep whisking the mixture so that the ingredients blend well without forming lumps.
Turn off the heat once the wax melts completely.
Let it cool down for 1–1½ hours.
Gradually pour ¼ cup of fresh aloe gel into the mixture while continuously blending it with a hand mixer or immersion blender to prevent lump formation. Keep beating the mix until it acquires a light, fluffy consistency.
Add 1 tbsp of vitamin E oil and 3–4 drops of any of your preferred essential oil (frankincense essential oil, peppermint oil, or lavender essential oil).
Give it a final blend, and using a spoon, transfer the mixture into a glass jar.
Store a small amount in a small container and put any extra in the fridge to extend the shelf life.
Note: You can adjust the quantity of the oils used depending on whether you want a light or intense moisturizer.
How to Use the Moisturizer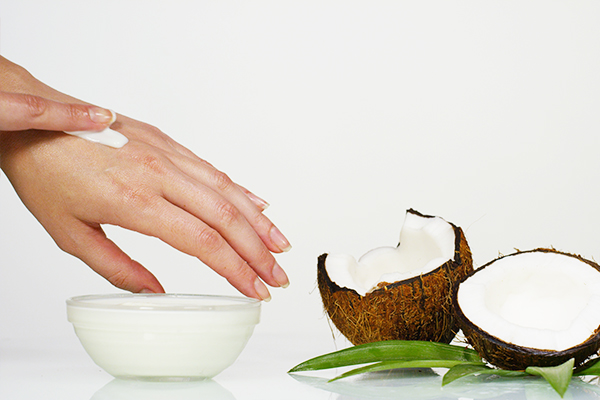 Wash your face with a mild cleanser and water.
Smear a thin layer of this face cream on your skin, and gently massage it in upward, circular motions for 1–2 minutes so that it is sufficiently absorbed.
Apply the moisturizer twice a day.
Alternative uses:
This homemade cream can also be used as a hydrating lip balm or shaving lotion to soften your facial hair so that it can be easily removed with a swift move of the razor. Coarse hair can be quite stubborn and you may get razor cuts or burns when shaving it.
Final Word
Your skin serves as a barrier between the body and the outside world. It naturally goes through a lot of wear and tear on account of environmental irritants, pollutants, toxins, and physical injuries or trauma. Without proper skin care, this daily onslaught can cause dry, dull, saggy, and wrinkly skin that can make you look tired and older than your actual age.
It is easier to prevent skin damage than to undo it, so it's best to look after your skin before it starts going downhill. Skin experts believe that people should commit to a stringent skin care routine from their early twenties to keep it young and healthy for longer.
But bear in mind that skin care is incomplete without a healthy diet and lifestyle. Topical beauty measures alone cannot guarantee healthy skin. The foods you eat can enhance or diminish the health of your skin, so choose wisely. Consume a well-balanced diet that meets all your nutritional needs, with a special focus on antioxidant-rich and fibrous foods.
In the same vein, drink plenty of water (8 glasses approximately) throughout the day to hydrate your skin from within. Get enough sleep, manage your stress levels, stay active, limit your alcohol intake, and give up smoking to keep your skin in the best of health.
Was this article helpful?