Castor oil, extracted from castor seeds, is a pale-yellow liquid that has a high content of antioxidants, (1) fatty acids, and vitamin E. This thick oil with a rich composition is highly beneficial to your hair and skin.
Castor oil also contains high amounts of ricinoleic acid, which is readily absorbed by the skin. It benefits the skin flora and contributes to skin moisturization, thus helping manage skin flakiness and roughness. Additionally, it improves the skin barrier and prevents moisture loss.
Also, castor oil helps in conditioning and lubricating your hair, making it smoother and shinier. It has antibacterial and medicinal properties that are useful in treating various skin disorders.
Owing to its industrial, medicinal, and pharmaceutical benefits, castor oil has various applications. You can find various castor oil-based products on the market, including lubricants, biodiesel fuel, inks, nylon, waxes, and skin care products. (2)
Benefits of Castor Oil on Skin and Hair
The following are the various benefits of castor oil to your skin and hair.
Caution: Always conduct a patch test before using castor oil as a remedy, especially if you are applying it to your face. Apply the oil on a discreet part of skin, such as behind the ear, to check for allergy or sensitivity. If you have oily and sensitive skin, use castor oil sparingly. It is best to consult your dermatologist before using castor oil if you have eczema. Avoid getting the oil on your clothes as it is sticky in nature.
1. Prevents wrinkles
Wrinkles are a common sign of skin aging – it forms due to the reduced production of elastin and collagen skin proteins.
Castor oil, due to its high fatty acid content, can easily penetrate the skin and reach the inner layers, hydrating the skin from within. Moreover, it helps boost collagen and elastin production, making the skin tighter and reducing the appearance of fine lines and wrinkles.
How to use:
Apply castor oil to your skin at bedtime using a cotton ball.
Mix almond oil and castor oil in equal parts. Rub the oil between your palms, and apply it to the wrinkle-prone areas, such as around the eyes, forehead, and mouth. Wash it off after 10–15 minutes. Repeat this remedy weekly to prevent premature aging.
2. Prevents acne
Acne, pimples, blackheads, bumps, and whiteheads can commonly develop on your face and back. These skin problems are generally caused by clogged skin pores that result from the accumulation of dead skin cells, oil, and bacteria.
Castor oil acts as an anti-inflammatory and antibacterial agent that can curb the growth of bacteria as well as manage and prevent acne.
How to use:
Use a mild cleanser to wash your face. Add a few drops of castor oil in lukewarm water and soak a clean washcloth in it. Gently rub the soaked cloth on your face in small, circular motions before bedtime. Wash your face in the morning.
Use castor oil as a spot treatment for acne and associated problems.
Apply castor oil as a moisturizer every day.
3. Nourishes the cuticle
Cuticle care is generally forgotten about and is rarely a part of any skin care regimen. The cuticles are easily visible and often prone to peeling and loose skin. This not only affects the appearance of your fingers but also can become a source of problems.
Castor oil can provide cuticle nourishment, thus strengthening and softening them. Moreover, the antibacterial and anti-inflammatory properties of castor oil prevent infections that may affect pulled cuticles.
How to use:
Apply castor oil over your nails and cuticles after a pedicure or manicure.
Use castor oil before bedtime, giving the oil time to penetrate and nourish the skin.
Carry castor oil in a small bottle and use it for moisturization whenever needed.
4. Prevents dandruff and other scalp infections
Castor oil is a potent antibacterial and antifungal agent that can help treat scalp infections and dandruff. Moreover, it contains anti-inflammatory and moisturizing properties that are helpful in soothing the scalp and managing irritation and rashes.
How to use:
Use castor oil to massage your scalp as part of your hair care regimen.
Make a hair mask using castor oil. Simply mix 2 tsp of castor oil with 1 tsp of lemon juice. Apply the mix to your scalp, and wash it off after 30 minutes.
5. Treats corns, dry, and cracked heels
Owing to its potent moisturizing properties, castor oil can hydrate and soften the dry, rough skin of your feet. This aids in the treatment of corns, calluses, and cracked heels. Moreover, the anti-inflammatory properties of castor oil help lower inflammation and pain.
How to use:
Pre-soak your feet in warm water for 10 minutes to soften the skin.
Use a pumice stone to exfoliate your feet. Rinse your feet with water and pat dry.
Use a cotton ball to apply castor oil to the affected area and place a cotton pad over it. Secure it with tape and remove it after a few hours.
Repeat this remedy daily.
6. Soothes dry skin
Castor oil is rich in fatty acids that can improve the skin barrier and lock in skin moisture. This makes castor oil a potent humectant, which prevents water loss and keeps the skin hydrated for longer.
In addition, castor oil helps nourish and soothe your skin, and its ricinoleic acid content helps reduce inflammation.
How to use:
Apply castor oil every day at bedtime to hydrate your skin.
Mix castor oil with your moisturizer and use it up to two times a day.
Mix 2 drops of castor oil and 6 drops of sesame oil, and use the oil blend to massage the affected areas. Following this, place a cloth soaked in warm water on the skin for over a minute. Clean the skin using a cotton ball.
7. Thickens eyelashes and eyebrows
Castor oil can help nourish your lashes and brows, making them strong and thick. This can help prevent the lashes from breaking. Although there is no evidence to support the role of castor oil in eyelash growth, it can help reverse hair loss, which helps prevent falling of the lashes.
How to use:
Apply castor oil on your eyebrows and massage it in.
Use a cotton swab or a clean mascara brush to apply castor oil on your eyelashes. Close your eyes while applying the oil to the lashes.
Repeat this remedy daily at bedtime for a couple of weeks.
Note: Avoid getting the oil in your eyes. If you experience irritation, rinse them immediately.
8. Averts split ends
Castor oil is rich in omega-6 fatty acids, vitamin E, and amino acids that strengthen the hair, thus preventing split ends.
How to use:
Run some castor oil in your palms and apply it through the length of your hair.
Use a mixture of castor oil and coconut oil to massage your hair and leave it overnight.
9. Sunburn treatment
The anti-inflammatory properties of castor oil soothe the skin, especially in the case of a sunburn. (3) It works by relieving the pain and providing a cooling sensation to the skin. Moreover, castor oil moisturizes and nourishes the skin, which can speed up skin healing.
How to use:
Apply castor oil liberally to the affected skin.
10. Prevents hair damage
Your hair is exposed to different damaging agents, including chemical-laden hair products, environmental factors, and hairstyling tools.
Applying castor oil to your hair can moisturize and nourish your hair shaft and can combat scalp inflammation, preventing hair damage. Moreover, massaging your hair with castor oil can help boost blood circulation to the scalp, which supports hair growth.
How to use:
Apply the oil to your scalp and hair regularly to make your hair lustrous and strong.
Mix 1 tbsp of castor oil with 2 tbsp each of coconut oil, sesame oil, and sweet almond oil. Warm the mixture slightly, and use it to massage your scalp and hair. Leave the oil overnight, and wash it off the next day.
11. Treats wounds, inflammation, and rash
Castor oil acts as an antibacterial and anti-inflammatory agent that helps treat skin problems, (4) prevents bacterial infection, and curbs microbial growth that can cause skin issues such as inflammation and acne.
Castor oil can also help in the treatment of candida infections and melasma. (5)
How to use:
Apply the oil to the affected areas at bedtime to moisturize and repair the skin overnight.
Side Effects of Castor Oil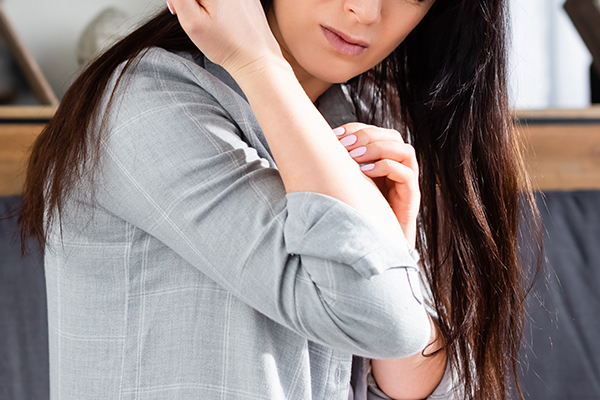 Castor oil is a potent dermatological agent with various benefits to the skin and hair. However, it is important to note that most of these claims are based on anecdotal evidence rather than scientific studies.
Therefore, castor oil should be used with caution and in moderation and only after checking if it's suitable to you. In a few cases, castor oil causes itching, skin breakouts, swelling, and rashes. It is best to consult your doctor if you experience an allergic reaction to castor oil.
Final Word
Castor oil is an excellent moisturizing agent that can make your skin supple and soft. The fatty acid content of castor oil helps in easy skin penetration, which also allows other skin care products to reach the inner skin layers.
Castor oil forms a thin layer over your skin, hydrating the skin and locking in moisture. Applying castor oil to your hair boosts blood flow to the scalp and makes the hair healthy and strong.
It is best to use castor oil on clean skin, and avoid getting it into your eyes. If you are using castor oil orally, consume it in moderation as excessive intake can cause digestive issues.
Was this article helpful?