Witch hazel is a shrub indigenous to North America and is endowed with multiple healing benefits. It has long been used for a variety of medicinal, skin care, and household purposes. The versatility of this ingredient makes it a must-have.
This article will explore some of the lesser-known uses of witch hazel so that you can make the most of this wonder product. (1)
Uses of Witch Hazel
Here are ingenious ways to use witch hazel:
1. Treats various skin infections
Witch hazel works as a strong antimicrobial agent that is especially effective against staphylococcus and streptococcus bacteria, both of which are responsible for a variety of skin infections.
Thus, you can use this natural disinfectant to treat impetigo, boils, folliculitis, MRSA infections, and cellulitis. (1)
How to use:
Soak a clean cotton pad in witch hazel and dab it all over the infected skin.
2. Tightens pores
Witch hazel contains tannins that give it astringent properties. Thus, this liquid can be used as a natural toner and makeup remover. It helps remove the excess sebum, cosmetic or skin product residue, and grime from your face while also shrinking open, enlarged pores. (2)
How to use:
Wash your face and neck with a cleanser and wait for it to dry.
Pour a few drops of witch hazel into a cotton ball and apply it to the washed area.
Wait for a few minutes, and then apply your moisturizer, followed by the rest of your skin care routine.
3. Moisturizes oily and acne-prone skin
Loaded with several medicinal properties such as anti-inflammatory, antioxidant, antibacterial, and antiseptic, witch hazel may help in reducing acne and relieving skin itching.
One study tested 52 moisturizers for acne, and witch hazel was found to be one of the effective moisturizers for acne-prone skin. (3)
How to use:
Cleanse your face with a gentle face wash, and pat your skin dry.
Gently apply witch hazel to the cleansed skin using a cotton swab.
Apply a witch hazel-based moisturizer.
Note: Dermatologists recommend a witch hazel product that's alcohol-free. However, experts don't recommend turning to witch hazel alone if you suffer from moderate to severe acne. Witch hazel isn't to be used interchangeably or instead of proven ingredients and prescription topical acne medications.
4. Treats dandruff and other scalp infections
Dandruff can be the result of fungal overgrowth on the scalp, which leads to inflammation that manifests in the form of flaking, dryness, itching, and redness.
Witch hazel has both antimicrobial and anti-inflammatory properties that can help kill the fungal growth while also relieving the associated symptomatic discomfort. (4) It can also be used to soothe a sensitive or irritated scalp. (5)
How to use:
Mix some witch hazel in your regular shampoo and then use it to wash your hair and scalp.
You can also mix a few drops of witch hazel in your hair oil and massage it into your scalp and hair.
5. Treats hemorrhoids
Hemorrhoids are basically swollen veins inside the lower rectum or anus that can cause a lot of pain, itching, and even bleeding, especially when sitting down or defecating.
The anti-inflammatory properties of witch hazel can help bring down the swelling and relieve this discomfort when used topically. (6)
How to use:
Method 1
Put a teaspoon of dried witch hazel in 1 cup of water and boil it for 15 minutes.
Wait for it to cool down.
Dip a cotton ball/cloth in the liquid and dab it gently all over the affected area for 2–3 minutes.
Do this a few times daily for several days.
Method 2
Mix 1 teaspoon of witch hazel tincture in equal amounts of cocoa butter.
Apply this mixture to the affected area 3 times a day for several days.
Method 3
Use prepackaged witch hazel pads instead of toilet paper to clean your rectal area after a bowel movement.
6. Reduces sunburn and skin damage
Witch hazel is filled with antioxidants that fight free radicals; thus, it helps minimize the skin damage and inflammation caused by these unstable molecules.
Free radicals break down healthy skin cells through oxidative stress, which triggers inflammation as a by-product. Solar radiation releases a lot of free radicals inside the body that can wreak havoc on your skin. Too much direct exposure to the sun can even burn your skin.
Applying witch hazel to the sun-damaged or sunburnt skin can help soothe the underlying inflammation and also promote tissue repair. (2) Plus, it is an antiseptic, which means it will protect your skin from getting infected during the healing process.
How to use:
Dip a clean cloth in witch hazel.
Place the cloth on the sunburnt area until it dries.
Reapply as needed.
7. Relieves canker sores and cold sores
Witch hazel is a safe and effective remedy for treating blisters inside or around your mouth, such as canker sores and cold sores. This is because it works as an anti-inflammatory agent to ease the pain, itching, redness, and swelling associated with these ulcers.
Witch hazel helps to shrink them quickly, promote skin healing, and reduce the risk of infection. (7)
How to use:
Soak a cotton ball in witch hazel extract.
Apply it directly to the blisters.
Repeat the application twice a day.
8. Treats varicose veins
Veins are blood vessels that carry deoxygenated blood from the various organs and tissue to the heart for purification. There are valves inside these veins to regulate the blood flow and manage blood pressure.
Sometimes, these valves become damaged or dysfunctional, increasing blood pressure inside the veins and making them twisted, swollen, and inflamed. This condition is known as varicose veins and mostly affects the superficial veins in the lower limbs.
The inflammation in the veins may trigger pain, tingling, muscle cramps and weakness, and throbbing or heaviness in the affected area. Witch-hazel possesses anti-inflammatory and vasoactive properties that may help shrink varicose veins, thereby providing relief while also protecting these blood vessels from further damage. (8)
How to use:
Mix 10–15 drops of witch hazel extract in 1 cup of lukewarm water.
Soak a washcloth in this solution.
Place it over the affected area for 10–15 minutes.
Repeat 2–3 times daily until you notice improvement
Note: Do not massage or apply any type of pressure to the affected area.
9. Cleans surfaces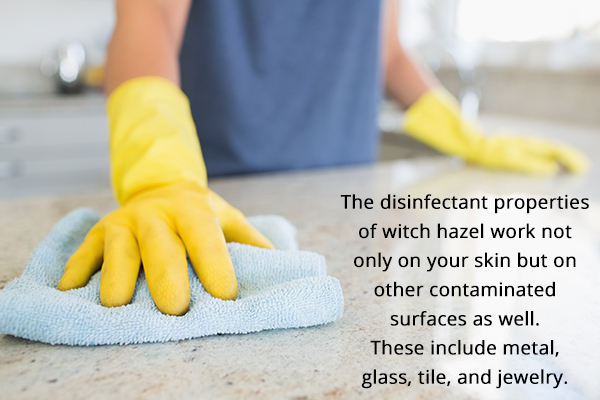 The disinfectant properties of witch hazel work not only on your skin but on other contaminated surfaces as well. These include metal, glass, tile, and jewelry. (9)  
How to use:
Make your own natural cleaning solution by mixing witch hazel in warm water and adding a bit of lemon juice to give it a refreshing smell.
How Often Should I Apply Witch Hazel on the Face?
Witch hazel is generally considered safe for daily application to the face, but you should first observe how your skin reacts to it and then use it accordingly.
This astringent liquid tends to remove the sebum from your skin, which can render it dry, stretchy, and irritated if it's already dry or sensitive. In such a case, it is advisable to use witch hazel on alternate days or with longer intervals if necessary.
Conversely, witch hazel works great on oily skin as it gets rid of the excess sebum for a mattifying effect and can therefore be included in your daily skin care regimen. 
Whatever your skin type, patch test the witch hazel before using it on your face or a large area of skin. Apply a little amount on a small area of unaffected skin (preferably on the underside of your forearm or your neck) and wait to see how your skin reacts to it.
If you experience redness, burning, pain, stinging, or any kind of adverse skin reaction, it's best to skip this remedy.
Final Word
Witch hazel offers a lot of miscellaneous benefits at minimal cost and with little to no side effects. However, you must use it properly and consistently to get the desired results.
Was this article helpful?