Pimples are common among teenagers and are a normal part of growing up. (1) They usually occur when oil and dirt clog your pores. Bacteria can colonize these pores, leading to small, red, and inflamed bumps known as pimples.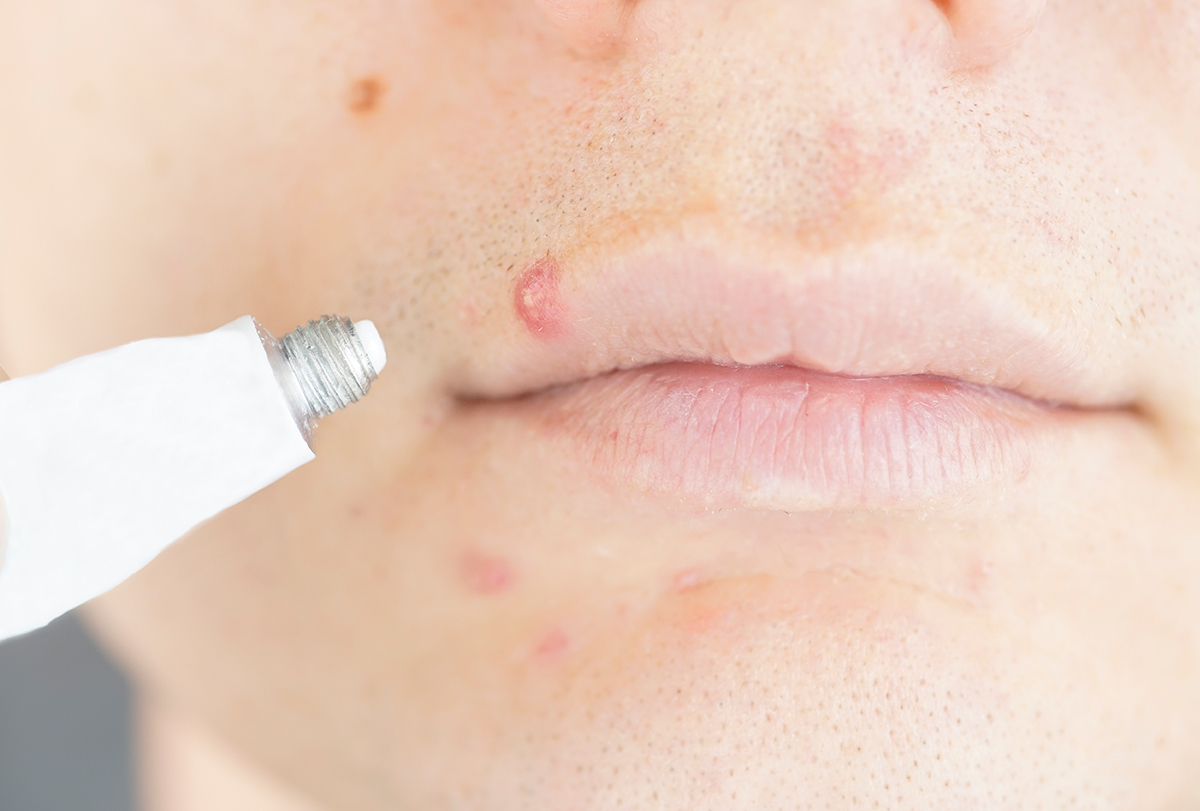 Pimples that occur around the lips can be particularly painful as the skin around your lips has a lot of nerves and is very sensitive.
Causes of Pimple Formation Around the Lips
Pimples are usually caused by various factors, which include:
Hormonal fluctuations, such as during puberty, menstruation, and pregnancy, can influence your oil glands and lead to increased sebum production. Excessive sebum may clog your pores, resulting in pimples or acne. Androgens (male sex hormones) are mainly known for causing pimples.
Medicines such as corticosteroids, birth control pills, lithium, and barbiturates can cause pimples.
Stress and anxiety are known aggravating factors for pimples as they lead to an increase in cortisol levels in the body.
Makeup products that contain harsh chemicals can contribute to pimple formation around the lips. These include lip balms, lip gloss, and cosmetics with high oil content.
Not removing makeup before bed is a common reason for pimples.
Hair removal in the upper lip area such as waxing, threading, and shaving can lead to pimples if the hair follicles become clogged.
Touching or popping your pimples can lead to increased pimple formation and/or scarring.
Oil residue after eating greasy food is a common cause of pimples around the lips.
Acne is a common skin condition that leads to chronic pimples on your face. It usually starts in adolescence but may continue well into your adult years. (2)
Symptoms Associated With Lip Pimples
The following are the signs and symptoms of pimples around your lips:
Pimples are tiny, reddish-pink bumps around the lips that may have a white head.
Pimples may ooze tiny amounts of pus at times.
Pimples can cause scarring and inflammation.
Pimples can be painful or may cause skin irritation.
Treatment for Pimples Around the Lips
Your doctor or dermatologist may recommend the following things for treating pimples around your lips.
Topical treatments
Here are a few topical treatments usually advised for pimples:
Anti-acne medications: Certain medicated creams reduce sebum levels on your skin and may even contain antibiotic properties. Benzoyl peroxide is one such medication. (3)
Cleansers containing salicylic acid: Salicylic acid is a medicated formula that helps cleanse out dead skin cells and bacteria from your pores. Several over-the-counter products contain salicylic acid.
Sunscreen: Use sunscreen regularly at least 20 minutes before you leave the house and avoid excessive exposure to sunlight. Sunlight emits harmful UV rays that can dry out your skin and cause increased sebum production, which leads to pimples.
Moisturizers: Moisturizing your skin regularly is essential in preventing skin dryness or irritation. Choose a moisturizer that is noncomedogenic and is not greasy.
Prescription topical antibiotics: Topical antibiotic preparations can be used to reduce bacteria in your pores. Clindamycin is the most widely used topical antibiotic for acne or pimples. (4)
Oral medications
If your pimples do not respond to topical treatment, your doctor may prescribe oral medications. Some of these include:
1. Oral retinoids
Oral retinoids are usually prescribed for persistent and severe acne. If you have pimples with painful cysts, oozing, or scarring, your doctor may prescribe isotretinoin, which works on the oil glands of your skin. Oral retinoids are prescription medicines and should only be taken when prescribed by your physician. (5)
2. Antibiotics
Oral antibiotics are sometimes prescribed to get rid of bacterial infections in your skin. Erythromycin is a common oral antibiotic given to reduce acne and inflammation, although it has been shown to have gastrointestinal side effects. (6)
3. Birth control pills
A group of hormones called androgens is known to stimulate the production of natural skin oil or sebum. High androgen levels can therefore cause sebum overproduction, which will eventually settle in your skin pores and clog them.
The sebum and dead skin cells inside the clogged pores will then provide fodder to acne-causing bacteria, resulting in breakouts.
Although androgen is a male sex hormone, it is also produced in female bodies but only in small amounts. Women who have elevated androgen levels are inadvertently more prone to acne, known as hormonal acne. In such a case, taking birth control pills can help induce hormonal changes in the body that are favorable for acne control.
Oral contraceptives contain female sex hormones called estrogen and progesterone, (7) which neutralize the activity of androgens and thereby curb sebum secretion to prevent acne. However, further studies are needed to establish the efficacy and safety of this treatment modality for acne control. (7)
Diagnosing Pimples Around the Lips
Your doctor can easily diagnose pimples by examining the bumps around your mouth. They may ask you a few questions, such as what medications you are taking and how long you have been suffering from this problem.
Lifestyle Changes to Manage Lip Pimples
Here are a few lifestyle changes you may need to incorporate into your routine to avoid lip pimples:
Use a gentle face wash to clean your face. Always make sure to wash your hands before applying any facial product.
Never go to sleep with makeup on. Make sure to buy makeup products that do not contain harsh chemicals and are "non-acnegenic."
Use sunscreen regularly and avoid prolonged exposure to sunlight.
Eating nutritious foods filled with antioxidants and anti-inflammatory compounds can help reduce lip pimples. Some of these foods include almonds, blueberries, and kidney beans.
Drink adequate amounts of water every day as doing so can do wonders for your skin. Water helps flush out toxins and cleanses your skin from the inside out.
Preventive Tips to Keep Lip Pimples at Bay
Here are a few tips to follow to prevent recurrent pimples on your lips:
Avoid harsh fragrant skin care products: Refrain from using skin care products that contain harsh chemicals as they may further irritate your skin.
Avoid used contaminated razors: Always use a fresh razor for shaving your face. Do not share used razors.
Don't pop pimples: Pimples can be a nuisance but popping them is only going to increase your chances of getting skin infections and acne scars.
Avoid waxing, shaving, and plucking the hair around the mouth: If you suffer from lip pimples, avoid waxing, shaving, or plucking the hair on your upper lip as this will only cause further inflammation.
Stay away from steroid creams: Steroid creams can cause acne breakouts and inflammation.
Manage your stress: Stress and anxiety are known to worsen acne. Practice regular yoga and meditation for stress relief.
When to See a Doctor
You may go see a doctor if:
The pimples on your lips keep returning even after treatment.
Your lip pimples leave scars or are darkening your lips.
Your pimples do not respond to any over-the-counter treatments.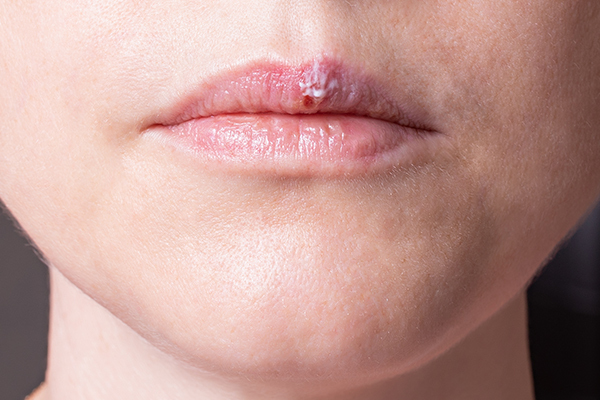 Final Word
Pimples around your lips can be embarrassing and annoying. Fortunately, they are easily curable and can be avoided by following a proper skin care routine. Follow the remedies given above to find one that works for you.
Was this article helpful?