Pneumonia is an infection of the lungs caused by bacteria, viruses, or fungi. It causes inflammation of the air sacs in one or both lungs. It is a serious condition as your air sacs fill with pus and other liquid.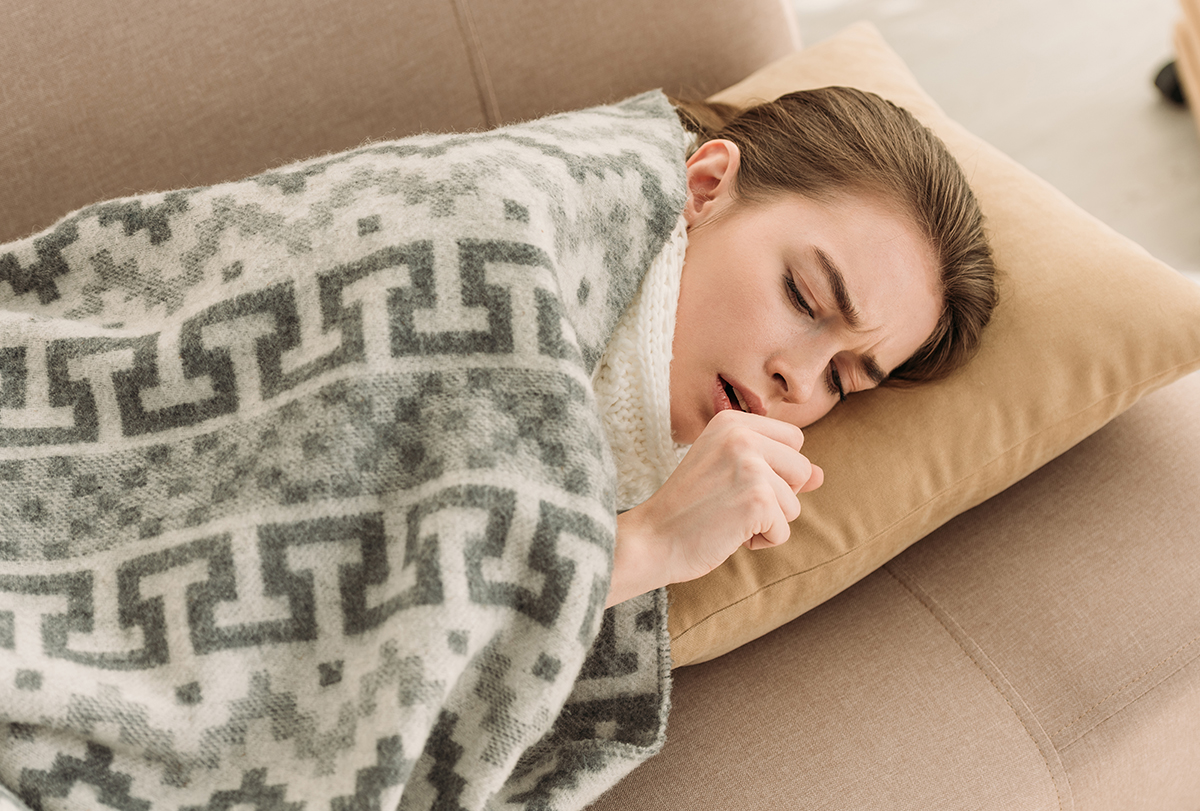 The severity of the health issue can range from mild to life-threatening. It is more serious for: (1)(2)
Infants
Young children
Elderly
Those on immunosuppressives
Those with a weak immune system
Some individuals may experience an improvement in their symptoms and resume their daily activities within 1–2 weeks; others may require a longer recovery period of one month or more.
As such, it is crucial to have a conversation with your healthcare provider to determine when it is safe for you to return to your normal routines. This will ensure that you take the necessary precautions and receive appropriate care to aid in a speedy and successful recovery. (3)(4)
Why It May Take a Longer Time to Recover From Pneumonia?
The recovery time from pneumonia can vary depending on the individual's health condition and severity of the illness. It is also common for some individuals to feel fatigued for about a month even after they have recovered.
The duration of time it takes for you to recover after healing from pneumonia is affected by age, severity of the disease, cause of infection, and accompanying health issues. (4)
Cases That May Provide a Difference in Recovery Time
Cases of pneumonia with no serious symptoms can be treated and managed with much ease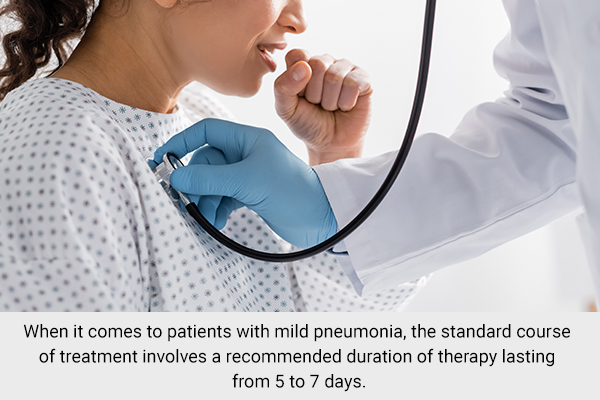 When it comes to patients with mild pneumonia, the standard course of treatment involves a recommended duration of therapy of 5–7 days.
This treatment plan is typically implemented when there is a positive clinical response, which may include the absence of fever for at least 48–72 hours, no need for additional oxygen, and the resolution of symptoms such as tachycardia (increased heart rate), tachypnea (rapid breathing), or hypotension (low blood pressure).
By adhering to these guidelines, patients can experience an improved recovery and avoid potential complications associated with pneumonia. (5)
Cases of pneumonia with complications may require longer treatment and recovery periods
More serious cases of pneumonia may require hospitalization and can increase the time it takes for lung healing.
When pneumonia is complicated, meaning it is severe, the treatment may need to be longer. This is especially true if the patient is not responding well to the initial treatment or if the causative bacteria are harder to treat, such as Pseudomonas or S. aureus.
Additionally, the patient may need a longer treatment period if they have other complications such as:
Empyema – A condition where pus accumulates in the pleural cavity surrounding the lungs
Lung abscess – A localized area of infection and inflammation in the lung tissue
Necrotizing pneumonia – A rare but serious complication of pneumonia where there is severe destruction of lung tissue
In serious cases, other than clearing the infection, the doctor also focuses on preventing or treating complications, which requires more time. (5)
Candidates for outpatient treatment usually improve in 24–72 hours. Hospitalized patients may improve or deteriorate depending on comorbidities (any other medical conditions).
The death rate of patients associated with hospital-acquired pneumonia due to gram-negative infection is about 25%–50% despite the availability of effective antibiotics. (6)
Nursing home residents diagnosed with pneumonia and requiring hospitalization can have a mortality rate ranging from 13% to 41%. (7)
For residents admitted to the hospital for the treatment of nursing home-acquired pneumonia, the mortality rate ranges from 13% to 41%, compared with a mortality rate of 7%–19% for residents treated in the nursing home only. (8)
The mortality rate exceeds 30% in patients with more than two of the following findings:
Respiratory rate of more than 30 breaths/min
Heart rate of more than 125 beats/min
Acute mental status change
History of dementia
The overall mortality in hospitalized patients is 15%–20%. Risk factors for death may include previous history of pneumonia, older age, and HIV infection. (8)
What Symptoms of Pneumonia Continue Even After Treatment?
Even after being discharged from the hospital following an episode of community-acquired pneumonia (CAP), a significant number of patients continue to experience one or more symptoms, with approximately 70% reporting persistent cough, dyspnea (rapid breathing), and fatigue 4–6 weeks post-discharge.
Moreover, functional impairment has been noted in 18%–51% of patients at the 4-week mark.
These findings underscore the importance of recognizing that recovery from pneumonia is a gradual and ongoing process that requires continuous monitoring and care. (9)
Note: Do not try to accelerate the recovery process and don't rush to get better. What you can do is talk with your doctor about when you should get back to your normal routine and how much exertion you should take every day.
What Steps Should Be Taken to Help Your Body Recover Faster?
Here's what you can do to ensure lung healing after pneumonia.
1. Don't take cough medication
If you have an infection that causes you to cough up phlegm, it is important to drink plenty of fluids to help loosen the mucus.
However, you should not take cough medicine without talking to your doctor first because coughing helps your body get rid of the infection. If you are having trouble resting because of your cough, ask your doctor for advice on how to relieve it. (4)
2. Say no to drugs and alcohol
It is highly recommended that you refrain from consuming alcoholic beverages or engaging in the use of illegal substances. This is because these substances can have detrimental effects on your immune system, making you more susceptible to complications related to pneumonia.
Therefore, it is important to prioritize your health and avoid engaging in such risky behaviors. (3)
3. Improve and ease your breathing
Drinking warm beverages, taking steamy baths, and using a humidifier can also help you breathe more easily. If your breathing gets worse over time, contact your doctor immediately. (4)
4. Stay away from smoking
It is important to avoid smoke from tobacco products, wood, or secondhand smoke as it can hinder the healing of your lungs. If you are having difficulty quitting tobacco while you recover, talk to your doctor for guidance. (4)(3)
5. Try to perform light physical activity
It is advisable to engage in light physical activity as a means of facilitating your recovery and restoring your energy levels. This can be beneficial in aiding your recuperation process.
Nonetheless, bear in mind that you may experience shortness of breath and exerting yourself too much could lead to dizziness.
It is therefore recommended that you consult your healthcare provider to determine the appropriate amount of physical activity that is suitable for your current condition. By doing so, you can ensure that your efforts to regain your strength are carried out safely and effectively. (3)
6. Ensure you get proper rest
Finally, it's essential to get plenty of rest and avoid overexertion until you are fully recovered. Consider asking for help with meal preparation and household chores until you feel stronger. (4)
Signs and Symptoms of Pneumonia
The signs and symptoms of pneumonia may vary from mild to severe, depending on your age and health profile. Some mild symptoms are: (1)
Chills
Fever
Weakness
Increased pulse rate
Shortness of breath
Cough
Rapid breathing
Risk Factors for Pneumonia
The risk of developing pneumonia can be attributed to a variety of factors, including: (1)
Age: The risk of contracting pneumonia is particularly high in infants and older adults (over the age of 65 years).
Weakened immune system: Individuals with weakened immune systems, such as those with diabetes, kidney problems, or cancer, are at a higher risk of developing pneumonia.
Preexisting lung or heart conditions: People with lung diseases, such as asthma or COPD, and heart diseases are more susceptible to pneumonia.
Smoking: Smoking increases the risk of pneumonia and other respiratory infections.
Viral infections: Certain viral infections, such as the flu (influenza), can make individuals more prone to pneumonia. (1)
Prevention of Pneumonia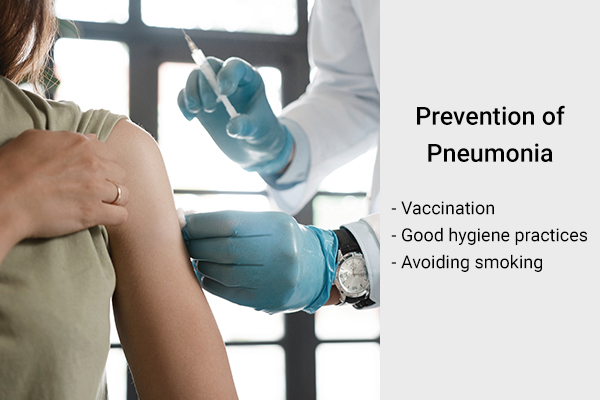 Several effective measures can be taken to reduce the risk of contracting pneumonia. These include:
Vaccination: Vaccines are available to protect against certain types of pneumonia, and it is important to keep your vaccination status up to date to minimize your risk.
Good hygiene practices: Maintaining good hygiene habits, such as frequent hand washing and using a hand sanitizer after touching unsanitary surfaces, can help protect against respiratory infections that can lead to pneumonia.
Avoiding smoking: Smoking can significantly damage the lungs' natural defenses against respiratory infections, making smokers more vulnerable to pneumonia and other respiratory illnesses.
By implementing these preventative measures, you can take proactive steps to safeguard your respiratory health and reduce your risk of developing pneumonia. (4)
When to See a Doctor
Seek medical assistance if you experience the following:
Difficulty breathing
Chest pain
Persistent fever or cough
Coughing up pus
If you suffer from heart issues and have chronic lung problems, pneumonia can quickly become a life-threatening condition, and you should get professional treatment promptly.
Most-Asked Questions About Pneumonia
Can smoking cause pneumonia?
Smoking damages your body's natural defenses and lowers your immunity. So, you may not be able to fight against the bacteria and viruses that cause pneumonia, making you at risk for this disease. (4)(3)
What health issues increase the risk of pneumonia?
Experts explain that you're more likely to get pneumonia if you have:
Heart issues
Organ transplant
Chemotherapy
HIV/AIDS
How is pneumonia treated?
Treatment depends on the type of pneumonia you have. For bacterial pneumonia, you'll have to take antibiotics. Viral pneumonia doesn't have a specific treatment; it usually gets better with time.
Final Word
Most people with pneumonia respond well to treatment, and it can be managed very well at home. What you have to remember is that, in severe cases, pneumonia can be very serious and even deadly.
If you fall into the at-risk category, you need to take special measures to avoid contracting this infection. Pneumonia can be diagnosed easily by a professional, and treatment will depend on the type of pneumonia you have.
Was this article helpful?