Asthma is a chronic lung disease that comes in the form of acute attacks. It is characterized by inflammation and intermittent constriction of the airways, which obstruct airflow into the lungs, making it difficult to breathe.
The airways are the part of the respiratory system responsible for transferring air in and out of the lungs. In asthma, the inside walls of these tubular structures are sensitive and highly susceptible to allergens and irritants.
When asthma is triggered, the airways become swollen and narrow, hindering airflow into the lungs. (1)
How Common Is Asthma?
As reported in the World Health Organization Estimates, asthma currently affects approximately 235 million people, with its highest mortality rate in older adults. (2)
Approximately 8.3% of Americans have been diagnosed with asthma. Out of these 26.5 million affected people, 20.4 million are adults, while the other 6.1 million are children. (3)
Although asthma-caused death rates are more significant in low-income and lower-middle-income countries, it is prevalent in high-income countries as well.
Severity Levels of Asthma
Asthma varies in severity among individuals. Some patients may have mild asthma throughout, whereas others may face severe asthma later in life as a result of disease progression.
Asthma severity is classified into four groups:
Mild intermittent asthma: This type of asthma is relatively easy to control as the symptoms are occasional. Treatment involves a nominal amount of medicines.
Mild persistent asthma: This type of asthma is characterized by a normal lung function of 80% or more. The symptoms manifest more than two times in a week, but not every day. Flare-ups at night may be experienced beyond twice a month but less than one time in a week.
Moderate persistent asthma: This type of asthma requires regular use of rescue medication as symptoms appear every day. At nighttime, flare-ups may happen more than one time in a week. The frequent attacks significantly affect daily activity.
Severe persistent asthma: Around 10% of patients with asthma have consistent coughing, shortness of breath, wheezing, and chest tightness. Individuals with severe asthma are the most adversely affected among all groups.
Types of Asthma
There are several types of asthma and the common ones include:
1. Allergen-triggered asthma
The body's immune system may show a hypersensitive reaction to otherwise harmless factors known as allergens, resulting in the development of asthma symptoms. This is the most frequent type of asthma and can be triggered by dust, mold, pollen, animal dander, etc.
2. Nonallergic/nonatopic asthma
This fairly rare form of asthma usually starts in the later stages of life and is unrelated to any allergy, but it is more serious than allergic asthma.
3. Exercise-induced asthma
At times, strenuous physical activity may cause constriction of the airways, leading to asthma symptoms.
Approximately 90% of individuals with asthma develop exercise-induced bronchitis as well. However, it is uncommon for people with exercise-induced bronchitis to have asthma. (4)
4. Cough-variant asthma
Cough-variant asthma causes cough only. Other common asthma symptoms such as wheezing and dyspnea are absent. (5)
5. Occupational asthma
It is caused by exposure to certain factors in the workplace that cause bronchial inflammation, constricted airflow, or hyperresponsiveness. Work-related asthma (WRA) includes both work-exacerbated and occupational asthma. (6)
6. Aspirin-induced asthma
Aspirin and nonsteroidal anti-inflammatory drugs (NSAIDs) can induce severe asthma in some adults and rarely in children. This aspirin sensitivity is lifelong and can be triggered by virtually any cyclooxygenase-inhibiting analgesics. (7)
Causes of Asthma
Asthma is caused by inflammation in the airways as a result of sensitization toward certain factors. However, the phenomenon behind it remains unknown.
It is speculated that the interaction between environmental and genetic factors results in asthma. Such factors may include:
Atopy, or the inherent tendency to develop allergic responses
Family history of asthma
Exposure to certain triggers during the development of the immune system in early childhood
Frequent respiratory tract infections during childhood
Symptoms of an Asthma Flare-Up
Asthma attacks occur due to a mucus buildup in the airways, resulting in inflammation and constriction. This may be accompanied by symptoms such as:
Coughing, especially in the morning or at bedtime, which can develop into a dry or phlegm-producing chronic cough
Chest tightness
Wheezing during exhalation
Shortness of breath
Frequent respiratory infections
Throat irritation
Difficulty falling and staying asleep
Trouble in breathing, which may be characterized by rapid breathing or breathing through the mouth
Anxiety
Fluctuating respiratory rate
Sweating
Elevated heart rate
Different cases of asthma produce diverse symptoms and might include symptoms other than those listed above.
Asthma Triggers
Asthma can be easily triggered on exposure to various allergens and irritants, causing a flare-up. In extreme cases, it may result in a sudden attack, which might be fatal if not treated promptly. (8)
Asthma triggers may include:
Physical strain
Cold weather
Chemicals
Sulfites in foods
Cigarette or tobacco smoke
Air pollution
Animal dander
Pollen
Scented products
Dust mites
Mold
Smoke from burning grass or wood
Respiratory infections
Strong odors from paint or food
Medications such as NSAIDs, aspirin, and beta-blockers (used for managing heart conditions, high blood pressure, and migraine)
Extreme emotions such as excessive laughing or crying, stress, fear, or anger
Urbanization has also been shown to cause an increase in asthma cases, but the reason is unclear.
Warning Signs of an Asthma Attack
Asthma attacks are generally preceded by warning signs that may occur 24–48 hours before the attack. Initially, these signs may be difficult to identify as they are mild and may seem unrelated.
However, after a few episodes, you can easily recognize the warning signs. A mention of these signs in your Asthma Action Plan by your doctor facilitates recognition.
All patients have different signs that may include:
Wheezing
Excessive coughing
Chest tightness
Fingernails or lips turning grey or blue
Confusion and lack of response
Frequent use of quick-relief inhalers (more than once within 4 hours)
Unresponsiveness to blue reliever inhalers
Risk Factors for Asthma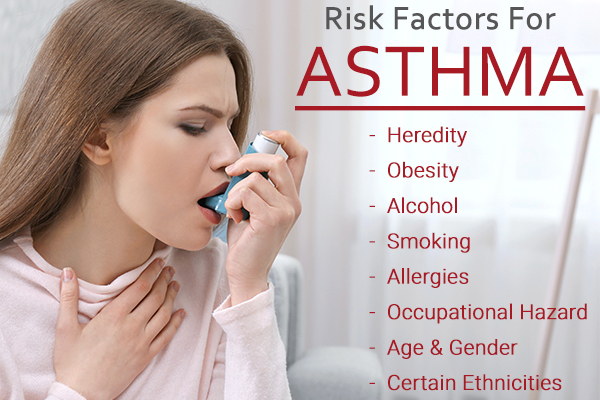 Certain factors can predispose you to develop asthma, including:
Age: Children (9.4%) are more prone to asthma than adults (7.7%). (3)
Gender: Asthma is more common among boys in childhood and among females during adolescence and adulthood, (3) but their tendency decreases as they approach menopause unless they are undergoing postmenopausal hormone replacement therapy.
Genes: A history of asthma, eczema, hay fever, or allergies in your family increases your risk of developing asthma.
Ethnicity: Puerto Ricans are most affected by asthma, but African-Americans face the highest asthma mortality in the United States. This increased risk among specific ethnicities may be due to low incomes, poor air quality, allergens, lack of patient education, and lack of access to health care.
Obesity: High amounts of fat consumed by obese people can cause metabolic disorders and inflammation, thus decreasing lung volume. This elevates the risk of developing asthma by 50% in obese individuals.
Occupational hazard: Exposure to gases, chemical fumes, or dust during mining, spraying, and welding increases the chances of acquiring asthma.
Alcohol: Despite being a mild bronchodilator, alcohol may induce asthma symptoms due to its acetaldehyde and sulfite content.
Smoke: Individuals who smoke are highly prone to asthma. Children may develop asthma when exposed to secondhand smoke regularly or if their mothers smoked at the time of pregnancy.
Allergies: People with preexisting allergies are more likely to develop asthma.
Complications Related to Asthma
Rarely, asthma may result in the following complications:
Lung infections, such as pneumonia
Persistent exhaustion
Respiratory failure characterized by a severe drop in oxygen levels or alarmingly high carbon dioxide levels
Psychological problems, such as depression, anxiety, or stress
Airway remodeling, which refers to any structural changes that may occur in the airways due to persistent inflammation or frequent flare-ups
Lung collapse involving the whole or a part of the lung
Severe asthma attacks, which are unresponsive to regularly prescribed medications, also known as status asthmaticus
Health problems such as obesity and high blood pressure due to the inability to exercise
When to See a Doctor
It is recommended to visit a pulmonologist or respiratory therapist if you recognize asthma symptoms.
The symptoms of asthma are similar to the symptoms of other lung diseases, such as a chest infection, and therefore should be checked by a doctor for a timely diagnosis.
The doctor can recommend emergency care if:
Rescue medicine does not alleviate the symptoms.
The lips or nails turn gray or blue.
The heartbeat is elevated.
The nostrils flare on breathing.
There is difficulty in walking or talking.
The neck, chest, or ribs are pulling with each breath, called retractions.
If you experience an asthma attack, call 911 or your local emergency number immediately.
Final Word
Asthma medications are lifesavers, but they are not without their fair share of side effects. Thus, it is wise to use a combination of different adjunct treatments, therapies, and remedies to reduce your dependence on these drugs.
But never go off your medicine or try any new remedy without consulting your doctor first. Timely management of asthma can help you lead a normal life and avoid complications in the future.

Continue ReadingAsthma: Diagnosis and Medical Treatment
Was this article helpful?