Hot and cold therapies are among the most commonly used non-pharmacological interventions for various inflammatory and pain-related conditions. (1)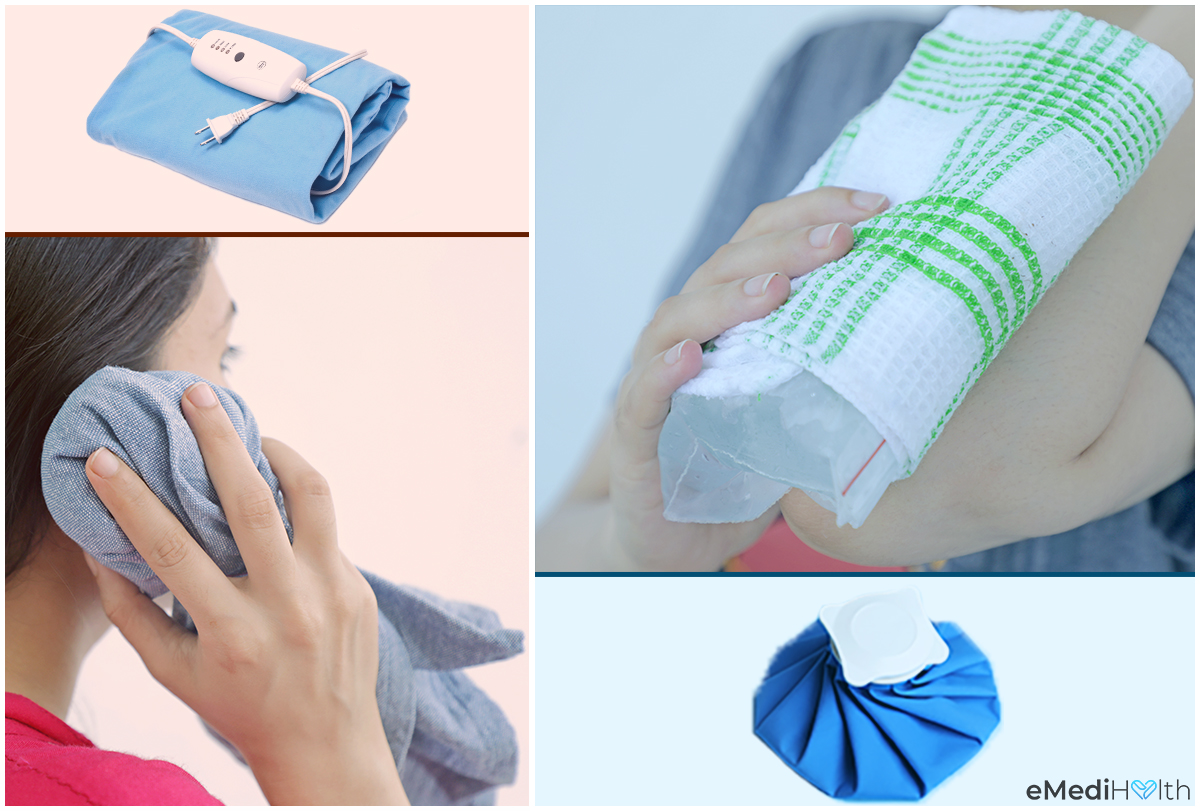 Hot therapy, or thermotherapy, involves applying a warm compress to the affected site to stimulate blood flow, improve blood circulation, and relax the underlying muscles.
Cold therapy, or cryotherapy, on the other hand, works by reducing blood flow to the affected site and numbing the underlying tissues. Both of these treatments provide quick but temporary pain relief.
Benefits of Using a Warm Compress
Warm compresses can help relieve the pain caused by injured or overused muscles and stiff joints. In fact, this kind of heat therapy is one of the most oft-recommended adjunct treatments by orthopedic doctors for easing back stiffness and muscle spasms that result from chronic injuries.
When you apply the compress to the painful area, the heat penetrates the underlying muscles and increases blood flow to the site. The influx of oxygenated blood brings more nutrients to the affected muscles and joints, helping repair injured tissue and thereby easing your discomfort.
Use a warm compress to manage:
Congestion and pain associated with an upper respiratory infection, such as sinusitis and the flu
Muscle or joint spasm/sprain
Pain caused by an ear infection
Eye infection
Pain associated with a closed skin abscess (keep in mind to not use a warm compress on open wounds)
Eye stye
Pain from an ingrown toenail
Toothache
Tension-type or muscle contraction headaches
Arthritis (2)
Blocked nasolacrimal duct (tear duct)
Tendinosis pain after the inflammation subsides
Menstrual cramps
Making a Dry or a Moist Warm Compress at Home
A whole range of warm compresses can be used for pain management and they are broadly divided into two categories, moist and dry.
a. Dry warm compress
Dry warm compresses include rubber-made hot water bottles, heating pads, salt bags, rice bags, and other such hot packs that transfer dry heat to the affected site.
1. Rice bag
Rice grains are an ideal choice for a hassle-free warm compress at home as they can retain heat for extended periods. This kind of dry, warm compress is particularly helpful in relieving backache.
All you need is a cloth bag or a clean cotton sock and a handful of rice. Make sure that the rice you are using is completely devoid of moisture.
Fill the bag or sock with rice and tie it tightly at the top.
Heat the rice pack in a microwave for about 1 minute.
Check the temperature of the bag to see if it is sufficiently warm but not so hot that it scalds your skin.
Place the rice bag on the affected area for up to 20 minutes at a time, and repeat the application every couple of hours until you get relief.
2. Salt bag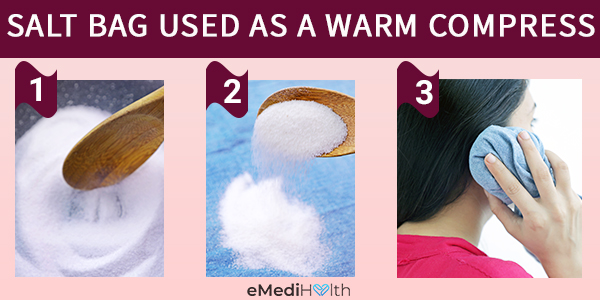 Salt is another ingredient that can provide long-lasting warmth when used in a compress. Much like rice, the tiny, coarse salt granules do not give away heat easily after being heated.
You can bundle up some salt in a cloth buffer to make a tiny warm compress, which can be used to soothe an earache, a toothache, and stiff and aching muscles.
Put some salt in a clean cloth and gather its ends together to form a pouch.
Tightly secure the mouth of the pouch with a string or rubber band.
Heat the salt bag in the microwave for 2–3 minutes.
Make sure that the bundle is completely sealed to avoid spilling the hot salt on your skin.
Check the temperature of the bag to see if it is sufficiently warm but not so hot that it scalds your skin.
Apply the salt bag to the affected site for pain relief.
b. Moist warm compress
A moist warm compress, such as a clean washcloth, kitchen towel, or gauze, uses damp heat. The warmth travels deeper into the tissues than dry heat at the same temperature. This form of heat therapy may be a bit messy, but it offers the dual advantage of deeper heat penetration and hydration of the affected site. (3)
A moist compress is best suited to relieve muscle soreness and can be fixed up easily at home.
1. Warm water soak
Take a clean cotton towel and soak it in hot water.
Wring out the excess water.
Place the damp and warm towel over the aching muscle. Remove it once it cools off.
Soak the towel again in hot water and repeat the application until you register relief.
2. Warm water and Epsom salt
Epsom salt is a water-soluble compound that is identified as a "salt" because of its chemical structure. The major components of Epsom salt include magnesium, sulfur, and oxygen.
Although there are no studies to verify how Epsom salt helps in pain management, it is anecdotally a well-received treatment option for pain relief.
Put 1 tablespoon of Epsom salt in 2 cups of hot water.
Stir the mixture well until the salt dissolves completely.
Immerse a flannel cloth in the saline solution.
Squeeze out the excess water from the drenched cloth.
Place the warm damp cloth over the painful area.
Let it sit for 15–20 minutes so that your tissues absorb all the heat.
Repeat the entire process several times until you get relief.
Necessary precautions
Be careful when using heat therapy to avoid burns and skin damage. Take the following precautions:
Make sure that the compress is not too hot for your skin before applying it, or else you can end up with skin tissue damage and burns.
If you apply a very hot compress to the painful site, spasm of the underlying muscles may occur.
Heat therapy is not recommended for the relief of pain induced by sudden trauma or open wounds.
A warm compress is intended to be used during the recovery process, rather than immediately after an injury. You must wait at least 48 hours after an injury before applying a warm compress to the affected site.
Do not fall asleep with a heating pad on your skin; the prolonged heat exposure can exacerbate the pain and swelling and can cause burns.
Benefits of Using a Cold Compress
Cold therapy is typically used for the treatment of acute injuries that result from sudden or abrupt trauma to the bones, tissues, ligaments, or muscles. These injuries are usually accompanied by pain, tenderness, redness, warm skin, and swelling in the affected area.
Icing the acute injury within 48 hours of its occurrence can help provide instantaneous relief but it is often short-lived. Cold therapy is often used in conjunction with other therapeutic measures such as compression, elevation, bracing, and/or support.
When you apply an ice pack to the injured area, the cold penetrates the skin and constricts the underlying blood vessels. This, in turn, reduces blood flow to the treatment area, bringing down the swelling and inhibiting nerve activity for a temporary numbing effect. The loss of sensation in the area means you feel less pain.
The pain associated with such chronic injuries tends to be more severe after exercise. The application of cold therapy after a workout may help deter swelling and pain. (4) The effects of cold therapy are largely superficial and are unlikely to penetrate deep enough to reach the joint and muscles.
Even though your skin feels extremely cold after the treatment, your body's internal temperature remains unchanged due to its inherent thermoregulatory mechanism.
Use a cold compress to manage:
Eye allergies
Swelling
Fever
Acne
Rashes or itchy skin
Insect bites
Common aches, such as neck pain and toothache
Tendonitis or bursitis
Gout flare-ups
Razor burn
Migraine headache
Muscle sprains and strains
How to use cold therapy
Icing, like any other therapy, is effective only when done properly and in moderation.
You can either place the cold compress on the affected site or massage the area with gentle pressure.
Make sure to use a thin towel between the ice pack and the skin. Direct application of extreme cold for prolonged periods can cause tissue damage and frostbite.
Leaving an ice pack on your skin for too long will only exacerbate your injury.
While there is no set schedule for long-term ice application, it is recommended to ice your injury soon after it occurs for no more than 20 minutes at a stretch.
Give your skin at least 20 minutes to lose the numbness and return to its normal state before reapplying the cold compress.
Continue the cycle until your discomfort starts to ease away.
Different types of pain call for different types of cold treatment:
You can use cold wraps over the eyes, forehead, and temples to reduce the intensity of migraine headaches.
You can fill a sealable bag with ice cubes to make an ice pack, which is commonly used as a quick treatment for sports injuries.
You can make your own frozen food compress at home by freezing a bag of chopped vegetables or peas and then using it on the injured area.
Making a Cold Compress at Home
Here are a few simple ways to make your own cold compress using things you can easily find in your kitchen.
1. Dish soap
Liquid dish soap is a common household ingredient that can be used for making a cold compress. When you freeze this fluid, it acquires a gel-like consistency and remains undissolved for a much longer time than other liquids.
Take your regular liquid dish soap and pour it into a Ziploc pouch or vacuum seal freezer bag.
Place the bag in the freezer until the soap freezes to a semi-liquid state.
Spread a thin hand towel over the swollen area and place the dish soap cold compress over it.
You can also wrap the compress in a towel and gently massage the affected area with it.
2. Rock salt
You can freeze a solution of rock salt and water to make a highly malleable cold compress, which can be twisted and wrapped around your wrist or ankle. The saline solution tends to remain frozen for a longer period than plain water.
Take some water in a jug and add rock salt to it.
Stir the solution for a while, and then pour it in a sealable bag.
Put the bag in the freezer until the liquid turns into a soft jelly-like material.
Place a towel on the swollen area and then put the frozen salt water bag on top of it, or wrap the bag in a towel and then apply it to the injured site.
3. Rice
A rice bag can be used for both heat and cold therapy. Frozen rice granules can hold the cold for relatively long periods, making them an effective material for a cold compress.
Take an old sock and fill it with raw rice.
Tightly knot the mouth of the sock.
Place the sealed rice bag in the freezer for 2–3 hours or until it becomes chilled.
Apply the cold rice bag to the swollen or injured area.
Note: You do not need to use a cloth buffer in this kind of cold compress, as it is already wrapped in fabric.
4. Chilled spoon
A chilled spoon serves as the perfect cold compress for the relief of the swelling and pain associated with a black eye. Apply the cold spoon to the bruised areas around the eye.
Take a clean spoon and keep it in the freezer for some time.
Apply the cold spoon over your eyes.
Combination of Hot and Cold Therapies
Although heat and cold therapies serve individual purposes in relieving pain and inflammation, there are certain conditions or injuries that are best treated with a combination of both.
Combination therapy essentially involves the alternate application of cold and warm compresses to the site of injury. It is often recommended for back pain but only after a proper medical exam. (5)
Back injuries can be quite serious and can give rise to long-term complications if not treated properly. Therefore, you must get the injury checked by an orthopedic first to determine if combination therapy is the right way to go.
Your doctor will outline which therapy will precede the other and the duration of the entire process, depending upon the underlying cause or type of pain.
When to See a Doctor
It is essential to consult your doctor about:
Which therapy is best suited for your pain
How long you should use the therapy
Whether you need any other pain medication or physiotherapy to treat your condition
You should also see your doctor if:
The pain does not improve with the use of home remedies such as heat and cold therapies and over-the-counter medications.
The painful area becomes red and swollen, or you develop a fever, as these can all be signs of infection.
Final Word
Heat and cold therapies offer individual benefits for alleviating pain and swelling, but they can also work well together.
You have to differentiate between different types of pain in order to determine which therapy works best for your particular case. These pain treatments are relatively safe and simple and are frequently used as immediate therapy for common injuries.
Even though a warm or cold compress is a complementary treatment that can only provide temporary pain relief, they can help reduce your reliance on pain medicines, especially if you suffer from a chronic pain-related condition.
Was this article helpful?