Dental caries or cavities, more commonly known as tooth decay, are caused by the breakdown of tooth enamel.
This breakdown occurs when bacteria on the teeth break down the food particles that are stuck on the teeth and produce acids as by products. These corrosive acids destroy the tooth enamel which causes tooth decay and formation of caries or cavities in the long run.
Although dental caries is largely preventable, it is known to affect almost 60%–90% of children aged 6 to 11 years and adolescents aged 12 to 19 years.
Tooth decay is four times more common than asthma among adolescents aged 14 to 17 years. Dental caries also affects adults, with 9 out of 10 over the age of 20 having some degree of tooth-root decay. A vast majority of cases that land in a dental health professional's clinic are related to dental cavities.
Types of Cavities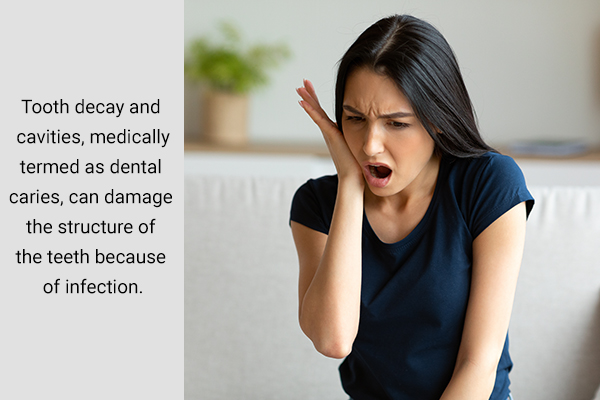 Tooth decay and cavities, medically termed as dental caries, can damage the structure of the teeth because of infection. This infection occurs as a result of plaque formation that seeps into the enamel, causes demineralization, and attacks the soft and sensitive part called dentine.
The dentine is located under the enamel and covers the soft pulp. As the enamel gets eroded, it falls down and forms cavities. (1)
A decay in tooth structure occurs when food containing sugars are eaten and bacteria on the teeth break down those sugars and produce acids. These acids dissolve/demineralize the tooth structure, resulting in dental caries.
Thus, the four factors that can contribute to dental caries are:
Plaque (collection of bacteria)
Food debris
Tooth structure
Time
The tooth cavity may extend to the pulp of the tooth located in the middle where a network of blood vessels and nerves are present. The type of dental caries depends on its development stage and on the kind of teeth that it attacks.
The most common forms of caries are:
1. Pit and fissure cavity
This cavity usually appears on the chewing surface of molars and premolars as well as on the back surface of the front teeth.
This happens because the pits and fissures on the chewing surface act as areas for plaque to adhere to easily. Plaque can deposit quickly on these surfaces. The development of plaque on the teeth may lead to cavity formation.
2. Smooth-surface cavity
This cavity develops in between the spaces of the teeth and along the point of attachment of the teeth and gums. This type of cavity can be cleaned with regular brushing and flossing in the initial stage.
3. Root cavity
This type of cavity occurs on the root surface and is prevalent among older adults. It happens as a result of receding gums due to harsh brushing practices or other gum diseases over the course of time.
Causes and Risk Factors Associated With Tooth Decay
Tooth decay may be associated with several reasons that cause a buildup of plaque on the tooth surface. These factors include:
Poor oral hygiene: Irregular brushing is the primary reason behind tooth decay. Brushing is required to wipe off the food particles from the teeth. Stuck food particles can be a breeding ground for microbes, which can cause plaque buildup.
Acidic pH in the oral cavity: Plaque or dental biofilm is a collection of bacterial deposits; it is a colorless, sticky film adhering to the tooth surface. When food containing sugars are eaten, the bacteria present in plaque break down these sugars and produce acids. Although the enamel is the strongest structure in the body, these acids can demineralize the enamel extending into the dentine. If the condition is left untreated, it may extend to the pulp. However, dental caries in the enamel that have not penetrated the dentine can be remineralized.
Certain foods: Tooth decay may also be caused by a diet replete with sugar, carbs, and acids. Foods that have a tendency to stick to the teeth are also culprits. It is advised to practice proper hygiene after eating or drinking foods such as caramel, candies, chocolates, dried fruits, cookies, sweetened cereals, and soda.
Existing tooth cavities: In people who have been diagnosed with deep crevices in their teeth, the infection can easily spread to the surrounding teeth. The use of a dental sealant can help prevent the spread of infection to uninfected teeth. Dental sealants are placed on the pits and fissures on the chewing surfaces of permanent teeth.
Dry mouth: The constant flow of saliva helps wipe out the food particles and prevents them from clinging to the teeth. People with dry mouth are at risk of developing cavities.
Teeth grinding: The habit of teeth grinding can degrade the enamel of the teeth and can increase the incidence of tooth decay.
Progressing age: As you progress in age, the enamel wears out. Also, multiple medications (known as polypharmacy), such as those prescribed to older adults to manage their condition, can cause dry mouth, leading to tooth decay and more frequently root caries.
Familial: Tooth decay may also be related to genetics. This is because certain bacteria tend to cause dental decay and periodontal disease. Genetics/family history plays a role in the population of certain kinds of bacteria in the oral cavity.
Dental appliances: Improper use of and lack of cleanliness when wearing dental caps, implants, fillings, or dentures can trap food particles and cause tooth decay.
Eating disorders: People with mental disorders such as anorexia and bulimia, who frequently purge out the ingested food due to the disorder, are likely to be afflicted with dental problems.
Signs That You Have a Decaying Tooth and Cavities
Early detection of a cavity is necessary to evaluate your condition. A decaying tooth has white or brown spots in the preliminary stages. As the decay progresses, it will be accompanied by several symptoms in the following order:
Discoloration
Visible pits/holes in the tooth
Mild sensitivity to sugars and/or temperature
Pronounces sensitivity or mild pain to cold/hot, which goes away when the stimulus is removed
Pain to cold/hot that lingers when stimulus removed
Spontaneous pain
Pain on biting and chewing
Pain that eventually comes and goes and is associated with swelling and pus discharge
Standard Treatments for Tooth Decay and Cavities
Besides a disciplined home care routine, the following treatment procedures are needed to treat the decay and cavities.
1. Dental filling
If there is cavity formation, a filling can be done to restore the tooth to its original form. The dentist will remove the decayed portion and replace it with a filling material to pack the cavity.
2. Dental crown
Crowns are fixed restorations made to restore the damaged tooth that has cracked, has extensive decay, or has had root canal treatment to its original shape and size. They are permanently cemented.
3. Root canal
At times, the infection may penetrate down the roots of the teeth known as the pulp region. This can be treated by the removal of the infected pulp portion of the affected region.
4. Tooth extraction
A severely damaged tooth may be extracted to prevent the spread of infection to nearby teeth. It may be replaced with an implant later on.
Diagnosing Tooth Decay and Cavities
Tooth decay starts with the erosion of the enamel and spreads to the deeper layers eventually causing the formation of dental caries or cavities. Thus, it is important to catch it in the early stages to minimize the damage.
As soon as you see the warning signs manifested in the form of the above-mentioned symptoms, visit your dentist. He/she will be able to analyze your condition by taking a close look at your teeth.
Make sure to visit your dentist for a routine exam.
Your dentist might get an X-ray of the affected region to determine the area that has decayed. (1)
Complications Regarding Tooth Decay and Cavities
Tooth decay and cavities can riddle your teeth with several complications that will take a toll on your oral health. It is imperative to seek medical attention to escape from the following complications:
Cavities can cause the teeth to weaken. Extensive decay may cause teeth to fracture at the gum line or lead to tooth extraction.
Gingivitis is a gum disease that is marked by inflammation in the gums caused by an accumulation of plaque on the teeth and on the gums. The first most common symptom of plaque accumulation is gingivitis; thus, it should not be ignored.
Periodontitis is a severe inflammation of the gums affecting the tissues and bones in the sockets of the teeth.
There might be a chance of inflammation deep in the neck. This is because tooth abscesses can spread to the lymph nodes in the neck region. These lymph nodes help to fight infections in our body.
As bacteria come in contact with sugars/food, they produce acids that demineralize the enamel and dentine. Progression of this demineralization infects the tooth structure. When this process reaches the pulp tissue, it quickly creates a necrotic pulp. This necrotic pulp causes a dental abscess or pus-filled swelling. This infection may be symptomatic with fever and pain. Severe dental abscesses may lead to dental sepsis.
Difficulty in chewing and biting can intervene in fulfilling the daily nutrition requirements of the affected child or adult.
A toothache may entail a loss of work and school hours. Because children are prone to tooth decay and cavities, a case of perpetually decaying teeth can be a reason for frequent absences from school. This can affect their school performance at large.
Final Word
Go for a dental check-up every 6 months or as recommended by your dentist, but seek immediate professional help if you experience sensitivity to hot or cold food and drinks, have a toothache, feel pain when you chew or bite food, or notice any white, black, or brown stains on the surface of your teeth.
All these symptoms point towards the beginning of tooth decay which eventually leads to more serious problems like cavities and gum infections if left untreated. Early detection will help nip the problem in the bud and save you from such adverse outcomes that are far more difficult to treat.

Continue Reading11 Home Remedies to Manage Tooth Decay and Cavities
Was this article helpful?