Periodontal disease refers to a group of inflammatory conditions that damage the gum tissue, tooth ligaments, and underlying alveolar bone in the mouth, thereby weakening the support structure of the teeth.
According to the American Academy of Periodontology, there are four different stages of periodontal disease, namely:
Stage I periodontitis (mild disease)
Stage II periodontitis (moderate disease)
Stage III periodontitis (severe disease)
Stage IV periodontitis (very severe disease)
How Common Is Periodontitis?
Periodontitis (pyorrhea) primarily affects the adult population and its risk increases with age.
Nearly 47.2% or 64.7 million American adults aged 30 years or above are diagnosed with some form of periodontitis. The prevalence of periodontitis increases to 70.1% in older adults who are 65 or above. (1)
Forms of Periodontitis
There are many forms of periodontitis. The most common ones include the following:
Chronic periodontitis: This is the most prevalent form of periodontitis. It can occur at any age but it mostly affects adults.
Aggressive periodontitis: It is marked by a rapid onset of bone destruction and tooth attachment loss and usually affects young people.
Necrotizing periodontal disease: Death of periodontal tissue caused by a lack of blood supply can pave the way for a severe infection, and this usually affects people with a suppressed immune system.
Causes of Periodontitis
Periodontitis is mainly caused by the accumulation of plaque on the surface of the teeth. Plaque is a soft, sticky film of oral bacteria and sugars that forms due to improper or inadequate oral hygiene.
This biofilm gradually gathers mineral deposits from the saliva and gingival crevicular fluid (GCF) and hardens over time. The hardened plaque is referred to as tartar or dental calculus and promotes further attachment of plaque. This triggers an inflammatory response that causes deterioration of the connective tissue and alveolar bone that anchor the teeth.
As a result, the gum margin pulls away from the teeth and increases the depth of the space (periodontal pockets), which is a clinical sign of periodontal disease.
Symptoms of Periodontitis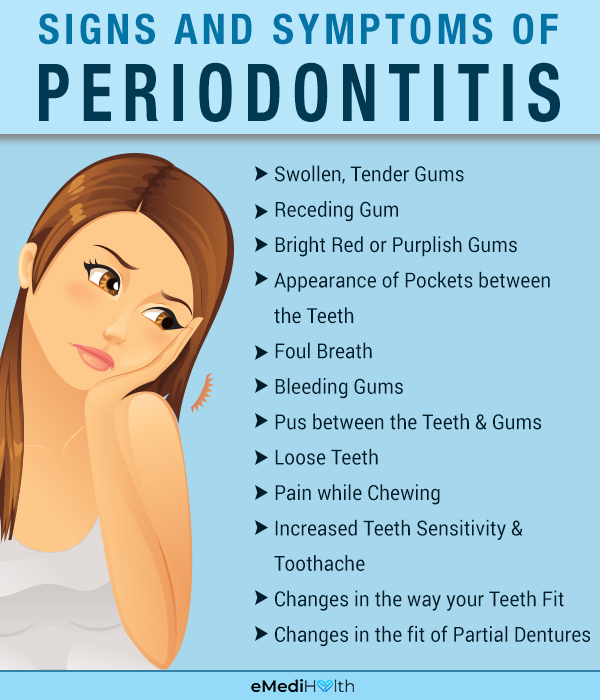 Periodontitis is typically accompanied by the following symptoms in its advanced stages:
Swollen, tender, or bleeding gums
Receding gum line, which makes your teeth appear unusually long
Bright-red or purplish gums
The appearance of pockets between the teeth
Foul breath
Pus between the teeth and the gums
Loose teeth
Pain while chewing
Increased teeth sensitivity and toothache
Changes in the way your teeth fit together when you bite
Changes in the fit of partial dentures
Medical Treatment for Periodontitis
Most cases of periodontitis are addressed through a multifaceted treatment strategy, which usually involves antibiotic medication.
1. Medications
The routinely prescribed drug treatment for periodontitis includes a combination of:
Oral antibiotics, such as penicillin, to curb the growth of bacteria
Doxycycline-containing topical gels or fibers that are filled in the gum pockets to gradually kill the bacteria
Medicated mouthwashes that contain an antimicrobial agent called chlorhexidine to give the oral cavity a thorough rinse and to control the spread of infection
Medication for periodontitis is usually prescribed in conjunction with certain non-surgical clinical procedures that aim to remove the plaque and tartar deposits from the teeth.
2. Surgical treatment
In severe cases of periodontitis, when the bacterial infection has infiltrated deep into the gingiva, the dentist will most probably recommend any of the following surgeries:
Gingivectomy
Gingivoplasty
Gingival grafting
Periodontal pocket reduction
Diagnosing Periodontitis
Diagnosing periodontitis begins with a thorough examination of your oral cavity to assess the state of your gums and underlying bone structures.
Your dentist or oral health specialist will use a probe to measure the spaces between the tooth and gum along with the depth of any periodontal pockets associated with gum disease.
This will help him/her determine the extent of damage and proceed with the treatment accordingly. The dentist may also order a dental X-ray to evaluate the destruction or loss of alveolar bone.
Risk Factors for Periodontitis
The following factors can make you more prone to periodontitis:
Genetic factors
Tobacco use
Viral and yeast infections
Hormonal fluctuations in women during menstruation and pregnancy
Inadequate or nutritionally deficient diet
Ill-fitting dental restoration
Crooked teeth that are difficult to clean
Dry mouth
Compromised immunity due to certain systemic illnesses, such as diabetes, rheumatoid arthritis, and osteoporosis, among others, or the use of immunosuppressive drugs
Certain medications such as steroids, oral contraceptives, chemotherapy drugs, as well as specific types of anti-epileptics and calcium channel blockers
Possible Complications
Periodontitis itself is an advanced stage of gum disease. If you do not address the problem timely, the disease can penetrate deeper, leading to the following complications:
Formation of painful periodontal abscesses
Lengthening of the teeth such that their roots become exposed due to continued gingival recession
Loosening or drifting of the teeth, which can make eating difficult
Complete loss of tooth
Besides destroying the gingival tissue, periodontal ligaments, and the supporting alveolar bone, periodontal bacteria can spread further into your system and pave the way for other serious health problems.
Additionally, long-term periodontitis may increase the risk of several systemic conditions, including cardiovascular diseases, diabetes and insulin resistance, rheumatoid arthritis, obesity, osteoporosis, and pregnancy-related complications. However, further studies are needed to conclusively establish this correlation.
Conversely, some of the above-listed conditions may hamper your body's resistance to periodontal bacteria and render you increasingly susceptible to periodontal disease. (2)(3)(4)(5)
When to See a Doctor
If you or your family member suddenly develops red, swollen, bleeding gums, toothache, or foul breath for no apparent reason, visit a periodontist without delay to secure early diagnosis and start immediate treatment.
Once you know that a person has a periodontal infection, you can adopt the necessary measures to avoid the spread of infection.
Expert Answers (Q&A)
Answered by Dr. Manrina Rhode, BDS (Dentist)
Is there any way to cure periodontitis and reverse the damage it causes?
You can stop periodontitis by improving your oral hygiene at home and seeing your hygienist/periodontist regularly. You cannot grow the bone back that you lose from periodontitis.

There are cosmetic treatments you can have, such as a gingival graft, to help with the appearance of the recession it causes.
Is a particular type of toothbrush recommended when dealing with bleeding gums due to periodontitis?
A good electric toothbrush is recommended to all patients. Patients with periodontitis also need to do very good cleaning between the teeth, so they may also want to use an electric water flosser.
What oral care practices are recommended when dealing with periodontitis?
The oral care practices are the same as those recommended for preventing periodontitis:

– Brushing for 2 minutes twice a day with an electric toothbrush
– Cleaning between the teeth with floss or something similar daily
– Seeing your hygienist regularly – every 6 months for an average patient, every 3 months for a patient with periodontitis
– Using mouthwash as recommended by the hygienist
– Smoking cessation, as it is bad for the gums
Is a salt water gargle beneficial in treating periodontitis?
Salt water gargles can help but they are not nearly enough to fix or control the problem.
What other tips can you share concerning periodontitis?
Once you have periodontitis, it is a lifelong struggle to keep it at bay and to keep your teeth from falling out. Before the condition gets to periodontitis, you will have gingivitis, which is reversible.

It is best to visit your dentist or hygienist as soon as you experience bleeding gums so that the problem does not progress to periodontitis.
Final Word
Periodontal disease can be hard to detect as it often sets in without any noticeable symptoms. Thus, it is essential that you keep up with your regular dental checkups and periodontal examinations.
If the dentist detects periodontitis, he/she will recommend the appropriate treatment based upon the type and extent of periodontal damage.

Continue ReadingSelf-Care and Home Remedies to Stop Periodontitis
Was this article helpful?