The mouth is the starting point of the digestive process, so it is important that it is clean, or you will end up ingesting germs and other impurities along with the food. Your oral cavity has its own microbiome consisting of good and bad bacteria that live in harmony with each other.
When the harmful bacteria outnumber the healthy ones, this equilibrium is disturbed, compromising your oral health and causing problems such as foul breath, cavities, gum disease, and even tooth loss.
Negligence in oral hygiene can be the source of various ailments that can affect not just your oral health but also your overall health.
Common Oral Ailments
Bad breath, also called halitosis, results from the buildup of calculus, which is calcified dental plaque. These hard calculus deposits hold bacteria, which produce bad breath and cause gum disease over time.
Tooth decay is the erosion of the hard outer layer of the teeth called "enamel." Tooth enamel is constantly covered with a sticky biofilm of bacteria called plaque, which is repeatedly washed away by the saliva formed in your mouth.
When you consume something with sugar in it, the plaque bacteria react with the sugars to release acid. This acid sticks to the enamel due to the adhesive nature of plaque and slowly demineralizes the dental structure over time.
The result is cavities and tooth caries, which can be serious and painful and require expensive dental procedures to be fixed.
The Importance of Mouthwash in Oral Hygiene
Brushing your teeth twice a day, along with flossing, is the bare minimum for any oral care routine. However, these tools may fail to reach every corner of the mouth.
This is where a mouthwash comes in handy, as it can easily rinse the hard-to-reach nooks and crannies of the oral cavity. The force of the squishing action dislodges the food debris stuck between the teeth and the inner recesses of the mouth, which you can then spit out.
Moreover, mouthwash cleanses the tongue, insides of the cheek, gum tissue, and back of the throat, allowing for a thorough cleaning.
Precautions When Using Mouthwash
Be careful not to swallow mouthwash while gargling with it. Mouthwashes contain chemicals that can be toxic when ingested in significant quantities, resulting in adverse side effects such as nausea and vomiting.
Hence, mouthwashes are not recommended for children below the age of 6 years as they have relatively weak swallowing reflexes and, therefore, may gulp down large amounts of the liquid.
Benefits of Homemade Mouthwashes
The market is flooded with a wide range of mouthwashes that come in different colors and flavors, but most of them contain alcohol and chemicals. Those who wish to avoid these toxic ingredients can easily make their own mouthwash at home with all-natural ingredients.
Here's a list of advantages that homemade mouthwashes have over the store-bought ones.
1. Chemical-free
Commercial mouthwashes contain an antibacterial agent called "triclosan," which has been used in the manufacture of several personal care products, such as toothpaste, hand sanitizers, surgical soaps, and regular soap products.
In 2016, the FDA conducted a risk assessment of triclosan and found it to be potentially deleterious. In light of these findings, the FDA banned the use of triclosan in soap products. However, triclosan continues to be found in high concentrations in other personal hygiene products, including OTC mouth rinses.
The toxic nature of high-dose triclosan was corroborated by recent human epidemiological studies, which linked it with reproductive and developmental defects. Evidence suggested that triclosan ingestion may cause adverse hormonal changes and may suppress your immune system. (1)
In addition to triclosan, some chemicals present in regular mouthwashes can stain your teeth and induce various oral health problems. (2) For instance, the high concentration of alcohol found in OTC mouthwashes can put you at an increased risk of oral cancer. (3)
You can avoid all these health risks and harmful side effects by making your own chemical-free mouth rinse with all-natural ingredients.
2. Superior quality
Buying mouthwash may mean you are settling for a substandard product as there is no guarantee that manufacturers use only the finest quality ingredients in mass-producing OTC mouthwashes.
However, you exercise complete quality control when you make your own mouthwash. You may choose only the best-quality ingredients, making your homemade mouthwash far safer than and superior to its commercial counterpart.
3. Inexpensive
Homemade mouthwashes provide a more economical alternative to the OTC ones as they cost next to nothing. You can also make large quantities to last you for a long period. DIY mouthwashes that are easy to make and non-toxic offer all the benefits of an OTC mouthwash at a significantly lesser cost.
Know the Ingredients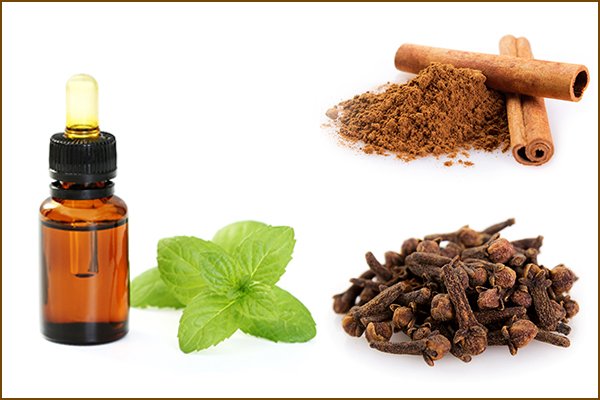 1. Clove
Cloves have a warm, woody, astringent flavor and smell that can help dampen your foul breath and freshen up your mouth in an instant. The therapeutic potential of clove can be attributed to its chief compound called eugenol, which works as an excellent dental preservative.
The antioxidant and antimicrobial activities of cloves are higher than those of many fruits, vegetables, and spices. (4)(5)
The oil derived from the clove contains concentrated amounts of eugenol and can be used in mouthwashes to fight off oral streptococci, including the cariogenic bacteria. This strong-smelling essential oil is also credited with excellent antifungal properties. (6)
Note: Clove, clove oil, and eugenol are generally considered safe for adults when consumed as part of their diet, that is, in amounts commonly found in foods. However, the internal use of clove oil is not recommended for children. The ingestion of 5–15 mL of undiluted clove oil can reportedly cause deleterious side effects, such as coagulopathy and liver damage, in infants and children.
2. Cinnamon
Cinnamon exhibits significant antibacterial effects that can help curb the overgrowth of harmful bacteria in the mouth. Thus, it can be helpful in reducing bad breath. (7)(8)
3. Peppermint
Peppermint is widely recognized for its minty flavor, cooling properties, and refreshing smell, all of which can be utilized for banishing oral malodor. The oil extracted from peppermint leaves works as an antiseptic solution that can help fight oral bacteria when used as a mouth rinse. (9)
Alcohol-based mouthwashes tend to dry out the mouth when used regularly, which is one of the prime reasons for bad breath. Thus, the use of regular OTC mouthwashes can prove counterproductive in the long run.
However, peppermint oil is hydrating and helps in reducing mouth dryness when used as an ingredient of a mouthwash.
Note: Consuming peppermint oil in medicinal doses is generally considered safe, with almost negligible side effects reported in various clinical trials.
Homemade Mouthwash Recipe
Ingredients:
1 cup of water
1 teaspoon of whole cloves
1 teaspoon of ground cinnamon
4 drops of peppermint essential oil
Directions:
Pour the water in a saucepan.
Add the cloves and ground cinnamon to the water, and turn on the burner.
When the mixture comes to a boil, turn off the heat and remove the pan from the stove.
Cover the pan with a lid and set it aside for 10 minutes to allow the ingredients to steep.
Repeatedly strain the mixture using a muslin cloth or fine-mesh strainer into a clean bowl to remove any solid residue.
Pour the strained liquid into a small bottle.
Add 4 drops of peppermint oil to the mixture.
Tighten the lid and lightly shake the contents, so they mix well.
Store the bottle in the refrigerator.
Your natural, chemical-free, non-hazardous mouthwash is ready! Rinse your mouth with this solution twice every day. This mouthwash should last for 5–7 days.
Final Word
The sweeping action of a minty mouth rinse can deeply clean your oral cavity and leave you with a fresh-smelling breath. A good-quality mouthwash is a valuable addition to every oral hygiene routine.
However, many people consider mouthwash as a luxury product because it is generally costlier than toothpaste and dental floss. Natural mouthwashes provide a safer and cheaper alternative to the toxic variants commercially available.
Was this article helpful?