Key Points
Oily skin can cause acne breakouts, make applying makeup difficult, give a greasy effect, and make people increasingly concerned about their appearance.
Oily skin may happen due to various causes that include genes, poor diet, and hormonal changes.
Pregnancy and humid weather can contribute to excessive oil secretions.
Several preventive self-care measures, medical treatments, and home remedies are available for managing oily skin.
Oily Skin and the Role of the Sebaceous Glands
Oily skin is a common problem that affects both genders and usually worsens during adolescence. Excessive oil production is generally accompanied by enlarged pores, and it makes the skin look greasy and shiny.
Skin oiliness often results in the development of acne and make people conscious of their looks. The presence of excessive oil on the face can also induce a feeling of uncleanliness. (1) 
The skin contains several tiny bag-like glands known as sebaceous glands. Each of these glands forms around a hair follicle in the epithelial layer of the skin.
The cells of the gland multiply and disintegrate, releasing an oily substance called sebum into the hair follicles. Sebum is protective in nature, but excessive secretion may cause problems.
Causes of Oily Skin
An increase in oil secretion by the sebaceous glands results in oily skin. This may be due to the following causes:
Hormones: Hormonal changes due to any reason including puberty, pregnancy, menopause, and the use of birth control pills may cause an increase in oil production in the skin.

For instance, during the menstrual cycle, around 2 weeks before your period, the sebaceous glands may start secreting excess oil. This is due to the shift of hormones from primarily estrogen to higher levels of progesterone and testosterone.
Stress: Under stressful conditions, the body raises the level of cortisol, which stimulates the sebaceous glands to produce more oil.
Weather: Weather conditions can highly influence the amount of oil produced by the skin's sebaceous glands. Humid and hot weather during the summer months stimulates the overproduction of sebum. However, dry weather can also cause oily skin.
Dietary choices: An unbalanced diet with high-glycemic foods such as soda, sugar, refined flour, and processed foods (fast food, packaged foods) leads to insulin resistance. This, in turn, increases oil secretion.

Vitamin deficiency (A, B, D) is also known to cause oily skin and acne breakouts.
Cleaning: Not cleaning your skin properly and even excessive cleansing can lead to oily skin.
Genetic influence: Inheritance of specific genes can predispose you to oily skin.
Signs of Oily Skin
Oily skin occurs with the overproduction of sebum and is prominent around the T-zone of the face (forehead, nose, and chin area). The excess oil makes the skin prone to acne.
Oily skin may have the following symptoms:
Greasiness on the face, giving it a shiny appearance
Oily hair
Acne breakouts
Blackheads due to sebum-clogged pores
Large skin pores
Thick and rough skin
Medical Treatment for Oily Skin
Topical Treatment
Several medications can be used to treat oily skin. These topical products include cleansers, sunscreens, and moisturizers. They usually have noncomedogenic, oil-free, and nonocclusive compositions.
For instance, the cleansers for oily skin contain surfactants and are devoid of waxes, oils, or any ingredient derived from fatty acids that may contribute to oil production.
Gel creams and powder forms are highly recommended.
Oral Treatment
Spironolactone: Spironolactone is a potassium-sparing diuretic that reduces oil production by blocking the androgen receptors. While it is generally used as an antihypertensive agent, dermatologists use it for the management of acne and oily skin as it can reduce sebum production.
Isotretinoin: Isotretinoin is an oral retinoid that is highly efficient in reducing sebum production.
Oral contraceptives: Oral contraceptives help in decreasing ovarian and adrenal androgens that play a key role in the proliferation of sebocytes. This, in turn, prevents seborrhea, or the overproduction of sebum by the sebaceous glands. (2)
Other Treatments
Botulinum toxin: An intradermal botulinum toxin type A injection is used to treat oily skin, acne, enlarged pores, and dynamic wrinkles. (3)
Laser: Sebum production can be decreased through acne laser treatment.
Photodynamic therapy: Levulinic acid can be applied to the skin, which upon incubation, will be absorbed into the sebaceous glands. Subsequent exposure to blue light induces a chemical-light reaction that moderates the overactive oil glands.
Preventive Self-Care Measures for Oily Skin
While all skin types need care, it is essential to give more attention to oily skin to prevent acne breakouts. Here are some tips to prevent oily skin:
Use oil-free, noncomedogenic products. Skin care products such as moisturizers, cleansers, and makeup that are labeled as oil-free prevent clogging of pores and acne.
Apply sunscreen. Daily use of sunscreen is important for the prevention of skin damage as sun exposure can lead to the formation of age spots, wrinkles, and even cancer.

To prevent acne caused by oiliness, avoid the use of sunscreens that contain oils or fragrance.

Also, avoid chemical-based sunscreens with ingredients such as avobenzone or oxybenzone, as these can cause skin irritation and acne. Use sunscreens that contain zinc oxide and/or titanium dioxide.
Use a moisturizer. Keep your skin well hydrated during the day with the help of an oil-free moisturizer to decrease the production of sebum.
Select oil-free makeup. To prevent your skin from appearing extremely oily, use a light water-based foundation with a matte finish. Use a primer before applying makeup.
Clean your face regularly. Use a non-oily and mild cleanser to clean your skin. Wash your face in the morning and evening and after performing heavy exercises.

Use gel products as cream products are often oil based. It is recommended to apply noncomedogenic products only, using your fingertips.
Exfoliate your skin. Exfoliating your skin weekly to get rid of dirt and dead skin cells are essential. You may use facial cleansing brushes that allow gentle exfoliation of the skin.
Use a mild face wash. Avoid the use of abrasive face washes. Overwashing or scrubbing the face with harsh cleansers stimulates oil production.
Use blotting papers. To remove excess oil, press blotting papers against your face and allow absorption. Do not rub the paper on your face to avoid spreading the oil to other areas of your face.
Use a toner. A toner may help remove dirt and oil from the face. Select a toner that does not dry out your face, as dryness can stimulate oil production. Ingredients to look for in a toner include salicylic acid, lactic acid, glycolic acid, and/or witch hazel.
Do not touch your face. Touching your face repetitively can transfer oil, dirt, and bacteria from your hand to your face. Touching or pressure (leaning on your hand) can also increase oil production, leading to acne.
Pat your skin dry. When drying your skin, gently tap your skin with a soft cloth instead of rubbing it with a towel or rough cloth.
Eat a well-balanced diet and maintain hydration. Consuming foods high in omega-3 fatty acids, fiber, vitamin C, and zinc can help in controlling oil production.
Remove your makeup before sleeping. Make sure to remove your makeup at the end of the day, as leaving it on overnight may clog your skin pores and cause problems.
Seek medical help if you experience excessive oil secretion that is causing skin problems, as delaying treatment can worsen the condition.
Home Remedies for Oily Skin
Homemade packs and scrubs that are easy to make can help in getting rid of oily skin. There are natural ingredients that can facilitate the removal of excess oil from the skin and unclogging the pores.
Caution: Do a patch test to make sure that you are not allergic to any ingredient before applying a mask or scrub to your face.
Face Masks
1. Fuller's Earth Face Mask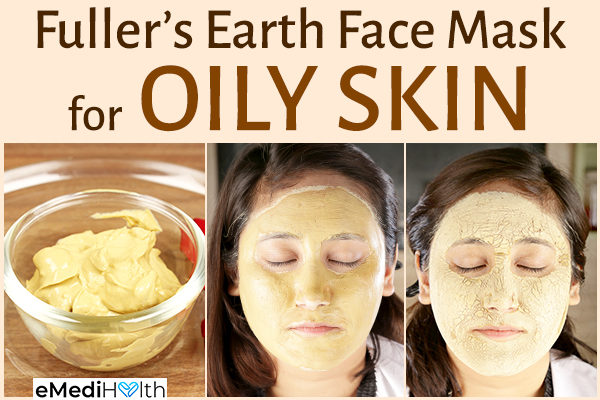 Fuller's earth is derived from clay and is widely used for brightening, lightening, and treating marks and spots. The absorbent properties of fuller's earth help in oil reduction.
How to use:
Make a paste by mixing 2 tablespoons of fuller's earth with water.
Apply the paste to your face and allow it to dry for 15 minutes.
Wash your face with water.
2. Turmeric and Sandalwood Face Mask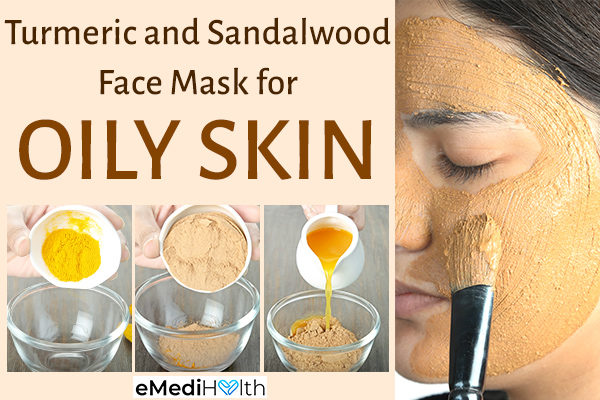 A turmeric-based face mask with orange juice is beneficial for oily skin. The high vitamin C content of citrus fruits such as oranges, helps in brightening and rejuvenating the skin as well as treating acne.
How to use:
Mix ¼ teaspoon of turmeric powder with 2 tablespoons of sandalwood powder.
Add 2-3 tablespoons of orange juice and form a smooth paste.
Apply the mask to your face and rinse it off after drying.
3. Oatmeal and Egg White Mask
Oatmeal is a natural moisturizer that aids in reducing skin oiliness. It also has anti-inflammatory properties that can prevent acne formation. The vitamin A in the egg white can help in unclogging pores and removing oil as the mask penetrates the skin.
How to use:
Break open an egg and separate the egg white from the yolk.
Beat the egg whites using a whisk and add ¼ cup of ground oatmeal. Mix them well.
Spread the mixture on your face and let it dry for 15 minutes.
Wash your face with warm water.
Natural Oil Control Scrub
1. Coffee Grounds and Honey Scrub
Coffee is rich in antioxidants and stimulates elastin and collagen synthesis, thus providing firmness to the skin.
Honey moisturizes the skin and gets rid of excess oil. It can also help in preventing wrinkles and clearing pores. Honey has antibacterial properties and aids in the prevention of acne.
How to use:
Form a thick paste using equal portions of honey and used coffee grounds.
Gently massage the paste on your face in circular motions, like a scrub.
Rinse your face with warm water.
Conclusion:
Homemade packs and scrubs may be beneficial in treating oily skin. If your skin condition worsens or an acne breakout occurs, it is recommended to seek medical help. Aside from the face masks and scrubs, you can also use raw milk, tomato juice, and aloe vera gel. Apply them to your skin to control oil production.
Conditions Related to Oily Skin
Oily skin is commonly associated with the following skin conditions.
Acne: Acne is characterized by the appearance of whiteheads, blackheads, pimples, and cysts. It generally forms on the face, neck, shoulders, back, chest, and scalp.
The accumulation of excess oil and dead skin cells can result in the formation of soft white plugs in the pores. The pores thus get clogged, inside which natural skin-dwelling bacteria start multiplying and cause inflammation.
White blood cells are employed to fight the bacterial overgrowth, contributing to the inflammatory response.
As a result of the combination of bacteria, dead skin cells, oil, and white blood cells, the walls of the clogged pores bulge and form a blackhead or whitehead, leading to acne.
Seborrheic dermatitis: Seborrheic dermatitis is a chronic condition that produces reddish patches and flaking of the skin. It affects millions of Americans, especially those who have oily skin.
Oil production leads to yeast overgrowth, and certain people then develop an inflammatory response, which causes an itchy rash.
Does humidity trigger oil production?
While the skin may appear oilier in humid conditions, no study has established the effect of weather on the activity of sebaceous glands. The feeling of excessive oil production may be due to an increase in the fluidity of the sebum, making it more discomforting.
Can pregnancy cause excessive oiliness in the skin?
An influx of hormones can cause many changes in your skin, such as the increased activity of the sebaceous glands. An increase in oil production along with an increased blood flow gives a shine to your face, known as a pregnancy glow.
Is a hormone responsible for oily skin?
Dihydrotestosterone (DHT), a metabolite of testosterone hormone, controls sebum production. An increase in the levels of DHT or sensitivity of the sebaceous glands to this androgenic hormone can cause excessive oil production.
Does oily skin slow aging?
Oily skin may make you prone to acne breakouts and clog up your skin pores, but it also has advantages. Excessive oil helps in preserving your skin, making it thicker and reducing the appearance of wrinkles.
When to See a Doctor
Seek help from a dermatologist if:
The production of excessive oil does not subside even after following proper skin care measures and using home remedies.
The excessive oiliness is causing problems such as repetitive acne or pimples, which leave scars or post-inflammatory stains on the skin.
Discuss all the symptoms with your doctor and inquire about the treatment options available for your skin condition.
What you may ask your doctor:
What options are available for the treatment of my oily skin?
Is the formation of whiteheads and blackheads a result of my oily skin?
Is my oily skin causing the acne?
Can my oily skin result in other skin conditions?
Is there a treatment or cosmetic procedure that can reduce my skin oiliness?
What your doctor may ask you:
Is oily skin prevalent in your family?
Are you under any stress?
Do you use birth control pills?
Have you tried any treatment or cosmetic procedure before?
What kind of diet do you follow?
Have you struggled with acne in the past?
Final Word
Having oily skin may cause beauty concerns. Many self-care measures and home remedies are available to manage oily skin. However, it is advised to seek medical help if self-treatment does not work. Oily skin can be treated with the help of medications and cosmetic procedures.
Expert Answers (Q&A)
Answered by Dr. Michelle Levy, MD (Dermatology)
Can food items contribute to oily skin?
The relationship between diet and oil production or acne is not entirely clear. Contrary to the popular myth, eating oily foods does not give you oily skin.

The largest contributor to oil production is genetics, and unfortunately, that is something we cannot control.

Several studies have shown that high-glycemic diets (diets high in sugars and refined carbohydrates) may increase acne in some people. It is thought that the spikes in blood sugar that happen after eating high-glycemic foods may lead to hormonal effects that increase oil production. (4)
Do people with oily skin get fewer wrinkles?
The natural oils produced by the skin's oil glands lubricate the skin, keeping it smooth. Oily skin also tends to be thicker with larger pores, and it may develop fewer of the fine lines that happen with age.

In fact, a 2015 study found that skin oiliness was correlated with shallower forehead wrinkles. (5)
Does hormonal fluctuation have any effect on oily skin?
Hormones act on the skin's sebaceous glands to cause them to secrete sebum, a substance composed of the skin's natural oils.

Sebum production increases at puberty and declines after menopause. Women produce more sebum in the week before their menstrual period when progesterone levels are higher, and they may experience a cyclical pattern to the oiliness of their skin.
Is it advisable to moisturize every day if one has oily skin?
Dry skin does not necessarily mean a lack of oil; it is mainly caused by a lack of moisture in the skin. Moisturizers add water to the skin, protect the skin's barrier, and give the skin a smooth appearance. People of all skin types typically benefit from their daily use.
How often should people with oily skin wash their faces every day?
Most people with oily skin benefit from washing their face one to two times per day. Overwashing can dry the skin and lead to irritation.
Are clay masks such as red kaolin clay masks or fuller's earth masks good for reducing greasiness on the skin?
Some people with oily skin anecdotally find that clay and earth masks reduce the oiliness of their skin. At this time, there isn't any evidence in the scientific literature that tells us how helpful clay and earth masks are for this purpose.
How to manage oily skin?
– Many people with oily skin benefit from using a cleanser or medicated pad that contains salicylic acid. Salicylic acid is a beta hydroxy acid that helps remove sebum and unclog skin pores. This temporarily reduces skin oiliness and may help prevent acne breakouts.
– People of all skin types benefit from using a moisturizer and broad-spectrum sunscreen each day to protect the skin from dryness and sun damage.
– Those with oily skin should look for products that are labeled as "oil-free" and "noncomedogenic." Mattifying makeup and blotting papers are popular and can also help to curb shine.
– Finally, for those who have both acne and oily skin, certain medications that reduce oil production may be helpful. Work with your dermatologist to find the best options for you.
About Dr. Michelle Levy: Dr. Levy is a board-certified dermatologist with 15 years of experience. She currently practices general and cosmetic dermatology in Toronto, Canada.