Hunger is a normal physical sensation that all people feel. (1) It alerts you that your body is running low on fuel and needs energy.
However, feeling constantly hungry or fatigued even when you have had food is not a good sign. We are not talking about cravings for your favorite dessert or fries – chronic hunger usually means an inability to feel satiated and energized even after a meal. (2)
These symptoms may be due to a health or lifestyle issue. It may be related to a condition known as adrenal fatigue, which can occur due to a combination of factors. (3)
Reasons You Feel Hungry All the Time
Here are a few reasons you may be feeling hungry and tired all the time.
1. Poor sleep
A proper sleep schedule is very important for your health. Not getting enough sleep at night may lead to an imbalance of certain hormones in your body. (4)
Poor sleep can lead to an increase in the hormone ghrelin (which controls appetite) and a decrease in leptin (which causes satiety).
Feeling sleepy may also make you crave more carbs and fatty foods. (5)
2. Dehydration
Research studies have shown that more than 30% of people are unable to tell hunger and thirst apart. So, if you are feeling hungry all the time, it may be a good idea to drink more water throughout the day. You may be suffering from dehydration and mistaking it for thirst. (6)
3. Stress and depression
Emotional stress can be a major factor in eating disorders. Recent studies have shown that people suffering from depression and anxiety are more likely to experience a phenomenon called "emotional eating" – eating to distract themselves from their feelings. This can be addictive and harmful in the long run. (7)
Stress can also cause an increase in the levels of cortisol (the stress hormone) in the blood. This hormone is responsible for controlling appetite, and fluctuations may leave you feeling hungry throughout the day. (8)(9)
4. Drinking too much alcohol
A recent study has shown that alcohol can put your brain in "starvation mode." It causes an increase in ghrelin (the appetite-controlling hormone that increases the intake of food) and can make you crave calorie-rich food.
Drinking too much is hence linked to constant fatigue and hunger. (10)
5. Overactive thyroid
The thyroid gland plays a crucial role in metabolism. Having an overactive thyroid may lead to problems such as the overproduction of hormones. Hence, your metabolism is increased and causes cravings for high-calorie foods.
Other symptoms of hyperthyroidism include increased heart rate, brittle hair and nails, hair loss, and irritation. (11)
6. Diabetes
Uncontrolled blood sugar levels in people with diabetes can also cause constant hunger. This happens because your body is resistant to insulin; hence, it is unable to convert the food you are eating to energy. This leads to a constant cycle of eating and hyperglycemia.
Consult your doctor and a registered dietitian for a proper diet plan if you have diabetes with chronically high blood sugar levels. (11)
7. Medications
Some medicines are known to increase your appetite and result in frequent or larger meal consumption. They are indirect contributors to weight gain.
Antipsychotic medicines, antidepressants, sleeping pills, etc., are known to increase hunger. (12)
8. Hypoglycemia
Hypoglycemia, or a low blood sugar level, can cause hunger, dizziness, or nausea. It is a dangerous situation and can cause insulin shock at extremely low levels.
People with diabetes on medication or insulin injections are especially prone to developing hypoglycemia if they do not have their meals on time. (13)(11)
9. Premenstrual syndrome (PMS)
Some women experience hunger pangs during PMS. The luteal phase of your cycle may cause a craving for high-calorie foods due to fluctuating hormones. (14)
10. Pregnancy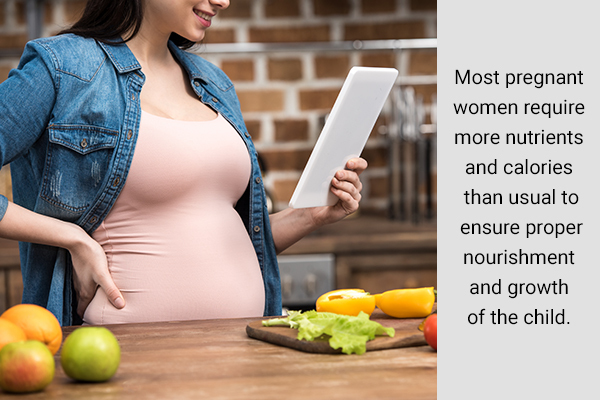 It is normal to feel excessively hungry during pregnancy. Most women require more nutrients and calories than usual to ensure the proper nourishment and growth of the child. (15)
11. Parasite infestation
At times, constant hunger can be a sign of a parasitic infection in the gastrointestinal tract. Tapeworms and pinworms are some examples of parasites that can feed off the nutrients you are eating and leave you feeling constantly hungry.
12. Not eating enough protein
Research shows that protein can help suppress ghrelin levels and keep you feeling full for longer. Make sure to get at least 50–60 g of protein every day to ensure your appetite is satiated and you remain energetic for longer. (16)
What Does Research Say About Why You're Always Hungry?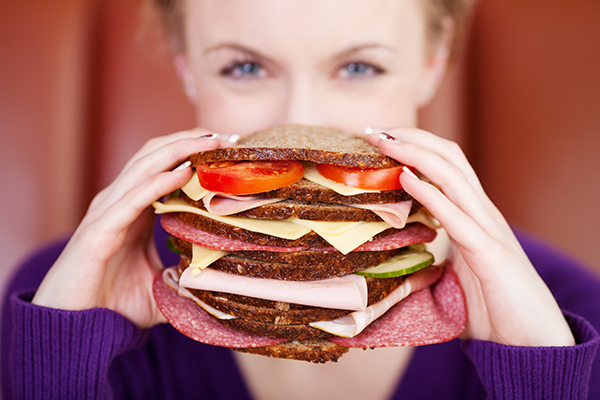 There have been some prominent research studies on chronic hunger and fatigue. Some recent reports suggest that "large blood sugar dips" after meals may be the reason behind constant hunger. Some people experience a significant drop in their blood sugar a little while after a meal.
There is as of yet no link established between blood sugar dips and other medical conditions in people with chronic hunger. Nevertheless, eating a balanced diet rich in all nutrients is a good way to keep yourself satiated and energetic. (17)
How to Break the Cycle
Here are a few tips to help you control your hunger and derive maximum energy from your food:
Go to bed early and try to get sound sleep at night.
Consume a healthy, balanced diet with the recommended amount of protein, carbohydrates, vitamins, etc.
Try to limit your intake of sugar and simple carbs.
Exercise and meditate regularly.
Final Word
Chronic hunger may just be a result of some lifestyle choices and eating patterns. However, sometimes it can be due to medical conditions or some medication you are taking.
Try to sleep 8 hours at night, eat mindfully on time, drink lots of water, and meditate to keep stress at bay. If your symptoms do not subside even after implementing all these, consult a doctor to get a proper diagnosis.
Was this article helpful?