Certain food ingredients, environmental pollutants, and heavy metals accumulate in the body and are normally cleared out by the detoxification pathways in the liver and kidneys. If somehow these foreign substances are not removed from the body, they can have severe health implications that can become chronic and reduce the quality of life. (1)
Most of the detoxification is done by the body, but some foods and nutrients also play a role in boosting the activity of these detoxification pathways. (1)
Top Reasons Detoxifying the Body Is Necessary
Proper cleansing and detoxification of the body should be a priority, as proper detoxification can confer the following health benefits.
1. May boost weight loss
You may have heard of "detox diets" for the purpose of weight loss. It basically involves eating fresh fruits and vegetables, whole grains, nuts, and good-quality protein.
The idea is to cut down on eating highly processed and high-sugar foods such as cakes, pastries, fast foods, and deep-fried foods. This causes a reduction in the generation of free radicals, which are removed through the detoxification pathways.
In a study done on women, following a "Wellnessup diet" that included eating plant-based meals with fruits, vegetables, whole grains, nuts, and other foods resulted in a reduction in toxic elements when their hair was tested. The diet also led to reduced BMI, waist size, and hip size and some overall weight loss. However, there was no reduction in fat mass. (1)
This study suggested that aiding detoxification through eating appropriate nutrient-rich foods can bring about some weight loss.
2. Improves digestion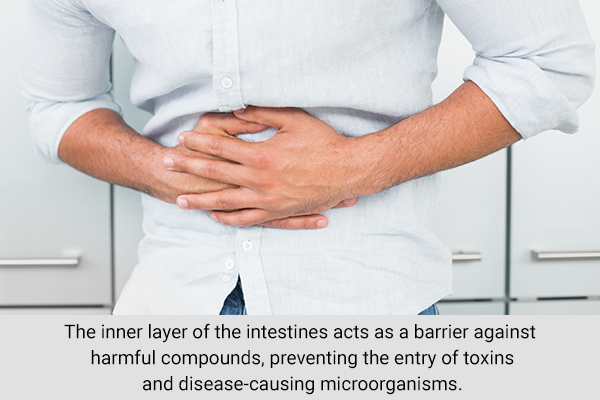 The inner layer of the intestines acts as a barrier against harmful compounds, preventing the entry of toxins and disease-causing microorganisms. It also helps in eliminating the ending by-products of antibiotic metabolism. This mechanism is one of the body's detoxification methods. (2)
When toxic compounds accumulate, they can cause digestive issues such as gas and bloating; they can even break down the intestinal barrier, leading to the leaking of substances into the blood. (2)
By consuming nutrients and foods that will aid detoxification pathways, you can ensure optimal digestion.
3. Improves energy
Toxins from pollutants, heavy metals, and certain metabolite end products (such as those from energy drinks or soft drinks) can lower energy and cause a constant state of lethargy. (3)
Eating foods that can boost detoxification can help improve energy levels.
4. Reduces pain and aches
A detoxification-supporting diet can also help relieve pains and aches in the body.
In a study to evaluate the effect of a detoxification-enhanced lifestyle on people with obesity, a significant reduction in pain and its associated symptoms was observed at the end of the 12-week trial. (4)
The intervention included diet changes, an increase in exercise, behavioral modification, and certain supplements.
In another small study of older women with fibromyalgia (a condition that causes pain all over the body), following a diet that aided detoxification and was rich in phytonutrients such as fruits and vegetables resulted in improved pain tolerance and a reduced amount of toxins in the body. (5)
5. Improves mood
Diet has an important role in mental health. (6)
Toxins from the environment, heavy metals, and medicines can cause a state of poor mental health if not eliminated properly from the body. (7) Therefore, aiding the body's detoxification process can improve mental health and overall mood.
6. Reduces risks of diseases
The kidneys and liver remove toxins from the body and keep the body healthy and free from diseases. A rise in the levels of toxins can contribute to major chronic diseases including heart diseases, diabetes, obesity, brain disorders, immune dysfunction, and even cancer. (8)
Therefore, improving the body's detoxification processes through food and reducing exposure to toxins can help reduce the risk of diseases and improve overall health. (8)
7. Balances hormones
The accumulation of toxins can also compromise the function of hormones. Most male and female sex hormones are metabolized in the liver. If the activity of the liver decreases, it can not only decrease the body's detoxification process but also impair hormone production. (9)
8. Restores the sleep cycle
Toxin accumulation also causes sleep disturbances. In one study, eliminating alcohol from the system was accompanied by sleep disturbance that drastically improved after detoxification was completed. (10)
9. Strengthens the immune system
The immune system helps protect the body against some toxins, but an increase in the level of toxins can overpower and weaken the immune system. The consequence of a weak immune system is an increased risk of diseases that may be life threatening. (11)
Therefore, improving the body's detoxification ability can help increase the activity of the immune system.
How to Aid the Body's Detoxification
Here are some things you can do to improve the body's ability to detoxify:
Eat foods containing nutrients that aid the detoxification pathways such as apples, cruciferous vegetables, grapes, grapefruit, berries, beetroot, and green tea.
Exercise daily as it improves the activity of antioxidants. (12)
Avoid consuming alcohol, smoking, and recreational drugs.
Most-Asked Questions
How do I know that I need to detoxify my body?
If you experience symptoms such as general fatigue, gas, bloating, stomach distress, rashes on the skin, constant sleepiness, and difficulty paying attention that do not go away despite treatment, you may want to consult a doctor to get a detoxification treatment plan.
What supplements aid detoxification?
Nutrients that aid detoxification include glutathione, magnesium, and some vitamins and minerals. Consult a doctor to get an appropriate supplement suitable for you.
Final Word
Detoxification is a natural physiological process that occurs in the body. However, if toxins accumulate, it may become necessary to aid the detoxification pathways through the intake of beneficial foods and nutrients, exercise, and lifestyle changes.
These measures can benefit the body by improving the strength of your immune system, improving digestion, promoting good-quality sleep, improving digestion, and reducing the risk of chronic illnesses.
Was this article helpful?