The main function of calcium in the body is to build and maintain a strong skeletal structure, but it is also involved in blood clotting, muscle contraction, nerve function, and heartbeat regulation. (1)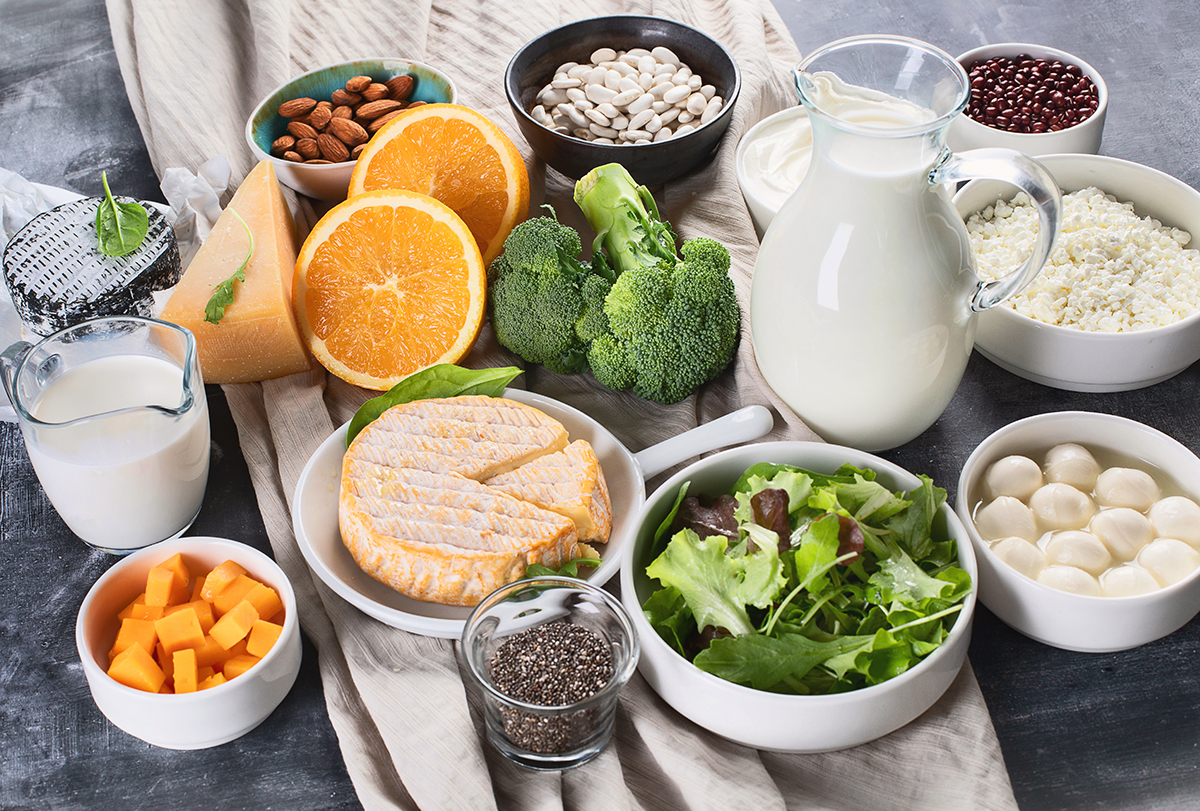 It is the most plentiful mineral found in the body and is almost entirely stored in the bones and teeth.
A calcium deficiency can make your bones and teeth weak and brittle, increasing the risk of osteoporosis with age. Thus, one must get enough of this vital mineral to prevent such bone degeneration and disorders. (2)
What Are the Most Calcium-Rich Foods That One Can Eat?
These are some of the best sources of dietary calcium:
Dairy products

Plain, low-fat yogurt – 8 oz
Mozzarella, part skim – 1.5 oz
Nonfat milk – 8 oz
Low-fat cottage cheese – 1 cup

Green leafy vegetables

Spinach, boiled – ½ cup
Fresh, cooked kale – 1 cup
Turnip greens, boiled – ½ cup

Soy products with added calcium

Soy milk – 8 oz
Tofu, firm – ½ cup
Soybeans, cooked – ½ cup

Breakfast cereals (fortified) – 1 serving
Bread, whole wheat – 1 slice
Corn tortilla – one 6" piece
Fish with bones – salmon, pink, canned – 3 oz
Beans – pinto, canned – ½ cup
Broccoli, raw – ½ cup
Chia seeds – 1 tbsp
What Are the Best Lifestyle Changes to Increase Calcium in the Body?
Maintain a healthy body weight.
Exercise regularly.
Avoid excessive consumption of alcohol, sodas, caffeine, and tobacco.
Eat foods rich in vitamin D (or take a supplement) as it helps the body absorb calcium.
Avoid high sodium intake.
Enjoy early-morning sunlight, since sunlight triggers the production of vitamin D in the body.
What Is the Daily Requirement of Calcium?
The daily recommended intake of calcium varies according to the age of the individual. According to the National Institutes of Health (NIH), the daily recommended dietary allowance (RDA) is as follows:
| Age | Male | Female | Pregnant | Lactating |
| --- | --- | --- | --- | --- |
| 0-6 months* | 200 mg | 200 mg | - | - |
| 7-12 months* | 260 mg | 260 mg | - | - |
| 1-3 years | 700 mg | 700 mg | - | - |
| 4-8 years | 1,000 mg | 1,000 mg | - | - |
| 9-13 years | 1,300 mg | 1,300 mg | - | - |
| 14-18 years | 1,300 mg | 1,300 mg | 1,300 mg | 1,300 mg |
| 19-50 years | 1,000 mg | 1,000 mg | 1,000 mg | 1,000 mg |
| 51-70 years | 1,000 mg | 1,200 mg | - | - |
| >70+ years | 1,200 mg | 1,200 mg | - | - |
As you can see, calcium intake is important for all ages. However, women especially need to increase their intake around the time of menopause. (3)
What Are the Causes of Low Calcium Levels?
The best way to determine your calcium level is by a blood test. Levels less than 8.8 mg/dl are considered low. A low calcium level is called hypocalcemia. (4)
Hypocalcemia has many causes, (5) including:
Poor dietary calcium intake (due to intolerance, allergy, or following a vegan diet)
Vitamin D or magnesium deficiency
Medications that may decrease absorption (such as chemotherapy drugs, bisphosphonates, and proton pump inhibitors)
Hormonal changes (such as a decline in estrogen during menopause)
Some chronic and acute diseases (such as renal disease, pancreatitis, and hypoparathyroidism)
Genetic factors
What Are the Signs of Calcium Deficiency?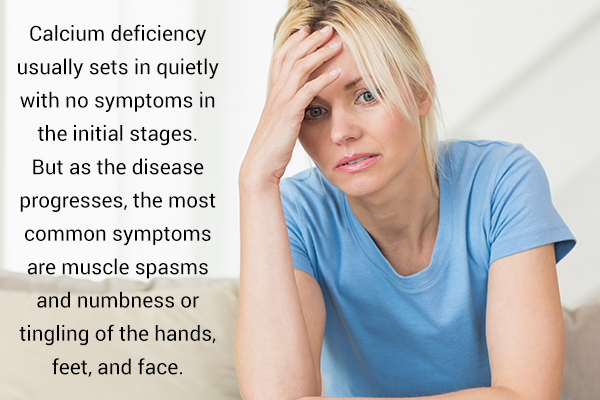 Calcium deficiency usually sets in quietly with no symptoms in the initial stages. But as the disease progresses, the most common symptoms are muscle spasms and numbness or tingling of the hands, feet, and face.
More severe signs and symptoms include brain or kidney calcifications, depression, congestive heart failure, seizures, and, rarely, coma. (6)
What Is the Medical Treatment for People With Low Calcium Levels?
The medical treatment usually involves adding more calcium to the diet.
However, in some individuals, oral supplements may be needed, which can be of two types: calcium carbonate and calcium citrate. Calcium carbonate supplements are known to trigger gastrointestinal side effects, such as gas, bloating, and constipation.
For adults >65 years old, oral supplements are not advised. (7) Severely deficient individuals may need calcium injections.
What Ailments Can Result From a Calcium Deficiency?
Inadequate intake of calcium can lead to many diseases, such as osteopenia and osteoporosis. (8) Osteopenia is the beginning of bone disease, and osteoporosis is characterized by fragile bones and an increased risk of falling, which may lead to fractures. (9)
In children, low calcium intake may stunt growth.
Final Word
The best way to meet your calcium needs is through food sources as they also provide other important nutrients. However, you must always carefully monitor your intake of calcium-rich foods as some of them are also high in saturated and trans fats, which can negatively affect your health.
If you fail to get your recommended calcium intake from diet alone, consider taking a supplement but only after running it by your doctor. This is because calcium supplements can interfere with your other medications and may even cause an overdose of this mineral, which is associated with adverse outcomes such as bloating, constipation, and kidney stones. (7)
Was this article helpful?