The healthy goodness of watermelon is not limited to its flesh alone but also extends to its seeds. That's right, the seeds that you spit out while devouring this juicy fruit are loaded with essential nutrients.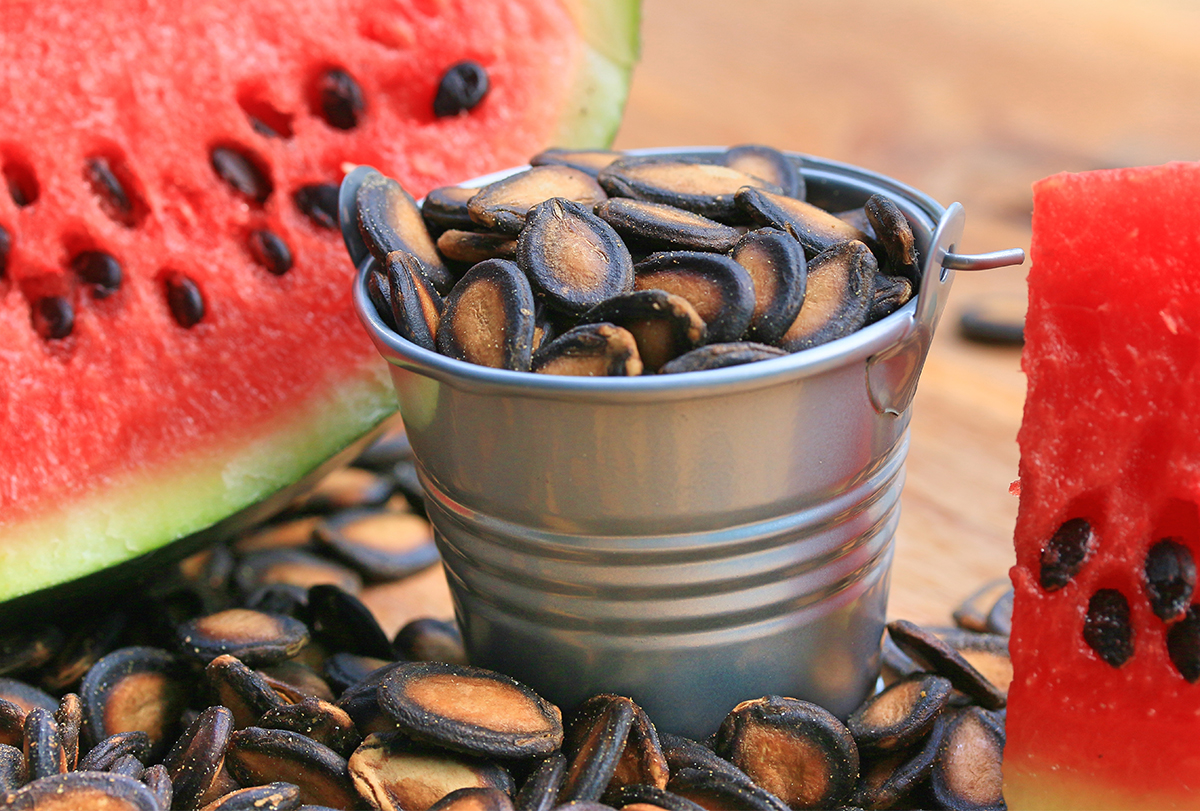 Not only are watermelon seeds perfectly edible, but they are rather delicious. So the misconception that nutritious foods lack taste should be officially put to rest.   
Nutritional Value of Watermelon Seeds
According to the USDA Food Data Central, 1 oz (28.35 g) of watermelon seeds contains: (1)
158 kcals
8 g protein
13.4 g fat
4.34 g carbohydrates
15.3 mg calcium
2.06 mg iron
146 mg magnesium
214 mg phosphorus
184 mg potassium
2.9 mg zinc
16.4 mcg folate
The Health Benefits of Watermelon Seeds
Although not commonly consumed, watermelon seeds are extremely nutritious and carry numerous health benefits:
They are a rich source of magnesium, a vitamin that has a wide variety of beneficial effects throughout the human body, from the brain to the heart. (2)
They are a great source of manganese, phosphorus, potassium, protein, folate, essential fatty acids, iron, and zinc.
Due to their high mineral, protein, and essential fatty acid content, watermelon seeds are great for hair and skin health. (3)
The Best Way to Consume Watermelon Seeds
Watermelon seeds can be eaten as you would eat other nuts or plant seeds. Here are some ways to include them in your diet:
The best way to consume watermelon seeds is by roasting them as you would roast sunflower seeds. By adding some salt and olive oil and baking them in a 350°F oven for 10 minutes, you will have a tasty but nutritious snack in less than 15 minutes!
Sprouting watermelon seeds is another nutritious way to consume them. However, it is a little bit time-consuming.
You can even eat the raw seeds as a snack or sprinkle them on your smoothies and salads for a bit of crunch.
If you don't want to eat the whole seed, you can grind it into a powder and then add it to your dishes.
Recommended Daily Intake
About ½–1 cup of watermelon seeds can be safely consumed in a day.
Is It Safe to Eat Watermelon Seeds Directly From the Fruit?
Yes, there is no harm in consuming watermelon seeds along with the fruit since they are easy to digest and completely non-toxic. However, roasting the seeds enhances their flavor.
Watermelon Seeds for Blood Pressure Control
Watermelon seeds are an excellent source of magnesium, which is shown to have beneficial effects in regulating blood pressure. (4)(5) Thus, consuming watermelon seeds in appropriate amounts may help in the management of hypertension.
However, be sure to roast them without any added salt since sodium is known to increase blood pressure.
How to Use Watermelon Seeds for Healthier Hair?
The best way to derive the maximum nutritional or health value of watermelon seeds is by consuming them rather than using them topically. The same principle applies to its purported hair benefits as well.
Should Pregnant Women Consume Watermelon Seeds?
Yes, watermelon seeds are safe to consume during pregnancy and can also provide many of the essential nutrients needed during pregnancy.
Watermelon Seeds for Weight Management
Watermelon seeds are a great alternative to unhealthy, fatty, and sugary snacks such as chips and cookies. They may aid weight loss due to the following benefits attributed to them:
Watermelon seeds contain a lot of fiber, which can help in achieving a sense of fullness without consuming large amounts.
Watermelon seeds are low in calories; approximately one handful of watermelon seeds is only around 23 calories.
While watermelon seeds do contain fats, the fatty acids are unsaturated and considered the "good fats" with numerous health benefits.
Watermelon Seeds to Fight Stress and Depression
Watermelon seeds contain a high amount of magnesium, which may play a vital role in brain function and mood. Low levels of magnesium have been found to be correlated with an increased risk of depression. (6)
Additionally, magnesium has been shown to have beneficial effects on anxiety. (6) Because watermelon seeds contain a large amount of magnesium, they may be able to help fight stress and depression.
Adding them to an overall healthy diet that is rich in fresh vegetables, fruits, seeds, and nuts can contribute to low levels of stress and depression.
Do Watermelon Seeds Improve Sex Drive?
There is inconclusive evidence about watermelon seeds improving sex drive. However, some components in watermelon are known to increase libido in some individuals.
Safety of Eating Watermelon Seeds
There are no major side effects of eating watermelon seeds as they are easily digested by the human digestive tract and are naturally low in sugar and sodium.
However, anyone who is on a diet that is low in potassium, magnesium, or phosphorous or is advised to consume limited amounts of watermelon seeds as they are full of the aforementioned minerals.  
Eat Them Right
Here are a few tips for extracting maximum nutrition and health benefits from watermelon seeds:
Make sure to chew the watermelon seeds thoroughly before you swallow them to make sure that all the nutrients will be absorbed by the digestive system as they are tough seeds.
For a healthier snack version, roast the watermelon seeds with just oil and no salt.
Watermelon seeds are best consumed orally and not topically.
A great way to incorporate watermelon seeds in the daily diet is topping them on salads or smoothie bowls for some extra crunch!
Final Word
Watermelon seeds pack quite a nutritious punch, with a heavy dose of zinc, copper, magnesium, B vitamins, manganese, and protein. They are filling and appetizing without being too high in calories. Thus, they can work as a healthy snack between meals for people who are trying to manage their weight.
But this does not mean you can consume them in unlimited or excessive amounts. For any food to benefit your health, you must consume it in moderation as part of a wholesome, well-balanced diet.
Was this article helpful?