B complex refers to a group of essential B vitamins that enable various important bodily functions to maintain overall health. These vitamins are water-soluble, which means that the body stores their needed amount, while the rest are dissolved in water to be finally excreted as urine.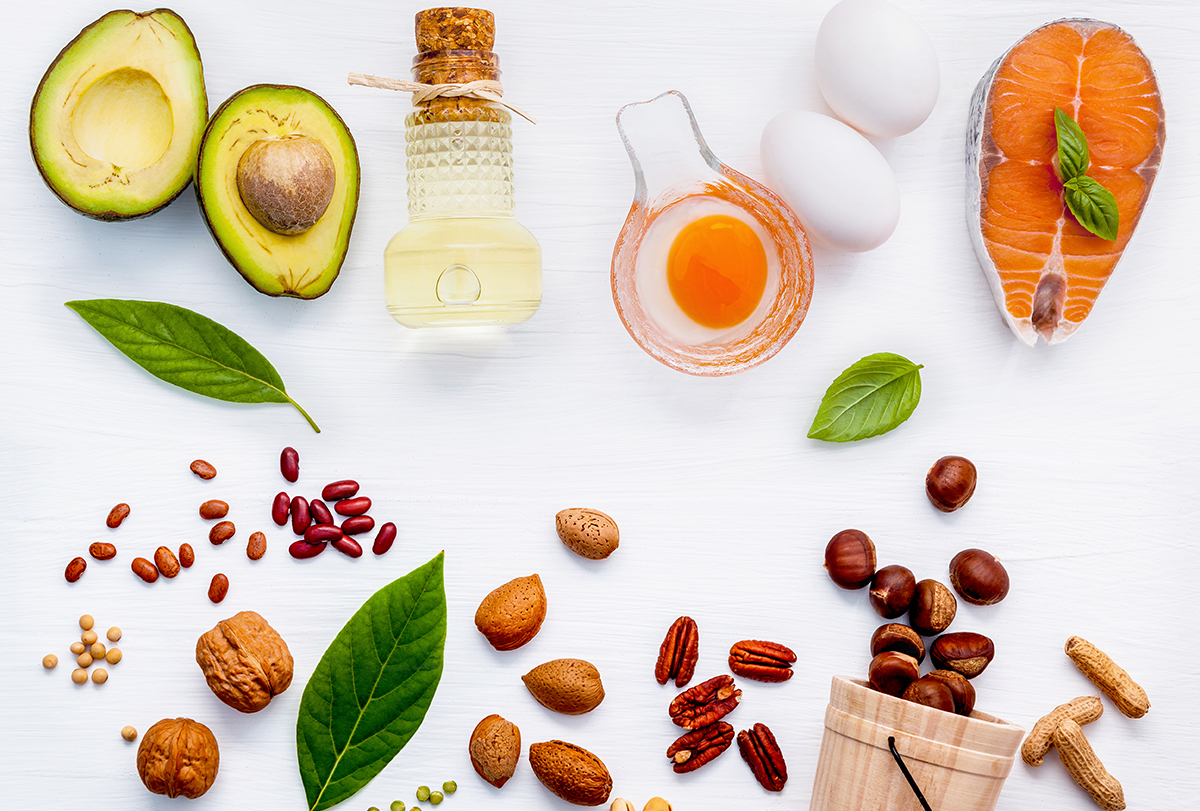 It's important that you consume a diet that includes sources of all B complex vitamins since they perform different yet essential functions including energy production, metabolic function, red blood cell production, fighting infections, and insulin synthesis. (1)
B vitamins also keep the nervous system working properly and help improve the condition of your eyes, liver, skin, and hair. (2)
Foods Rich in Vitamin B Complex
The following foods are great sources of B vitamins: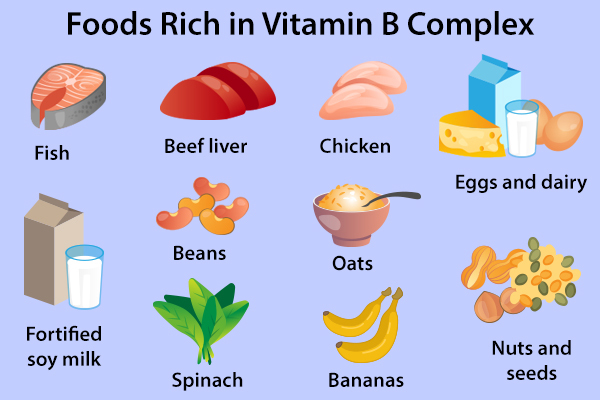 Fish – Good source of vitamins B3, B12, and B6 (3)
Beef liver – Excellent source of vitamins B12 and B9 (4)
Chicken – High in vitamins B12, B6, B3, and B1 (5)
Eggs and dairy – Eggs and dairy are high in vitamins B5 and B12; dairy products also contain high amounts of vitamin B2. (5)
Beans – Especially high in vitamin B9 and also contain vitamins B6 and B1
Fortified soy milk – Soy milk is fortified with vitamin B12 since it doesn't naturally contain this vitamin and is used as a replacement for dairy milk, which is high in vitamin B12.
Oats – Highest in vitamin B1 but also contain vitamins B3, B9, and B5
Nuts and seeds – High in vitamins B6, B3, and B9
Spinach – Good source of vitamins B6 and B9
Bananas – Great source of vitamins B6 and B12
Other food items rich in vitamin B complex: Turkey, clams, mussels, leafy green vegetables, all legumes, fortified cereals, and seeds.
Important B Vitamins
B complex vitamins include thiamine (B1), riboflavin (B2), niacin (B3), pantothenic acid (B5), pyridoxine (B6), folic acid (B9), and cobalamin (B12).
Thiamine is important for the health of cells. It helps them grow and develop.
Riboflavin serves the same function as thiamine, but it also helps to convert the food you consume into energy.
Niacin is important in digestive function and the health of the skin and nervous system.
Pantothenic acid is essential for making fats in the body and breaking down the fats you consume through your diet.
Pyridoxine plays a crucial role in the production of red blood cells.
Folic acid, one of the more commonly known B vitamins, is very important during pregnancy as it plays an integral role in preventing neural tube defects such as spina bifida.
Cobalamin is involved in the production of red blood cells and is also important for nervous system health.
Because these B vitamins are so important, many foods are fortified with these vitamins to prevent deficiencies. (6)
Most-Asked Questions About Vitamin B Complex
How can vegetarians increase their intake of B complex vitamins?
It's always best to consume vitamins naturally through food sources. Vegans are more prone to vitamin B12 deficiency than others because they don't consume animal-based products, which are naturally high in B vitamins. So, it is important that they get B vitamins from non-animal food sources. (7)
Vegetarians/vegans can focus on consuming legumes, seeds, fortified soy products, fortified cereals, and leafy greens to compensate for the B vitamins they don't get from animal sources.
Vegetarians who consume eggs, dairy, and fish can also get B vitamins from these foods.
What is the best time to consume vitamin B complex?
It's important to consume all of the B vitamins in your daily diet as they each provide a different function in your body.
Certain B vitamins promote increased energy levels (B12 and B6), and most people might find it more advantageous to consume these vitamins earlier in the day so as to not disrupt sleep. (8)
What is the daily requirement of vitamin B complex?
The National Institute of Health defines the recommended dietary allowance (RDA) of essential vitamins and minerals as being scientifically shown to provide adequate nutrition to the majority of healthy people. (9) According to the USDA, the RDA for healthy adults (19 years and older) are as follows:
Thiamin (B1): Males, 1.2 mg/day; females, 1.1 mg/day
Riboflavin (B2): Males, 1.3 mg/day; females, 1.1 mg/day
Niacin (B3): Males, 16 mg/day; females, 14 mg/day
Pantothenic acid (B5): Males and females, 5 mg/day
Pyridoxine (B6): Males, 1.3 mg/day for 18–50 years old and 1.7 mg/day for >51 years old; females, 1.3mg/day for 18–50 years old and 1.5mg/day for >51 years old
Folic acid (B9): Males and females, 400 µg/day; pregnancy, 600 µg/day; lactating, 500 µg/day
Cobalamin (B12): Males and females, 2.4 µg/day
Final Word
Eating a well-balanced diet rich in fruits, vegetables, dairy, whole grains, and lean proteins will provide the best quality of B vitamins. Since supplements are not monitored by the Food and Drug Administration, it is best to try and include natural food sources high in a variety of B vitamins to ensure you are meeting your daily needs.
Certain populations, however, may need additional supplementation with some B vitamins. For example, patients taking proton pump inhibitors for a long period would benefit from a vitamin B12 supplement, as this medication can cause a deficiency. (10)
Another population who may benefit from B12 supplementation is vegans who do not consume animal products and thus may not get enough vitamin B12 through diet alone.
Was this article helpful?