Golden milk is famous for the multitude of health benefits it offers. Turmeric is the primary constituent of golden milk, hence its more popular name "turmeric milk."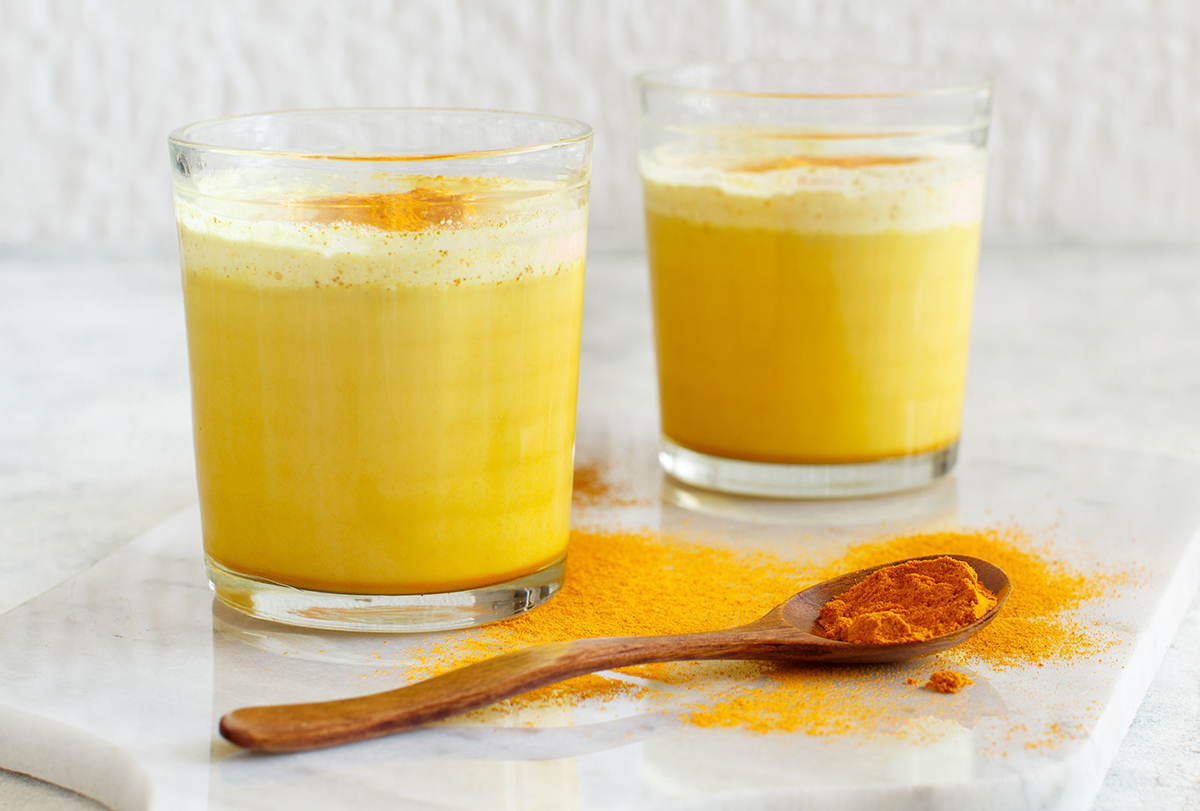 Turmeric milk is an old Ayurvedic drink that is used for treating a variety of diseases. Traditionally, it is consumed at night to facilitate sound sleep and promote general health.
Turmeric and Its Compounds
The turmeric plant, or Curcuma longa Linn., belongs to the ginger (Zingiberaceae) family. The spice is a product of its rhizomes, which are underground stems that grow horizontally and give rise to both roots and shoots. The plant is grown throughout the Indian subcontinent and in other parts of Asia and Central America.
Turmeric is also known as the "queen of spices" due to its golden color and sharp taste. It has a pepper-like aroma and is generally used as a spice worldwide. It has been a part of the Indian and Asian medicine systems for centuries.
Turmeric adds both color and taste to food. This spice is chiefly used in curry powder, in combination with other spices, for the preparation of both vegetarian and non-vegetarian dishes. It is also found in sauces, mayonnaise, mustard, pickles, and chutneys. Turmeric can also be consumed in liquid form by adding fresh roots to tea, for example.
Curcuminoids are the biologically active compounds of turmeric and are responsible for its bright-yellow to deep-orange pigmentation. Out of these polyphenolic, fat-soluble molecules, curcumin is the principal molecule, the other two being bisdemethoxycurcumin and demethoxycurcumin. (1)
Turmeric also contains volatile oils, including zingiberone, atlantone, and turmerone. All of these compounds contribute to the various health benefits of turmeric. (1)
Health Benefits of Turmeric
Numerous clinical studies demonstrate the beneficial health effects of turmeric and its compounds, especially curcumin.
According to some studies, turmeric has antimicrobial and antiseptic properties, which have long been used in Ayurveda for the treatment of cuts and wounds. (2)(3)(4)
Curcumin has also been shown to be useful for weight management. However, more research is needed on how curcumin may aid in weight loss and its dosage. (5)(6)
Turmeric acts as an anti-inflammatory agent and may, therefore, provide relief from rheumatoid arthritis and osteoarthritis. (7)
Various research studies suggested turmeric may help treat diabetes and regulate insulin levels in the body. (8)(9)(10)(11)
The active compounds in turmeric also aid digestion by stimulating the production and release of bile. These effects further help in alleviating some gastrointestinal disorders and associated symptoms, such as gas and bloating. (12)(13)
Turmeric has been used for the treatment of skin problems such as psoriasis and acne, as it has antimicrobial and anti-inflammatory properties. (14)(15)
A clinical trial demonstrated that oral administration of 500 mg turmeric, three times a day, for 8 weeks significantly improved the symptoms of uremic pruritus. The turmeric treatment was found to be 1.9 times more effective than the placebo in patients with end-stage renal disease. (16)
Turmeric has also been shown in some studies to benefit hay fever, (17) non-alcoholic fatty liver disease, (18)(19)(20) and depression. (21)(22)
It is common practice to add honey and black pepper into turmeric milk for a depth of taste and also for additional health benefits of the added antioxidants. Piperine, the active compound of black pepper, assists in the absorption of curcumin. (23)
You may also mix spices such as cardamom and cinnamon in turmeric milk to add on to its taste. Also, cinnamon helps control blood sugar and bad cholesterol levels and promotes circulation. (24)
One 2018 study found curcumin may be useful in preventing and treating neurodegenerative brain disorders. (25)
Curcumin can reportedly influence growth factors, transcription factors, kinase, and inflammatory cytokines in a way that helps fight cancer, thus making it a potential treatment agent for the same. (26)
Although a few individuals experience diarrhea and nausea on taking high doses of turmeric, it is regarded as a safe supplement on the whole. Still, you must consult a medical practitioner before considering the use of curcumin or turmeric as a preventive or supportive therapy.
ALSO READ: Turmeric: Nutrition and Benefits
Turmeric Milk Recipe Using Fresh Turmeric
Make delicious and nutritious turmeric milk using this simple recipe.
Ingredients
1 inch fresh turmeric
2 teaspoons honey
¼ teaspoon black pepper powder
2 cups milk
Directions
Clean the turmeric with water and peel it.
Grate it using a medium-sized grater.
Heat the milk in a pan.
Add the grated turmeric and black pepper powder into the milk.
Leave it on low heat for 2–3 minutes.
Strain the milk.
Add honey to it and mix well.
Consume while it is still warm.
You can replace fresh turmeric with 1 teaspoon of dry turmeric powder if this is what you have.
Warm Turmeric Cinnamon Milk
Turmeric milk with the added benefits of cinnamon and cardamom can be prepared this way.
Ingredients
1 cup milk
1 teaspoon honey
¼ teaspoon cinnamon powder
¼ teaspoon cardamom powder
Fresh black pepper powder (to taste)
¼ teaspoon ground turmeric
¼ teaspoon ground ginger
1 teaspoon coconut oil (optional)
Directions
Heat the milk in a pan.
Add the turmeric powder.
Stir over medium heat and remove just before it boils.
Whisk in the remaining spices and coconut oil. Mix thoroughly.
Let it stand for a few minutes.
Strain the milk using a fine-mesh strainer.
Add honey to it and consume.
Tips: You can substitute cow's milk with any plant-based milk if desired. Vegans may use almond or coconut milk and add natural sweeteners such as agave instead of honey. Cinnamon sticks may be used instead of powder.
Final Word
Turmeric milk contains antibacterial, antiseptic, and anti-inflammatory properties. It has a diverse range of potential health benefits and, therefore, may be a valuable addition to a balanced diet.
You can add other healing ingredients such as cinnamon or honey to turmeric milk, which will enhance not only its medicinal potential but also its taste, making it healthier and more palatable.
Was this article helpful?