Turmeric has long been valued for its health-promoting properties, which are now backed by scientific evidence. The stems of turmeric are often dried and made into teas and extracts or powdered into capsules, tablets, and paste. (1)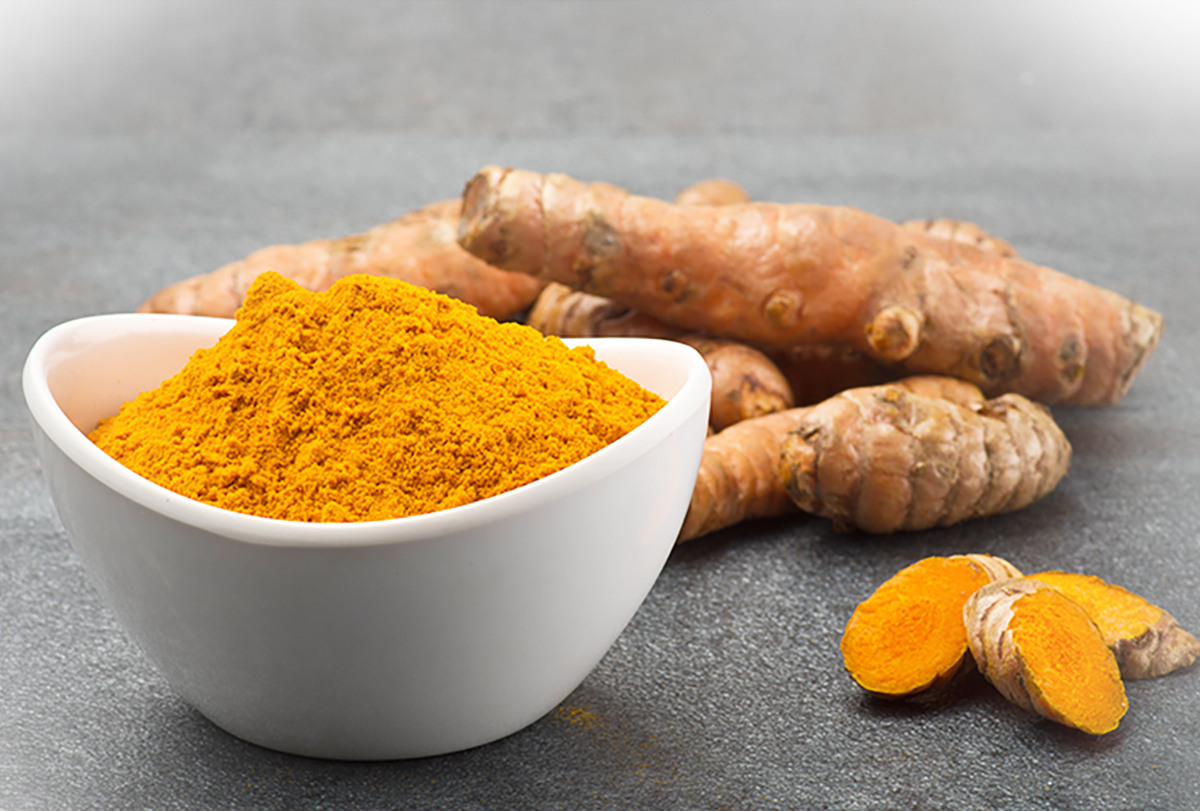 When used in cooking, it is best to combine turmeric with some sort of fat, such as oil, butter, nuts, or avocado, and peppercorns, to improve its absorption in the body.
This spice also helps prevent the loss of beta-carotene from other vegetables such as carrots and pumpkin during the cooking process. (2)
Nutritional Value of Turmeric
One tablespoon of ground turmeric powder contains 29 calories, 6 grams of carbohydrate, 2 grams of fiber, 1 gram of fat, and little protein. It contains about 16% of your daily iron needs (2.8 mg) and 26% of your daily manganese needs (0.5 mg). (3)
It also contains vitamins B3, C, E, and K. Other components of turmeric include minerals such as calcium, copper, iron, magnesium, potassium, and zinc.
Health Benefits of Turmeric
Turmeric may help improve your health in the following ways.
1. Wound healing
Applying turmeric to a wound can help sanitize the site and enhance tissue formation, collagen deposition, tissue remodeling, and wound contraction. (4)(5)
Turmeric was also found useful in speeding up skin healing after a Caesarean section without causing any adverse effects. (6) More research is needed to determine the ideal curcumin formulation for aiding the repair of skin wounds.
Summary:
Turmeric has been used as a disinfectant and skin-healing agent due to its inherent antiseptic and antibacterial properties.
2. Weight management
Curcumin interacts with white adipose tissue, often thought to be the unhealthy fat store in the body, and suppresses inflammation caused by obesity. (7)
A study found that curcumin helped with the overall weight loss, loss of body fat, and reduction of weight circumference in those that had already successfully lost weight from following a healthy diet and exercising. (8)
Summary:
A few studies noted that curcumin might help fight the metabolic inflammation that is caused by obesity to maintain healthy body weight.
3. Arthritis relief
Free radicals damage body cells and induce inflammation, which lies at the crux of degenerative disorders such as osteoarthritis and rheumatoid arthritis.
Turmeric is replete with antioxidants that can help inhibit free radical activity and thereby curb the swelling and pain associated with such inflammatory conditions.
One study compared its analgesic effects to standard painkillers, including ibuprofen and diclofenac sodium, minus the harmful side effects. (9)(10)
Summary:
Oral consumption of turmeric extracts in correct doses can provide some degree of symptomatic relief from inflammatory conditions such as osteoarthritis and rheumatoid arthritis.
4. Diabetes control
Some studies found that turmeric may help moderate insulin levels and improve glucose control in patients with diabetes or pre-diabetes when taken in appropriate amounts. It may also help improve insulin resistance, which is a precursor for type 2 diabetes. (11)(12)(13)(14)
Note: This remedy is not to be used as a substitute for your anti-diabetic medication but as an adjunct to it. Always consult your doctor or pharmacist before taking turmeric or curcumin if you are on anti-diabetic medication, as intake of both may result in dangerously low blood sugar levels.
Summary:
The curcumin found in turmeric has been found to improve blood sugar levels and the body's natural insulin response, which can help both prevent and manage type 2 diabetes.
5. Proper digestion
Turmeric can stimulate your gallbladder to produce more bile to improve fat metabolism and overall digestion. This digestive aid helps reduce flatulence, bloating, and other discomforting symptoms of inflammatory bowel disease. (15)(16)
Caution: People with gallbladder diseases should not take turmeric, as it can stimulate the gallbladder to produce more bile and consequently worsen the condition.
Summary:
Turmeric can aid digestion by reducing bloating and gas, stimulating bile production, and supporting the growth of beneficial gut bacteria.
6. Skin benefits
The anti-inflammatory, antioxidant, and antimicrobial properties of turmeric make it useful in the treatment of various skin problems such as acne and psoriasis. (17)(18) It is also credited with anti-neoplastic properties that inhibit the development of skin tumors.
Caution: One study found that the topical application of turmeric caused contact dermatitis in many individuals. (19) Thus, conduct a patch test before using this ingredient and stop its use if you notice any irritation.
Oral and topical use of turmeric may help relieve a number of skin conditions, but more research is needed to understand the proper dosage, safety, and efficacy of this remedy.
Other Turmeric Health Benefits
Here are a few additional health benefits of turmeric.
1. Cholesterol reduction
One study found that the curcumin found in turmeric has anti-inflammatory effects and may help to lower cholesterol levels. These properties promote heart health. (20)
2. Prevention of Alzheimer's disease
Inflammation and plaque buildup in the brain can lead to cognitive diseases such as Alzheimer's disease. The curcuminoids in turmeric may be useful against Alzheimer's disease. (21)(22)
3. Liver disease prevention
Turmeric can help with the oxidation processes in various liver disorders, such as liver toxicity, non-alcoholic fatty liver disease, alcoholic liver disease, cirrhosis, and liver fibrosis. (23)
4. Anti-aging
One study found that turmeric and curcumin may prevent DNA damage and assist with DNA repair. These actions may help prevent disease and slow the process of aging. (24)
ALSO READ: Anti-Aging Foods: Diet to Delay Aging
5. Anti-venom
The curcuminoids found in turmeric may inactivate the venom from a cobra when applied topically at the sting site. (25)(26)(27)
6. Oral care
Turmeric may also prevent periodontal diseases and help maintain oral health. (28)(29)(30)
Turmeric vs. Curcumin
Turmeric is a plant with roots that are often used as a spice in cooking and herbal beverages. It is enjoyed in its whole and powdered form and is used both dried and fresh.
Curcumin is a compound found within turmeric's roots and is responsible for turmeric's characteristic yellow color. It is a carotenoid that exhibits strong antioxidant properties.
Safety Information
Turmeric is generally considered to be safe when taken orally as a spice in cooking or as a supplement or when applied topically to the skin. High doses and long-term use of turmeric may lead to gastrointestinal problems. Also, exposure to turmeric may cause contact dermatitis.
A few studies found that participants developed abnormal liver function after taking turmeric or curcumin supplements for longer than 1 month. (31) People with gallbladder diseases should avoid taking turmeric.
Drug and Medication Interactions
Speak with your doctor or pharmacist before taking turmeric or curcumin if you are on any of the following types of medications:
Blood thinners such as warfarin (Coumadin), clopidogrel (Plavix), and aspirin
Medications that alter stomach acids such as famotidine (Pepcid), cimetidine (Tagamet), ranitidine (Zantac), omeprazole, esomeprazole (Nexium), and lansoprazole (Prevacid)
Anti-diabetic medications
Consult your doctor before taking turmeric if you have any of the following conditions, as the medications often prescribed for these conditions may interact with turmeric:
Anxiety, depression, mental illness, or psychiatric disorder
Infection, including tuberculosis, malaria, and HIV
Asthma or allergies
Cancer
Erectile dysfunction
Acid reflux or heartburn
Expert Answers (Q&A)
Answered by Lindsay Malone, MS, RDN
Is turmeric bad for the kidney?
For generally healthy individuals, turmeric in foods and supplements is not harmful. However, individuals prone to kidney stones should use caution with turmeric and curcumin supplements. Cooking with turmeric should not be problematic.
How much turmeric is safe to consume every day?
Doses up to 8 g per day have been administered for several months in clinical trials without adverse effects. (32)
Can turmeric face packs help smoothen and brighten the skin?
The research in this area is limited but some do show the therapeutic benefit of turmeric when taken as a supplement or applied directly to the skin. (33)
Can turmeric lead to gas and bloating?
In food form, it is unlikely. Supplements may cause mild stomach upset in some people. In my clinical experience, most people tolerate it really well.
What important points should be kept in mind when using turmeric in cooking?
– The bioactive component of the spice turmeric is curcumin.
– Turmeric has low bioavailability, but it is better absorbed when paired with black pepper in cooking.
– Curcumin is a strong anti-inflammatory agent. (34)
About Lindsay Malone, MS, RDN: Lindsay is a functional and integrative medicine dietitian and adjunct professor of nutrition at Case Western Reserve University in Cleveland, OH. She helps individuals achieve optimal health using food as fuel and medicine.
Final Word
Turmeric has been used in Ayurvedic and traditional medicine to treat many problems, including gynecological issues, gastrointestinal problems, liver issues, infectious diseases, and blood ailments.
Because of its antioxidant properties, turmeric has been shown useful against inflammatory disorders, such as ulcers and cancer. It also can help protect the liver and kidneys and resolve arthritis and other chronic diseases. This remedy is not to be used as a standalone cure for any illness but as an adjunct tool to enhance the effectiveness of the main treatment.
Always consult your doctor about the appropriate dosage and safety before starting the medicinal use of turmeric.
Was this article helpful?