Soba is an ancient noodle made from two grains, buckwheat and wheat, in varying proportions. It is part of the traditional Japanese diet and can be served in a variety of dishes.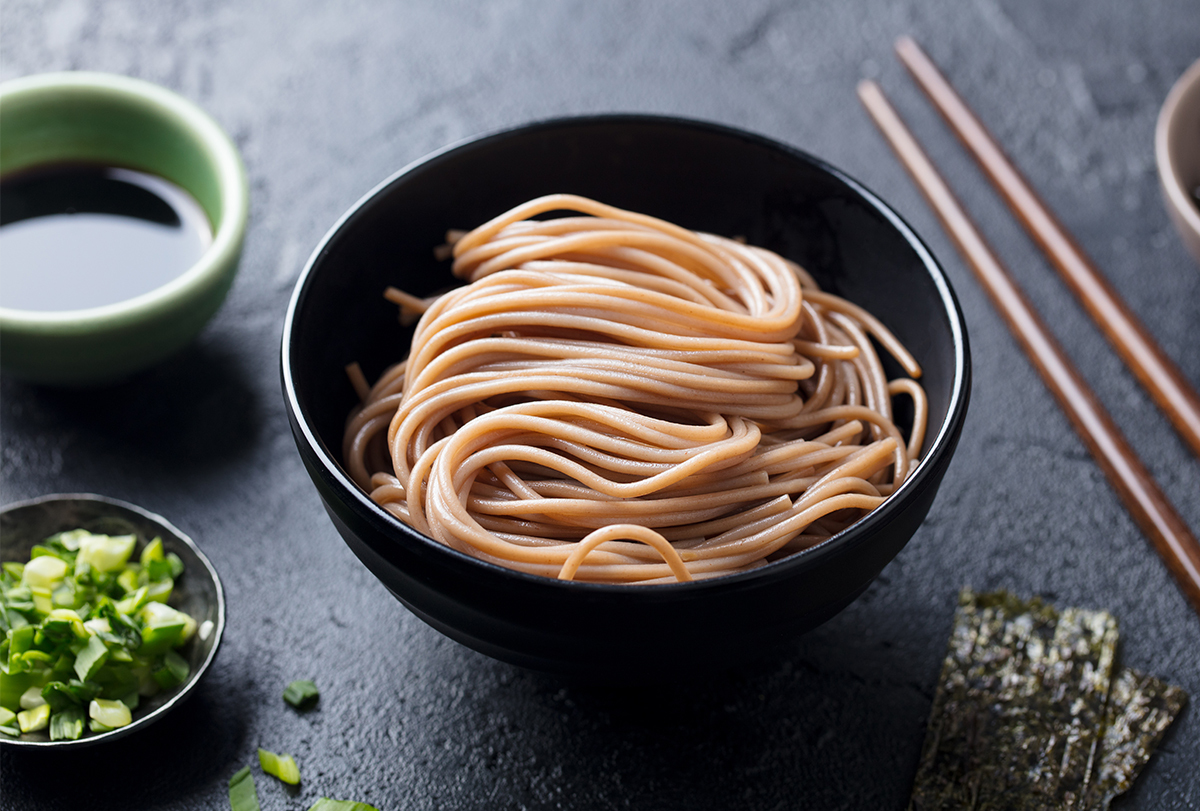 Buckwheat farming in Japan dates back to the Jomon period, and the grinder used to make the buckwheat into flour for soba originated in China in the Kamakura era. Soba has not always been eaten as a noodle, which is called soba Kiri in Japanese.
During the Edo period in Japan, soba noodles started to become popular, and many street food stands served soba. The Japanese people enjoyed the natural flavor of the buckwheat with light sauces.
Nutritional Information of Buckwheat
Buckwheat, despite having the name "wheat," is a gluten-free grain. Buckwheat is a good source of fiber, protein, vitamins, and minerals, such as vitamins B1, C, E, potassium, phosphorus, and magnesium.
The protein in buckwheat is high in many of the essential amino acids, such as lysine, arginine, and aspartic acid. Buckwheat also contains the antioxidants quercetin and rutin, which may support blood flow and vein health. (1)
Buckwheat has a high amount of resistant starch. Resistant starch is digested slower and thus leads to less of a spike in blood sugar than rapidly digestible starches such as white bread. The nutritional quality of buckwheat varies significantly depending on the processing type and its amount. (1)
Soba Noodles May Contain Gluten
Soba noodles are often made with a combination of wheat and buckwheat. Most soba noodle recipes contain 10%–20% wheat flour because this improves the noodle texture.
The binding quality of wheat can be attributed to the presence of gluten. Gluten is a protein that has no significant nutritional value, but it imparts stretchiness to foods and helps them retain their shape. Unfortunately, people with celiac disease or gluten intolerance can react negatively to gluten. These people have to adopt a strictly gluten-free diet.
Since this protein is found in most cereal grains such as wheat, rye, semolina, and barley, it can be hard to look for gluten-free alternatives to meet your cereal needs.
Buckwheat is a pseudocereal with zero gluten, which can be used and cooked like a grain, even though it's actually a seed. It is the main and sometimes the only component of soba noodles. Whether or not soba noodles are gluten-free depends on their buckwheat content.
In fact, soba noodles are classified into two major categories:
Soba noodles that are made from 100% buckwheat
Soba noodles that contain a combination of buckwheat and wheat
Soba noodles with 100% buckwheat content are truly gluten-free and can be safely consumed by people with celiac disease. On the other hand, soba noodles that contain some amount of wheat naturally contain gluten and therefore are not suitable for a gluten-free diet, especially for those with celiac disease.
If you have celiac disease or gluten intolerance but are craving soba noodles, get your fix from health food stores and online retailers that offer gluten-free 100% buckwheat soba noodles.
Purchasing Soba Noodles
Soba noodles can be homemade with dozens of different recipe variations, but this can be challenging and time-consuming. You can purchase good-quality soba noodles online and at specialty grocery stores. Many mainstream supermarkets carry a few types of these noodles these days.
When shopping for dried soba noodles, look for products with buckwheat as the first ingredient rather than wheat, which is still hard to find in US supermarkets. The gluten-free soba noodles made from 100% buckwheat tend to have a less chewy texture and break very easily.
US food manufacturers have created a different recipe from traditional Japanese soba. Shirakiku, a Japanese brand of well-liked soba in the United States, adds yam and tapioca to the noodles to hold them together and create the sought-after slippery noodle that soba is supposed to be.
Cooking Soba
Cooking soba noodles is easy.
Place the noodles in a pot of boiling water, wait until the water returns to a boil, and then cook for another 1 minute.
Drain and then rinse the noodles in cold water.
Cook soba noodles right before serving as they do not last long after cooking. Only 30 minutes later, the noodles can become clumpy and too sticky.
Dried soba noodles in the package can be kept in the panty.
Serving Soba
Soba noodles can be served hot in a soup or cold with a side of dipping sauce. The temperate of the dish typically depends on the season – hot soups in the winter and cold in the summer. Soba noodles are served in a bowl, combined with the sauce or with various dipping sauces on the side.
In Japan, many regions have a unique way to make and serve soba noodles. For instance, in the Kantō region, soba is most often eaten in a dark soup made from bonito fish flakes, soy sauce, sugar, and seasoned rice wine called mirin.
In the Kansai region, soba is frequently made in a broth with lighter flavors from bonito fish flakes and a milder, lighter-colored soy sauce called usukuchi. The most common toppings for soba noodles include green onions, wasabi, mixed hot pepper seasoning known as shichimi, and sesame oil or seeds.
In Japan, slurping when eating noodles is considered good manners and lets the chef know that you enjoy the meal. Also, slurping soba may bring out the smell and flavors more through the air added to the mouth when slurping.
Celiac Disease and Soba Noodles
Celiac disease is a digestive disorder that is present in about 1 in every 100 people around the world. This disease is often not diagnosed, misdiagnosed, or diagnosed late after several tests. (2)(3)
Celiac disease is a type of autoimmune disorder because the body's own immune system attacks the body and causes inflammation. (3) A serious case occurs when the inflammation involves many parts of the body. Eating the protein "gluten" triggers celiac disease. Wheat, rye, and barley are the common sources of gluten and must be avoided completely by people with celiac disease.
Celiac disease is lifelong and the only treatment is a strict gluten-free diet. Complications can result in many parts of the body and can be very serious. Digestive symptoms are the most common, although some people have no symptoms.
If celiac disease is not carefully managed by a specialized medical team, including a registered dietitian, poor nutrition due to missing key vitamins and minerals in the diet, osteoporosis, reproductive problems, and nervous system problems can occur. (2)(3)
Final Word
Soba hails from ancient Japanese culture, where it gained importance as a sign of good fortune and health. In fact, eating soba on special events such as moving to a new place or on the last day of the year was customary as it was thought to bring long life and health.
Today, this food item has gained popularity all over the world, especially among those who are gluten intolerant.
Was this article helpful?