Himalayan salt is an easily identifiable light-pink salt that many health enthusiasts seem to include in their diet, claiming it to have several health benefits and to be a better alternative to regular table salt.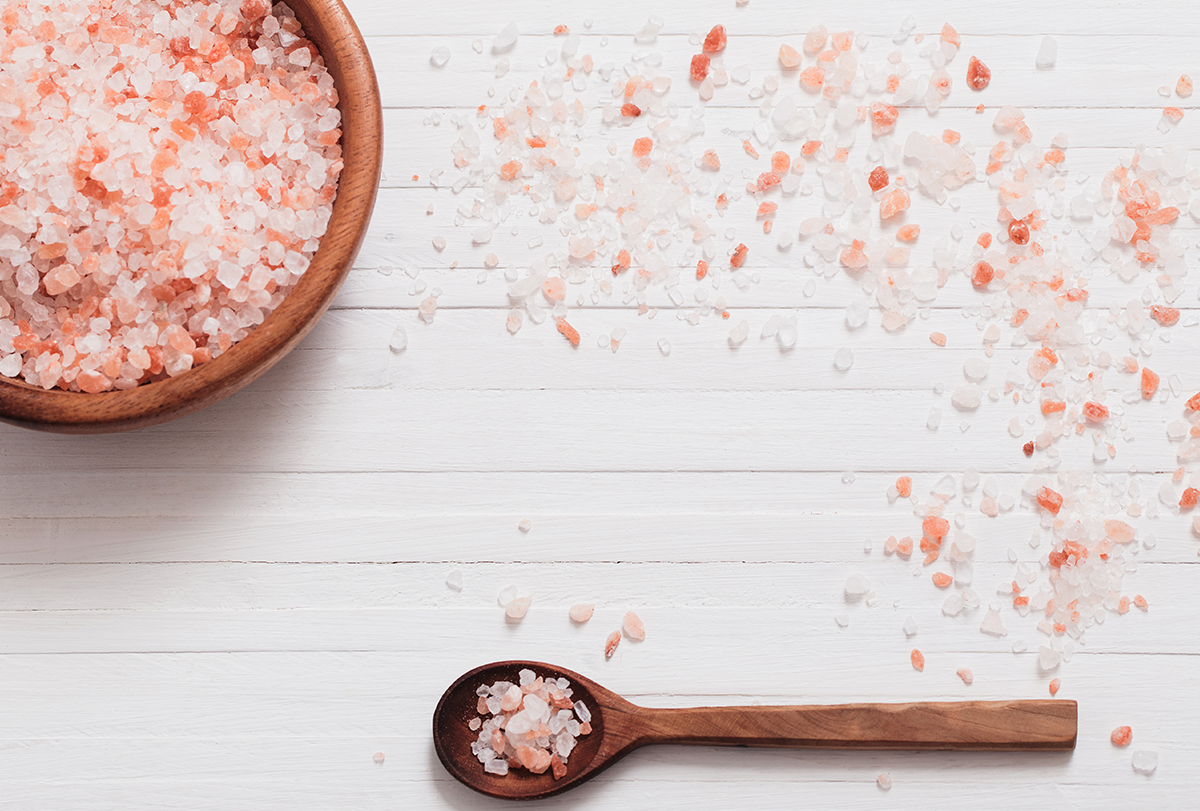 Not only that, but Himalayan salt lamps have flooded the market also with health claims. The question is, are any of these health claims true?
What Is Pink Himalayan Salt?
Pink Himalayan salt is mined from the hills in the region of Khewra in Pakistan. These hills are extensions of the Himalayas, and ancient water bodies that have now dried up have left behind this invaluable commodity.
Though its main mineral is sodium, it is rich in many other minerals including calcium, magnesium, potassium, and iron. It also contains trace minerals including selenium, phosphorus, copper, chromium, and manganese. (1)
The amount of each nutrient varies depending on the source, variety, and batch of salt. However, you can only consume at most 1 teaspoon of salt a day, which will not contribute significantly to your daily micronutrient requirements.
Health Benefits of Pink Himalayan Salt
Here are some benefits of pink Himalayan salt for health.
1. Increases energy
The presence of minerals in Himalayan salt makes it a good source of energy. In a study done to assess the effectiveness of pre-workouts containing pink Himalayan salt as one of the ingredients, increased energy output was observed. Attention span was also improved. (2)
It is important to note that the pre-workout also consisted of other ingredients that may have contributed to these effects.
2. Aids in detoxification
It has been widely reported that soaking in a bath of salts, such as Epsom salt or salt from the dead sea, can be useful in drawing out toxins from the body. It can also reduce inflammation, improve the skin barrier, and reduce skin roughness. (3)
Though there is no direct evidence of pink Himalayan salt providing the same effects, it is likely to have a similar beneficial effect due to its rich mineral content.
3. Keeps the body hydrated
Salt contains the necessary electrolytes involved in maintaining the body's hydration levels. It is for this reason that plain water can never be enough to hydrate the body. (4)
Pink Himalayan salt can be used to achieve optimal hydration status.
4. Improves mental health
Negative ions in the air have a beneficial impact on mental health and specifically on seasonal affective disorder, a mental health condition that occurs during winter due to a lack of sunlight and the cold weather.
Studies have found that negative ions are beneficial as they kill dust mites, purify the air, and improve mental health. (5)
Himalayan salt lamps have gained popularity due to their claims of purifying air by releasing negative ions. (6) They are made from large salt blocks illuminated either with candles or an electric light source. It provides a soft glow that can create a positive ambiance that is liked by many.
Though more evidence is needed, getting a salt lamp is worth exploring.
5. May reduce muscle cramps
Salt has been associated with reducing some types of pain. This is due to its sodium content, which can have an effect on migraine and pain due to fibromyalgia (a type of muscle pain accompanied by fatigue, increased sleepiness, and mood disorders). (7)
In addition, many people, particularly athletes, take salt baths to ease muscle cramps. Epsom salt has been particularly explored for its muscle-easing effects.
Though there is no direct evidence of Himalayan salt having the same effect as Epsom salt, it is likely to have a similar health advantage due to its mineral content. (8)
6. Improves skin health
Salt baths have been also used for managing skin conditions such as eczema, atopic dermatitis, and psoriasis. Salt baths can help relieve itching and inflammation, repair the skin barrier, and act as an antimicrobial. (9)(10)
Himalayan salt contains many minerals that make it useful for use as a bath salt. Simply add half a cup of salt to warm bath water and soak in it for 15–20 minutes.
Precautions to Consider
A lot of Himalayan salt's health benefits are still being studied by experts, and precautions must be taken in its use. At the end of the day, it is still a salt and contains sufficient amounts of sodium. Overuse by people suffering from high blood pressure must be avoided.
Excessive sodium can cause:
Heart diseases
Loss of water from the body
Increased risk of stroke
Is Pink Himalayan Salt Better Than Table Salt Due to Its Richer Mineral Content?
Himalayan salt can be used to supplement the diet with minerals. However, it cannot be relied upon to meet the daily requirements that need to be fulfilled by fruits, vegetables, and other dietary sources.
It also does not contain enough iodine as compared to table salt, which is fortified with iodine to prevent thyroid disorders.
While some information online suggests that pink Himalayan salt is effective in reducing blood pressure. However, a 2022 study comparing it to table salt found no difference in blood pressure management or urinary sodium excretion. (11)
Whether to use pink Himalayan salt over table salt is entirely your own choice and preference. Table salt is often more affordable and preferred. However, you can use pink Himalayan salt for salads and dips to gain its mineral benefits.
Most-Asked Questions About Pink Himalayan Salt
How much pink Himalayan salt should I eat in a day?
According to the World Health Organization (WHO), you should not consume more than 5 g of salt (1.5 teaspoons) a day. You can replace some or all of your day's salt with pink salt instead of consuming it in addition to your regular salt.
Can I use pink Himalayan salt to boost thyroid function?
The mineral that aids thyroid function is iodine. Regular table salt contains additional iodine, whereas pink Himalayan salt does not contain any additional iodine. Therefore, it is not a better choice per se, but you can use it as part of your diet while including other iodine-rich foods such as seeds, nuts, and fish.
Who should not use Himalayan salt?
People with high blood pressure and kidney diseases should limit their intake of salt altogether. Pink Himalayan salt is no different.
Is the sodium content higher in pink Himalayan salt than in regular salt?
Some sources do suggest pink Himalayan salt to be slightly lower in sodium content. However, it is not significant enough to offer any health benefits such as in the case of diabetes.
Does pink Himalayan salt increase libido?
There is no scientific evidence of pink Himalayan salt having any effect on libido, though some information claims it to be useful.
Final Word
Pink Himalayan salt has quickly become a topic of conversation as a better alternative to regular salt. And while it does contain more varied minerals than some other sources, it may not be better than others. The amount of salt needed to gain the benefits of those minerals will be more than recommended consumption.
A lot of studies are still being done to investigate the health benefits of pink Himalayan salt. However, it can be beneficial for certain conditions such as improving skin problems, relieving cramps, aiding proper hydration, removing toxins from the body, improving mood, and purifying the air.
Was this article helpful?