Nutmeg is a world-renowned spice derived from the perennial tree known by the scientific name Myristicafragrans.
Indigenous to the spice islands located in the Indonesian rainforest, this tree can be credited with bearing not one but two prominent spices, namely, nutmeg and mace. This cannot be said of any other tree known to man, making Myristicafragrans or the nutmeg tree quite the find.
Although predominantly a tropical plant that's grown in the Caribbean and Asia, the acclaim of nutmeg has traveled far and wide. Nutmeg, which is essentially the seed of the tree, is characterized by a delicately warm and sweet tinge, which accounts for its popular use in a wide array of culinary traditions.
Even a dash of this spice can enliven your desserts, confectionaries, broths, gravies, and curries with a complex richness of taste and a pungent aroma. It's readily available the world over, in ground or whole form for cooking; as an essential oil that is often used as an aromatic agent in soaps, candles, and other personal care items; and as a flavoring agent for dental care products.
By virtue of the dynamic and versatile health-giving properties of this spice, powdered nutmeg as well as nutmeg essential oils can be used as therapeutic ingredients in a number of natural and easy-to-do remedies to combat broad-spectrum health issues.
Health Promoting Qualities of Nutmeg
Here are some health benefits of nutmeg.
1. Fights depression and anxiety
If you suffer from anxiety or depression, nutmeg is a great natural treatment. The volatile oil compounds myristicin and elemicin in nutmeg offer mild sedative and anti-anxiety benefits by activating the neurotransmitters serotonin and dopamine in the brain.
It also works as an adaptogen that helps the body and mind to cope with stress. Thus, nutmeg provides the dual advantage of lowering your blood pressure in times of stress and lifting your spirits when you are feeling down.
A 2012 study published in the Avicenna Journal of Phytomedicine was the first to highlight the potential antidepressant activity of nutmeg. It was found that its antidepressant-like activity maybe due to nutmeg's modulatory effect on central monoamines. (1)
How to use:
Mix a pinch of nutmeg powder in 1 tablespoon of Indian gooseberry juice.
Drink this twice daily to calm the mind and relieve depression.
Note: Avoid taking nutmeg in excess as it tends to produce a "natural high."
2. Boosts brain power
Nutmeg can work like a brain-boosting tonic to keep your cognitive functioning at its best. There is quite a precedence in this regard with ancient Roman and Greek civilizations relying heavily on nutmeg for its neuroprotective properties.
The compound called myristicin in nutmeg aids in improving memory by stimulating and preserving the neural pathways in the brain. It also improves concentration and the ability to focus. Furthermore, it inhibits an enzyme that contributes to Alzheimer's disease.
A 2009 study published in the Journal of Neuroimmunology found that black wild nutmeg offers benefits for the brain and nervous system. (2)
How to use:
To ensure good cognitive health, add a pinch of nutmeg powder to 1 glass of lukewarm water. Drink this once daily before going to bed.
3. Fights insomnia
For people grappling with lack of sleep, sleep distress, or full-blown insomnia, nutmeg can work as a natural sleep aid. Owing to its magnesium-rich composition, nutmeg helps palliate nerve tension and stimulates the release of serotonin, which in turn induces a sedative and calming effect that helps you doze off. (3)
The brain converts serotonin into melatonin, a hormone that is widely recognized as a sleep inducer.
How to use:
Drink a cup of warm milk mixed with a pinch of nutmeg powder daily before going to bed.
Alternatively, you can mix 2 drops of nutmeg essential oil in 2 tablespoons of olive oil and massage this on your forehead before going to bed.
4. Relieves joint and muscle pain
The anti-inflammatory and analgesic properties of nutmeg can be attributed to its inherent essential volatile oils such as myristicin, elemicin, safrole, and eugenol. Thus, this spice, as well as the oil derived from it, can be an effective chronic pain reliever for people suffering from inflammatory conditions such as joint and muscle pain.
In a 2016 study published in Food and Nutrition Research, researchers injected rats with nutmeg oil to test its anti-inflammatory and analgesic effects on chronic pain. (4)
The findings confirmed the effectiveness of topical application of nutmeg essential oil to alleviate joint swelling and mechanical allodynia, which is an intense pain brought on by even a light touch to the extent that it might even be a better healing agent than other traditional pain relievers like diclofenac. (4)
How to use:
To get relief from painful joints and muscles, mix a little nutmeg oil with a carrier oil like coconut oil or olive oil and massage this oil mixture onto the affected areas a few times daily.
Also, adding a little nutmeg in your cooking can help reduce inflammation and related pain from within.
5. Improves digestion
Nutmeg is a carminative that is good for the digestive system in more ways than one. In addition to easing common nausea, vomiting, indigestion, bloating, gas, and diarrhea, it can also aid in managing symptoms of Crohn's disease.
It helps to increase the secretion of gastric and intestinal juices, thus ensuring speedy and smooth processing of the ingested food. Also, being rich in fibers, nutmeg adds bulk to the bowels and helps them move along the intestinal passageways with greater ease, thereby preventing the common digestive discomfort of constipation.
Furthermore, a 2002 study published in Methods and Findings in Experimental and Clinical Pharmacology found that nutmeg extract helped resolve diarrhea in laboratory animals as well. (5)
How to use:
When suffering from digestive issues, all you need to do is add a pinch of nutmeg to your soups and stews.
6. Prevents tooth decay and cavities
Nutmeg is also beneficial for your oral health because of its antibacterial properties. It's considered a natural oral disinfectant or toothpaste, which has the potential to eliminate harmful strains of bacteria inside the mouth that are culpable for a number of dental issues, including cavities and tooth decay.
Furthermore, nutmeg contains the volatile essential oil that goes by the name of eugenol, which helps mitigate toothaches.
The antibacterial potency of nutmeg accords it the ability to wipe out the buildup of oral bacteria that are responsible for halitosis, also known as bad breath. No wonder then it is a commonly found ingredient in a number of oral hygiene products, such as toothpaste and mouthwashes.
Simply grate some nutmeg and mix it with a little oregano oil. Use it to brush your teeth a few times a week.
To fight bad breath, put a few drops of nutmeg oil in 1 glass of lukewarm water and use it as a mouthwash.
7. Boosts immunity
Nutmeg can also give your immune system a boost. It enhances your immunity due to the presence of minerals and vitamins that contribute to its antioxidant action.
Antioxidants help protect your body from free-radical damage, which can otherwise have a negative impact on your immunity and make it hard for your body to fight off illnesses. Also, nutmeg is rich in potassium, calcium, iron, and manganese which play a key role in improving your body's immunity.
A 2013 study published in the Journal of Al-Nahrain University reports that ethanol and acetone extracts from nutmeg exhibited antibacterial activity against the gram-positive bacterial species Bacillus subtilis and Staphylococcus aureus. (6) Crust extract exhibited stronger antibacterial activity than the pulp extract.
How to use:
Consume a little nutmeg daily by adding it to your milk, tea, or soup to keep your immunity strong.
8. Aids detoxification
Proper detoxification is important to ensure your body's overall health. Much of the burden of this task falls on the liver and the kidneys. Nutmeg offers the much-needed support to these organs to ensure their optimal functioning, by reducing the toxic burden on the body. (7)
Enriched with antioxidants, nutmeg helps reduce free radical activity in the liver and activates enzymes in the liver that help remove toxic compounds. Nutmeg extracts can also prove beneficial in treating liver disorders, injuries, and inflammation.
Also, the magnesium in it is required for detoxifying cells. It also helps detoxify metals from the body.
9. Is an antibacterial agent
Nutmeg powder has strong antibacterial properties and thus can help treat several types of bacterial infections.
On top of that, nutmeg contains a type of oil known as myristic acid, which has inhibitory effects on several types of bacteria, thereby making it even more worthwhile.
In a 2006 study published in the Journal of Medicinal Food, researchers found that all of the constituents isolated from nutmeg powder exhibit antibacterial properties. (8)
Moreover, the antioxidant and antimicrobial activity of nutmeg was ascribed to a total of 32 compounds found in it by a 2013 study published in the Journal of Genetic Engineering and Biotechnology. (9)
How to use:
To reap the antibacterial virtues of nutmeg, just add a pinch of nutmeg powder to 1 glass of lukewarm water or milk and drink it once daily.
Nutritional Value of Nutmeg
Potassium, iron, manganese, thiamin, folate, magnesium, copper, and vitamins including B1 and B6 are just some of the components that account for nutmeg's nutritive benefits.
It is also replete with antioxidants and health-promoting phytochemicals that boast potent carminative, stimulant, antioxidant, antimicrobial, anti-inflammatory, antispasmodic, psychoactive, and aphrodisiac properties. (10)
Nutritional value of nutmeg powder per 100 grams:
Water – 6.23 g
Energy – 525 kcal
Protein – 5.84 g
Total lipid (fat) – 36.31 g
Carbohydrate – 49.29 g
Fiber – 20.8 g
Sugars – 2.99 g
Calcium, Ca – 184 mg
Iron, Fe – 3.04 mg
Magnesium, Mg – 183 mg
Phosphorus, P – 213 mg
Potassium, K – 350 mg
Sodium, Na – 16 mg
Zinc, Zn – 2.15 mg
Vitamin C – 3.0 mg
Niacin – 1.299 mg
Folate, DFE – 76 mcg
Vitamin A – 5 mcg
Precautions With Nutmeg
Do not take nutmeg in excess as it can be toxic in large doses. Do not take more than ½ teaspoon a day.
Excess intake can produce psychoactive effects and lead to problems such as agitation, hallucinations, and nutmeg intoxication. It can also cause side effects such as intense nausea, vomiting, diarrhea, palpitation, dizziness, and dry mouth.
Store this spice in an airtight container and away from moisture, heat, and direct sunlight to avoid loss of aroma and flavor.
Expert Answers (Q&A)
Answered by Ms. Amber Jay, CPXP (RDN)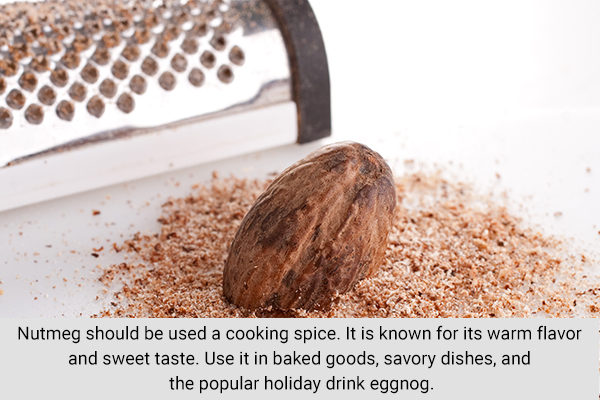 Does nutmeg cause psychotic hallucinations?
Nutmeg can cause adverse side effects, including hallucinations, when taken in very large amounts. Small amounts of nutmeg used in cooking are generally considered safe.

Nutmeg toxicity can cause hallucinations. It has been reported numerous times that people use large quantities of the spice in an attempt to induce hallucinations. Although the exact amount that can be considered toxic is not yet established, Illinois Poison Center states that symptoms of toxicity can appear at a dose of almost 10 grams (equivalent to 2 teaspoons approximately) of this spice. The symptoms are severe with 50 grams or more nutmeg intake. (11)

Most recipes call for using only small amounts of nutmeg, about ¼ to ½ teaspoon, which works in seasoning the food but does not cause toxicity. Moreover, this amount is used for a complete preparation, which often later is divided into multiple portions, thus leaving an individual sharing the meal with very insignificant exposure.
Is nutmeg helpful in treating insomnia?
More researches are needed to test the effectiveness of nutmeg for insomnia.
Is it safe to consume nutmeg daily?
Small amounts of nutmeg found in foods and used in cooking are generally considered safe. Based on the potential side effects of toxicity, nutmeg should not be used as a supplement.
Is nutmeg beneficial for diabetics?
More research is needed to rate the effectiveness for regulating blood sugar for people with diabetes.
What are the side effects of excessive consumption of nutmeg?
When taken in large doses, nutmeg can cause dry mouth, nausea, agitation, irregular heartbeat, dizziness and hallucinations, and even death in a few cases.
What is the best way to consume nutmeg?
Nutmeg should be used a cooking spice. It is known for its warm flavor and sweet taste. Use it in baked goods, savory dishes, and the popular holiday drink eggnog.
Is nutmeg used to treat male sexual disorders?
No, there are no scientific studies to demonstrate the effectiveness of nutmeg in human males to treat sexual disorders. Studies on rats have been completed, but based on the potential side effects of toxicity, nutmeg should not be used as a supplement to treat male sexual disorders. (12)
Important points to remember when consuming nutmeg
• Nutmeg has antioxidants and anti-inflammatory properties.
• Nutmeg is a great spice to add to foods and recipes.
• Too much nutmeg can cause serious side effects.
• The toxic level of nutmeg is not established, but 10 grams (approximately 2 teaspoons) of nutmeg has been reported to cause symptoms of toxicity.
• Enjoy nutmeg as it is intended – as a flavor enhancer.
Final Word
Nutmeg is generously endowed with a wealth of nourishing qualities. Don't be fooled by its seemingly inconsequential size, for when it comes to medicinal potential, this sought-after spice packs quite a healthy punch.
A nutritional profile as impressive as this justifies the continued use of nutmeg as a healing agent for thousands of years, from the ancient Egyptian to traditional European and Ayurvedic schools of medicine.
Was this article helpful?