One of the most famous uses of mushrooms is as a pizza topping, which is equally loved and disliked by people. But many cultures around the world consume mushrooms regularly as part of their daily diet. And you should too!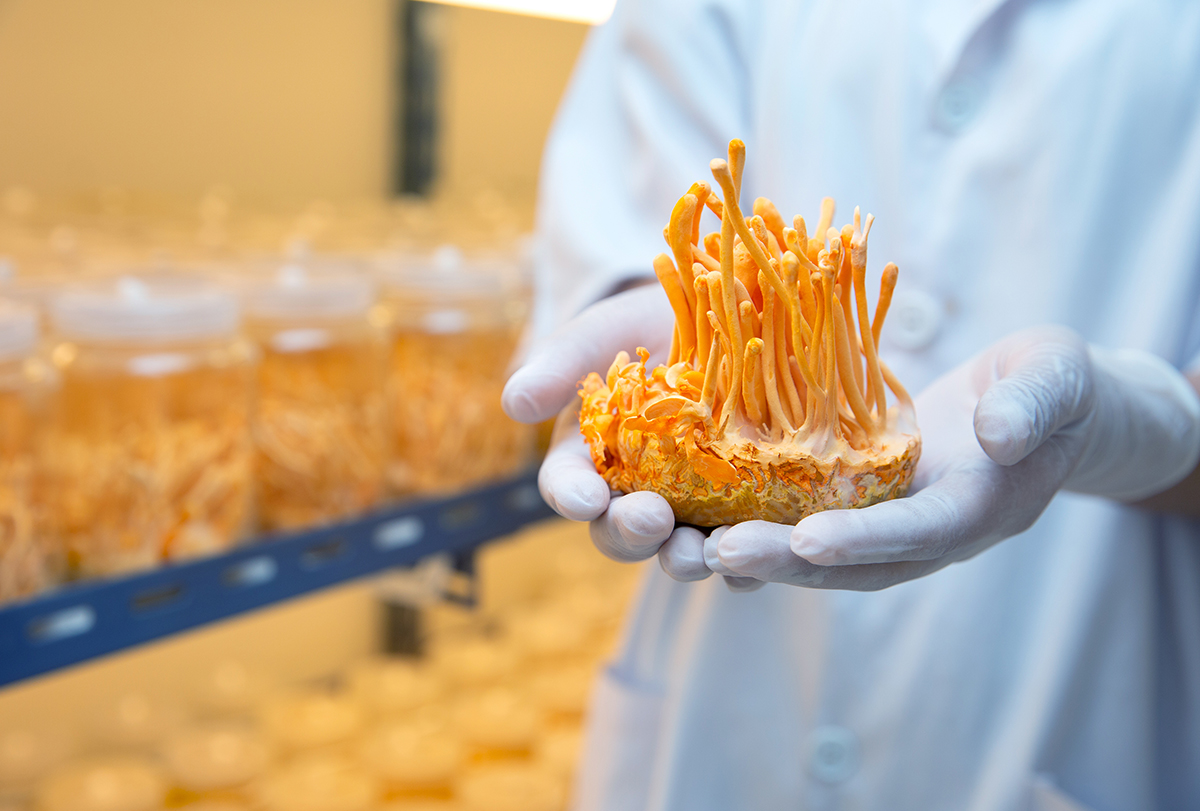 Mushrooms are a rich reservoir of many nutrients that offer a variety of health benefits. Some of these nutrients are: (1)
Selenium
B vitamins including vitamins B1, B2, and B12
Vitamin D
Vitamin E
In addition, edible mushrooms contain immune-boosting and cancer-preventive properties and are antiviral, detoxifying, and anti-inflammatory agents. (1)
Out of all the mushrooms that are popularized for their consumption, cordyceps has been particularly identified for its use in thyroid disorders.
What Kind of Mushroom Are Cordyceps?
Cordyceps is a type of fungus that grows on insect larvae. There are more than 350 species of cordyceps based on region and the insect it grows. However, Chinese medicine only recognizes Cordyceps sinensis as medicine. (2)
Since 2002, medicines and supplements made from cultured cordyceps have been approved by the Food and Drug Administration of China. It was found to reduce total cholesterol at the daily dose of 150 mg/kg body weight, improved overall liver health and reduced fatty liver, and improved the functions of the adrenal glands, thymus, and thyroid. (2)
Cordyceps and Thyroid Function
Cordyceps has been particularly studied for its use in protecting thyroid function, particularly in the case of autoimmune thyroid disorders.
The thyroid is the butterfly-shaped gland in the neck responsible for maintaining the body's temperature, metabolism, growth, and development. Any changes to the production of thyroid hormones such as TSH, T3, or T4 can cause major symptoms and ultimately thyroid disorders such as: (3)
Hyperthyroidism (lack of thyroid function)
Hashimoto's disease (an autoimmune disease where the body's immune cells attack the thyroid gland)
Grave's disease (an autoimmune disease that increases thyroid antibodies)
Hyperthyroidism (excessive functioning of the thyroid gland)
Symptoms vary based on the type of thyroid disorder but generally include fatigue, weight gain, impaired digestion, and cold or hot flashes.
Cordyceps can help in treating and improving various thyroid disorders in the following ways.
1. Improves autoimmune thyroid disorders
Autoimmune thyroid disorders such as Hashimoto's disease and Grave's disease occur when the body's immune cells attack the thyroid gland or increase the antibodies for the thyroid hormone TSH. Patients with such disorders are generally managed using immunosuppressants, which may also impact overall immunity and increase susceptibility to diseases. (4)
In recent animal studies, fungus obtained from cordyceps was found to reduce inflammation in the thyroid gland and improved the overall status of thyroid hormones. (5)
Human trials have also shown promising results, where cordyceps supplementation in the form of capsules (Corbin capsules) for 24 weeks was effective in reducing elevated immune cells that damage the thyroid glands. (4)
2. Provides selenium
Cordyceps is also rich in selenium, a nutrient vital to proper thyroid function. (6)
Selenium is important for the production of thyroid hormones, and studies have identified selenium supplementation to reduce the antibodies that cause autoimmune thyroid disease. (7)
Therefore, cordyceps supplementation can be beneficial for people with autoimmune thyroid diseases.
3. Reduces the risk of thyroid cancer
In addition to being useful for autoimmune thyroid disorders, cordyceps also reduces the risk of thyroid cancer by its ability to kill off cancer cells in the thyroid gland. (8)
How to Consume
Cordyceps can be eaten like any other mushroom by cooking it in a pan or adding it to soups and sauces.
Capsules are also available that contain dried and powdered cordyceps. Two to three capsules each day are generally considered safe for consumption; however, you should consult a doctor to identify a dose safe for you.
Precautions to Consider
It is very important for you to identify a safe and effective source of cordyceps. If your supplement or source is contaminated with additives or heavy metals, your thyroid hormones can be compromised. (9)
Is Chaga Mushroom (Inonotus obliquus) Also Good for the Thyroid?
Chaga mushroom is another fungus with medicinal properties. Used in many parts of Siberia and Russia, chaga is abundant in antioxidants, and some claims exist for its benefits in protecting against cancer. (10)
Many people attest to using chaga to improve thyroid function, especially autoimmune in thyroid disorders. However, there is no established study to prove this claim. There are studies that demonstrate the benefits of cordyceps on thyroid function, and if you have to choose one medicinal mushroom, cordyceps is the way to go.
Most-Asked Questions
What time of the day should I take cordyceps?
You can take cordyceps supplement early in the day. It is effective on an empty stomach as well as after a meal.
Who should avoid cordyceps?
Cordyceps should not be given to women who are pregnant or breastfeeding.
What other mushrooms can help thyroid function?
Reishi mushroom, native to Japan, has been known to boost immunity by improving gut microorganism diversity. Since Hashimoto's disease is linked to poor gut health, there is a chance reishi mushrooms can be beneficial. However, there is a lack of evidence to prove these results conclusively. (11)
Practical Takeaways
Thyroid disorders can cause fatigue, tiredness, and weight gain when the thyroid gland doesn't function well and doesn't produce enough thyroid hormones.
Autoimmune thyroid disorders occur when the body's immune system attacks the glands and produces antibodies against thyroid hormones.
Cordyceps, a type of mushroom, is known to improve the status of thyroid hormones in the case of autoimmune disorders.
You can safely consume 2–3 capsules of cordyceps supplementation a day; however, do consult a doctor to identify the correct dose for you.
Was this article helpful?