Triglyceride is the most common type of fat (lipid) found in the blood, with almost 95% of the total body fat falling under this category. The body converts calories that it doesn't need to use right away into triglycerides.
Triglycerides are stored in the fat cells and are circulated in the blood to provide energy for your muscles to work. Even though both triglyceride and cholesterol are lipids, the former is fat and the latter is not.
Moreover, triglycerides serve the function of providing energy, whereas cholesterol is needed by the body for hormone synthesis and cellular structure. (1)
Despite the fact that triglycerides are essential sources of energy and necessary for the proper functioning of cells, elevated levels can pose many health risks.
What Causes a Rise in Triglyceride Levels?
A spike in your triglyceride level is most commonly associated with the following factors:
Obesity (2)
Sedentary lifestyle
Underactive thyroid (hypothyroidism) (4)
Liver or kidney disease
High-calorie diet, such that you consume more calories than you burn on a regular basis
Cigarette smoking
Genetic factors
Certain medicines, such as steroids and birth control pills, may also raise triglycerides (6)
Metabolic syndrome
Metabolic syndrome is a combination of conditions, including high blood pressure, high blood sugar, high fat deposits around the waist, low high-density lipoprotein (HDL, or "good" cholesterol) level, and high triglycerides.
Thus, any person suffering from metabolic syndrome is likely to exhibit an elevated level of triglycerides.
Signs and Symptoms of High Triglyceride
High triglycerides usually do not cause symptoms. However, it can pose a risk of:
A simple blood test that goes by the name of a lipid panel is administered to determine your triglyceride and cholesterol levels. Fasting for 8–12 hours prior to the test is advised to get an accurate measurement of your triglyceride level and to determine whether your triglycerides fall into a healthy range.
Normal triglyceride level – less than 150 mg/dL (milligrams per deciliter)
Borderline high triglyceride level – 150 mg/dL to 199 mg/dL
High triglyceride level – 200 mg/dL to 499 mg/dL
Very high triglyceride level – 500 mg/dL and above
Alternative Remedies for High Triglyceride levels
Here are 10 home remedies to reduce your triglycerides.
1. Add garlic to your daily diet
Garlic is one of the best remedies to reduce triglycerides.
A 2016 study published in the Journal of Nutrition found that garlic supplements have the potential of lowering blood pressure in hypertensive individuals, stimulating the immune system, and regulating slightly elevated cholesterol concentration. (10)
Another 2006 study published in the Journal of Nutrition further highlighted the effectiveness of garlic compounds in suppressing low-density lipoprotein (LDL) oxidation, which may be one of the mechanisms that make garlic contributive to better cardiovascular health. However, further studies are required to comprehensively validate this health-promoting attribute of garlic. (11)
Do take note that raw garlic has a more profound effect than boiled garlic in controlling these parameters, given fresh garlic has lipid-lowering activity.
How to consume:
Eat 2 to 3 raw garlic cloves on an empty stomach daily for a few months. You can also include fresh garlic in your salad dressings.
Alternatively, take garlic supplements after consulting your doctor.
2. Drink apple cider vinegar with honey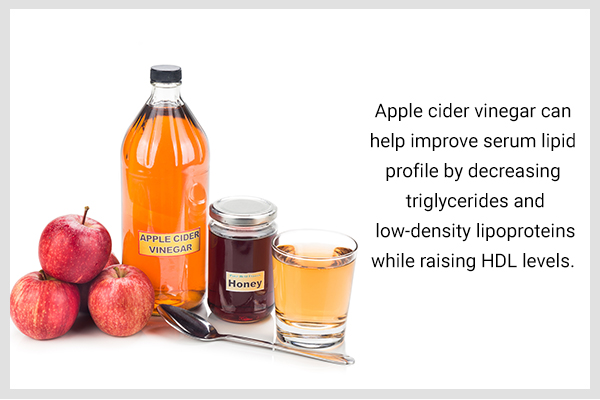 Apple cider vinegar also helps reduce triglycerides and cholesterol levels. (12)
A 2008 study published in the Pakistan Journal of Biological Sciences found that apple cider vinegar helped improve serum lipid profile in both normal and diabetic rats by decreasing triglycerides and low-density lipoproteins (LDL or 'bad' cholesterol) while raising HDL levels. (13)
How to consume:
Mix 1 teaspoon of raw, unfiltered apple cider vinegar in a glass of water.
Add a little raw honey to it.
Drink this solution twice daily for at least a couple of months.
You can also mix apple cider vinegar with fresh orange, apple, grape, or other fruit juices.
Note: Some people may experience side effects after consuming apple cider vinegar. Side effects may include tooth erosion, blood thinning, throat irritation, and a decreased potassium level in the body.
3. Coriander seed powder can be beneficial
Coriander seeds are a popular traditional treatment for high triglycerides.
According to a 2008 study published in the Journal of Environmental Biology, feeding coriander seeds to animals resulted in a significant decrease in their triglyceride and cholesterol levels. This was traced back to the significant hypolipidemic action of coriander seeds on the metabolism of lipids. (14)
How to consume:
Add 1 to 2 teaspoons of coriander seed powder to 1 cup of water.
Boil the water, strain it, and allow it to cool.
Drink this solution once or twice daily for a few months.
4. A warm cup of cayenne pepper solution
Cayenne pepper, known for adding spicy heat to your foods, also helps lower triglycerides naturally. It contains an alkaloid compound, capsaicin, that helps reduce triglycerides and LDL cholesterol in obese individuals. (15)(16)
How to consume:
Add ½ to 1 teaspoon of cayenne pepper to 1 cup of hot water. Drink this solution twice daily for a few weeks.
Another option is to take cayenne supplements. Consult your doctor for the proper dosage and its suitability for your case.
Note: Cayenne pepper may irritate the stomach; therefore, it should be taken only after consulting with your GP if you are suffering from heartburn or stomach ulcers.
5. Incorporate cinnamon in your diet
Cinnamon may help lower your triglycerides.
According to a 2003 study published in Diabetes Care, cinnamon improves the glucose and lipids in people with type 2 diabetes. Intake of 1 to 6 grams of cinnamon daily helped people with type 2 diabetes lower their triglycerides and LDL cholesterol. (17)
A 2016 study published in the Journal of Traditional and Complementary Medicine found that supplementation with 500 mg of cinnamon extract for two months engendered a positive impact on the fasting insulin, blood glucose, total cholesterol, and LDL cholesterol levels while simultaneously enhanced the insulin sensitivity of subjects with elevated blood glucose. (18)
How to consume:
Add ¼ teaspoon of ground cinnamon to your morning oatmeal. You can also sprinkle ground cinnamon on smoothies, soups, and salads.
Cinnamon is also available in capsule form at most drugstores and health food stores. Take the supplement after consulting your doctor.
6. Consume red yeast rice
In Chinese medicine, red yeast rice is a popular and oft-recommended treatment for lowering triglycerides.
It contains a group of naturally occurring statins and has a marked modulating effect on lipids and C-reactive protein (CRP) concentrations. This, in turn, helps lower triglycerides and high cholesterol levels.
A 1997 study published in Current Therapeutic research found that red yeast rice (scientifically known as Monascus purpureus) preparations in conjunction with a proper diet produced a favorable lipid-lowering effect in hyperlipidemic patients. Use red yeast rice by following the instructive guidelines that come with the packaging or as directed by your doctor. (19)
Note: Avoid red yeast rice during pregnancy and breastfeeding or when suffering from liver or kidney problems. Be cautious when taking red yeast rice products as some of them may contain lovastatin and other chemicals that may cause adverse side effects.
7. Eating reishi mushrooms can help
Reishi mushroom is beneficial to the cardiovascular system due to its high content of heart-saving substances including sterols, ganoderic acids, coumarin, mannitol, and polysaccharides.
According to a 2016 study published in PLOS One, reishi mushrooms, scientifically known as Ganoderma lucidum and originating in Mexico, were found to contain bioactive compounds that exhibit hypocholesterolemic properties and prebiotic effects. (20)
The ganoderic acids in Reishi mushroom help lower triglyceride levels, remove excess cholesterol from the blood, lower blood pressure, reduce platelet stickiness, and even help correct arrhythmias. (21)
For lowering triglycerides, you can take reishi mushroom extract. The appropriate dose depends on factors such as age and current health conditions, so consult your doctor first.
Note: Reishi mushrooms should not be consumed in powdered form for more than 1 month as long-term use can be toxic to the liver.
8. Increase your fiber intake
Fiber helps regulate the food absorbed and passed through your body, and high-fiber foods can significantly lower both your triglycerides and LDL cholesterol. (22)
Both soluble and insoluble fibers help lower triglycerides. Soluble fiber binds the excess triglycerides like a gel, making it easier for the body to excrete it. Fiber also reduces and slows down the absorption of fats and sugars.
Insoluble fiber helps control hunger pangs and increases the absorption of nutrients from your food, helping enormously if you are trying to lose weight. (23)
How to consume:
Eat foods high in soluble fiber such as oatmeal, bananas, peas, and strawberries.
Eat foods high in insoluble fiber such as whole grains, whole-wheat products, beans, greens, and many vegetables.
Note: If you are just starting to eat fiber-rich foods, increase your fiber intake gradually to avoid gas discomfort. At the same time, increase your water intake to help the digestive system process the fiber and avoid constipation.
9. Eat foods rich in omega-3 fatty acids
Studies suggest that omega-3 fatty acids help reduce triglycerides by reducing the production of very low-density lipoprotein (VLDL) by the liver, accelerating chylomicron and VLDL elimination from the blood and converting fatty acids into energy (oxidation). (24)
A 2011 study found in the American Journal of Clinical Nutrition found that two long-chain omega-3 fatty acids by the name of eicosatetraenoic acid (EPA) and docosahexaenoic acid (DHA), when consumed in high dosage over the course of 8 weeks, had a mitigating effect on the triglyceride count of healthy adults with moderate hypertriglyceridemia. (25)
How to consume:
Dietary sources of omega-3 fatty acids are salmon, mackerel, cod, walnuts, legumes, green leafy vegetables, flaxseed oil, and soybean oil.
You can also take a supplement. Consult your doctor for the correct dosage and how long to take the supplement.
10. Exercise regularly
Physical activity may play a key role in reducing your triglyceride level. However, it is important to customize your exercise routine in accordance with the severity of your condition as well as individual risk factors.
Being active is the first step towards burning the extra fat and losing weight, which will automatically reflect in improved triglyceride levels. Moreover, it helps lower cholesterol and blood pressure too. (26)
A 2013 study published by the Journal of Applied Physiology states that acute high-intensity endurance exercise is more effective than moderate-intensity exercise for attenuation of postprandial triglyceride elevation. Hence, high-intensity endurance exercises are the way to go if you want to keep your triglycerides in check. (27)
Consult your doctor about the type of exercises that you can do given your particular health conditions.
Preventing High Triglyceride Levels
Shedding the extra pounds can go a long way in reducing your triglyceride levels. If you are overweight, losing 5% to 10% of your body weight will do wonders for your health in general and triglyceride levels in particular.
Cut down on added sugar by avoiding sweets, sodas, and other sugary beverages.
Substitute saturated fats with healthy polyunsaturated fats such as safflower, corn, and soybean oils or healthy monounsaturated fats such as canola and olive oils.
Because the excess carbohydrate in your diet is what gets later converted into triglycerides, it is essential to follow a low-carbohydrate diet.
Minimize alcohol consumption, because even a small amount can cause significant damage as far as triglyceride levels are concerned.
Follow a disciplined and regular eating pattern, broken down into six small meals over the course of the day rather than 3 large meals.
Additional Tips to Raise Triglyceride Levels
Limit fructose by avoiding corn syrup and dried fruits, such as raisins and dates.
Follow a moderately low-fat diet.
Replace your regular dairy products with low-fat products.
Cut back on saturated fats found in red meat, poultry, butter, cheese, milk, and coconut and palm oils.
Avoid refined and processed foods that can cause a sudden rise in your body's insulin, which can lead to a spike in triglycerides.
Up the intake of tree nuts such as almonds, pecans, cashews, walnuts, etc., as they are rich sources of fiber, omega-3 fatty acids, and unsaturated fats.
When to See a Doctor
Keeping regular tabs on your triglyceride levels goes a long way in preventing other associated maladies. Thus, it is imperative to get regular screenings done.
For adults above the age of 20, it is recommended to get a lipid profile every 4–6 years. As for children, it is well advised to get a lipid profile done once between the ages of 9 and 11 and then once more between 11 and 20.
If you have high triglycerides, you can reduce your level with lifestyle changes, a proper diet, and some simple home remedies. At the same time, you must continue to take the medicines prescribed by your doctor.
Final Word
The above listed lifestyle changes, dietary recommendations, and home remedies can help bring down high triglyceride levels, but they do not serve as an alternative to your doctor prescribed medication.
You can use these self-care interventions as an adjunct to your main treatment.
Was this article helpful?