Cooking at home, generally, is probably the most important cooking tip there is. Why? Because in home cooking, the cook – you – is in charge of what is going into your meal, the freshness of the ingredients, and the amount of items that add flavor and calories (oil and other fats, sugar, salt, etc.).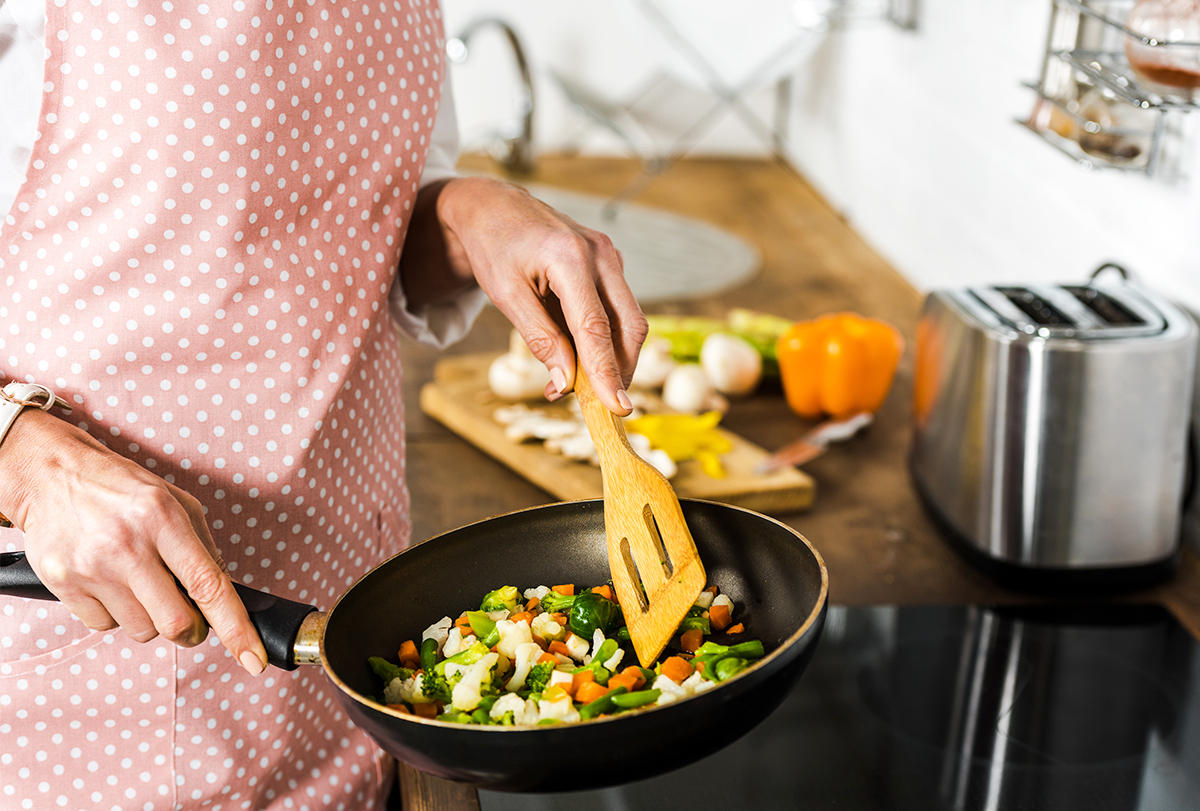 By contrast, restaurant or store-bought meals often contain processed ingredients, such as white flour, refined oils and sugar, preservatives, flavor enhancers, and high amounts of sodium.
However, cooking at home does not always guarantee a healthful meal. The method of cooking matters, along with the ingredients used.
Whether you are sautéing mixed vegetables, roasting chicken, or frying fish, the food's nutritional value must be preserved as much as possible without adding extra calories. To do this, here are some useful few tips:
1. Steam Your Veggies
Steaming only takes a few minutes and is known to preserve most vitamins, minerals, and other healthful nutrients in veggies. If you boil them, a lot of the nutrients are lost to the water.
One study found that cauliflower, peas, and zucchini lose about 50% of their antioxidants through boiling. (1) This is also true for broccoli, which is one of the most potent anticancer foods. (2)
2. Reduce Oil in Sautéing and Frying
Many vegetable oils are highly refined and processed to extend their shelf life and get rid of their smell and flavor that may interfere with the cooked meal. While processing may help with flavor, it sure does not do any favors to your health. (3)(4)
The most commonly used oils in the United States are canola, corn, soybean, and palm oils. Although they are rich in monounsaturated fatty acids, are low in saturated fats, and have some vitamin E and health-promoting omega-3 fats, they pose unhealthy effects due to the refining process and chemicals involved in producing them.
Oils are generally high in calories but do not offer a lot of nutrients. It is best to use only a small amount of oil when sautéing. You can substitute half of it with vegetable, chicken, or beef broth.
For high-heat cooking, choose high-smoke-point oils, such as avocado and coconut, while your salad could use a splash of extra virgin olive oil.
3. Use a High-Temperature Oven or Air Fryer
Craving something crunchy and crispy, such as French fries or chicken wings? They do not have to be unhealthy at all. You can bake potatoes and yams, cut and spiced, at 450°F in your oven or air fryer, with minimum or no oil! The same goes for chicken wings.
The key is high temperature and the right amount and type of spices – go wild with turmeric, chili powder, lemon juice, garlic powder, cumin, coriander, oregano, etc.
4. Use Whole-Grain Flour in Baking
Whole grains are a source of fiber, vitamins, and minerals. (5)
In contrast, white/refined flour is mostly starch (simple carbohydrate or sugar) since its bran (source of fiber) and germ (source of vitamin E, folate (folic acid), phosphorus, thiamin, zinc, magnesium, and essential fatty acids) are removed to extend its shelf life and to make the finished baked goods fluffy and tender.
You can either use 100% whole-grain flour in your recipes or mix it with white flour when baking goods such as pastry.
5. Make Your Own Salad Dressing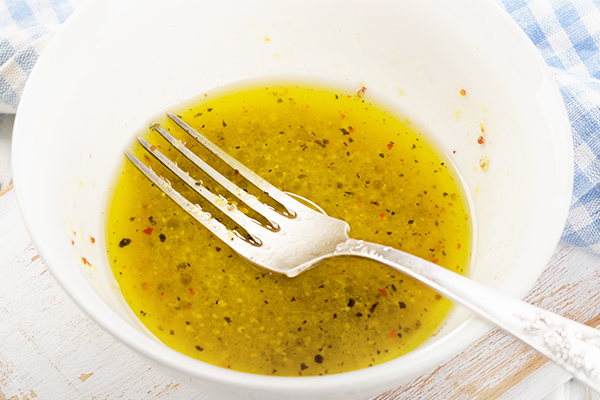 Next time you are shopping for groceries, look at the ingredient list of a bottle of salad dressing – does it have to be that long?! Seriously, a seemingly simple item that should only have a handful of things looks like it could feature a three-course meal!
Why don't you make your own simple and healthy salad dressing instead? Here are some easy recipes:
Fresh vinaigrette: Combine olive oil with lemon juice, some Dijon mustard, salt, and pepper.
Balsamic vinaigrette: Combine olive oil and balsamic vinegar.
Garlic tahini dressing: Blend up tahini, lemon juice, garlic clove, a touch of maple syrup, and some water.
6. Use Nonfat/Low-Fat Greek Yogurt
Skip the mayo or sour cream and opt for nonfat or low-fat Greek yogurt. (6) It is just as thick and flavorful but has fewer calories and fat and a lot more protein to improve satiation.
To make it savory for a potato or chicken salad, add some Dijon mustard, garlic powder, nutritional yeast, or soy sauce.
7. Use Ground Flaxseeds Instead of Eggs in Baking
Flaxseeds are a great substitute for eggs. They have lower calories and work great in your vegan dishes. To make this egg substitute, whisk 1 tablespoon of ground flaxseeds with 3 tablespoons of water. Let it sit for 5 minutes to reach a gelatinous composition and mix it in your batter.
8. Replace Regular Rice With Cauliflower Rice
Cauliflower is a healthy, nutritious, and flavorful replacement for rice. If you are so used to regular rice, you may slowly ease into the habit by combining one-half cooked rice and one-half cauliflower rice.
9. Consider Veggie Pasta
Combine half of your spaghetti with half zoodles (spiralized zucchini) or roasted spaghetti squash. You get half the calories and extra fiber.
Plus, veggie pasta makes for an amazing presentation.
10. Use Applesauce Instead of Oil in Baking (or Use Half of Each)
Applesauce adds sweetness, preserves some fluff, and reduces the calories. The texture of the finished product will be a bit different but not significant enough to affect the taste.
Final Word
Healthy eating habits can never be stressed enough. What you consume and to what degree you consume it are important to be tracked.
Cooking at home is the best way to not only consume a healthy diet but to also be able to track the number of calories you intake. Cooking at home has many benefits – it saves you money, and you can make low-calorie and high-nutrient meals.
Limit eating out, follow the tips above, and experiment with foods you love. In no time, you will feel an improvement in your energy levels, weight, skin condition, and digestion.
Was this article helpful?