The heart is the source of life – it pumps blood around the clock to keep your organs functional. The heart is a rather resilient organ and functions well under fair conditions.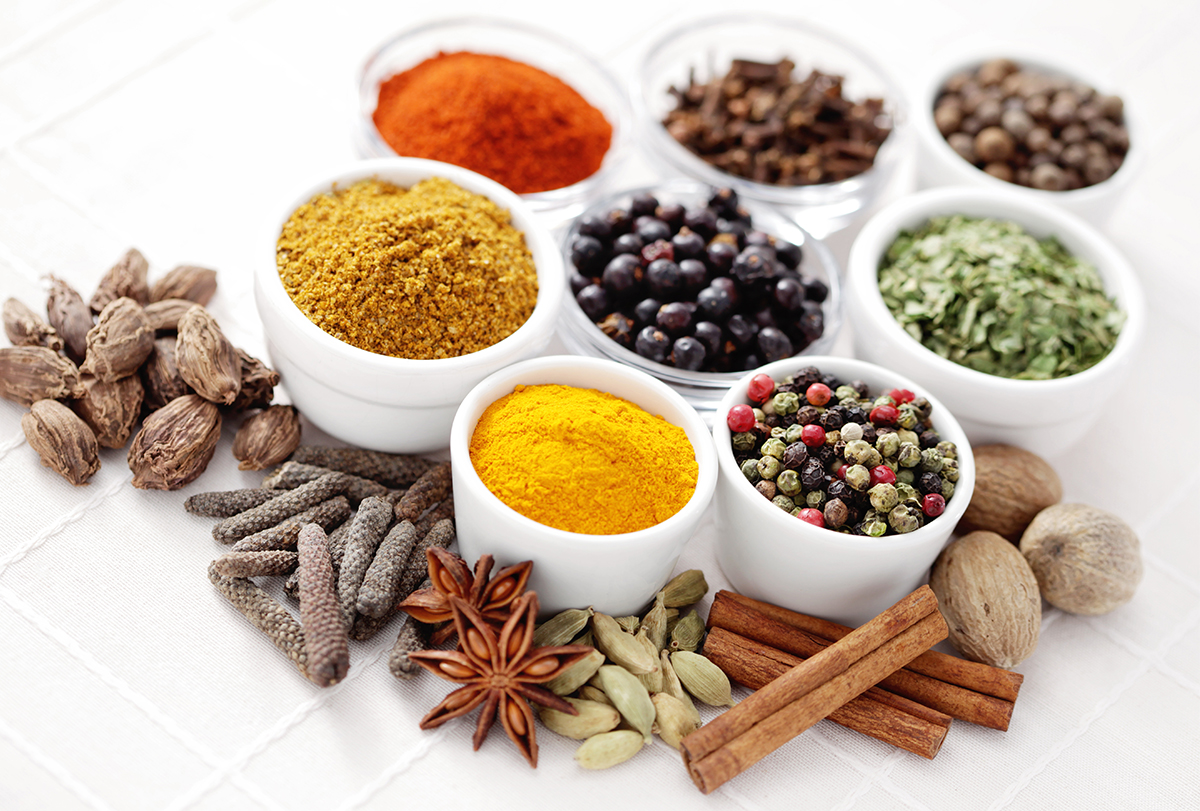 However, many people often unintentionally neglect heart health by forgoing healthy eating and exercise and engaging in harmful behaviors such as smoking. While you cannot control all of the factors at play, you certainly can change or tweak the way you eat to ensure your "biological pump" performs its best into old age.
Adding herbs and spices to your everyday cooking can go a long way in protecting your heart while bringing up tons of flavor. Let's explore the world of heart-friendly herbs and spices.
1. Turmeric
Inflammation is damaging to all organs and systems in your body, including the heart. Curcumin, the active compound in turmeric, has been found to have anti-inflammatory, antioxidant, anticarcinogenic, antithrombotic, and cardiovascular protective effects. (1)
Adding turmeric to your diet is easy by using it as a spice in curries, stews, soups, roasted veggies, and even smoothies and hot drinks. The recommended amount of turmeric to combat high cholesterol and hyperlipidemia is 700 mg of turmeric extract (available in supplement form) twice daily for 2–3 months.
As an additive, you can safely consume about 3 mg of curcuminoids per kg, according to the WHO. (2)
2. Ginger
Research shows that ginger may aid in maintaining a healthy heart. Ginger possesses anti-inflammatory properties, reducing oxidative stress that is damaging to the heart. In several studies, ginger was also shown to reduce cholesterol levels, (3) improve liver function, (4) and reduce blood pressure, (5) all implicated in healthy heart function.
Adding dry ginger as a spice to any cooked meals and using fresh ginger in tea preparations are excellent ways to incorporate this spice into your diet to reap heart health benefits. Consume at least 5 g of freshly grated ginger a day, or use ginger extract at 50 mg/kg of body weight (23 mg/lb body weight).
3. Cinnamon
Research-based evidence has highlighted the antioxidant, anti-inflammatory, antidiabetic, antimicrobial, anticancer, lipid-lowering, and cardioprotective properties of cinnamon. These therapeutic properties can be traced back to the active oils and compounds, such as cinnamaldehyde, cinnamic acid, and cinnamate, found in cinnamon. (6)
Cinnamon is great in oatmeal, breakfast cereal, fruit salad, yogurt, tea, or coffee, baked goods, almond butter banana toast, or pumpkin soup. Strive for at least ½–1 teaspoon of cinnamon per day.
4. Garlic
In addition to its anti-inflammatory, antibacterial, and antifungal properties, garlic is also claimed to have beneficial effects on the prevention of various aspects of cardiovascular disease, including hypertension and dyslipidemia. (7)
Considerable evidence from the literature supports the invaluable role of garlic in the treatment of hypercholesterolemia through the inhibition of cholesterol biosynthesis in the liver and also inhibition of the oxidation of low-density lipoproteins. (8)
Garlic can be used in its raw form or as a dried powdered spice when cooking, adding lots of flavor to the dish. In supplement form, 600–900 mg of garlic powder showed a significant reduction in blood pressure. (9)
ALSO READ: A Detailed Guide to Garlic: What's in It, Why It's Good for You, and More
5. Onion
Similar to garlic, onions have the potential for lowering cholesterol, decreasing triglycerides, and reducing inflammation, leading to cardioprotective effects.
Onions contain powerful flavonoids (pigment-containing compounds) such as quercetin and alkenyl cysteine sulfoxides (ACSOs), which are credited with significant antioxidative, antiasthmatic, antibiotic, and anticarcinogenic activities. (10)
One way of enjoying raw onion without dealing with its overwhelmingly strong pungent taste is to marinate sliced red or white onion in apple cider vinegar overnight. Go for half to one whole raw onion a day for heart health benefits.
6. Black Pepper
One of the most widely used spices, black pepper, is also a potent antioxidant and anti-inflammatory booster and has positive associations with lipid-lowering effects. Its active ingredient, piperine, is the one responsible for the reduction of LDL (bad) cholesterol and an increase of HDL (good) cholesterol levels. (11)
Black pepper is also rich in vanadium, which may promote cardiac function recovery after a heart attack. Add up to 1 teaspoon of black pepper a day to your meals.
ALSO READ: The Health Benefits of Black Pepper
7. Chili Peppers
Capsaicin, the major active compound in chili peppers, is used as an analgesic. This compound has also been found useful in managing other serious and chronic health problems, including obesity, diabetes, cardiovascular disorders, various cancers, and dermatological conditions.
Several studies showed that the daily intake of 4 mg capsaicin considerably improved the good cholesterol (HDL) levels and reduced the triglyceride and C-reactive protein levels in healthy subjects. (12)
Depending on your tolerance level, try adding as little as ¼ teaspoon of powdered chili pepper a day or ½ small fresh pepper to your meals and increase up to 1½ teaspoon or 1–2 whole chili peppers to your daily diet.
8. Coriander
Coriander, also known as Chinese parsley or cilantro, has a long history as traditional medicine.
Coriander seeds were noted to have a remarkable lipid-lowering action, leading to reduced LDL cholesterol and triglyceride levels and increased HDL levels. (11) Coriander is used ubiquitously in Indian, Thai, Chinese, Mediterranean, Mexican, and Eastern European cuisines.
To reap heart benefits, 1–2 teaspoons of coriander daily is recommended.
9. Anise
Anise tea is known to improve digestion and reduce tummy bloating and digestive discomfort. Anise is also used in cooking and as a flavoring in alcohol.
In one study, this spice was found to have anti-inflammatory and antioxidant activity and may reduce vascular inflammation, which is common in atherosclerosis, one of the leading causes of heart attacks. (13)
Consuming 6–9 g of ground anise seeds may provide anti-inflammatory benefits.
10. Clove
Clove is known to exhibit antibacterial, anticancer, anti-inflammatory, and blood sugar regulation properties, which have been utilized in folk medicine for ages.
Some studies have also shown its effects on reducing inflammation, blood glucose levels, and lipid levels in type 2 diabetic rats, leading to reduced evidence of atherosclerosis. (12)
Add 1–2 teaspoons of ground cloves to your daily diet.
11. Dill
Dill is often used in traditional medicine for preventing and managing various ailments such as colic in infants, digestive problems, and respiratory diseases. This healing herb may also help reduce blood cholesterol and glucose levels.
One study found that the levels of serum triglycerides, LDL, VLDL, and blood glucose significantly reduced in dill extract-treated hamsters fed a high-cholesterol diet when compared with the control group. (12) However, more research is needed to validate the potential heart-protective effects of dill.
Eating fresh is always best, so add 10 g of dill to your salad. Dry dill is also available as a spice; sprinkle a couple of teaspoons in your cooking for flavor and health benefits.
Final Word
Heart disease is the number one killer in the United States. While heart disease medications are available in all shapes, forms, and efficacies, adding natural treatments and dietary intervention may help reduce the severity of the condition and, in some cases, either prevent or revert it.
Spices and herbs are easy to incorporate into your diet – they are available, affordable, and simple to use.
Was this article helpful?