Did you know that the foods you eat can either help or hurt your brain health? That's why it's important to add foods into your diet that support brain function and help prevent cognitive decline.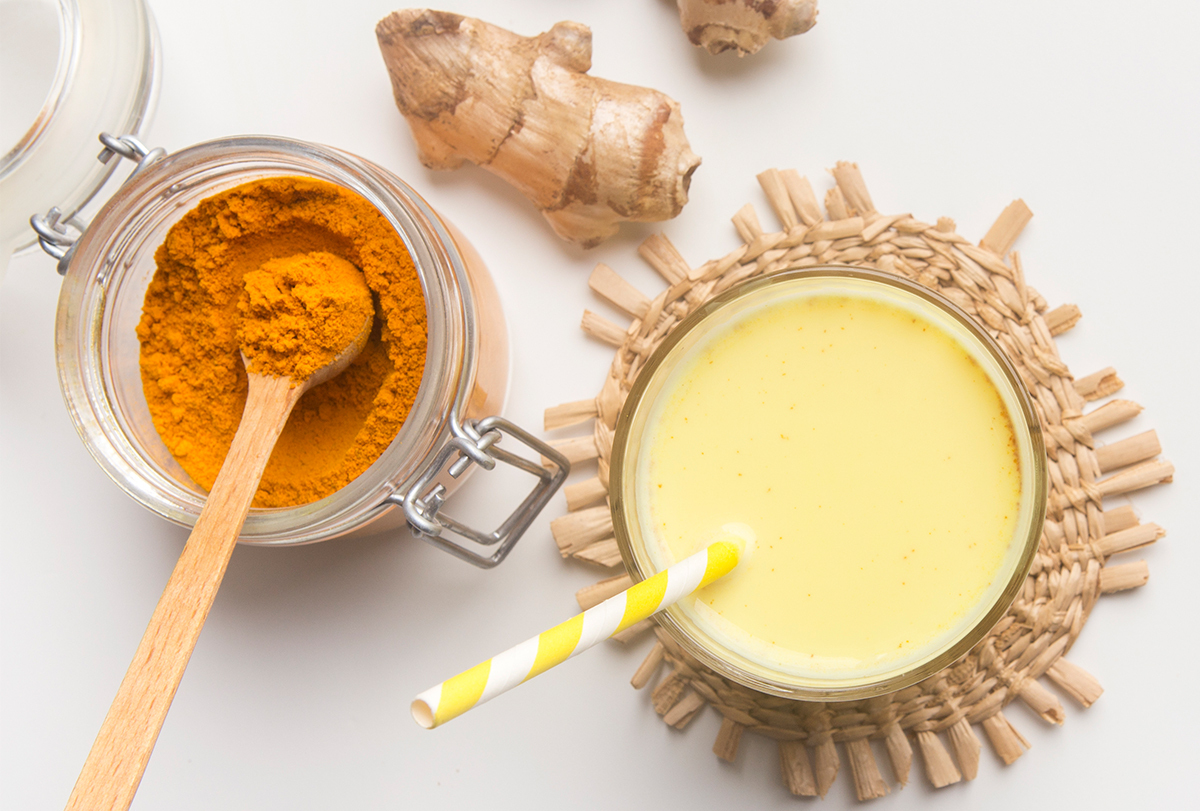 Research shows that prioritizing whole foods such as colorful fruits and vegetables, whole grains, legumes, nuts, and seeds in your diet can help protect and support the health of your brain. (1) Fatty fish, which is a great source of omega-3 fatty acids, and herbs and spices can help promote optimal brain health as well.
By incorporating more whole foods into your diet, with a focus on plant-based foods, you can help improve your cognitive function, focus, and memory.
Even the herbs used to flavor dishes yield many medicinal properties on account of their rich nutritional composition. Different herbs exhibit different healing effects depending upon their unique mix of nutrients and compounds.
Many of these have been used in folk medicine for centuries and have gained scientific approval over the years as well. Research supports that certain herbs and spices have a positive effect on your brain health when combined with a nutritious, balanced diet.
Herbs and Spices for Brain Health
The following herbs and spices are worth adding to your meals to boost brain function:
1. Turmeric
Turmeric is a yellow-colored spice that is commonly used in curry powder. It's known for its anti-inflammatory and antioxidant properties due to the compound curcumin.
Research shows that the curcumin in turmeric may help decrease the risk of developing Alzheimer's disease. (2)
Studies have also found that the curcumin in turmeric helps boost docosahexaenoic acid (DHA) content in the brain. DHA is a form of omega-3 fatty acid that is essential for protecting the brain. (3)
To absorb the curcumin in turmeric optimally, use black pepper together with turmeric. Black pepper contains a compound called piperine, which works together with curcumin to increase curcumin's absorption. It makes curcumin more readily available for your body to use and obtain its health benefits. (4)
How to use:
Mix turmeric into your avocado spread, or make golden pancakes by adding it into your pancake mix.
Enjoy turmeric in a curry or drink a turmeric latte.
2. Rosemary
Rosemary is a beneficial herb for your brain and has been used in culinary, commercial, and medicinal practices for years and with good reason. Due to its anti-inflammatory properties, rosemary has been shown to improve memory and concentration in the elderly population. (5)
A double-blinded randomized controlled study also showed that subjects who took 500 mg of rosemary two times a day for a month fared better on their prospective and retrospective memory scores and suffered lesser anxiety and depression as opposed to those who got the placebo. (6)
How to use:
Cook rosemary on top of chicken or fish.
Toss rosemary with olive oil and fresh lemon juice to flavor roasted vegetables.
Make a warm tea with rosemary sprigs and honey.
3. Sage
Sage is an earthy-flavored herb used in many cuisines. Research shows that sage consumption can help improve cognitive function, both in healthy individuals and those suffering from dementia or cognitive impairment. (7)
In some studies, sage has been shown to improve cognition and learning in adults with mild or moderate cases of Alzheimer's disease. Furthermore, the consumption of sage in healthy individuals resulted in improved memory. (7)
How to use:
Cook sage in soups or add it to pasta dishes.
Pair sage with other herbs to flavor cooked vegetables.
4. Black pepper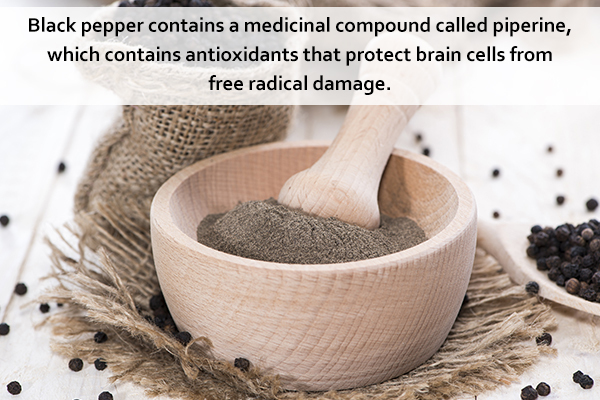 One of the most commonly used spices, black pepper is great for promoting brain health. Black pepper contains a medicinal compound called piperine, which contains antioxidants that protect brain cells from free radical damage.
One study noted that consuming piperine can help improve memory and cognitive function. (8)(9)
How to use:
Add black pepper to salad dressings with a moderate amount of salt, olive oil, and balsamic vinegar.
Season soups, stocks, or marinades with black pepper.
Use black pepper in a rub for poultry and fish before roasting or cooking.
5. Ginger
Ginger is known for its role in improving digestion, (10) but it also has anti‐inflammatory, antioxidant, antitumor, and antiulcer effects. (10)
There is also evidence that ginger can enhance brain function, but a study conducted in 2011 with 60 healthy middle-aged women found that ginger may improve both focus and cognition. (11)
Some studies also noted its ability to help prevent and treat neurological conditions such as Alzheimer's disease and dementia. (12)
How to use:
Add ginger to stir-fries, baked goods, salad dressings, smoothies, and tea.
6. Peppermint
Some studies suggested the aroma of mint, specifically peppermint, can enhance memory.
In one study with 144 volunteers, results demonstrated that the aroma of peppermint was found to enhance memory and increase alertness. (13)
Although further research needs to be conducted, current research shows great promise for peppermint's potential positive effect on brain health.
How to use:
Consume peppermint in the form of tea.
7. Holy basil
Holy basil contains antioxidant properties that may help with brain health.
In a small study, researchers found that adults who consumed holy basil for 15 consecutive days showed an increase in cognitive function compared to participants who were given a placebo. (14)
Although these results are promising, more research needs to be conducted to confirm holy basil's benefit on improving cognitive function.
How to use:
Consume holy basil in the form of tea.
Other Herbs and Spices That Boost Brain Function
In addition to the herbs and spices listed above, cinnamon, (15)(16) nutmeg, (17) oregano (18) and saffron (8) have been shown to help maintain and improve cognitive function. These herbs and spices may also protect against certain neurological diseases such as Alzheimer's disease and dementia.
Although there are many studies on the effects of these herbs and spices on improving brain health, further research needs to be conducted with more human studies to examine the full extent of these health effects.
Foods to Limit or Avoid to Support Brain Health
While there are foods to add to your diet to promote brain health, there are also foods and beverages you should limit or avoid to support a healthy brain.
The first foods you should consider reducing consumption of are highly processed foods, specifically processed foods high in sodium, saturated fat, and added sugars.
The Western diet pattern, which is made up of a high daily intake of refined carbohydrates and saturated fats from fried fast foods, has been linked to cognitive impairment and emotional disorders in both animals and humans. (19)
On the other hand, dietary patterns such as the Mediterranean diet have been shown to have a protective effect on the brain, serving as a potential preventive measure for cognitive decline or dementia. (20)
The Mediterranean diet is made up of a high intake of plant foods, limits meat consumption, promotes a moderate amount of alcohol consumption with a focus on red wine, and utilizes extra-virgin olive oil as a primary source of heart-healthy fats. This dietary pattern is rich in antioxidants along with monounsaturated fats and omega-3 fat, which have been associated with a lower risk of cognitive decline and dementia. (21)
Adopting the Mediterranean diet principles into your dietary pattern can be a beneficial way to support your brain health and function.
To further support brain health, consider also limiting or avoiding your consumption of high-sugar foods and sugar-sweetened beverages (22) alcoholic beverages, (23) and red meats. (24)
Consuming large amounts of these foods and beverages has been shown to negatively impact brain health, notably contributing to memory and cognitive decline. Moderation is key when consuming these foods.
Final Word
Brain health is so important, and your diet plays a key role. By consuming more whole and plant-based foods, omega-3 fatty acid sources, and herbs and spices, you can take comfort knowing that you are improving the health of your brain.
Was this article helpful?