Herbal teas have many health benefits. (1) There is a difference between true herbal tea and nonherbal tea.
True herbal teas are made from roots, berries, flowers, seeds, and leaves of a variety of plants. Nonherbal teas are made from the plant Camellia sinensis and contain caffeine. They include black, green, and oolong teas.
Both types of teas contain antioxidants (2) and have their own health benefits, so it's recommended to consume a combination of the two in appropriate amounts to maximize their positive effects.
This article, however, focuses on the myriad ways in which herbal teas can improve your health.
1. Weight Loss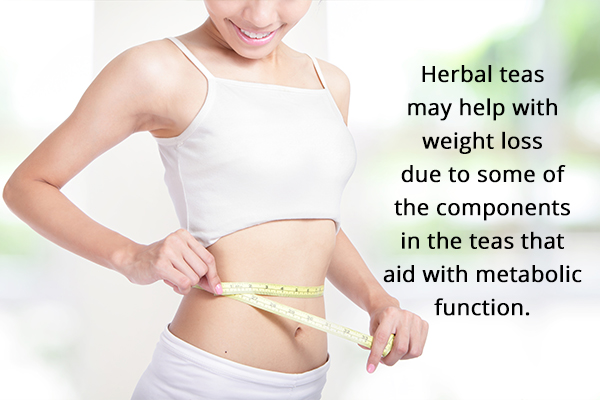 Some of the compounds in herbal teas are known to aid metabolic function, which thereby can facilitate weight loss. Catechins are a type of polyphenol present in herbal teas that have been researched for their ability to increase metabolic function. (3)
Combining herbal teas with nonherbal teas such as green tea can further improve weight loss due to the caffeine content in nonherbal teas.
Caffeine helps to increase fat metabolism and can help to burn fat more efficiently. (4) The combination of caffeine and catechins improves these effects and increases metabolic rate even more.
Drinking warm tea may also help with weight loss through thermogenic response, which is the body's ability to increase the speed of metabolism through the production of heat. (5) Tea also contains zero calories if nothing is added to it, making it a great beverage for those trying to lose weight.
2. Increased Energy
The catechins in herbal tea have also been shown to increase energy expenditure, which is the energy the body needs for physical activity.
Although green tea is not a true herbal tea, it does contain caffeine and lots of antioxidants, so combining it with true herbal teas can enhance the energizing effect. The result is increased energy and mental alertness.
Too much caffeine is not good for your system, but you don't have to worry about that when it comes to teas.
Teas typically contain half the amount of caffeine as a cup of coffee, and true herbal teas contain zero caffeine, so they are a great choice for limiting your overall caffeine intake while also reaping caffeine benefits.  
The healthy mix of herbal and nonherbal teas also invigorates your body by hydrating it, in a much more flavorsome way than plain water.
3. Anti-Inflammatory Benefits
Herbal teas contain antioxidants that have many health benefits, one being anti-inflammatory. The antioxidants in herbal tea help balance reactive oxygen species (ROS), which are produced in abundance within the body at sites of inflammation. (6)
Inflammation and the subsequent production of ROS are associated with a number of health conditions, including obesity, arthritis, irritable bowel syndrome (IBS), autoimmune disease, and eye disorders. (6)
The polyphenols and flavonoids in tea, among other antioxidants, help prevent inflammation and the release of ROS in the body, thus reducing the risk for these conditions and diminishing their side effects.
For instance, ginger contains powerful antioxidants and has been used in herbal medicine to treat inflammation and arthritis (7) for decades, often in the form of ginger tea.
4. Immune System Benefits
Herbal teas have also been credited with some immune system benefits, but these claims are still being studied. Basically, the antioxidant composition of herbal teas is known to help the body fight infections.
Research also shows that drinking herbal teas can reduce the duration of illnesses such as the common cold (8) through two mechanisms: the water content provides adequate hydration for the body and the antioxidants work to improve the immune functions.
Echinacea is a specific herbal tea used to fight the common cold by boosting immunity. Herbal teas also contain trace amounts of zinc, iron, and copper, which contribute to immunity. Zinc and iron increase immune response, (9) and copper is important for immune cells to multiply. (10)
5. Prevention of Chronic Diseases
The antioxidants in herbal teas prevent oxidative stress in the body. This reduces the formation of free radicals, which have been known to cause damage to cells. (11)
The formation of free radicals and the damage and stress to cells lead to an increased risk for all kinds of health conditions such as cardiovascular diseases, cancers, and type 2 diabetes.
Antioxidants stabilize and reduce these free radicals in the body and work against oxidation to prevent the onset of these diseases. Polyphenols and flavonoids are antioxidants present in herbal teas that promote the health of cells, prevent chronic diseases, reduce the duration of these diseases, and improve their associated symptoms.
Chamomile tea is an herbal tea that specifically has been researched and has been shown to prevent complications from diabetes (12) and stunt the growth of cancer cells. (13)
Hibiscus tea is associated with lowering of blood pressure, (14) and rooibos (red tea) contains a particularly high amount of flavonoids with cancer-fighting properties.
6. Healthy Aging
Polyphenols, including flavonoids and other antioxidants present in herbal teas, have been shown to fight the effects of aging by reducing oxidative stress in the body. (15)
Oxidative stress in terms of aging is related to problems such as wrinkles, poor eyesight, increased risk for illness, and decreased ability to stay physically active. Antioxidants improve all of these.
Research shows antioxidants like flavonoids may increase the body's ability to participate in physical activity. (16) Staying active helps delay the effects of aging and keeps people stronger and healthier for longer.
Flavonoids have also been studied for their effects on cognitive health and may provide benefits in terms of memory and other cognitive and mental health functions. They are also currently being studied for the possibility of decreasing the risk for diseases such as Alzheimer's disease and dementia. (17)
ALSO READ: Anti-Aging Foods: Diet to Delay Aging
7. Insomnia and Relaxation
Herbal teas may be able to help with sleep and relaxation. Chamomile tea specifically contains a substance called apigenin, which is a powerful antioxidant and has been shown to decrease anxiety and improve sleep. (18)
Research has also shown that chamomile tea may contain chemicals that bind to benzodiazepine receptors in the brain to reduce anxiety and improve sleep. (19)
Lemon balm is another herbal tea that has been shown to have a calming effect and to help relieve insomnia and anxiety. (20)
Teas with valerian root and lavender also have sleep-promoting benefits, including relaxing and settling nerves. Compounds in these teas have been shown to bind with GABA receptors in the brain, producing a sedative effect and promoting a good night's rest. (21)
8. Pregnancy and Lactation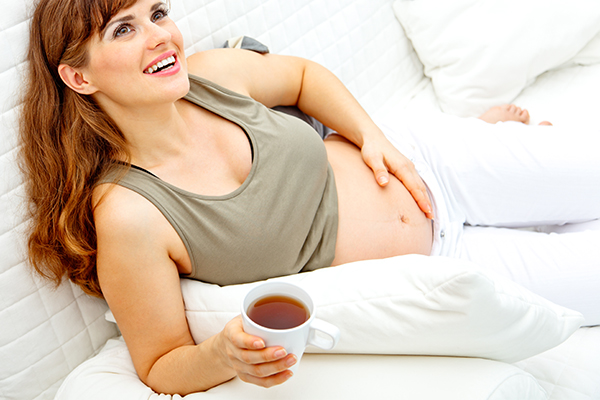 Herbal teas were also found beneficial for pregnancy and lactation. (22) They contain trace amounts of iron and calcium, which are important for the health of both the mother and baby.
Iron is essential for maintaining optimum blood health, preventing anemia in the mother, and improving the transport of oxygen in both the mother and baby. Calcium helps improve bone health in both the mother and baby.
The best teas for pregnancy are true herbal teas since they contain no caffeine. Red raspberry leaf tea is a popular choice and provides benefits such as decreasing the length of labor and reducing the risk of assisted delivery or delivery by cesarean section.
This tea is also rich in iron and was shown to increase milk production, (23) decrease nausea, and ease labor pains while promoting overall uterine health. Anise and fennel are two other plants that are used to make herbal teas that promote milk production.
Other teas that have pregnancy benefits include peppermint, which has been shown to help with nausea, morning sickness, and flatulence, (24)(25) and lemon balm tea, which produces a calming effect and can help with anxiety and insomnia during pregnancy.
Final Word
Herbal teas have zero caffeine content, which sets them apart from other nonherbal teas. The absence of this powerful stimulant makes herbal teas much more calming than caffeinated beverages, but it also deprives them of some of its key benefits.
Also, herbal teas are far better endowed with health-promoting antioxidants than regular teas. Thus, each variant of tea has its own benefits, and the best thing to do is to consume a healthy combination of both herbal and caffeinated teas.
Bear in mind that these therapeutic beverages cannot improve your health simply by themselves, unless you include them in an overall healthy diet and lifestyle. Moreover, no matter how healthy the tea, it cannot cure illnesses but can only help ease their symptoms and make them more manageable.
All in all, herbal teas can mainly energize and hydrate your body without causing any adverse side effects, which can ultimately help you lead a healthier and more active life.
Was this article helpful?