Wheatgrass, as the name suggests, is the young grass of wheat seed. It is used as a natural supplement to boost health due to its rich nutrient profile and many health benefits.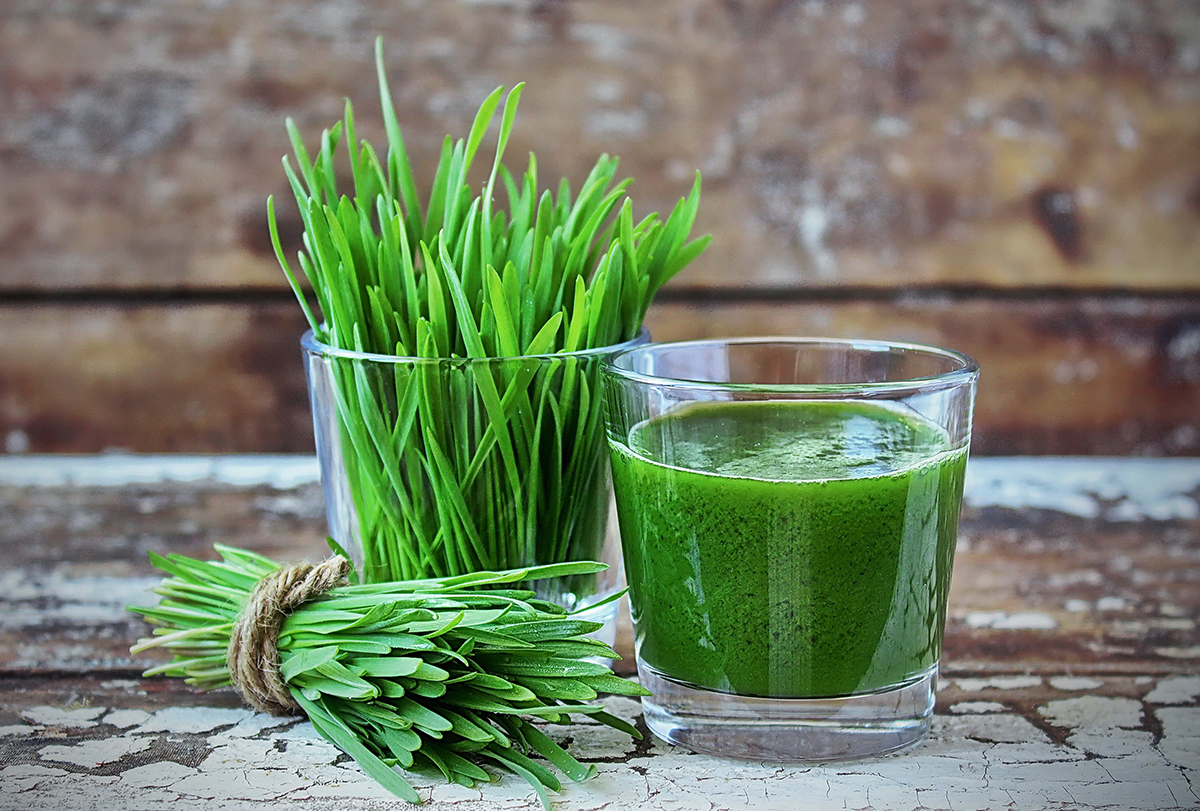 It contains minerals, including calcium, phosphorus, magnesium, zinc, and iron, and vitamins, including vitamins A, C, E, and B complex. In addition, its rich chlorophyll content makes it an antioxidant-rich source useful in many conditions. (1)
Top Health Benefits of Wheatgrass Juice
Here are some of the health benefits drinking wheatgrass juice can offer.
1. Reduces inflammation in the body
The rich flavonoid content of wheatgrass makes it a great anti-inflammatory food. Apigenin, in particular, has antioxidant potential. In addition, the vitamins C and E in wheatgrass are also antioxidants.
In a test-tube study, wheatgrass extract was found to have an anti-inflammatory function, especially in macrophages, which are a type of immune response cells. The chlorophyll content of wheatgrass also was found beneficial in the treatment of inflammatory diseases such as dengue, allergic rhinitis, acne, and other chronic illnesses such as diabetes. (2)
2. Balances cholesterol levels
Elevated cholesterol levels are responsible for heart diseases. Excessive fat in the blood can build up in the blood vessels, restricting blood flow, causing atherosclerosis, and raising blood pressure.
In animal studies, wheatgrass juice was found to have the ability to excrete excess cholesterol from the body, thereby improving overall cholesterol and fat levels. (3)
In postmenopausal women with high levels of cholesterol, supplementation with 3.5 g of wheatgrass for 10 weeks lowered their total cholesterol and triglyceride levels without affecting HDL (good cholesterol). (4)
Therefore, daily consumption of wheatgrass in the form of pills, powder, or juice can help lower cholesterol levels.
3. Helps in the management of thalassemia
Wheatgrass juice has been found to be an effective supplement for anemia and thalassemia in children. (1)
The main treatment for thalassemia is blood transfusions; wheatgrass juice supplementation improves blood parameters including ferritin and folic acid. (5)
In one study, supplementation with wheatgrass maintained the ferritin levels and increased folate levels in children with thalassemia. (5)
It is important to note that these results were obtained alongside blood transfusion and that wheatgrass shouldn't be consumed as the only treatment for thalassemia.
4. Promotes digestion
The beneficial compounds in wheatgrass help in digestion by reducing gas, bloating, and discomfort. (6)
The thylakoids in wheatgrass' chlorophyll also play a beneficial role in achieving a feeling of fullness and reducing hunger post meal. This can effectively reduce overeating and its subsequent discomfort. (7)
5. Improves liver function
Wheatgrass juice has a protective role in the liver. The antioxidant compounds in it act as a liver cleanser. (8)
In a study done on rats, supplementation with wheatgrass juice was effective in protecting the liver against damage by alcohol and fat. (8)
This action of wheatgrass is also effective in aiding the removal of toxins from the body as the liver is the main detoxification site of the body.
6. Controls blood sugar
Wheatgrass juice is a useful supplement in the management of diabetes. It not only protects the body against oxidative damage caused by uncontrolled blood sugar levels, but it also helps in the management of blood sugar itself. (9)
Animal studies have shown that consuming wheatgrass juice normalized blood sugar, lowered fat levels, managed body weight, and restored the cells to their prediabetic stage. (9)
7. Supports skin health
The nutrients in wheatgrass are effective in restoring skin health and preventing premature aging of the skin. A lot of physicians have also used wheatgrass in the treatment of skin diseases such as eczema and psoriasis. (10)
In addition, the anti-inflammatory and antioxidant properties of wheatgrass are beneficial in ridding away acne. (2)
8. Aids wound healing
Components of wheatgrass exhibit some wound-healing properties. (11)
In test-tube studies, derivatives of wheatgrass juice increased the production of collagen and components of cells involved in wound healing. (12)
In a human study, wheatgrass extract was more useful in treating burn wounds than sulfadiazine, while also reducing pain within 24 hours. Wheatgrass extract is a cheaper alternative in the management of burns and warrants further research. (13)
9. Improves mental health
Wheatgrass can also protect the brain against age-related degeneration such as in Alzheimer's disease and can improve overall mental health due to its vitamin B content. (14)(15)
In rats, wheatgrass juice reduced inflammatory markers involved in inducing brain damage and causing forgetfulness such as seen in Alzheimer's disease. (14)
10. May help in reducing blood pressure
Wheatgrass has a rich amount of minerals that can improve the nutritional quality of other fruit juices. Wheatgrass juice itself has a high chlorophyll content that can be effective in reducing blood pressure. (1)
11. May prevent cancer
One of the most widely discussed and known roles of wheatgrass is its capacity to act as an adjunct in cancer management and relieving the symptoms of chemotherapy.
Not only does it play a protective role in the body against various types of cancers, but its antioxidant and anti-inflammatory profile improves immune parameters that are lowered due to chemotherapy.
Therefore, including wheatgrass juice as part of the daily diet can be beneficial in reducing the overall risk of cancers. (16)
How to Consume
Wheatgrass supplements are available as powders, pills, and capsules. The powder can be added to smoothies or water to drink daily.
Most packages will come with dosage instructions, and it is recommended to follow the ideal dosages.
Most-Asked Questions About Wheatgrass
Can I take wheatgrass every day?
Wheatgrass in its recommended dosage can be safely consumed every day.
Who should not take wheatgrass?
If you observe any allergic reaction or feel nausea or abdominal discomfort, stop consuming wheatgrass juice. Moreover, pregnant and lactating women need to consult their doctor before consuming wheatgrass juice.
Does wheatgrass have any side effects?
Nausea, loss of appetite, diarrhea, or constipation may occur if wheatgrass doesn't suit the body. This is why it is necessary not to overconsume wheatgrass.
Does wheatgrass help in varicose veins?
Though there are no recent studies to back this claim, older studies have observed chlorophyll to relax blood vessels and ease the symptoms of varicose veins. (17)
Does wheatgrass help with premature graying of hair?
Minerals in wheatgrass can potentially protect the hair from premature graying. Though there isn't a direct study to prove this claim, it won't hurt to try wheatgrass juice to prevent gray hair. (18)
Final Word
Wheatgrass juice is one of the most powerful foods. One serving of wheatgrass juice each day can help the body in many ways. From being a powerful antioxidant to reducing inflammation in the body, wheatgrass can also protect the liver and enhance its detoxifying effects.
Was this article helpful?