Licorice root is an ancient herbal medicine derived from the plant Glycyrrhiza glabra, which, when literally translated, means sweet (glykys) root (rhiza). The plant is native to the Middle East, Asia, and Southern Europe.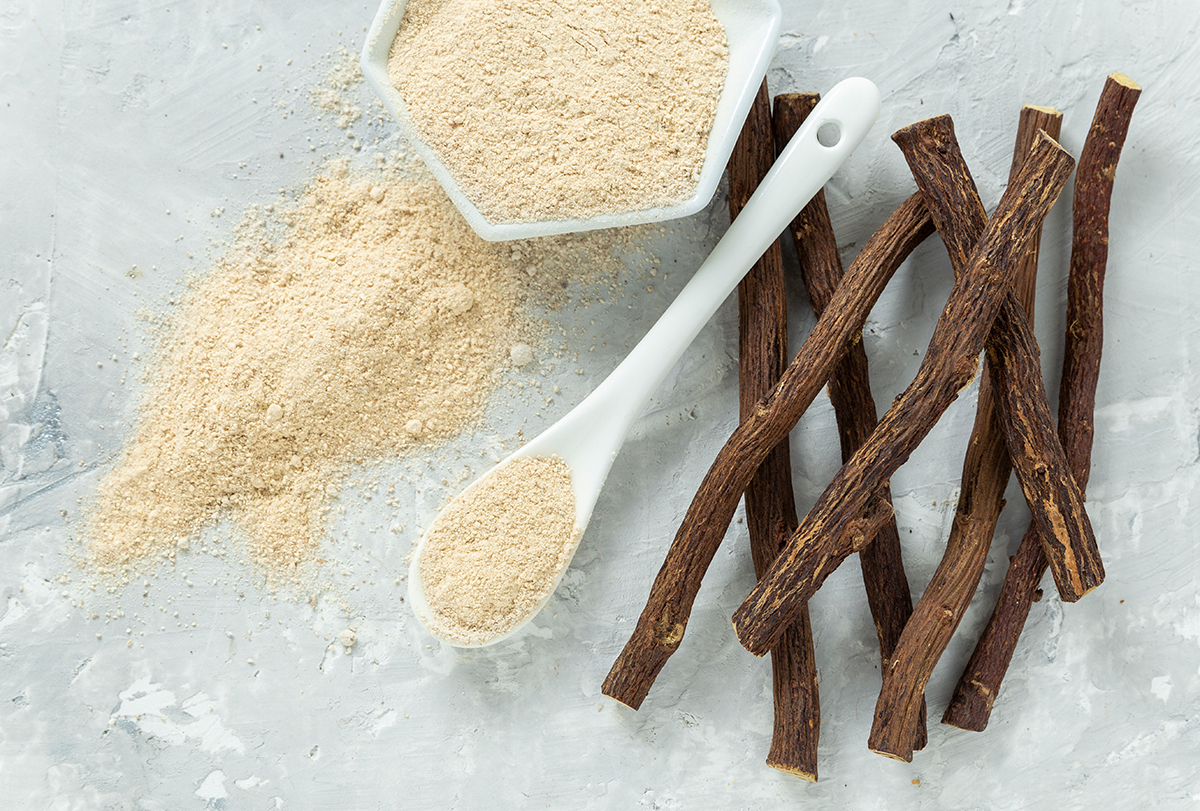 Licorice root is almost 50 times sweeter than the table sugar sucrose, and ancient Egyptians used it to make sweet drinks. (1)
It was imported from Egypt to China, where it was called gan cao (meaning sweet grass). Since then, it has been widely used in traditional Chinese medicine for the treatment of fever, body aches, cough, colds, and digestive problems. (2)(1)
Licorice is also referred to as the "father of herbal medicine" as it is one of the oldest herbs used in traditional medicine. (1)
There are about 300 bioactive compounds in licorice, and of these, glycyrrhizin is the most active. Glycyrrhizin is responsible for the sweet taste of licorice and its antioxidant, antimicrobial, and anti-inflammatory properties, making it useful for treating many disease conditions.
Research in recent times has highlighted some of the health benefits attributed to licorice root.
Health Benefits of Licorice Root
Licorice root offers the following benefits to health.
1. Beneficial for skin health
Licorice has antimicrobial properties and is effective against a number of bacteria causing infections of the skin, including the much-dreaded methicillin-resistant Staphylococcus aureus (MRSA), which is the cause of many wound infections. Thus, licorice is effective in treatment of wounds and it promotes wound healing. (2)(3)
Licorice also has antiaging properties, which is why it is widely used in beauty creams and lotions. (3) Recent research has shown its anti-inflammatory properties, making it useful in the treatment of dermatitis. (4)
2. Aids digestive health
Licorice extracts have been reported to lower inflammation in the mucosal lining of the stomach, thus easing stomach discomfort. (5)
Moreover, dietary supplements containing licorice help heal peptic ulcers. In a recent research study, 95% of patients with peptic ulcers showed a rapid recovery when given dietary supplements containing licorice. (6)
3. Can help reduce respiratory ailments
Asthma affects a large section of the global population. Effective treatment options for asthma are not available, and at best, the disease can be only managed.
A study revealed that licorice taken orally was effective in reducing the asthmatic symptoms and lung functions in human asthmatic patients. (7)
4. Assists in liver function
The anti-inflammatory and antioxidant properties of licorice are useful in treating fatty liver disease. Licorice aids in the detoxification of many harmful compounds that the body may be exposed to by improving the activity of antioxidant enzymes in the liver. (8)
5. Obesity management
Licorice root is effective in reducing body weight and overall fat deposition, making it effective in the treatment of obesity. (9)
6. Reduces hot flashes associated with menopause
Recent studies carried out on menopausal women have shown that licorice root is effective in significantly reducing the hot flashes associated with menopause. (10)
7. Management of diabetes and its associated complications
In recent years, diabetes has emerged as a lifestyle disorder affecting a large chunk of the population worldwide. In the long run, diabetes leads to complications such as vision impairment and kidney failure.
Laboratory studies on diabetic rats have shown that licorice extract lowered blood sugar levels and improved kidney function. (11) This result is promising for application to individuals with diabetes.
8. Good for your hair
Licorice exhibits a potent hair growth stimulatory property and has the potential for use in herbal formulations to treat baldness. (12)
9. May reduce the risk of cancer
Cancer is a major health issue worldwide, and it is important to identify and use compounds with minimal side effects for cancer treatment. Licorice root has antitumor properties and may be effective in the treatment of cancer such as skin, prostate, breast, and lung cancers. (13)(14)
Ways to Use Licorice
Licorice can be taken as a supplement in the form of capsules, powder, or tea.
It can be added to aloe vera or other skin-friendly gel and used as an ointment to treat eczema.
You can boil the herb in hot water and drink it as tea for sore throat.
You can keep the loose herb under the tongue to treat ulcers.
In general, the following doses three times a day are safe and effective in raising glycyrrhetinic acid levels:

Powdered root: 1–2 g
Fluid extract (1:1): 2–4 mL
Solid (dry powdered) extract (4:1): 250–500 mg (15)
Can You Take Licorice Root Every Day?
It is not advisable to take licorice every day. Overconsumption leads to muscle weakness, abnormal heart rhythms, and lowering of potassium levels, which in turn could cause hypertension. (16)
Final Word
Licorice is an ancient herbal remedy with many proven health benefits. However, caution should be exercised in consuming it.
It is best to consult a health care professional to avoid adverse side effects and potential drug interactions, especially if you are already undergoing treatment for some health issues.
Was this article helpful?